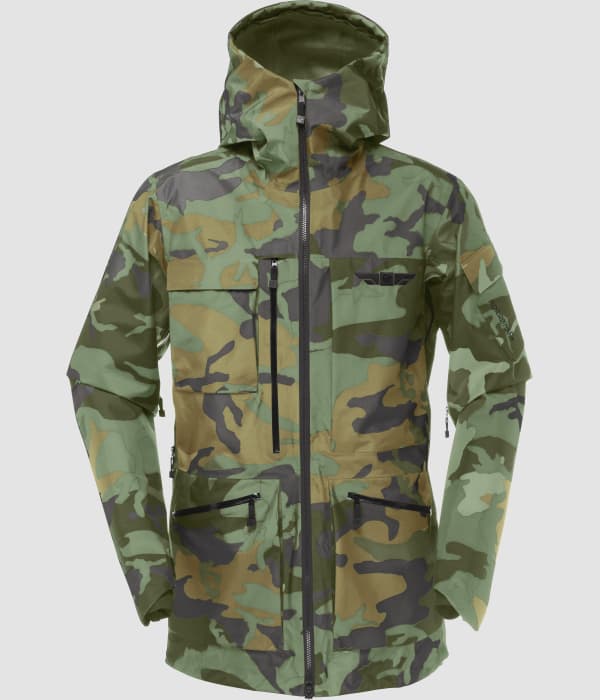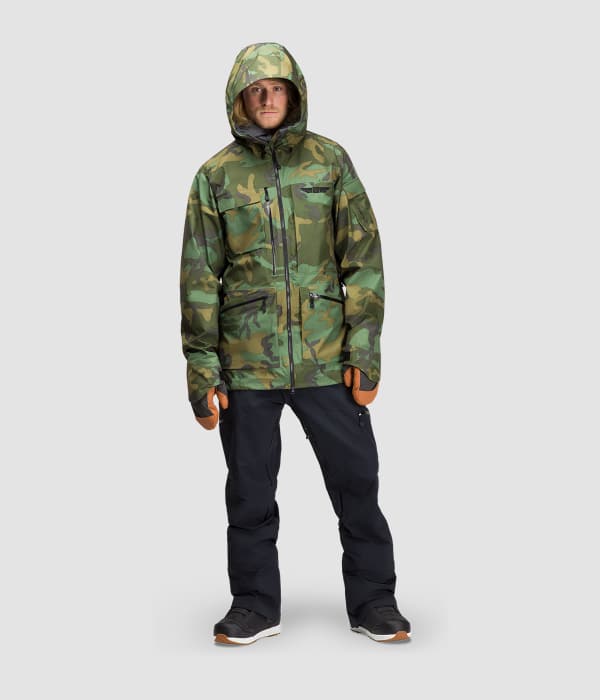 Veste résistante, imperméable et respirante pour homme au style d'inspiration militaire et motif en édition limitée, conçue pour le freestyle en hors-piste.
Cette veste longue de ski et snowboard vous apportera une protection supérieure contre le mauvais temps en montagne, ainsi qu'une excellente aération et une respirabilité inégalée dans vos missions de randonnées dernière les lignes ennemies.
Les atouts de cette veste sont des poches chauffe-main, une aération sur la poitrine avec mesh, des protège-mains, des aérations au niveau des aisselles, un système de jupe pare-neige à fermeture Éclair et pression snap seal, une poche radio/carte-clés et une capuche protectrice adaptée au port d'un casque.
Fabriquée dans un tissu Gore-Tex® imperméable et respirant.
Produit pour
Snowboard et ski freeride
Autres utilisations
Ski et snowboard en haute montagne
Détente
Spécifications
6

Coupe-vent

Coupe-vent

Scale from 1 to 6 where 1 is not windproof and 6 is totally windproof.

6

Rapport chaleur / poids

Rapport chaleur / poids

Scale from 1 to 6 where 1 is not waterproof and 6 is waterproof.

1

Isolation

Isolation

Scale from 1 to 6 where 1 has no insulating properties and 6 is our warmest insulation products.

4

Respirabilité

Respirabilité

Scale from 1 to 6 where 1 have very little or no breathability and 6 is our most breathable and moisture wicking products.

5

Durabilité

Durabilité

Scale from 1 to 6 where 1 is fragile products and 6 is the most durable products we have.

3

Légèreté

Légèreté

Scale from 1 to 6 where 1 is heavy and 6 is among the world's lightest of its kind.

1

Elasticité

Elasticité

Scale from 1 to 6 where 1 is not made with stretch materials and 6 is our most flexible products made in super elastic material.
Empreinte
Tissu certifié Oeko-Tex

Tissu certifié Oeko-Tex

Oeko-Tex® est un système de test et de certification indépendant et cohérent au niveau mondial qui garantit que l'utilisation des produits chimiques est conforme ou supérieure aux réglementations et normes nationales et internationales.

Usine ouvertement cotée

Usine ouvertement cotée

Ce produit est fabriqué dans une usine répertoriée ouvertement sur norrona.com.

Usine inspectée

Usine inspectée

Ce produit est fabriqué dans une usine inspectée par une tierce partie indépendante et suivie par Norrøna.
Composition
GORE-TEX® C-Knit™ 3 couches

Technologie de doublure GORE-TEX® C-KNIT™ spécialement conçue pour les randonneurs et amateurs de freeride, alliant la protection solide de trois couches superposées et toute la souplesse et la douceur d'un tissu plus léger. Le résultat ? Des vêtements extrêmement polyvalents destinés aux amoureux de la nature qui recherchent non seulement le confort mais aussi une fonctionnalité et une durabilité exceptionnelles. La durabilité d'un produit vous permet de profiter à fond de vos activités de plein air tout en préservant l'environnement. Plus de détails sur www.goretex.com

Plus de détails sur www.goretex.com

Soin des produits GORE-TEX® et dri

Les vêtements en GORE-TEX® ne seront pas abîmés par le nettoyage. Au contraire, cela prolongera leur durée de vie. Voici les instructions de nettoyage standard pour les vêtements en GORE-TEX® : N'oubliez pas de fermer toutes les fermetures Éclair et Velcro. Le vêtement doit être lavé à 40° sans essorage, avec un détergent doux mais sans adoucissant ni agent de rinçage. N'utilisez pas d'eau de Javel. Les adoucissants, les agents de rinçage et l'eau de Javel peuvent endommager les propriétés d'étanchéité du tissu (pas la membrane/l'imperméabilité) ainsi que la couleur du tissu. Rincez le vêtement deux fois, si possible. Après le nettoyage, utilisez du spray hydrofuge sur l'extérieur du vêtement pour optimiser l'étanchéité (ceci n'a rien à voir avec la qualité d'imperméabilité du vêtement, mais facilite l'évacuation de l'eau du tissu extérieur). Si vous le souhaitez, séchez le vêtement ou repassez-le à basse température. La chaleur aide à réactiver l'imperméabilité. Le vêtement doit être sec avant le nettoyage et avant le rangement.

Soin des produits GORE-TEX® et dri
Détails techniques
Rated

5

out of

5
by
Raymondpatrickglobal
from
THE most incredible jacket on the planet!!
I bought this on a gut feeling after considering the usual suspects. I wanted something completely outside the box so I ordered this. It's just about everything I've ever wanted in a shell. Huge pockets and a lot of them, but the two chest pocket are asymmetrical which enhance the design/look of the jacket. I love the two hand pockets too, with horizontal zippers.. you never have to worry if you left them unzipped and something will fall out. I'll never buy another jacket without hand gaitor's ever for snowboarding. Genius. The jacket is long, the arms are long and the coverage is just great, you feel completely protected, like no other jacket. A few small suggestions on updating fit below: The hood is deep so you have to cinch down the drawstring to get it away from the sides of the goggles. Also once this is done turning you head side to side you don't have the most flexibility so I'd open it up the neck diameter a hair for better movement. Also it's a bit of a slim fit which most Norrona products seem to be, I'd open up the waist or middle section of the jacket a little bit, say an inch or so just to get a bit more loose feeling. As a snowboarder sitting down it can be a bit snug, I'm a solid 32 inch waist and got a medium, but the lower zip on the main zip definitely helps loosen things up. Overall I'm gonna buy another one in a different color, I got the camo and nothing compares. I hope next years colors rock, I do like the more toned down colors in this line, but still not completely into the blue and tan. I'd like to see some camo pants, but in the Lyngen design or Lofoten, I like the zips on top of the thigh which look cool under the bottom of the jacket. Well done Norrona. I'm going #allnorrona
Date published: 2017-02-11
Rated

5

out of

5
by
Anonymous
from
You Won't Regret It
Wow, perfect ski jacket. Full length coverage in bulletproof GoreTex, all the bells and whistles in a pretty light package. And it looks... amazing. I've had so many people comment on the slopes about it, and I've never seen anyone else wearing it. Be unique & go with the Tamok!
Date published: 2018-09-26
Rated

5

out of

5
by
winson
from
Good jacket
I bought this Jackie one a month ago. This waterproof performance is good, the cut is meticulous, the pocket is practical, very beautiful, I like this jacket very much, I will recommend it to friends.
Date published: 2018-09-14
Rated

5

out of

5
by
Knörz
from
Cool jacket
Waterproof and windproof, cool styling. My son will grab it
Date published: 2018-09-11
Rated

5

out of

5
by
Niko
from
Amazing jacket!
Bought this Norrona Tamok Camo LTD jacket and it's simply spectacular. Have waited something like this for my whole life.
Date published: 2018-05-12
Rated

5

out of

5
by
Swish
from
My go-to jacket
The jacket has a very nice tailored fit to it. The air vents are fantastic. I feel really protected and isolated in the jacket.im 180 and 70kg,size m was perfect , has just enough room for a insulated layer,and a tracker. 9/10
Date published: 2018-05-12
Rated

5

out of

5
by
Anonymous
from
Stylish and Built to Last!
I love this jacket - perfect fit for layering a puffy underneath when its very cold, or just my Lyngen Powerstretch when its warmer. Waterproof, roomy but not sloppy fit, and it looks amazing! I've paired this with the Roldal pants in Sapphire, and people ask me on the slope where I got my gear. I love my Norrona equipment!
Date published: 2017-04-07
Rated

5

out of

5
by
Daniel73
from
Exceptional thought through
Perfect fit, (as top layer a little in the larger side) Super breathable & water proof with all necessary features (adaptable hoody, arm pit zippers with mesh agains snow) Excellent workmanship
Date published: 2017-01-09
Hi, my size is between M and L. What size would you recommend me to buy? I planning to wear mid layer down jacket underneath Tamok 
Hi, I can't give you any guarantees but I think L might fit you the best. Especially if you are layering underneath. It most common to prefer the outer-shell to be a little bigger than than smaller, this is to allow good air-regulation and mobility.
Date published: 2019-01-14
hei, lurer på om det ha tamok camo jakken i small?
Hei Armando, Denne jakken er i meget begrenset opplag og den kommer ikke tilbake igjen i størrelse Small. Så det er kun de jakkene som er tilgjengelig på nett nå som er av denne jakken. Du kan ringe til en av våre Norrøna-butikker og sjekke om de kan ha den der, men den er nok veldig vanskelig å få tak i dessverre. Lykke til! Hilsen Jens Norrøna Fan Support
Date published: 2017-01-27
D'autres ont également consulté