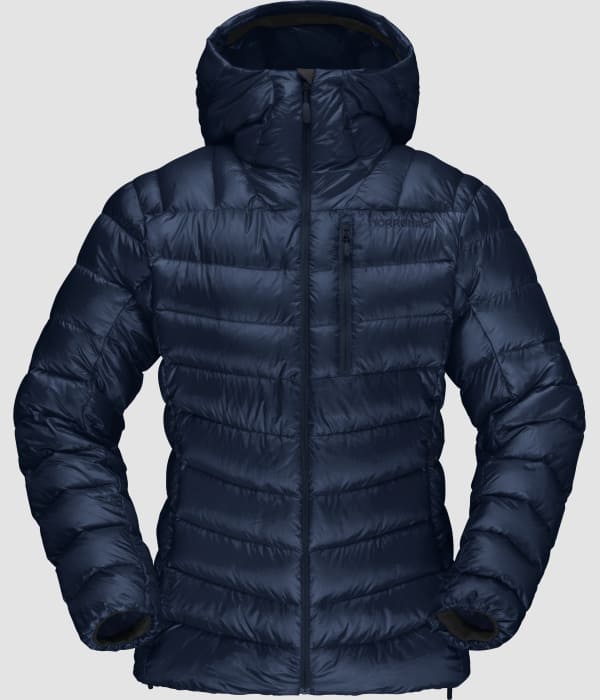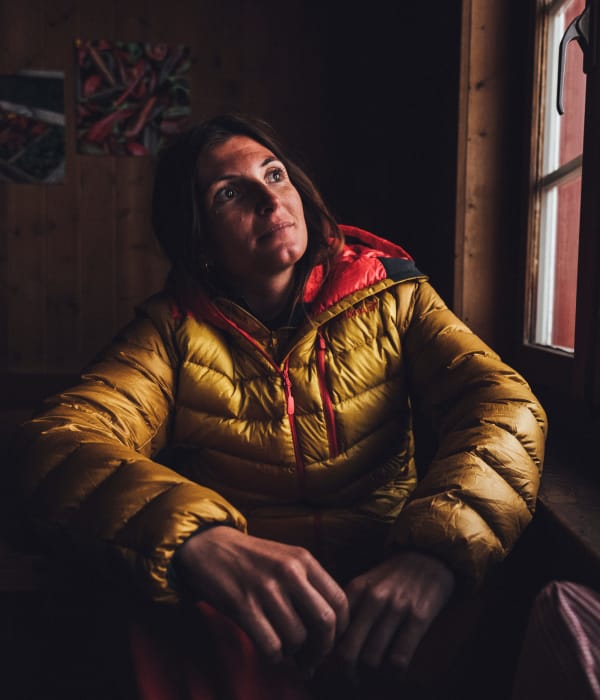 Lyngen down850 Hood Jacket for dame holder deg varm mens du bestiger nye topper, og er det ultimate isolasjonsplagget på skitur.
Med et svært godt varme-til-vekt-forhold (150 gram dun fordelt på totalt 340 gram i størrelse L) er dette vår letteste dunjakke med hette. Den holder vekten på sekken nede og kan enkelt komprimeres slik at den passer i en lomme.
Jakken er laget av lett, dunsikker, resirkulert polyester 29 g/m2 og har RDS 2.0 850 FP dunfyll.
Jakken har hette som kan justeres med én hånd, og plass til hjelm, en utvendig brystlomme, stramming i falden og powerstretch-mansjetter.
Modellen bruker størrelse M (Høyde 179 cm / 5'10")
Andre bruksområder
Storfjellskjøring ski/snowboard
Klatring
Langrenn
Frikjøring ski/snowboard
Brevandring
Spesifikasjoner
6

Vindtetthet

Vindtetthet

Skala fra 1 til 6 hvor 1 ikke er vindtett og 6 er vindtett.

4

Vanntetthet

Vanntetthet

Skala fra 1 til 6 hvor 1 ikke er vanntett og 6 er vanntett.

4

Varme

Varme

Skala fra 1 til 6 hvor 1 ikke har isolerende egenskaper og 6 er våre varmeste isolasjonsprodukter.

2

Pusteevne

Pusteevne

Skala fra 1 til 6 hvor 1 har svært lite eller ingen pusteevne og 6 er våre mest pustende og fuktighetstransporterende produkter.

3

Slitestyrke

Slitestyrke

Skala fra 1 til 6 hvor 1 er skjøre produkter og 6 er de mest holdbare produktene vi har.

5

Lettvekt

Lettvekt

Skala fra 1 til 6 hvor 1 er tung og 6 er blant verdens letteste av sitt slag.
Fotavtrykk
Resirkulerte fibre

Resirkulerte fibre

Mer enn 50% av syntetiske fibre i dette produktet er resirkulerte.

PFC-fri DWR

PFC-fri DWR

Impregneringen som brukes på dette produktet er fri for fluorokarboner. (DWR = Durable Water Repellent).

Bluesign sertifisert materiale

Bluesign sertifisert materiale

Bluesign® tests and educates textile mills to eliminate harmful substances from the manufacturing process and sets control standards for a sustainable and safe production.

Responsible Down Standard

Responsible Down Standard

The Responsible Down Standard (RDS) beskytter velferden til gjess og ender.

Åpen fabrikkliste

Åpen fabrikkliste

Dette produktet er laget på en fabrikk som er listet på norrona.com.

Inspisert fabrikk

Inspisert fabrikk

Dette produktet er laget på en fabrikk som er inspisert av en uavhengig tredjepart og etterfølges av Norrøna.
Materiale
down850™ RDS-sertifisert

Dunproduktene våre har den aller beste tilgjengelige dunkvaliteten som finnes, som er et biprodukt fra næringsmiddelindustrien (i motsetning til fugler som har blitt avlivet kun for isoleringen). Behandlingen av fuglene er i samsvar med europeiske standarder, mens den svært spesialiserte vaskingen av dunet er i samsvar med Oeko-Tex 100-standardene. down850™ har en fyllkraft fra 850 til 900 in³/oz med en prosentandel av dunopphopning fra 93 til 96 %.
Tekniske detaljer
Rated

5

out of

5
by
AFJenn
from
Very warm and light weight!
Love the features. I had an older generation, same coat, from ten years ago and just wanted to get a new color with new technology. I'm sure this will last another 10 years!!!
Date published: 2019-04-08
Rated

5

out of

5
by
MCVT
from
Oh my giddy aunt.. I love this thing
Purchased in the depths of an Arctic Vortex this has proven to be the most amazing piece of winter clothing I've ever owned. Fabulously fluffy, with the hood up and a shell over it will take on the lowest of the lows on the windiest of days. Popped into a pack it is nothing in weight, and welcome warmth when you're taking a rest. It is, absolutely, an investment, but it is Norrona quality and I anticipate it will give me years of happy service.
Date published: 2019-03-20
Rated

4

out of

5
by
AKGirl
from
Warm lightweight jacket but loses a lot of feathers
I bought this jacket about a month ago. It is the warmest light weight down jacket I have ever had and I love the way the high neck comes up and covers my ears even when the hood is not up. The only down side of this jacket is that it is always losing feathers. It is so bad that people often tell me my jacket has a hole in it. It doesn't have a hole, it just loses feathers from the seams constantly. So I worry that it will not last long.
Date published: 2019-02-24
Rated

5

out of

5
by
Adèle
from
great jacket!
just spend ten days sking the Japanese legendary powder: with this jacket under my one piece I had the perfect warmth to face a -36°c chill. it could be a little puffier...
Date published: 2019-02-09
Rated

5

out of

5
by
MCVT
from
So warm! So cozy! And so compactable!
I love this jacket so much I feel guilty about it. There are at least three jackets in my closet that I wouldn't have purchased had I known about this one, and now they hang, neglected, because this is such a perfect piece for New England's changeable weather. Alone, layered under a shell, squashed into a pack, it puffs out into a snuggle of warmth with a generous hood that can be pulled in, or left to puff loosely around the face. Packed down this is about 2" x 3" larger than a featherweight under compression, but fluffed out it is twice as warm (and then some) and much more flexible, since it is comfortable as a stand alone piece well down into the single digits if the air is still, and down below zero, even in wind, when paired with a shell. This single piece has changed how I dress and experience winter and I could not be more impressed.
Date published: 2019-01-17
Rated

5

out of

5
by
Rux16
from
Great jacket
I love it! It's light, it keeps my body warm and it has a modern look.
Date published: 2018-11-25
Rated

5

out of

5
by
aljkski
from
Great jacket
Warm, and very lightweight. Comfortable and has the right amount of pockets. This jacket easily stashes in my backcountry ski pack and provides much needed warmth when in use.
Date published: 2018-11-04
Rated

5

out of

5
by
Johanna Stalnacke
from
Johanna Stålnacke
The Lyngen Down850 is a great jacket with the sweet warmth-to-weight ratio that I look for on most of my winter days out skiing. It is warm and light enough to bring along and it doesn´t bulk too much in the back pack. When every gram is counted, this is a good choice to keep warm on the days when needed. I brought it to Svalbard last year on a 9 day unsupported ski tour. On such missions you value everything you bring twice. I love the hood to pull on top of my beanie and it is easy to simply get cozy with this nice jacket.
Date published: 2018-08-21
Looking for size guidance - chest 97, hip 97, seat 105 - Lyngen down850
I am 5'3" 115# chest 32" waist 24" and have this jacket in a size small. The XS fit perfectly with a bit of room for 2 thin layers underneath but I wanted to be able to also put another lighter puffer underneather so I sized up to a small. The small fits pretty perfectly as well without the extra puffer and I don't feel like I'm wearing a jacket that is too big.  Separately though, I've only had this since Christmas, have  worn for a couple races in the polar vortex (myself and kids) and have Already had to repair an area by the hand pocket zipper as the fabric was beginning to pull away from the seam. Bit of a bummer for less than 4 weeks with a $400+ jacket. 
Date published: 2019-02-05
Are the sleeves a different color yellow than the body in the Eldorado color?
Yes, sleeves are gold, body is yellow. I love the color but the small was too big -this jacket runs large. I just ordered the blue in XS
Date published: 2019-01-25