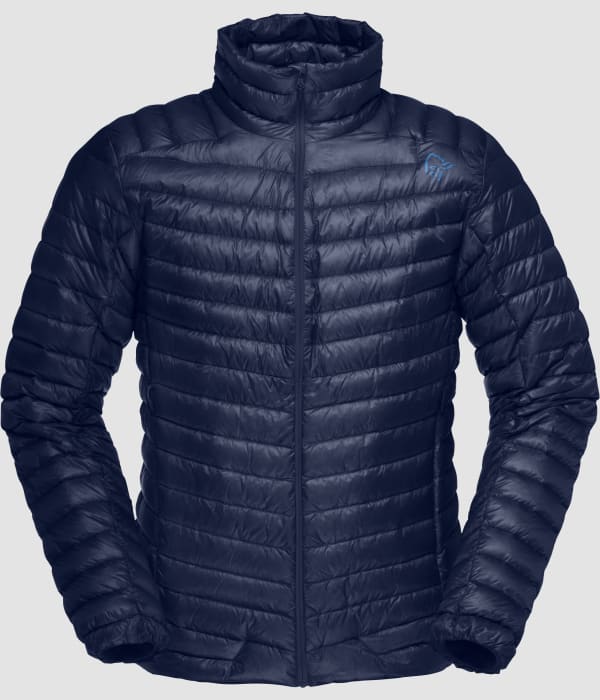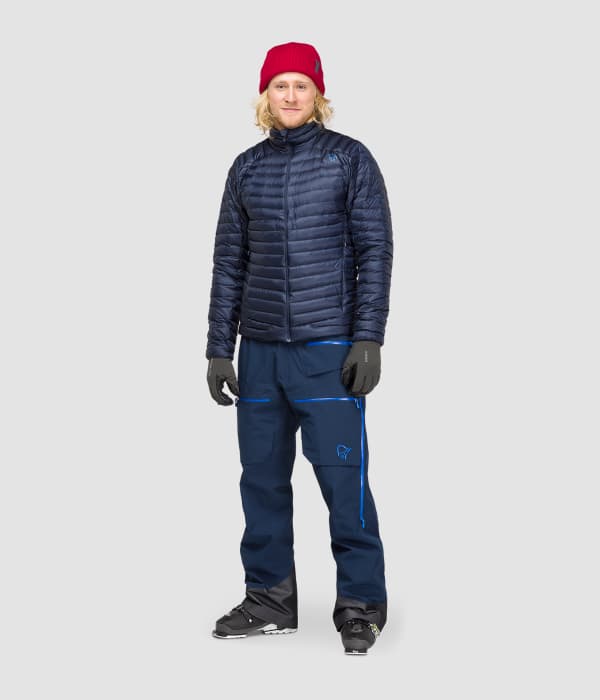 lofoten super lightweigt down Jacket er en blant de letteste dunjakkene for herre i hele vårt sortimentet. Den er supermyk og komfortabel, og gir svært god varme i forhold til vekten (100 gram dun fordelt på totalt 228 gram i størrelse L).
Den er meget komprimerbar, og kan brukes både alene og utenpå eller inni en skalljakke, noe som er gjør den svært nyttig i sekken på lange pudderdager. Den har to lommer foran som du kan varme hendene i og en høy og isolerende krage.
Til forskjell fra lyngen-dunjakken er denne uten hette, og har en mer tettsittende passform.
Modellen har på størrelse L (Høyde 188 cm / 6'2")
Laget for
Storfjellskjøring ski/snowboard
Andre bruksområder
Frikjøring ski/snowboard
Topptur / Randonnée
Ski / snowboard generelt
Fjelltur
Brevandring
Hverdagsbruk
Generelt friluftsliv
Spesifikasjoner
6

Vindtetthet

Vindtetthet

Skala fra 1 til 6 hvor 1 ikke er vindtett og 6 er vindtett.

4

Vanntetthet

Vanntetthet

Skala fra 1 til 6 hvor 1 ikke er vanntett og 6 er vanntett.

3

Varme

Varme

Skala fra 1 til 6 hvor 1 ikke har isolerende egenskaper og 6 er våre varmeste isolasjonsprodukter.

2

Pusteevne

Pusteevne

Skala fra 1 til 6 hvor 1 har svært lite eller ingen pusteevne og 6 er våre mest pustende og fuktighetstransporterende produkter.

3

Slitestyrke

Slitestyrke

Skala fra 1 til 6 hvor 1 er skjøre produkter og 6 er de mest holdbare produktene vi har.

6

Lettvekt

Lettvekt

Skala fra 1 til 6 hvor 1 er tung og 6 er blant verdens letteste av sitt slag.
Fotavtrykk
Bluesign sertifisert materiale

Bluesign sertifisert materiale

Bluesign® tests and educates textile mills to eliminate harmful substances from the manufacturing process and sets control standards for a sustainable and safe production.

Responsible Down Standard

Responsible Down Standard

The Responsible Down Standard (RDS) beskytter velferden til gjess og ender.

Åpen fabrikkliste

Åpen fabrikkliste

Dette produktet er laget på en fabrikk som er listet på norrona.com.

Inspisert fabrikk

Inspisert fabrikk

Dette produktet er laget på en fabrikk som er inspisert av en uavhengig tredjepart og etterfølges av Norrøna.
Materiale
down850™ RDS-sertifisert

Dunproduktene våre har den aller beste tilgjengelige dunkvaliteten som finnes, som er et biprodukt fra næringsmiddelindustrien (i motsetning til fugler som har blitt avlivet kun for isoleringen). Behandlingen av fuglene er i samsvar med europeiske standarder, mens den svært spesialiserte vaskingen av dunet er i samsvar med Oeko-Tex 100-standardene. down850™ har en fyllkraft fra 850 til 900 in³/oz med en prosentandel av dunopphopning fra 93 til 96 %.
Tekniske detaljer
Rated

5

out of

5
by
Turløk
from
Jysla god til sitt bruk
Vindtett og lett å bruke, veldig lett og liten pakkstørrelse til toppturer. Varmet bedre enn forventet på vei ned.
Date published: 2019-03-05
Rated

4

out of

5
by
Lennart
from
Super lett å bære, tar nesten ingen plass i pakken
Etter omtrent en måneds bruk kan jeg si at jeg er veldig fornøyd! Jakken er et veldig godt komplement som et ekstra lag er det kaldt. På grunn av sin slanke form, passer den også godt som et ytre plagg når du besøker byen. Hvis jeg vil se etter en ulempe, så er det at jakken ikke "puster" så mye. Dette er selvfølgelig også en fordel når det blåser når det stopper vinden bedre.
Date published: 2019-02-25
Rated

4

out of

5
by
Lennart
from
Superlätt att ha med sig, tarar nästan ingen plats i packningen
Efter ungefär en månads användning kan jag säga att jag är mycket nöjd! Jackan är ett mycket bra komplement som ett extra lager är det är kallt. Genom sin lite slimmade form, passar den också bra som ytterplagg vid besök i staden. Om jag skall leta efter någon nackdel, så är det att jackan inte "andas" så mycke. Detta är förstås också en fördel när det blåser då den stoppar vinden bättre.
Date published: 2019-02-24
Rated

5

out of

5
by
Anonymous
from
Topp jakke å ha med seg på tur
Hei Dette er jakka å ha med seg på tur. Veier lite, varmer når du stopper opp på skitur og skal kjøre litt pudder. Jeg har også hatt den med i sykkel tur. Når har vært inne på skauen og skal ned bakkene så kan det ofte bli veldig kjølig. Med denne jakka var nedkjøringen og avsluttningen på en 4 timers sykkeltur på feitebob en glede.
Date published: 2019-02-19
Rated

5

out of

5
by
Tele
from
Ekstremt lett
Lett som luft, men utruleg varm. Spreke fargar og fint snitt.
Date published: 2019-02-10
Rated

5

out of

5
by
Hugo1
from
Superb warmth to weight ratio and very comfortable.
This jacket is a very warm lightweight jacket with a nice fill. I wear it below zero with only a wool T-shirt underneath. Also great as a midlayer on cold skiing days.
Date published: 2019-01-24
Rated

5

out of

5
by
NS92
from
Brilliant jacket.
I bought this quite recently, as a I needed a light down jacket to fit under my ski shell. As always, it is brilliant. Well thought out design, no unnecessary features and as warm as you'll need if you're an 'active skier' rather than someone who skis leisurely from restaurant to restaurant. The thing that impressed me the most was the strength of grip on the draw cord toggles. They do not slip until you release them. I have had issues with other brands' down jacket cord toggles in the past. It may seem like a small thing, but it makes a big difference when a piece of kit works and you can just forget about it and ski. I did size down to M from L on this compared to the L I wear in the Lofoten shell jackets as I like my inner layers to fit quite closely.
Date published: 2019-01-19
Rated

5

out of

5
by
AlldayMT
from
Best All Around!!
The Lofoton super lightweight jackets are phenomenuem. I have two of these jackets and they are the perfect jacket for everything. Any where from town use, to ski touring in -0 degrees in the backcountry. The perfect mid layer and my always go-to jacket.
Date published: 2019-01-16
Up to what temperature range can this jacket be worn with comfort as a stand-alone or with layers? 
ALONE AROUND 10 DEGREE IS POSSIBLE
Date published: 2018-12-19
How about breathability - when it gets wet due to sweating? This a general question on the ideal mid layer for an active skiing day. Thanks 
I have used this jacket travelling through Switzerland last month and it was perfect .It has reasonable DWR rating so will shed light showers and did not build up moisture on the inside layers.I was warm and dry for my entire trip.I used a Trollveggen Gortex shell over the top when in heavy,wet snow and again no moisture build up on the inside.Runs true to size large and I am 186cm tall and 88kg.
Date published: 2018-12-13
Do you use a duck down or goose down?
Usually I prefer to buy goose down 
Date published: 2018-11-15
Hello, Can it be packed in its own pocket like the Lyngen Down?
This is a super light,super warm jacket cut well to retain the warmth and not be baggy. It can either be used as an excellent mid layer for sub zero days or a stand alone jacket. It stows away for packing into it's own side pocket.It does not have an internal pocket.
Date published: 2018-07-30
is the down treated for water repellency?
Hello mfrazier, None of our down products are treated with water repellent. Our down products use the highest available down quality that we can find, which is a by-product of the food industry. Our down comes from the mountains of Pyrenees in France, and all treatment of the birds complies with European standards, and the highly specialized washing of the down passes the Oeko-Tex 100 standards. If you are looking for a weatherproof down jacket, I recommend the lyngen Gore-Tex Infinium down850 Hood Jacket available from the 3 September 2018 in our webshop: https://www.norrona.com/en-GB/products/lyngen/lyngen-gore-tex-infinium-down850-hood-jacket-men/?color=7718
Date published: 2018-06-04
What denier is the Pertex Shell? Thanks!
Hello MattB, the lofoten super lightweight down Jacket is the second lightest down jacket in our entire assortment, with a denier of 10.
Date published: 2018-05-04
How warm is the jacket compared to my midlayer lyngen primaloft 60. is is suited for a normal skiday without a gore first layer? 
Hello Leon, I would say that the experienced level of insulation should be quite similar for the Lyngen Primaloft60 and this down piece. It is our lightest down piece, and the intended use is either to use it as a mid layer on colder days, or as an outer layer when having breaks during ski touring. You can definitely wear it as a super light outer layer for a normal day of skiing, but keep in mind the low durability. It is not intended to take a lot of beating compared to a shell jacket, so you'll have to be careful with this piece if you want to use it as an outer layer. If you want a piece with higher durability, I would recommend the Tamok Lightweight Down750, which is more ideal for a stand-alone outer layer with higher durability. I hope my advice was helpful to you. Best regards, Alexander - Norrøna Fan Support
Date published: 2017-10-21
I have a lofoten pants. Does the jacket have push buttons to fit with the pants? Regards Jochen 
Hi Leon, Thanks for your question. This down jacket does not have push buttons fitting the lofoten pants. Only the outer hard shell layers have that. And the buttons on the hard shell jackets are on an inside powder skirt, which is removable. That would have added weight and compromising the comfort of this super light down jacket. Have this jacket myself and wear it so much, always with me either in the backpack or on me. Best regards, Jens, Norrøna Fan Support
Date published: 2017-10-19