Ny farge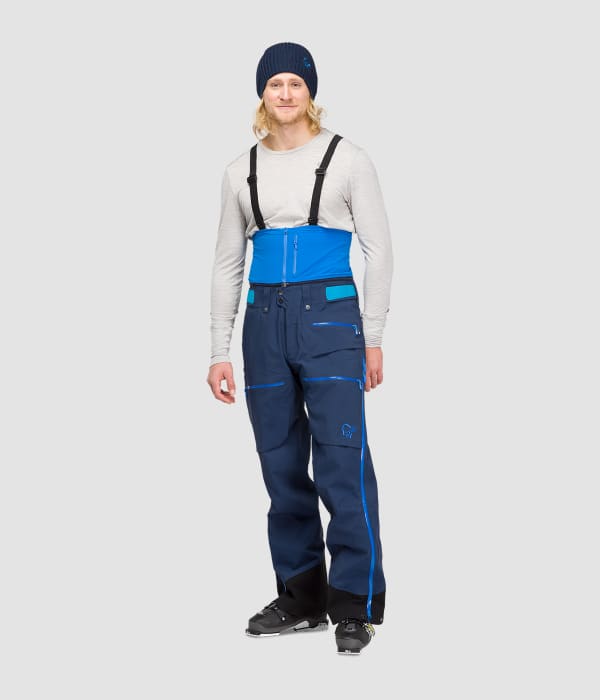 Produktinfo
Vekt 880 gr.
lofoten Gore-Tex Pro bukse ble produsert uten noen kompromiss for å oppfylle frikjørernes krav til beskyttelse mot de mest krevende forholdene i fjellet, og skulle revolusjonere skikjøring for en ny generasjon.
Akkurat som originalen har den nye buksen løsere passform og unike egenskaper som lårlommer for enkel oppbevaring, lange glidelåser for god ventilasjon og ekstremt slitesterke forsterkninger på leggene for å beskytte buksen mot stålkanter.
De sterke fargene fra originalen er endret og mer moderne og har ulike nyanser, men er fortsatt sterke nok til å sørge for høy synlighet.
Buksene kommer med et avtakbart overstykke som hindrer snø fra å komme inn, og holder buksen på plass.
Laget for
Storfjellskjøring ski/snowboard
Andre bruksområder
Frikjøring ski/snowboard
Topptur/Randonnée
Bakkekjøring ski/snøbrett
Spesifikasjoner
6

Vindtetthet

6

Vanntetthet

1

Varme

4

Pusteevne

6

Slitestyrke

3

Lettvekt
Fotavtrykk
Bluesign sertifisert materiale

Bluesign sertifisert materiale

Bluesign® tests and educates textile mills to eliminate harmful substances from the manufacturing process and sets control standards for a sustainable and safe production.

Åpen fabrikkliste

Åpen fabrikkliste

This product is made in a factory openly listed on norrona.com.

Inspektert fabrikk

Inspektert fabrikk

This product is made in a factory inspected by an independent third party and followed up by Norrøna.
Materiale

GORE-TEX® Pro - Denne membranen fra GORE-TEX® bruker en vevd liner for å redusere vekt og tykkelse – samt for å bedre fukttransport og slitestyrke. Samtidig opprettholder den varig vanntetthet.
Les mer på GORE-TEX.com