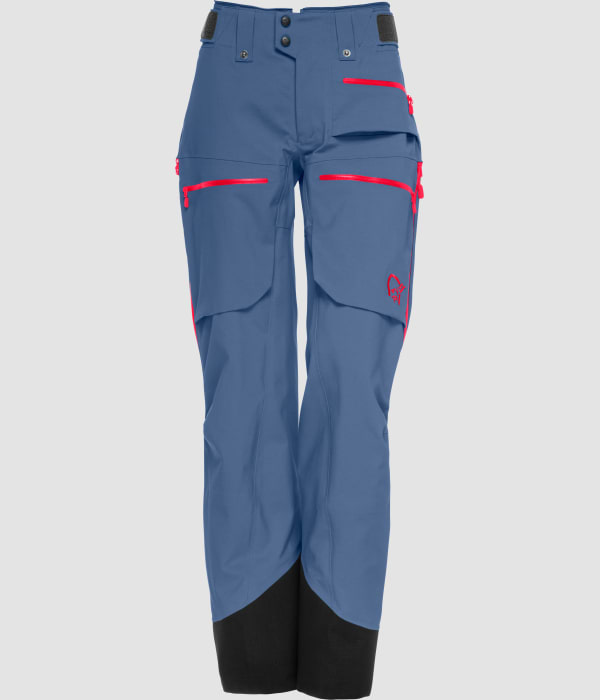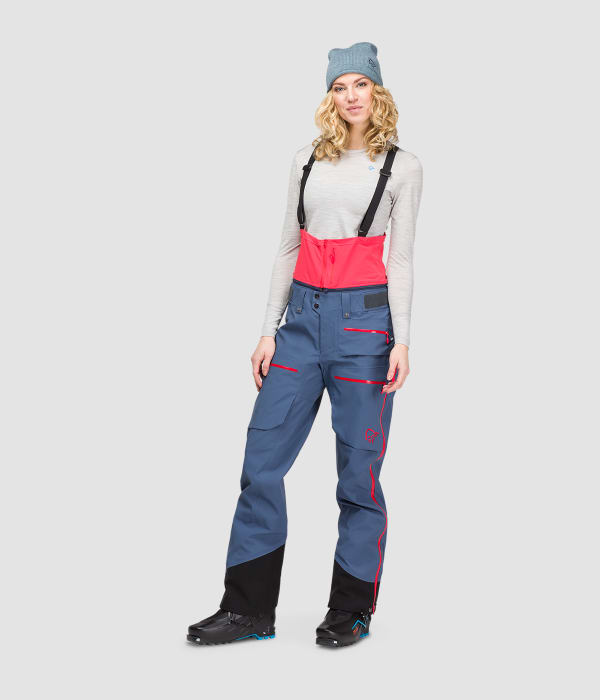 lofoten Gore-Tex Pro bukse ble produsert uten noen kompromiss for å oppfylle frikjørernes krav til beskyttelse mot de mest krevende forholdene i fjellet, og skulle revolusjonere skikjøring for en ny generasjon.
Akkurat som originalen har den nye buksen løsere passform og unike egenskaper som lårlommer for enkel oppbevaring, lange glidelåser for god ventilasjon og ekstremt slitesterke forsterkninger på leggene for å beskytte buksen mot stålkanter.
De sterke fargene fra originalen er endret og mer moderne og har ulike nyanser, men er fortsatt sterke nok til å sørge for høy synlighet.
Buksene kommer med et avtakbart overstykke som hindrer snø fra å komme inn, og holder buksen på plass.
Laget for
Storfjellskjøring ski/snowboard
Andre bruksområder
Frikjøring ski/snowboard
Topptur / Randonnée
Ski / snowboard generelt
Generelt friluftsliv
Spesifikasjoner
6

Vindtetthet

Vindtetthet

Skala fra 1 til 6 hvor 1 ikke er vindtett og 6 er vindtett.

6

Vanntetthet

Vanntetthet

Skala fra 1 til 6 hvor 1 ikke er vanntett og 6 er vanntett.

1

Varme

Varme

Skala fra 1 til 6 hvor 1 ikke har isolerende egenskaper og 6 er våre varmeste isolasjonsprodukter.

4

Pusteevne

Pusteevne

Skala fra 1 til 6 hvor 1 har svært lite eller ingen pusteevne og 6 er våre mest pustende og fuktighetstransporterende produkter.

6

Slitestyrke

Slitestyrke

Skala fra 1 til 6 hvor 1 er skjøre produkter og 6 er de mest holdbare produktene vi har.

3

Lettvekt

Lettvekt

Skala fra 1 til 6 hvor 1 er tung og 6 er blant verdens letteste av sitt slag.
Fotavtrykk
Bluesign sertifisert materiale

Bluesign sertifisert materiale

Bluesign® tests and educates textile mills to eliminate harmful substances from the manufacturing process and sets control standards for a sustainable and safe production.

Åpen fabrikkliste

Åpen fabrikkliste

Dette produktet er laget på en fabrikk som er listet på norrona.com.

Inspisert fabrikk

Inspisert fabrikk

Dette produktet er laget på en fabrikk som er inspisert av en uavhengig tredjepart og etterfølges av Norrøna.
Materiale
GORE-TEX® Pro

GORE-TEX® Pro - Denne membranen fra GORE-TEX® bruker en vevd liner for å redusere vekt og tykkelse – samt for å bedre fukttransport og slitestyrke. Samtidig opprettholder den varig vanntetthet.

Les mer på GORE-TEX.com
Tekniske detaljer
Rated

5

out of

5
by
Johanna Stalnacke
from
Strong and sweet
Riding with the Lofoten GT Pro is a treat. I love how the pants function in remarkably well in tough conditions, their features such as pockets on the right places, ventilation and that you can tighten around your ski boots when cramponing, makes this an awesome pant. The fit is great. I´m a XS with my 153 cm / 5 foot and love how these pants fit well both on the length and the width. When I need to perform I don´t think about the pants, and that´s good. They are just there, comfortable, well-functioning and simply aweseome. And they will last for wear and tear. Just how we like it.
Date published: 2017-08-11
Rated

5

out of

5
by
Jackie Paaso
from
For those that really tend to put their gear through the wringer
I've worn these pants throughout all 5 stops of the Freeride World Tour last winter. We hike to the top most of the time and that include making your way over snow, ice and rocks. These pants held up no problem and I'm confident they have MANY seasons in them even if you wear them as often as I do!
Date published: 2017-08-07
Rated

5

out of

5
by
annemie
from
Excellent quality ski trousers
Love all the pockets and zips. love the bib that comes with it and is detachable. It feels warmer than without. Excellent freedom of movement, which I'm after. Done with puffy trousers
Date published: 2018-11-29
Rated

5

out of

5
by
Yanav
from
Fantastic features
Excellent quality, comfy fit, accurate sizing, taped zippers!! good pockets, powder skirt with optional zipper. By far worth every penny. I highly recommend. I am an all mountain and backcountry hound... so quality and material are of upmost importance.
Date published: 2018-05-16
Rated

5

out of

5
by
Mountainchick
from
Fantastic pants
Bought to go with Lofoton jacket and what a combo. Great fit and features. Fit is very true to sizing on the fit guide. Great colours and quality manufacturing as always with Norrona products. Keep up the great work. Your products put a smile on my face ever time I wear them!
Date published: 2018-02-25
Rated

5

out of

5
by
CarolG
from
Cool ski trousers
I bought these trousers at the start of the season and have worn them constantly. On cold days I have to wear 2 thermal layers underneath but that works well. They look great with the Lofoten jacket. Just love them.
Date published: 2018-02-06
Rated

2

out of

5
by
GM Bondick
from
Disappointing Changes, but Loyal to the Pants
I have owned, worn, and loved Lofoten Gore-Tex pants and jackets for years, and they have stood up to all abuse, wear and tear in the mountains of Vermont. I have several of them, in many colors. I had wanted white ones for some time, so when I saw them on the website I ordered them immediately. The website claims these have the same loose fit as the original, but strongly I disagree. These are quite a bit more narrow across the upper thigh, hips, and seat, so much that my old ones fit loose and comfortable over two mid layers, including fleece short johns and a quilted down pant (it's cold here), while these ones - in the same size - are very tight from two-thirds of the way up the thigh and past the hip, and that is without any layers under them. They also changed the zipper so it now stops below the snap buttons instead of going all the way to the top like the old ones. This creates a small gap that lets cold air in and looks unsightly, as it creates a small bump. Despite these new flaws, these are still great pants, but they definitely do not fit like the original. Because I love the brand so much - and because I really want these white pants - I took them to my tailor. He has altered the length of other Lofoten pants I own, so he is taking part of the excess leg fabric from these and adding it to the hip, upper thigh, and seat area, and he is changing the zipper so that it goes all the way up as the old ones do. An expensive endeavor, but worth it for a pair of pants that I know will keep me warm and dry for years to come. I do wish they had not changed them.
Date published: 2018-01-08