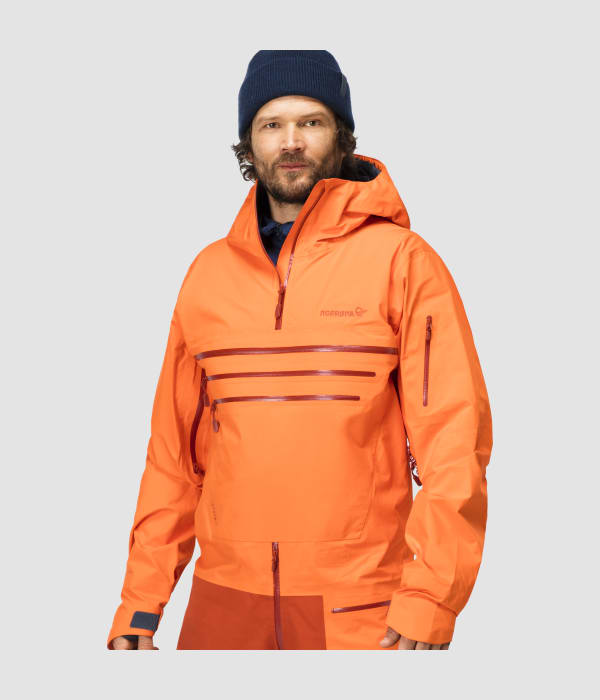 Bli varslet når produktet er tilgjengelig
Et av våre mest velkjente produkter var et resultat av et dristig trekk fra en ansatt og frikjøringsentusiast. På jakt etter det perfekte antrekket til puddersnø endte han opp med å sy sammen jakken og buksen, og en ny stil ble umiddelbart til.
Den nye lofoten Gore-Tex One Piece består av to ulike GORETEX® Pro-materialer, slik at du får den beste beskyttelsen og bevegeligheten under krevende forhold.
Den våtdrakt-inspirerte åpningen gir bedre bevegelighet og gjør produktet enda mer behagelig. Den lekne, løse passformen er den samme, men vi har modernisert utseendet og innført nye egenskaper som brystventilering med netting og to større brystlommer.
Limte glidelåser, forsterkning rundt leggene og tilpasset stormhette gjør dressen mer slitesterk, og du holder deg tørr i all slags vær naturen kan by på.
Laget for
Storfjellskjøring ski/snowboard
Andre bruksområder
Frikjøring ski/snowboard
Ski / snowboard generelt
Spesifikasjoner
6

Vindtetthet

Vindtetthet

Skala fra 1 til 6 hvor 1 ikke er vindtett og 6 er vindtett.

6

Vanntetthet

Vanntetthet

Skala fra 1 til 6 hvor 1 ikke er vanntett og 6 er vanntett.

1

Varme

Varme

Skala fra 1 til 6 hvor 1 ikke har isolerende egenskaper og 6 er våre varmeste isolasjonsprodukter.

4

Pusteevne

Pusteevne

Skala fra 1 til 6 hvor 1 har svært lite eller ingen pusteevne og 6 er våre mest pustende og fuktighetstransporterende produkter.

6

Slitestyrke

Slitestyrke

Skala fra 1 til 6 hvor 1 er skjøre produkter og 6 er de mest holdbare produktene vi har.

3

Lettvekt

Lettvekt

Skala fra 1 til 6 hvor 1 er tung og 6 er blant verdens letteste av sitt slag.
Fotavtrykk
Resirkulerte fibre

Resirkulerte fibre

Mer enn 50% av syntetiske fibre i dette produktet er resirkulerte.

Bluesign sertifisert materiale

Bluesign sertifisert materiale

Bluesign® tests and educates textile mills to eliminate harmful substances from the manufacturing process and sets control standards for a sustainable and safe production.

Åpen fabrikkliste

Åpen fabrikkliste

Dette produktet er laget på en fabrikk som er listet på norrona.com.

Inspisert fabrikk

Inspisert fabrikk

Dette produktet er laget på en fabrikk som er inspisert av en uavhengig tredjepart og etterfølges av Norrøna.
Materiale
GORE-TEX® Pro

GORE-TEX® Pro - Denne membranen fra GORE-TEX® bruker en vevd liner for å redusere vekt og tykkelse – samt for å bedre fukttransport og slitestyrke. Samtidig opprettholder den varig vanntetthet.

Les mer på GORE-TEX.com
Tekniske detaljer
Rated

5

out of

5
by
HansiAT
from
Great! For warm and cold days, just perfect!
Amazing product, I wanted a one-piece suit for so many years and finally tried it out. I was first a bit skeptical, if this suit would perform well on the warm as well as on the cold days, but it proved to be awesome in both! During warm days (spring skiing at around 15 Celsius plus) it worked amazing: open the chest vent and a bit on the vents on the legs and you have an amazing airflow inside the suit, not comparable with any jacket/pants i have ever tried! Now i understand the positive effect of not having a normal zipper on the front. In the cold (all zippers closed) it keeps away the wind and depending on what you wear underneath keeps you dry and warm. The only place where i found the suit a bit inconvenient was while not skiing i.e. sitting in the hut etc. (I know it is not made for that). However, any inconvenience is truly abolished by the comfort and style this suit brings with it while skiing. Overall, you feel kinda invincible wearing it in any condition. I am already looking forward to wearing it next season! Best skiing suit I have ever had although pricey!
Date published: 2018-05-07
Rated

5

out of

5
by
Myles99
from
Amazing product
So i purchased this at the beginning on the ski season this year, at first I was hesitant to go down the one piece route but I couldn't recommend this highly enough. You can get your core temperature perfect for hot or cold days by using thermals and it doesn't sweat at all . the zip system is really good and works great and all the pockets really help especially the front chest pocket. If you ski powder this product is a must no snow penetrates at all . 10/10
Date published: 2019-04-03
Rated

5

out of

5
by
Guido
from
All in one Protection
I first came across a Norrøna one piece suit three years ago whilst guiding in Switzerland. It was my sister that introduced me. Back in the late 1980's; one piece suite were standard but not technical. The concept of one piece eliminates the gap when using jacket and trousers. Firstly, any one piece, eliminates snow getting to your extremities. Factor in the technical features nowadays of Gore Tex, you have a formidable piece of equipment. I prefer the term asset. When you get one of these, it's an investment in survival, comfort and license to venture into the extreme. Recently, I git my own suit from Norrøna and used it in the absolute extreme. It's what it's designed for. When I first tried it on, I was worried about the fit. It looked big, once I got into it and did the usual stretches, I knew it was perfect. Flexibility is really important with any product if you're climbing, skiing, snowboarding or any action sport. The features and technicality have been thoroughly thought through and executed with this product. So, if you like the high extremes of weather, altitude. This is a must have component.
Date published: 2019-02-13
Rated

4

out of

5
by
Adèle
from
Excellent product: but why no women version?
Used to wear a one piece for years now, I chose this norrona version for my trip to Japan as it is a little looser (I'm three month pregnant and had to be able to fit a growing belly and layers as it is -36° c chill) and it was absolutely PERFECT! had to get used to the way you put it on and close it but when you get the trick (which is to close in the middle and not on the sides when you wear it) it is absolutely excellent! in terms of shape I really like the baggy style (I'm 1,74m and 60kg and took a S) but for a women the style around the shoulder and harms is way to large... so I looked very much like a women wearing a men's clothing, which annoyed me a little as it is an expensive piece. but it has the perfect insulation for deep powder and breathability to hike and get this perfect untouched mountain side... wore the lyngen 850 jacket and pants under and I am very very happy with the overall use as the conditions where quiet extreme (very cold, windy, blizzard and with deep snow)
Date published: 2019-02-09
Rated

5

out of

5
by
Rdsmith
from
Feature packed one piece!
Love all the features (pockets, vent zippers and more) on this one piece. The fit is a bit big but you can adjust it yourself to make it a bit better. The color is awesome and I just love it!
Date published: 2018-05-31
Rated

5

out of

5
by
Cric
from
THE BEST HELISKI OUTFIT
No doubt the Lofoten one-pice is a must for powder skiing and heliskiing...
Date published: 2018-01-22
Rated

3

out of

5
by
Gimo
from
Impractical
After producing the very best gore-tex one piece for so many years (admittedly, some of the colours were a bit suspect!), why did you have to change what was excellent into something which is totally impractical in respect of entry. I understand that you are trying to be original with this latest version of the suit but the over the head/chest zip arrangement is just silly. Over the years, I have bought several versions of the original suit which I use for both professional and personal leisure skiing and I only ordered the most recent model out of curiosity to see how it would work out. My fears have been confirmed. Next year, please go back to something based on the original front zip design in a plain strong colour. Thanks.
Date published: 2018-01-07
Hi, just wondering about size of a hood; would the hood be possible weak on top of the helmet? Thank you in advance!
Yup, it should fit! My hood fits on top of my helmet and it protects from wind and icy snow! Great product
Date published: 2019-02-07
Hi, i am 177cm and 77kg..what size is good for me? to wear down mid layer and termo pants 
Hi Skyyc, I would recommend you to try the S version first, and are quite confident that will suit you fine. I'm a little bit shorter than you (172 cm) and weighs a bit less, and are in between an XS and Small. Would buy XS for my own sake. It is quite roomy. Best regards, Jens, Norrøna Fan Support
Date published: 2019-01-17
Hello, I can not put the straps on the suit, the metal pins do not go through the loops? Could you explain to me? Thank you
Hi, The should be pushed sideways to the hole to fasten.
Date published: 2018-12-15
What are the two small cords for, which are placed inside the one-piece suit (Tried it on in a shop and wondered)? Will the new suits for the next season have an exit for headphones inside? The one from last 2017 does not as far as I noticed.
Hi. The loops in the onesie are for suspenders. You can purchase these in our Webshop. See the link: https://www.norrona.com/en-GB/products/svalbard/suspenders-25mm/?color=7700 Unfortunately the suit does not have headphone exit in next years version.
Date published: 2018-04-12
How to take it off? Didn't see it in the video.
Hello Scintilla. Thank you for your interest in the lofoten gore-tex pro one-piece. You take it off by pulling the zipper from your arm and over your chest horizontally. Then you take your head into the whole and go with your body through that. For your information, new colors will be released next fall! Bets regards, Anette/Norrøna Fan Support
Date published: 2018-01-23
Hello, I measure 174cm and I got a S and the fit is great, however there isn't enough room to wear anything like pants under it. Is the simple shell of the one-piece enough to protect from the cold (I'm particularly worried about the legs)?
hi, if temperature goes below 0degree, this one layer is not enough... I typically use thermal underwear - then all I feel allright.
Date published: 2019-05-10
I am 178cm and 65kg. Is my size S or M?
Hello, I would probably get a size small, the medium fit will probably be a bit baggy. Best regards, Alexander - Norrøna Fan Support
Date published: 2017-11-21
Why is there no drop seat on your one-piece? In my opinion this is a major drawback in the design. Most if not all one-piece baselayers have a drop seat.
Hi Alain, I used this piece during the Lofoten shoot, and from my experience you don't really need a drop seat. The reason you need it on the baselayers is because you'll be wearing insulating layers over it, which is a bit of a hassle to take off every time you go to the toilet. As this is your shell, the outermost layer, it's faster to just take it off rather than to use a drop seat function.
Date published: 2018-02-02