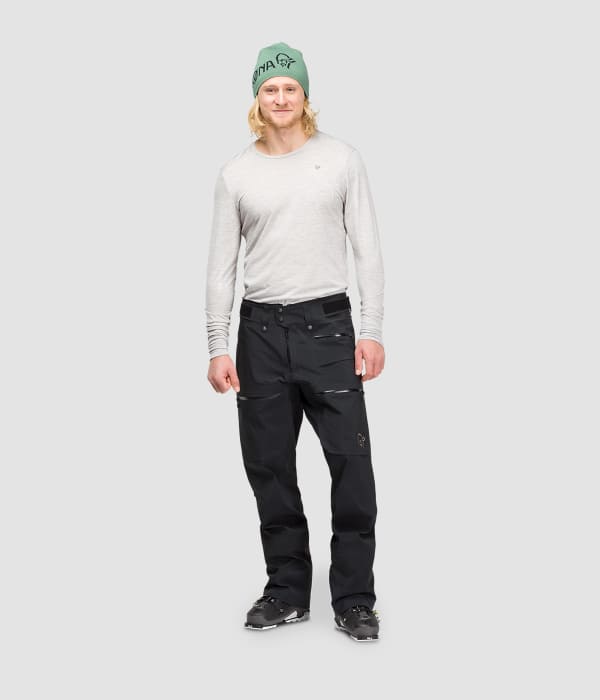 lofoten Gore-Tex Pro Light-bukser er våre letteste bukser for frikjørere. Buksene har mange av de samme egenskapene som forgjengeren lofoten Gore-Tex Pro, men er laget av et lett, vind- og vanntett GORE-TEX® Pro-stoff som gir utmerket slitestyrke i forhold til vekten.
Passformen er litt mer tettsittende enn lofoten Gore-Tex Pro, men er likevel spesielt utformet til frikjøring på høyfjellet.
Buksene har nyttige funksjoner som Custom-fit system™-justering i linningen, glidelåser med netting for ventilasjon, lommer på lårene til nødvendig utstyr og forsterkning nederst på bena.
Det perfekte plagget for detaljorienterte frikjørere som ønsker lav vekt og god beskyttelse.
Modellen har på størrelse L (Høyde 188 cm / 6'2")
Laget for
Storfjellskjøring ski/snowboard
Andre bruksområder
Topptur / Randonnée
Frikjøring ski/snowboard
Ski / snowboard generelt
Spesifikasjoner
6

Vindtetthet

Vindtetthet

Skala fra 1 til 6 hvor 1 ikke er vindtett og 6 er vindtett.

6

Vanntetthet

Vanntetthet

Skala fra 1 til 6 hvor 1 ikke er vanntett og 6 er vanntett.

1

Varme

Varme

Skala fra 1 til 6 hvor 1 ikke har isolerende egenskaper og 6 er våre varmeste isolasjonsprodukter.

4

Pusteevne

Pusteevne

Skala fra 1 til 6 hvor 1 har svært lite eller ingen pusteevne og 6 er våre mest pustende og fuktighetstransporterende produkter.

4

Slitestyrke

Slitestyrke

Skala fra 1 til 6 hvor 1 er skjøre produkter og 6 er de mest holdbare produktene vi har.

5

Lettvekt

Lettvekt

Skala fra 1 til 6 hvor 1 er tung og 6 er blant verdens letteste av sitt slag.
Fotavtrykk
Resirkulerte fibre

Resirkulerte fibre

Mer enn 50% av syntetiske fibre i dette produktet er resirkulerte.

Oeko-Tex sertifisert materiale

Oeko-Tex sertifisert materiale

Oeko-Tex® er et verdensomspennende, uavhengig, uavhengig test- og sertifiseringssystem som sikrer at kbruk av kjemikalier er i tråd eller overgår nasjonale og internasjonale regler og standarder.

Bluesign sertifisert materiale

Bluesign sertifisert materiale

Bluesign® tests and educates textile mills to eliminate harmful substances from the manufacturing process and sets control standards for a sustainable and safe production.

Åpen fabrikkliste

Åpen fabrikkliste

Dette produktet er laget på en fabrikk som er listet på norrona.com.

Inspisert fabrikk

Inspisert fabrikk

Dette produktet er laget på en fabrikk som er inspisert av en uavhengig tredjepart og etterfølges av Norrøna.
Materiale
GORE-TEX® Pro

GORE-TEX® Pro - Denne membranen fra GORE-TEX® bruker en vevd liner for å redusere vekt og tykkelse – samt for å bedre fukttransport og slitestyrke. Samtidig opprettholder den varig vanntetthet.

Les mer på GORE-TEX.com
Tekniske detaljer
Rated

5

out of

5
by
Bucketeer
from
Amazing ski pants,
I bought my ski pants a few weeks ago, the fit is fantastic and the quality what Norrona are well known for. I've bought Norrona a few times because they always make sure their products match expectations. A rare thing these days.
Date published: 2018-12-29
Rated

4

out of

5
by
Kelvin
from
Light strong and a great fit
Great pants for touring! The pants are light and a relatively slim fit making them comfortable and nice to wear! The vents in the side make you able to cool of, when active, but unfortunately (In my opinion) the netting limits the amount of air coming in. It does however stop snow. A sure winner for every skier who wants to look good and have a functionel pant at the same time!
Date published: 2018-10-21
Rated

5

out of

5
by
Pacoftv
from
Great
I bought last month and expecting the winter to use it at the mountain
Date published: 2018-10-06
Rated

4

out of

5
by
Robydoc1964
from
Lofoten Gore-Tex Pro Light Pants
I like the color and lightness of the article, I can not wait to try i
Date published: 2018-04-25
Rated

4

out of

5
by
Brad
from
Excellent
I bought these 3 months ago and have since skied in St Anton, Kitzbuhel and Verbier - in cold conditions. I have mainly worn them with leggings. They are waterproof and comfortable. Only negative is that I spilt some food on one of the pockets and I cant get the mark out. They are a really nice fit. Looking forward to wearing them without leggings in warmer weather in April! Wondering whether I should have bought full side zip pair instead as hope to move on to ski touring.
Date published: 2018-03-18
Rated

5

out of

5
by
Rich2429
from
Great ski pants
The best ski trousers I have owned, great quality, comfortable and lighter than the standard Lofoten Pro so perfect for backcountry and touring. These are a complete winner! The only complication for me is sizing as I don't find the size charts that accurate, particularly the hip measurement. I'm a 31 inch waist, 32.5 inside leg and find the Small fits well, although I'd prefer them to be slightly longer.
Date published: 2018-01-01
Rated

5

out of

5
by
@asbjorn_eggebo
from
Makes skitouring light and fast
This pant is just great for touring . Good vents, nice and snug pockets to store things, light and pretty narrow. Perfect for some light climbing it you need to put your crampons on. Then you´dont want a too wide pant right?
Date published: 2017-08-11
Hello, I have a Lofoten GoreTex Pro jacket. Can this pants zip or be attached to it or is it only for the Lofoten GoreTex Pro pants?
Not with a zipper no.  There's buttons for that.   Do know that if you buy the 'same colour', they're not exactly the same.  The materials used in jacket and pants are different hence the different tone of the same colour. Bit of a disappointment when I received my set... Good gear overall though. 
Date published: 2018-11-09
Do they come equipped with the removable bid like the Pro one's?
Unfortunately...no!! you must order separately...
Date published: 2019-01-07
Sorry, how much is the inseam length of pro light pants?
Hi Francesco. Thank you for your question regarding this skitouring pants. The length of the inseam is: S- 84,5 cm M-86,5 cm L-88,5 cm XL-90.5 cm Hope this information was helpful for you. Best regards, Anette/Norrøna Fan Support
Date published: 2018-01-16
Dear Norrono I am very interested in your lofoten Gore-Tex Pro Light Pants. I need an XL. The waist is perfect! My waist is 104cm. Alas, the length just doesn't work. I am 182 cm tall and I have an 80 cm Inseam. Your regular pants are just too long