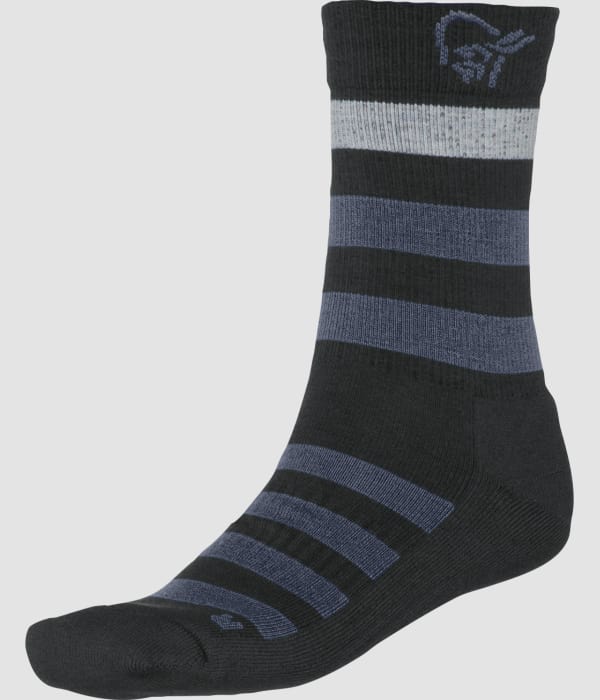 falketind mid weight Merione Socks er en allsidige sokk i middels tykkelse, perfekt til både fjellturer og hjemmekos. Den myke ullen holder deg varm og komfortabel på kalde dager, men holder deg nedkjølt når det er for varmt. Vi har brukt sporbar, museling-fri ull som følger GOTS-standarden.
Laget for
Fjellsport / Alpin klatring
Andre bruksområder
Fjelltur
Generelt friluftsliv
Langrenn
Topptur / Randonnée
Ski / snowboard generelt
Isklatring
Brevandring
Materiale
Merinoullblanding

Laget hovedsakelig av merinoull som er i samsvar med GOTS (Global Organic Textile Standard). Vi bruker også polyamid, som gjør plagget mer robust, og elastan, som gjør det mer tøyelig.
Rated

5

out of

5
by
Cla86
from
Great socks!
I have been using this socks all through the winter and spring in Italy and Norway for hiking and cross-country skiing. They have a perfect fit and keep the feet warm and dry.
Date published: 2019-06-19
Rated

5

out of

5
by
SilvOG
from
The socks for long days
I was lucky enough to test one of these and I have to say that these are the socks for adventures. Due to the excellent material these socks can take some serious abuse. I went hiking, working, motocycling and cycling in them. They regulate temperature very well which means that they are great for stuff where you move around and produce heat but afterwards sit down in the cold. I wouldn't use them on a 30+ degree day in summer they just seem too hot for that. Although I think norrona states that it would be possible. But for all the other season these belong into the backpack/on your feet. The merino wool dries super quick and prevent you from smelling. After wearing them for 2 days straight in the moody austrian spring I could still enter a Caffè without being frowned upon. If you are looking for lomg term companions, socks that may survive you look no further.
Date published: 2019-06-10
Rated

5

out of

5
by
JulianS
from
Good fit as expected.
Had these for a few months now, no issues and are doing their job fine. Are not very thick, but they are the mid weight version so aren't meant to be.
Date published: 2019-06-07
Rated

4

out of

5
by
M.Khuu
from
Great fit
The socks fit well. Quite comfortable, with left and right foot marked. Oder control is ok, not as good as other marino socks I wore before. Other than that, I am satisfied.
Date published: 2019-06-06
Rated

5

out of

5
by
Louisfromlux
from
A great Merino socks, even for everyday life
I was looking for socks which were sufficiently warm for winter, can be used for bicycle (I have to go for work by bicycle everyday, and was hoping to find socks with fast drying properties), but also have a business casual look for my working days. I must admit that I was very surprised that these socks meet all these criteria (considering that I have also tested merino socks from competitor brands but also from casual brands and there was always something missing - casual brand are not sufficiently warm for winter and not really resistant, whereas competitor brands are not always pure merino socks and the durability and odor nuisance were a problem). They fit pretty well and are very resistant. The only small negative comment I could made is that maybe certain person could fell that the string at the top of the socks is too tight (then struggling too much the ankle), but it was perfectly fine for me. I definitly recommend this product.
Date published: 2019-06-06
Rated

5

out of

5
by
annischu.
from
Great socks for various occasions
These socks are really great. I have used them mainly for hiking and running and like them a lot. They have a great fit, my feet are never too cold or too warm and even after a long day hiking, the socks don't really smell.
Date published: 2019-06-06
Rated

5

out of

5
by
Rclark
from
Excellent socks
Really loved the sock they are a great fit, extremely comfortable to wear
Date published: 2019-06-05
Rated

5

out of

5
by
2R2R
from
Great for many uses
Quickly became one of my favorite pair of merino socks. Great for many outdoor activities. If been using them for trail running, mountain biking, and hiking in European winter and spring weathers. Well balanced between warm and cool, I felt comfortable in temperatures between approx. -5 and +15 C. Well built, fits snuggly and true to its size, couldn't find any wear after heavy use over 4 months except for the usual pilling. No problems washing them in the machine. I also appreciate the unobtrusive dark grey color for everyday usage.
Date published: 2019-06-05