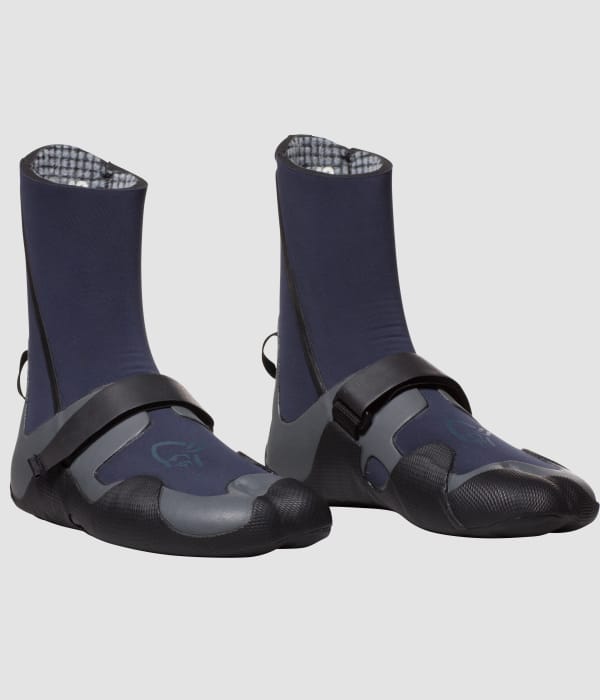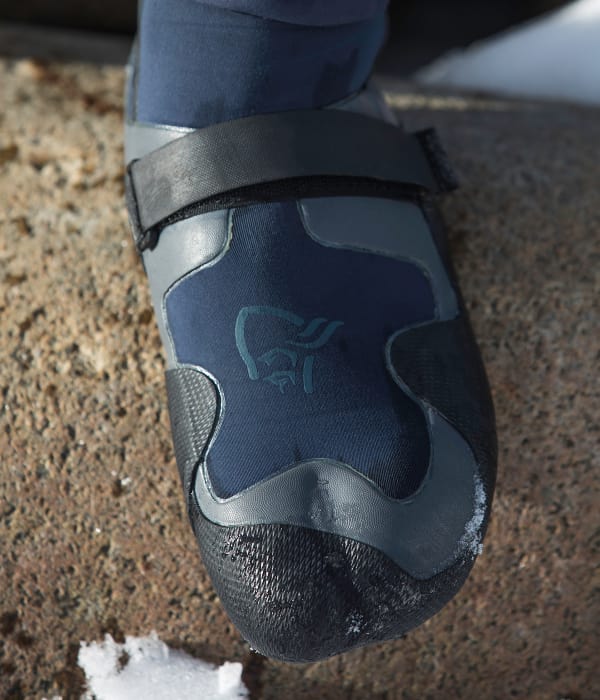 The unstad 8mm Booties are 8 mm wet shoes in durable and stretchy neoprene made to keep you warm in the arctic waters.
Rubber sole to ensure optimal grip contact with the board and a loop for adjusting between split to and no split toe.
Fabrics
Neoprene

Instead of using the traditional oil-based Neoprene, this is made of Neoprene based on Limestone. This is more environmental friendly than the oil-based version.
Rated

2

out of

5
by
Awynne56
from
8mm booties for the east coast.
Just got these 8mm split toe booties in the 41-42 size. Surfed in 49 f degree water and it was sunny and 45 air temp with 543 hooded wetsuit with 5 mm gloves. I surf on the east coast all winter and take my gear seriously. I know you can be only so warm in 32 degree water and haven't surfed that yet this year so this is just a fit review I will further as it gets colder Nice looking bootie liked the sole right amount of flex and ridgity It kept my foot warm as it should. 49 degrees is not really a test , Here are my issues. having the lowest size as 41 not really that small, I take a 40-41 size really , I had to tug on the Velcro strap to have my foot hold tight. Having the the bootie span two sizes leaves them kinda sloppy and not super precise when on your feet. The split toe helps a bit with hold of the bootie but not practical when the water temp drops in the 40 range and lower. I suspect my big toe being isolated will get colder quicker. I will update. Now to the heal hold, again very sloppy and moved around a lot. A lot of this could probably fixed by having more specific sizes ie 40,41 etc. also the heal slop might also be fixed by having a y strap that connects to the heal and mid foot. I do like these boots because they are 8mm and most are 7mm but they are a work in progress. I spent 99 dollars on these so only time and the cold will tell if it was work it. I hope this helps my fellow cold water surfers and the R and D team at norrona. I mean no disrespect. Just a honnest user point of view review. Thanks Andy
Date published: 2018-11-25
Rated

5

out of

5
by
Boro
from
Varme og sitter som støpt på beinet
Kjøpt November 2017. Veldig varme sko som er veldig fleksible og sitter som støpt på beinet. Uten tvil de beste skoene jeg har brukt. Du får god følelse med skoene på brettet og foten din sitter stabilt inni skoen slik at du ikke sklir inni den. Var litt uvant med den split-toen i begynnelsen, men den er veldig behagelig nå, pluss at det er nok denne split-toen som gjør at skoen sitter så godt på foten.
Date published: 2018-08-14
Rated

4

out of

5
by
bigtoejim
from
Split toe but the big guy's as toastie as the little ones
I'll back up the San Francisco guy with the merits of rugged thermal quality and a robust sole (from a split toe!). These boots probably set the bar for just the right thickness of sole to be durable for those winter treks to spots and barnacle covered reef wear yet are not so thick that they take the crucial board feel away. In the depths of winter a slightly thinner boot is gonna make you loose board feel through numbness anyway. However again I need one more sizing to fit, this time one up, 46-47 please!
Date published: 2017-11-21
Rated

4

out of

5
by
Jasaiz
from
Make your feet feel toastie in cold surf
I gave this bootie a four out of five. The only reason is that Norrona has a limited range in sizes that they carry. For example I am a 40, but their smallest size is a 41-42. I just cinched down on the Velcro and there was no movement of my feet in the bottie, but it would have been better if they were able to make a 40. In terms of warmth this is awesome. Some botties I have worn in the past I can still feel the coldness, but this bottie kept my feet warm. I used in in San Francisco where the water is 54 F. My sessions are typically over an hour. Not once did I feel my toes get hold, and it is very comfortable with that liner they use.
Date published: 2017-11-20
what about women surf products?? we surf too, you know...!
I agree that they need to come up with a woman's line as well. This was the first year that they came out with the Unstad line, and even for me it was limited in their sizing. I have provided them feed back and hopefully they will expand the line for my sizes in men as well as woman specific suits
Date published: 2018-04-14