0
tamok light weight down750 Jacket (M)
tamok light weight down750 Jacket (M)
wurde bewertet mit von
5
von
8
.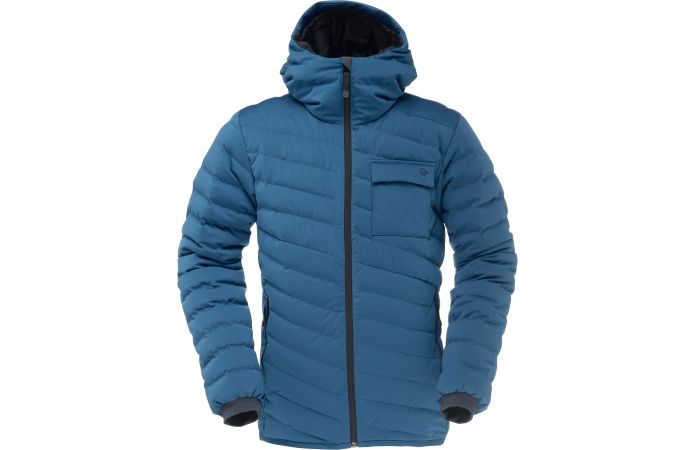 Men's down jacket with a distinct, toned down expression. This standard issue down jacket can be used either as an insulation layer under your shell jacket, or as stand-alone outer armour. Light and soft, yet durable and strong, this down jacket packs down easily into your daypack, as an essential part of your everyday on- or off-mountain battle kit. Critical details include hand warmer pockets, chest pocket and weather protective hood.
Windproofness

6

Waterproofness

4

Insulation

4

Breathability

2

Durability

3

Light weight

3

Stretch

1
Made for
Freeride skiing & snowboard
Other areas of use
Casual use, Skiing and snowboard
Rated

5

von

5
von
sn86
aus
Great fit and function
Relatively slim-fit down-insulatet jacket with great function. The jacket is somewhat longer than the average jacket in the category, witch is a great feature on cold and windy days. It's lightweight and offers great freedome of movement.
Veröffentlichungsdatum: 2016-12-14
Rated

4

von

5
von
heni
aus
I would live in this jacket
tuff material on the outside allows you to get dirty without worrying about ripping the fabric extremely soft and warm for weight prefer the longer fit as a lot of similar jackets seem short I like the button up side pocket for looks. But would like to see an additional zipper pocket on the outside for phone etc. I prefer the stitching to run horizontal across jacket not on angle. Would love to see this jacket in black
Veröffentlichungsdatum: 2017-08-08
Rated

4

von

5
von
B-man
aus
nice color
very nice color, and no bright color details either, love that. Good jacket for winter or fall/spring use, fits nice. strange sizes, not like normal European sizing. Normally I'm L (sometimes XL) but with Norrona I'm size M. I like the soft non shinny outside fabrique.
Veröffentlichungsdatum: 2017-03-24
Rated

5

von

5
von
Englok
aus
Overall a great warm jacket
Got this jacket as a christmas present from my parents and I couldn't have wished for more! I've been using this jacket on a regularly basis now for a tad over a month and I simply love it. Finally found a jacket that is long enough, as I have previously been struggling with jacket in size medium who reach me just to my beltline, so when I start to move, the jacket pulls off which leaves me cold, in an area you don't want to be cold. Same with being longer than usual, it seems to me that it is also slightly more slimmed down than most jackets. - The downfilling itself is great, and when I speed up my pace when simply walking, I often end up having to open the zipper to cool off. Due to the natural downfill the warmth to weight ratio is rather high, but when you pack it together it tends to get bigger than other jackets ive used previously, but this is also due to the longer fit of the jacket. - The outer pockets are nice and big, but the zipper is not too big, so you wont end up with cold hands. - The hood is nice and big, and protects you well from bad weather, and its also nicely filled with down so you are unlikely to get cold on your ears. - Together with the nice cuffs, this jack - Only thing that I have to get used to is that the inner pocket is positioned lower than what they are on most jackets. I havent found this as a problem so far, and the pocket is also big enough so you can fit your smartphones or any big electric device you want to hold closer to your body for warmth. All in all a great jacket for everyday use, and to use on the colder days while skiing.
Veröffentlichungsdatum: 2017-02-02
Rated

5

von

5
von
Martzdude
aus
Best Down Jacket Ever!
I love this down jacket. I love it so much that I'm actually wearing it as I write this review. It's super toasty, and totally state of the art in terms of the product and quality of the materials. I love the Norrona Brand. Cheers Dudes.
Veröffentlichungsdatum: 2017-01-21
Rated

4

von

5
von
ATB etc
aus
Good piece of clothing
Good jacket for everyday use, as long as it doesn't get wet. On rainy days and when I use it in higher altitudes I always pack a lighter raincoat to have as protection against rain/snow. Very light weight and easy to wear over/under other clothing. The hood can be a bit much for everyday use, but its nice to have. Feels a little fragile, but haven't had any problems with wear and tear yet.
Veröffentlichungsdatum: 2016-12-30
Rated

5

von

5
von
thoger
aus
Fantastic Jacket!
Fits perfectly, keeps me try and warm and I love the color!
Veröffentlichungsdatum: 2016-12-11
Rated

5

von

5
von
Jenski
aus
Great down jacket for skiing and casual use!
I have only had this jacket for about 1 month, but already loving it. The outer fabric is soft and in the same time strong. The neck is high and cover well, and the hood sits comfortably in the back giving warmth and cover when not in use. The inner fabric is also soft and comfortable, and it is both good feel and warmth inside the pockets. The arm length is quite normal in regards of the size, and the fit is quite regular. The length of the jacket is great, giving warmth and support quite far down. Used it in very light rain for a short while and now when it is new it gave a good pearl effect on the rain drops and resisted the rain ok. (Didn't use it out in the rain for a long time). Looking forward to ski with this in colder days, as well as it is my go to jacket for everyday use now in cold Norway.
Veröffentlichungsdatum: 2016-10-24