0
svalbard Gore-Tex Jacket (M)
svalbard Gore-Tex Jacket (M)
wurde bewertet mit von
5
von
3
.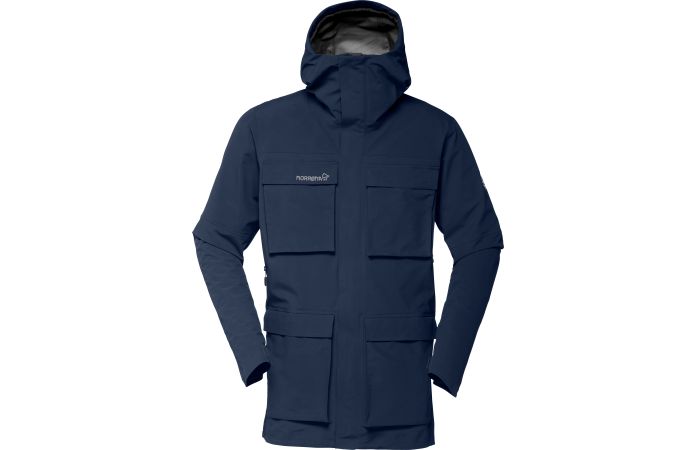 Inspired by our original mountain jacket from 1975, this jacket holds a timeless design combined with an outstanding technical quality. A highly versatile piece made with a waterproof and weather protective 3-layer GORE-TEX® C-Knit fabric. The jacket has a long cut, waist tightening adjustment, underarm ventings and water resistant YKK zippers, and is fit for a broad range of use for men. The jacket has a loose fit. The Gore-Tex fabric is 70 Denier.
Windproofness

6

Waterproofness

6

Insulation

1

Breathability

4

Durability

5

Light weight

3

Stretch

1
Made for
General outdoor use
Other areas of use
Mountaineering, Casual use, Expedition, Mountain hunting, Trekking
Rated

5

von

5
von
donshuggin
aus
Amazing!
Bought this after moving to England for general use in the rainy climate here. Worn around town, cycling, and camping. Tested extensively in torrential rain and even wet snowfall, 100% waterproof as promised. Moisture does not get through this. Highly windproof as well, did not feel much piercing cold while in windy conditions. Under arm zips provide excellent ventilation options when wearing layers underneath. In terms of quality of manufacture and performance this jacket is right up there with Arc'Teryx, Patagonia, and top of the line North Face (gear I've owned or tested in the past). This item has more of a loose-fitting and casual look, which I prefer. I am 6'2" 200 lbs and the XL has a slightly baggy (and very stylish) fit on me. No real complaints with this item but worth noting there is only one internal chest pocket (2 would have been nicer) and the 4 exterior pockets (which are a good size and good location on the garment) only velcro shut (as opposed to zip) which isn't much of a problem for casual use but I could see this having issues for activities with lots of motion such as skiing or mountaineering. Overall this is an amazing piece and I'm excited to have many adventures wearing it in the years to come.
Veröffentlichungsdatum: 2017-07-24
Rated

4

von

5
von
rémi
aus
Good jacket
First opinion after my purchase (jacket wear 2 times): After ordering a size L, I exchange for a size xl. Indeed, within the framework of a use all the year, the size xl allows to have several layers below without being tighten (1.89m for 92kg). I bought this jacket because it is long enough and protects well the basin of the wind (and rain), I also liked the color gray storm (cyclone eye). The 4 pockets are accessible with my backpack. The velcros at the ends of the sleeves allow either to completely cover the hand or to stop at the wrist (the length of the sleeves takes into account). Good illustration of the product on the site (photo + video).
Veröffentlichungsdatum: 2017-01-12
Rated

5

von

5
von
LadK
aus
Nice go for all jacket
I bought it 3 weeks ago. It was tested in heavy rain and i was completely dry underneath. Really breathable - you barely notice that waterproof jacket is on you. I've got L size, which looks good when put on a pullover or thin down jacket. Also fits well over Trollveggen Down (a heavy one) of M size. Reasonable packable. Velcro could be done better - hooks are located on face of the jacket, thus catch sweaters of people around you)) Overall very nice jacket suitable for various activities (skiing, hiking, travel, ...)
Veröffentlichungsdatum: 2016-11-11
What are the dimensions in the butt/hip area on the Svalbard XXL?
Hi stout, The circumference of this jacket in XXL is 134 cm. Best Regards Nina
Veröffentlichungsdatum: 2017-06-27
The size xxl can it suitable for a man of 2m05? 5you
Hi Cédric, Thanks for your question regarding size. The centre back length of the jacket in XXL is 91 cm, and the arm length from shoulder (not neck) is 80 cm. So it has quite long arms and a long fit. The chest size in XXL is 138 cm (in L it is 126 cm). So I think XXL will fit you well. Best regards, Jens Norrøna Fan Support
Veröffentlichungsdatum: 2017-01-23