0
recon synkroflex Pack 125L
recon synkroflex Pack 125L
is rated out of
5
by
9
.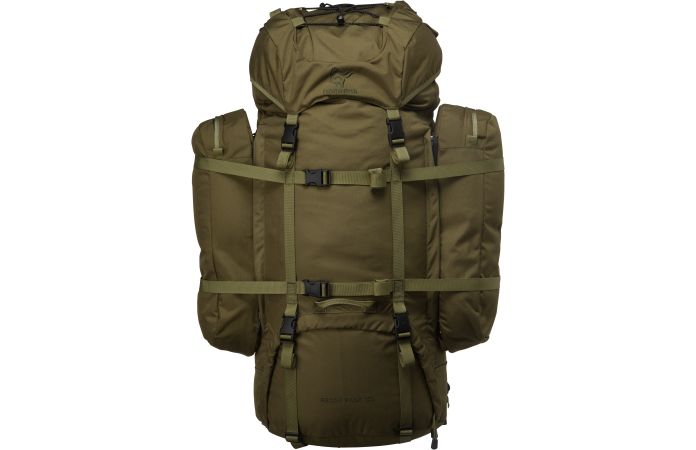 'The King of Backpacks' developed by Special Forces. Norwegian, Swedish and Danish military-approved mega-pack. Designed to carry heavy contents, the pack is built around a unique full frame to provide stability, balance and comfort for the load-bearer. Constructed to distribute weight evenly, in tune with body movement, through anatomically-shaped back, aluminium frame, shoulder straps and hip belt. With a wide range of flexible solutions including two detachable side-pockets that zip together to form an additional 16L backpack.
Durability

6

Light weight

1
Areas of use
Trekking, Mountain hunting, Expedition, General outdoor use, Mountaineering
Rated

5

out of

5
by
Jegeren26
from
Kongen av alle ryggsekker!
Jeg kjøpte sekken for en måned siden. Sekken har blitt brukt til tunge bører, med vekt opptil 25kg. Er storfornøyd med absolutt alt!
Date published: 2017-04-29
Rated

4

out of

5
by
TASS
from
Passer veldig godt til min rygg.
Hatt denne sekken i snart to år. Bruker den på overnattingsturer. Laster ikke mer enn ca 20+ kilo i den, men med litt vond rygg virker ramma på sekken som en støtte. Med hofteprotese er det viktig at sekken sitter støtt på ryggen, og det gjør virkelig denne sekken. Enseste ulempen er at den kunne vært lettere. Hva med en ramme i komposittmateriale.
Date published: 2017-04-10
Rated

5

out of

5
by
fiskejeger31
from
Best på tunge børar
Første pakkrammesekk eg har fått justert kort nok til å passe min rygg. Det er dermed med god margin sekken som har hvert mest komfertabel med tunge børar, som eg nåken gang har hatt.
Date published: 2017-02-07
Rated

4

out of

5
by
averagemart
from
Great Overall
I only have one bad thing to say about this pack because overall, this pack is build tough with quality materials. Everything is really fonctional ans solid. On your back, it fits really well and it is highly comfortable. The problem is the way to tight the belt which is to my eyes unacceptable. With a bag that big and that heavy, you have to be able to tight the strap by pulling inside. Not outside. The result is, with a 45 pounds pack or more, I am struggling to tight the belt enough and the result is that the weight is not well balance between my shoulder and hips. It is a small thing but that detail make my hike way more difficult since the weight is pretty much all on my shoulder. I will custom it to be able to pull the straps. Other than that, great pack with high quality material. If they change the belt system, AWESOME product. Worth totally the price.
Date published: 2017-01-07
Rated

4

out of

5
by
LangsNorge
from
Flott sekk, men noen svakheter
Har nå brukt denne sekken på langturer med tung last - til tider opp mot 45kg i sekken. Sekken er veldig bra på ryggen og hoftebeltet kan roteres slik at det blir god bevegelse og samtidig god støtte. MEN, har 2 ganger fått knekt selve ramma. Dvs at ramma knekker i festet ved skulderen. Det virker som om belastningen i den øvre delen blir for stor og aluminiumsveisen mellom ryggplata og ramma på siden knekker. Da mister sekken hele balansen i toppen. Har løst det med store mengder teip og surringer som førstehjelp. I tillegg har skruene som holder det roterbare hoftebeltet løsnet noen ganger. Første gang det skjedde forsvant mutterne, men nå er det blitt et sjekkpunkt ved langturer. En annen ting som er litt irriterende er at hoftespenna ikke holder. Til normalt bruk går det greit, men trekker jeg tung pulk, så spretter spenna opp. Norrøna har vært veldig imøtekommende og har skiftet ramma kostnadsfritt begge gangene de har knekt. Har også fått ny hoftespenne fra Norrøna. Alt i alt en av de beste sekkene for en lang rygg (jeg er 200cm høy) som jeg har hatt.
Date published: 2016-11-25
Rated

5

out of

5
by
Anonymous
from
Superb pack!
I bought this pack a month ago and have not regretted it since. It's big enough to hold all my bulky winter and bushcraft gear with ease. Simple, strong, dependable and fits most size body frames. Get one now!
Date published: 2016-11-14
Rated

4

out of

5
by
Joni
from
Heavy Duty gear for serious use
I bought the Norrona Recon pack a year ago and have used it couple of times in hiking trips. During the last trip with my girlfriend I carried quite big load, which included tent, most of the water and food we had and all the usual hiking kit. This pack has all the right features and nothing useless to add weight and making it too complicated. Only thing I would add to it would be a dedicated pouch for hydration system and other hole for the hose. Other thing worth thinking would be to replace the bungee cords on top of the lid with attachment points for gear. Other than these minor points,this pack is one of the best high capacity packs there are in the market today.
Date published: 2016-10-06
Rated

5

out of

5
by
ChristianD
from
King of the fells
This is the unbeatable combination of easy to carry and huge loading capacity. I've been hiking in the Finnish fells with three children using this backpack, carrying tent and food for four people on top of the usual one person kit. The flexing hip belt that keeps the weight central at all times is what does it. Even off track or on block terrain, or wading through streams you keep balance.
Date published: 2016-09-26
Er dette en grei sekk å gå med selv om man ikke laster den så tung. Vekt under 25 kg? Eller bør man da heller gå for Para Ranger?   Lurer også på hvor robust rammen er. Tåler den en støyt? Er det greit å sende den med fly? Er det garanti på rammen? 
Hei Jegeren, Sekken er god selv med litt lettere vekt. Om du skal bære tungt anbefaler jeg denne sekken. Om du sjelden bærer så tungt kan Para ranger være et alternativ. Rammen er robust og tåler en støyd. Det er garanti på rammen og vi kan hjelpe deg fikse den om det skulle skje et uhell. Håper dette hjelper. Mvh, Sara – Norrøna Fan Support
Date published: 2017-05-08
Hei! Lurer på om det er mulig å ta sekken løs fra rammen slik det var på tidligere modeller? 
Hei Jegeren, Takk for ditt spørsmål angående rammen til recon synkroflex 125L. Det finnes flere versjoner av recon sekken som er gamle. Usikker på hvilken du refererer til dessverre, men for å svare på spørsmålet så godt jeg kan. Ja, det går an å ta av sekkeposen fra rammen. Du må løsne noen reimer og velcro, og deretter drar du opp proppene på toppen av ramma og drar av sekkeposen. Hoftebeltet blir da uten spenner i sidejustering, siden disse sitter på sekkeposen. Altså "free floating" hoftebelte. Hvis man ikke mekker litt. Rammen er uten bunndel, noe som er vesentlig informasjon dersom du refererer til en av de riktig gamle sekkene med runde rør. Med vennlig hilsen Jens, Norrøna Fan Support
Date published: 2017-04-24