0
recon Gore-Tex Pro Pants
recon Gore-Tex Pro Pants
is rated out of
5
by
16
.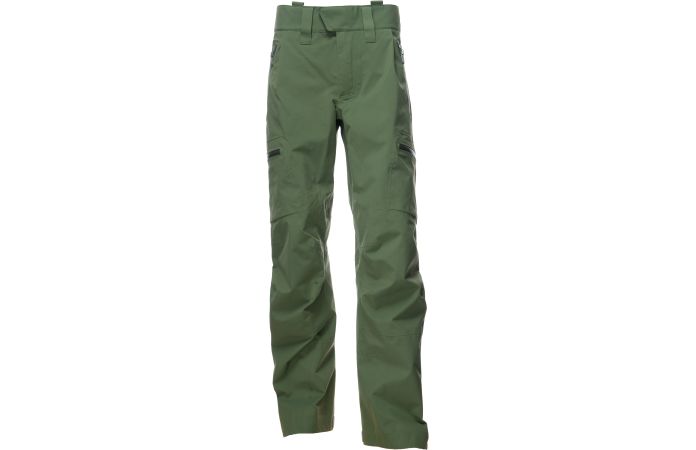 Durable, heavy duty outdoor protection. Third generation, redesigned version of our now legendary heavyweight Gore-Tex Pro pants, developed with Norwegian, Swedish and Danish Special Forces. Our most durable and weather protective pants, for extreme outdoor pursuits, all-round hunting and military use. Roomy fit, multiple equipment pockets, waterproof zippered ventings, high cut in back, suspender attachment loops. Inseam length in size XS=79cm, S=81,5 M=84cm, L=87cm, XL=90cm, XXL=90cm. Women should choose one size smaller than normal for these pants. The Gore-Tex fabric is 70 Denier.
Windproofness

6

Waterproofness

6

Insulation

1

Breathability

4

Durability

6

Light weight

3

Stretch

1
Made for
Mountain hunting
Other areas of use
Forest hunting, General outdoor use, Trekking, Freeride skiing & snowboard
Rated

5

out of

5
by
Jami
from
Really solid pants
Have worn these for a variety of harsh activities. In the past wearing other pants I would have likely ended up with tears or stains but these look like new. Fit is superb, very comfortable and easy to move in. Highly durable, wind and rain proof. A bit long for me - I take a medium and am 5 foot 11. The Velcro at the bottom helps with the extra length.
Date published: 2016-11-12
Rated

5

out of

5
by
jeger1979
from
Får det ikke bedre enn dette!
Fantastiske bukser med ekstrem slitestyrke. Jeg har brukt de en del på skogsjakt, og det synes ikke at jeg har travet 5,5 mil på 3 dager i denne buksa nå i høst. Knusk tørr selv når himmelen åpner seg!!! Hvis det er noe jeg savner på denne, så er det en slags innstrammingsmulighet i livet - her er du avhengig av belte hvis du har bestilt litt for stor størrelse.
Date published: 2016-09-26
Rated

4

out of

5
by
Sølle
from
Kan bli enda bedre
Bukse med god passform og god bevegelsesfrihet, den har gode lommer og ventilasjonsmuligheter. Mitt eneste ankepunkt er bukseselene, som ikke holder mål, da de stadig hopper av bak, spesielt når du bøyer deg fremover med sekk på ryggen. Mener at bukseseler er et must når en bærer sekk. Har av denne grunn det siste året hovedsakelig benyttet Svalbard gtx bukse, som har ny type buksesele, som fungerer utmerket. Håper ny modell recon vil ha de nye 25mm bukseselene, i tillegg kan en ønske seg custom-fit system i livet og noe bedre forsterkning ved anklene.
Date published: 2017-02-28
Rated

5

out of

5
by
Kvinnelig fjellfant
from
Damemodell?
Hei Norrønna, Alle menn, inklusive min egen mann, skryter hemningsløst av deres Recon bukse og jakke. Dette er jo Unisex, men noen sjanse for at dere vil produsere rene damemodeller snart? Ønsker meg denne dressen, men da jeg prøvde jakken i butikk var både jeg og min mann enige om den hadde håpløs passform for meg som dame. Prøvde også buksen på et tidspunkt, og damen i butikken var ganske snar med å foreslå at jeg kunne prøve noe annet :D Håper dere tar opp til vurdering å lage en damemodell, da vi stadig er flere damer som jakter og/eller legger ut på litt lengre turer som krever godt og slitesterkt utstyr....og da er det jo hyggelig å se bra ut også :)
Date published: 2017-01-02
Rated

5

out of

5
by
Harry72
from
Very good Outdoor rainpants
I'm waiting for the next rain. Very dry conditions on the moment. Fit optimal with my recon jacket.
Date published: 2016-12-24
Rated

4

out of

5
by
Allie
from
Great well made pant
While I really like the features and quality of these pants, they are not quite unisex. I bought my usual size small but the waist was kind of large. It seems more like a men's pant that is being called unisex. I still really like them but the sizing is why I didn't give it five stars.
Date published: 2016-10-29
Rated

4

out of

5
by
HrZ68
from
Great light weight waterproof pants!
Great pants (and jacket) for hiking hunting. You can open the ventilation when walking and close it again when you are still.
Date published: 2016-10-19
Rated

3

out of

5
by
Jeger11
from
Ein liten skuffelse..
Eg kjøpte recon Gore-Tax Pro Bukse for 2 år sidan, og har vert godt fornøgd med buksene hittil. Det er en visuelt fin bukse, som også innfrir forventningane når det gjelder vind- og vasstettleik. At den har fått 2 av 6 i karakter på isolasjon, synes eg har vert ein fordel, fordi dette gjør det mogleg å bruke buksa til alle årstider. Min erfaring er at den passer godt til både sommarturar i regnvær, men også toppturar på ski. På kaldare dagar vil eg anbefalt ekstra bekledning under buksa. Grunnen til at eg ikkje kan gi denne buksa toppscore, er fordi eg dessverre meiner at den har nokre problem, som eg gjerne skulle hatt forbetra. Første problemet er eigentleg ein bagatell, som har fleire gongar ført til større irritasjon. Dette er festet at bukseselen. Ofte når eg har gått på turar, har festet bak på ryggen hekta seg av, noko som har ført til at buksene siger ned. Dersom ein brukar genser og jakke over denne bukseselen, ved f.eks regnvær, er det moglegheiter for at ein må ta av ytterplagg, for så å feste bukseselen igjen. Difor har eg ofte nytta belte rundt livet, i staden for beltesele. Det siste, og største problemet, er slitestyrken til buksa. Hovudgrunnen til eg kjøpte denne buksa, var fordi Norrøna reklamerte med at dette var ein slitesterk friluftsbeklednig i tungvektsklassen. I områda eg har vert på jakt, har blant anna vert på høgfjellet, med mykje steinurer. Dette har ført til fleire hòl i buksebeinet, frå kneet og ned. Her skulle eg ynskt at Norrøna hadde forsterka materialet rundt anklar og leggane. Til sommaren vil eg truleg levere inn buksa for reperasjon, men eg trur ikkje dette er eit eingongsproblem. Andre bekjente har også opplevd same problem angåande slitasje etter kort tid. Alt i alt, er godt produkt, men ein smule skuffa over slitestyrken. Dersom eg skulle kjøpt ny bukse i dag, ville eg truleg undersøkt markete nærmare. Til ein såpass høg pris, vil utvalet av frilufts- og jaktbukser vere stort, og for mine krav om slitasje vil eg tru andre oppfyller ynskja mine betre. Men for all del, dersom ein ikkje går mykje i terreng med stein, vil eg tru denne buksa heldt mål angåande slitasje.
Date published: 2016-10-10
Can you fit these over a par if regular alpine/freeride ski boots? i assume there are no gaiters inside.
I've never tried those kind of boots with these pants might be a tight fit around alpine/free ride boots But I encourage you to really look into the wait size my pants we're incredibly uncomfortable in the croch area I ordered 30 waist and fit more like size 28 and the length was pretty long very weird fitting pants imho 
Date published: 2017-01-19
Hei Norrønna, Alle menn skryter hemningsløst av deres Recon bukse og jakke. Dette er jo Unisex, men noen sjanse for at dere vil produsere rene damemodeller snart? Ønsker meg denne dressen, men Unisex er dessverre dårlig passform for oss damer.
Hei Kvinnelig Fjellfant, Takk for ditt spørsmål, dette er en meget god bukse ja. Dette står som en unisex bukse, men er egentlig en herrebukse. Og så produserer vi en størrelse mindre enn vi vanligvis gjør med XS slik at de fleste damer også kan bruke den. Så passformen er nok ikke optimal til kvinner dessverre nei, selvom den fungerer for mange. Jeg kan ikke se at vi har noen planer om en dame-modell av denne selvom jeg selv også håper det da vi får spørsmål om det fra tid til annen. Det er nå ganske mange som har stilt spm på generell basis om jaktkolleksjon til damer, og det vet jeg at i hvert fall har kommet frem til de personene som kan ta avgjørelse på dette internt. Mvh. Jens Norrøna Fan Support
Date published: 2017-01-02
Har dere denne buksen inne i størrelse L (large) ??? Da den ikke er å oppdrive i Hordaland for tiden virker det som. 
Hei Sjøørreten, Denne buksen har vi inne i Large så det er bare å bestille. Vi har gratis frakt på alle produkter og gratis bytte til en annen størrelse/annet produkt om det ikke skulle passe. Du bør ha den innen et par dager etter at du har bestilt. Hilsen Jens Norrøna Fan Support
Date published: 2016-10-17