0
lofoten Pack 30L Removable Airbag 3.0 ready
lofoten Pack 30L Removable Airbag 3.0 ready
is rated out of
5
by
1
.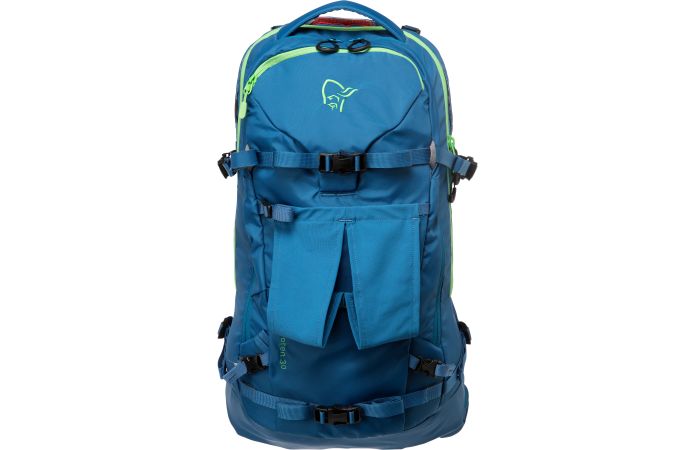 Ski and snowboard backpack compatible with Removable Airbag System 3.0. This backpack will carry everything you need in a demanding situation in the mountains. Can be used with or without removable avalanche airbag system (R.A.S.). You get easy access through the u-shape zipper opening both in the back and in front. The inside is organized well to have room for all necessary ski mountaineering equipment. The front is padded for better protection when you carry your skis through the diagonal ski carry system, and you have 4 compression straps and a helmet net attachment. The Integral™ carrying system with an aluminium rod frame provides good stability for your back. This backpack is compatible with "Removable Airbag 3.0" from Mammut.
Waterproofness

3

Durability

6

Light weight

3
Made for
Big mountain skiing & snowboarding
Other areas of use
Freeride skiing & snowboard, Ski touring, Skiing and snowboard
Rated

5

out of

5
by
Jenski
from
A really good skiing backpack with great features
I have the former version of this one, and the main difference is what kind of R.A.S system which fits and the color. I have an orange one. I really like this backpack as it is really sturdy, has a soft back and gives you both great support in the back and protection as the back is quite stiff. It is not the lightest backpack for ski touring, but nevertheless it is my favourite. With goggle compartment, ice axe attachment, separate room for avalanche gear, isolated room for drinking system and the helmet net which is easy to use and easy to remove when not in use. The shoulder straps are also padded well. (I use it without the R.A.S system, just as a skiing backpack. It is also easy to operate with gloves, and have a smart back opening. The only thing I think could be better is the strap around the hip which tends to loosen up a bit when walking.
Date published: 2017-05-24
Hello, is this compatible with the protection 3 removable airbag from Mammut?
Hi Lakes M, This backpack is not compatible with the protection 3 removable airbag from Mammut. The reason is that this system is launching from the shoulder straps and around your head. The backpack is only compatible with the Mammut Removable Airbag 3.0 ready. Best regards, Jens, Norrøna Fan Support
Date published: 2017-01-30
Hi Can I also order the backpack with the RAS System? If not were can I get it? Best regards
Hi Swissmountain, We don't sell the pack with the RAS system unfortunately. You could get it through https://www.mammut.ch/ or someone close to you who retail Mammut. Best regards, Jens Norrøna Fan Support
Date published: 2017-02-17
Hi, what would be the total weight of Backpack + RAS 3.0 ? Thanks for your answer. Alain.
Hi AlainD, Thanks for your question regarding the weight of the backpack with the RAS 3.0 system. The backpack itself weighs 1 680 grams. The RAS 3.0 system weighs 690 grams + the tank which in carbon weighs 1 010 grams. So the total weight with this setup should be 3 380 grams. Best regards, Jens Norrøna Fan Support
Date published: 2016-12-06
Hi, does this also mean that it's also the other way around, that the new RAS 3.0 will not fit in last season's Lofoten backpack, or can it be attached anyway and there will just be some extra space as it's smaller than the 2.0?
Hi Alja, The new RAS 3.0 will not fit in a RAS 2.0 compatible pack. The connections between the pack and the RAS are totally different from one generation to the other. Alexandre, Product development, Norrøna Sport
Date published: 2016-10-26
Hi! I have a RAS 2.0 system. Is that system compatible whit this backpack? Best regards John
Hi John, Unfortunately the RAS 3.0 and RAS 2.0 are not compatible with each other. The newer RAS 3.0 system is lighter and more compact, and comes along with several improved features. That's why we chose to upgrade the lofoten pack to the latest version of RAS. Please note that the lofoten pack from last season (style 5090-15) uses the RAS 2.0 technology. Also, the cartridges are compatible with both RAS 2.0 and 3.0, so you won't have to buy a new one. Alexandre, Product development, Norrøna Sport
Date published: 2016-10-17