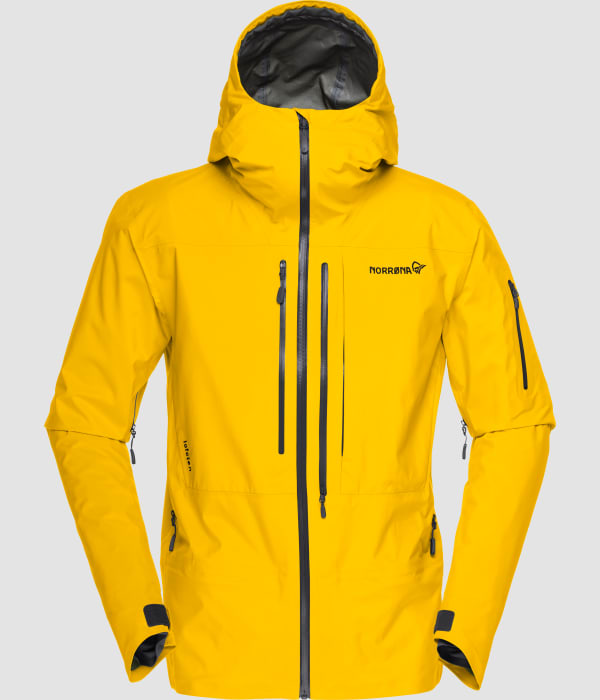 Setting the benchmark in 2004 for a new generation of skiers, the lofoten Gore-Tex Pro Jacket was made uncompromisingly to fulfill the big mountain freeriders need for protection from the most demanding conditions out there. Unlike the dominant snowboarding garment at that time, the jacket was snugger and activity customizes with high napoleon pockets for maximum accessibility when using a backpack and harness - key features that have been kept all the way until today's jacket. Made with extremely durable GORE-TEX® Pro membrane and 40D recycled nylon face fabric, the jacket is set for dramatic terrain and extreme weather.
The jacket includes features such as a one-hand adjustable storm hood, functional pockets, two-way armpit venting, wrist and bottom hem adjustment, chest ventilation and a Y-shaped cut optimized for movement.
The colorways are chosen in the spirit of the bold and new thinking color range introduced back in 2004; Bright and clear to ensure secure visibility in the mountains and perfect color coordination. It is without a doubt the number one choice for the freeride adventurer but also a safe bet for those who are looking for the everlasting outer layer.
The model is wearing size L (Height 188 cm / 6'2")
Made for
Big mountain skiing & snowboarding
Also works well for
Freeride skiing & snowboard
Mountaineering
Ski touring / Randonnée
Performance
6

Windproofness

Windproofness

Scale from 1 to 6 where 1 is not windproof and 6 is totally windproof.

6

Waterproofness

Waterproofness

Scale from 1 to 6 where 1 is not waterproof and 6 is waterproof.

1

Insulation

Insulation

Scale from 1 to 6 where 1 has no insulating properties and 6 is our warmest insulation products.

4

Breathability

Breathability

Scale from 1 to 6 where 1 have very little or no breathability and 6 is our most breathable and moisture wicking products.

5

Durability

Durability

Scale from 1 to 6 where 1 is fragile products and 6 is the most durable products we have.

4

Lightweight

Lightweight

Scale from 1 to 6 where 1 is heavy and 6 is among the world's lightest of its kind.
Footprint
Recycled Fibers

Recycled Fibers

More than 50% of the synthetic fibers in this product are recycled.

Oeko-Tex Certified Fabric

Oeko-Tex Certified Fabric

Oeko-Tex® is a worldwide consistent, independent testing and certification system which secures chemical use is in line or surpassing national and international regulations and standards.

Bluesign Certified Fabric

Bluesign Certified Fabric

Bluesign® tests and educates textile mills to eliminate harmful substances from the manufacturing process and sets control standards for a sustainable and safe production.

Open Factory List

Open Factory List

This product is made in a factory openly listed on norrona.com.

Inspected factory

Inspected factory

This product is made in a factory inspected by an independent third party and followed up by Norrøna.
Fabrics
GORE-TEX® Pro

GORE-TEX® Pro is the most durable fabric technology from GORE-TEX® for outdoor use. The GORE-TEX® membrane uses a woven liner to reduce weight and bulk, enhance moisture transport and minimize abrasion, all while maintaining durable waterproofness. The ultimate storm-protection fabric. Technical specification: Waterproof: min. 28,000 mm* Breathablility: High, down to 9 RET** Windproofness: 100% * ISO 811-test ** ISO11092-test

More about GORE-TEX® Pro
Technical details
Rated

5

out of

5
by
Anonymous
from
The best shelljacket and the best customer support!
After many years of hard use of this jacket in all kind of adventure activities finally a zipper was worn out. This is the only problem in a long time of hardcore use! The shell has been excellent and the jacket looked like new. However after last skitrip to the French Alpes I visited Norrönas store to change the zipper. I was contacted by headoffice and offered the greatest customer service and a replacement jacket!!! I am deeply impressed off this jacket, the Lofoten trousers and the excellent customer support. Outstanding Norröna
Date published: 2018-03-31
Rated

3

out of

5
by
Anonymous
from
Nice jacket with bad quality
Norrøna Lofoten Used this jacket through the hole winter and spring. Kept me dry and nice. Good airwenting through the armpits, the airwent on the chest is useless, just another zipper to brake. Its better to open the jacket. The hoodie fits nice with or without a helmet. I find the arms a bit too long and the waist a bit to short for snowboarding in resorts, but is ok when ski touring. I prefer pants with bibs when using this jacket to be sure I won't get snow I my back. Think it should be a tougher zipper like norrøna have on both Trollveggen and Recon jacket. After half a year the jacket starts to delaminate, get air bobbles around the arms and the zippers. The velcro on both arms starts to fall off, looks like some bad stitching. This have happened to other norrøna products I had before as well. A friend off mine have the same problems with delaminated goretex layers. Nice jacket for ski touring, but norrøna have to work on their quality and durability on their clothes. Earlier this was what they was known for…
Date published: 2019-08-15
Rated

5

out of

5
by
Danilo81
from
Great freeride jacket
The second Norrøna jacket that I bought , the beast freeride items . I skied to Canada , Alaska , Norway in a good and bad conditions and I can tell the Norrona items are perfect in all weather conditions!!
Date published: 2019-07-14
Rated

5

out of

5
by
Lev.
from
Solid design
I've spent a season using this jacket for split-board top-tours. 29 days of use at various conditions from freezing-cold Siberia below -35 degC to melting Switzerland with +12 degC. GoreTex Pro fabric is doing an excellent job as usual providing enough comfort with wind and snow. Specific highlights of this jacked for me: * Rather long sleeves, which allows for a full range of motion. * Long cut on the back: no issues with jacket getting under a backpack's hip-belt or getting to high and expose lower-back during the ride. * Hood: initially I was concerned about hood without separate front adjustment, however it was tested in some wet & windy days and went quite OK. * Underarm zippers: perfect solution for heat-vent + you may access inner pockets or down jacket pocket through them, which is rather useful on snowy days or winter camp. * Connectivity with Lofoten GoreTex pants: flex skirt or direct connection zippers make this combo snow-proof. On top of that, these connection features does not influence comfort of wearing harness or heavy backpack, so it works perfect for glaciers. * Overall fit - it just fit great and does not limit the moves in any way. As desired! Specific low lights: * Durability of hand gaiters: see photo, if the gaiter looks like this after one season I would doubt, that it will survive for 5 intended years. Note, that function and comfort of this gaiters is great, no concerns about that. But not the durability. * Chest-pocket on the left side is made not in-line with a torso fabric, but rather stepping out. Possibly it was done to increase its inner volume, but a downside is that wet snow tends to accumulate in this fabric gap, melting, dipping, wetting the gloves, likely not getting through the jacket fabric... yet. * Shoulder pocket has a stretchy holder for skipass, which is good for skipass, but rather annoying if you want to put anything else like menthol drops or so in this pocket without taking off the gloves. * Front meshed ventilation is nice, but I did not notice its contribution much. Good that its zipper works in an opposite direction with chest-pocket zippers, but still messed it up a couple of times and opened a pocket instead of adjusting the vent. Thus, in my mind it adds complexity and unnecessary overload with zippers in the chest area, rather than considerable functionality. Overall, I'm happy with a jacket, and even it is not as "loaded minimalistic" as expected, I still enjoy it and looking forward for upcoming adventures while wearing it.
Date published: 2019-06-17
Rated

5

out of

5
by
Simonebon2
from
perfect in every way
confortable, a breathable armor against the bad weather, but you can move freely with it on! best jacket ever!
Date published: 2019-04-15
Rated

5

out of

5
by
Bas1
from
Super jacket.
Overall the best jacket for any outdoor activity. Great fit and high quality.
Date published: 2019-02-26
Rated

5

out of

5
by
bottluca
from
The number one in the jackets
I think that this jacket is the better product of the mountain technical equipment
Date published: 2019-02-23
Rated

5

out of

5
by
Cocotte
from
Efficient and Nice !
I bought it before doing ski touring in Iran. It was perfect with warm weather or cold wind at 4000m!
Date published: 2019-02-17
posso sapere se la giacca lofoten goretex pro e la lofoten goretex active sono praticamente uguali,cambia solo la menbrana per traspirabilità e peso ? hanno la ghetta interna per la neve entrambe ? per uso sci alpinismo freeride meglio active o pro ?
Ciao, grazie per la vostra richiesta Sì, è vero. peso inferiore e membrana più sottile sulla giacca lofoten gore-tex light pro
Date published: 2019-03-29
Is there any differences between the 2018/19 jacket other than colors? Is it a new GoreTex? Fit is the same??
The jackets are made with the new, sustainable and extremely durable GORE-TEX® Pro membrane. The fit is the same, it is a great jacket, I highly recommend it.
Date published: 2018-12-20
Since I'm 1m95 but only have a chest circumference of 93cm, i'm wondering if a Large or X-Large which are closer to my length won't be baggy and a Medium won't be to short. What do you advice?
Hi all, thanks for all the response, eventually i went for the Large, length wise it's good, and for me it's not to baggy and i have room left for layers, so i'm happy. Thanks again!
Date published: 2018-12-12
Is it a 3 layers jacket ? Thank you
Hi yes i would say it is a 2 to 3 layer jacket. Had a week in Austria and had 2 layers on. Kept dry and didn't get cold.
Date published: 2018-12-31
I'm unsure of sizing as I'm 180 cm and 80 Kg, normal build (for Jackets I normally use size 48 and pants 32) - should I go for Medium or Small (as need room for layers as well)
Size small is the one I went for. I'm the same size - slightly tight on the waist but perfect elsewhere. I love this make. I ski 25 weeks the year and it's by far the best made. 
Date published: 2018-11-26
Hello - Are all the pockets waterproof? I read a review that said the front pockets leak in rainy conditions.
I have bought and used this jacket for skiing. I think it will take some pretty heavy rain before the contents of your front pockets become wet. Quality of material and craftmanship of this jacket is excellent.
Date published: 2017-11-25
What is the denier of the fabric?
Hi Justinb650! The denier for the lofoten Gore-tex Pro jacket is 40D and in recycled Nylon. Hope this was helpful information for you. Best regards, Anette/Norrøna Fan Support
Date published: 2019-03-05
Will there come new colours? If so, when?
Hello Hesjedal, There will be new colors in the FW18/19 collection, which will launch fall 2018. Best regards, Alexander - Norrøna Fan Support
Date published: 2017-11-21