lofoten Gore-Tex Pro Pants (M)
lofoten Gore-Tex Pro Pants (M)
is rated out of
5
by
29
.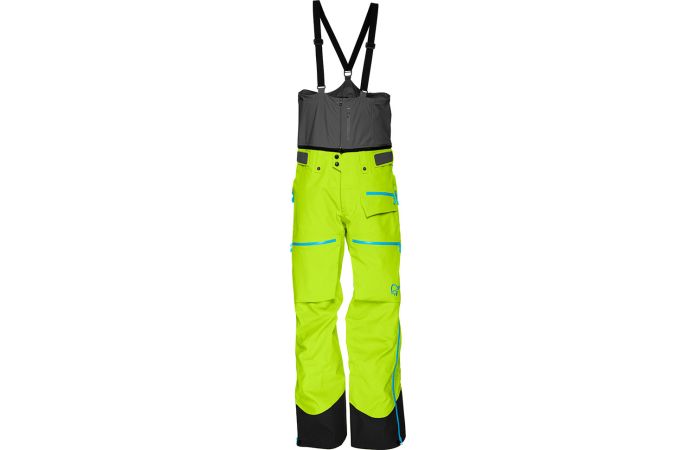 Our most durable and functional freeride pants for men. All the critical details you need while freeriding are included in these heavy duty and highly breathable pants. This season offers an improved design with a better pocket solution and improved custom fit. In addition, superior ventilation combined with being weatherprotective and waterproof, makes for a high level of comfort. Made with a new generation GORE-TEX® Pro for improved durability. Definitely one of Norrøna´s most popular products. Inseam length in size L = 89 cm. Length differs 2 cm per size up and down. The Gore-Tex main fabric is 200 Denier with a Armacor leg reinforcement.
Windproofness

6

Waterproofness

6

Insulation

1

Breathability

4

Durability

6

Light weight

3
Areas of use
Big mountain skiing & snowboarding, Freeride skiing & snowboard, Freestyle skiing & snowboard, Randonee, Skiing and snowboard
Rated

5

out of

5
by
Jami
from
Favourite pant ever
By far the best winter pant I have ever owned! The fit is spot on, very comfortable, lots of useful pockets. Really durable, wore them hard for a full season and they look brand new. I love the colours and wish to buy another just for the cool colour choices. The bib is great, this way the waist doesn't have to be too tight and I can comfortably fit lots of layers on top and tuck them in but the bib keeps the pants in place.
Date published: 2016-11-12
Rated

5

out of

5
by
GaFo
from
Maybe the best ski pant of the decade?
If you want a durable, bombproof ski pant that endures whatever the weather throws at you here it is. The Lofoten PRO pant is delivering on all aspects , whether you are plowing powder in Hokkaido , skiing the glades at Red Mountain , ski touring in the Lyngen alps or simply enjoying a week family skiing in Åre. The durability comes at a price , the pant is not the lightest and may feel a little stiff when new. Use it for a few days (10-15) and it becomes like your favorite pair of denims. Great stow pockets on the front , fits gloves , maps, climbing skins when needed, The fit is large and relatively wide, meaning that if you look for a specific pant for mounaineering where a lot of rope ,crampon work and ice tools are involved the Trollveggen or Lyngen pant are better alternatives. But as mentioned above - the everyday versatile pant is without doubt the Lofoten pant.
Date published: 2016-09-28
Rated

5

out of

5
by
Andy
from
Lofoten Goretex Pro Pants
Well, here I am again...my 3rd pair of Lofoten pants! They don't wear out, I'm just a sucker for this years colours! They are Norrona's signature garment; super functional, stylish, comfortable, and bulletproof. I kept my existing pair in Medium for free riding, and these I bought in Small for touring so they fit more snugly for cramponing ski alpinism antics... I will probably buy another pair next year too!!
Date published: 2017-01-26
Rated

5

out of

5
by
AliK
from
Great Quality
I bought these a month ago, have been skiing twice in them and love them, really tough material.
Date published: 2017-02-21
Rated

5

out of

5
by
Guus
from
Simply great
Amazing pants. Very durable, wind/water proof. Used them in various weather coditions, from rain to very cold temperatures. Simply adapt your underwear accordingly. The front pockets can fit a lot of stuff without limiting your freedom of motion. The bib is very comfortable, keeps the pants up such that you don't have to tighten the wast too much.
Date published: 2017-02-17
Rated

5

out of

5
by
Willret
from
Lightweight, and perfekt fit.
Bought last season and used them extensively for two weeks. Kept me dry and warm with just one base layer under. The second week we went both skiing and hade full scale exercise in search and rescue with initial care of wounded in artic klimate. Have absolutely nothing to complain about, other than the snow have not yet come som I can use them again.
Date published: 2016-10-13
Rated

4

out of

5
by
Gurkan
from
You get what pays for!
You get what you pays for, really good quality and nice design! I also like the big pockets and that you can zip off the braces. the hard part for me was to choose the right size because I´m in between M and L and this pants are really exact in there size. I choosed large so I have some extra space in the pants, that´s nice when you skiing!
Date published: 2016-10-07
Rated

5

out of

5
by
freeheelskigod
from
longevity
Bought the original pants in Norway when I started to learn to telemark ski in 1998 - still going strong, superb fit, warm, waterproof and distinctive original colour schemes - just debating whether or not to invest in the new versions knowing they will probably outlast my skiing days!!
Date published: 2017-02-11
Rated

5

out of

5
by
Hattie81
from
Best ski pants ever
I bought these for my husband for Christmas and they are the best ski pant he has ever owned. They seem to be incredibly hard wearing, the fit is very comfortable and they allow you easily to regulate your temperature. I will be asking for the ladies ones for my birthday!
Date published: 2017-01-30
Rated

4

out of

5
by
Tinderangler
from
Superb outdore pants
I've used this pants for one year now and i love it. It handel extreme wether and is good to wear. I just wish it had a pocked high up on the side like jeans whit zip. One would be ok. Otherwise its a greate pant. I use it for skiing, climbing and sosial outdore activity.
Date published: 2016-11-02
Rated

5

out of

5
by
Wade
from
Great Fit Great Features
I bought the pants last year and have found the fit to be just right, as well as hard wearing and functional. love the fact that I can remove the bib. Attention to detail is great pockets and ventilation. If your serious about your skiing then these bad boys are for you.
Date published: 2016-10-06
Rated

5

out of

5
by
Bobvg
from
Nice pants, great quality
Great pants! There are a lot of pockets, which I like, fits great over ski boots, connects easily with the coat (they can be attached), ... The size around the waist is perfect, but the pant legs are too wide! They are very loose, also around the 'bum-area'.
Date published: 2016-10-05
Rated

5

out of

5
by
thore
from
fredom in motion
my 5th day in it from -10 to +5 degree C and only a 200g merino woll underwear you almost don't recognize that she is there. total freedom in the move. I am 188cm/86Kg and got the L which is on the large side, an M would probably have been too short.
Date published: 2016-12-26
Rated

5

out of

5
by
nelson b
from
awesome colors built with great materials
bought it a month ago. i haven't got a chance to wear it skiing yet but i knew from experienced and from owning several norrona jackets and pants it wil not disappoint me at all.
Date published: 2016-11-26
Rated

5

out of

5
by
Anonymous
from
fab pants!
Really well made from great materials. Only done one week in them but they're super comfy to ski in with loads of flex and look great...now saving up for the jacket
Date published: 2017-01-10
Rated

5

out of

5
by
James007
from
smart product for great adventure
I bought this product to prepare a polar excursion. I wore it 15 days in all weather conditions. I was never wet, never warm, never fed up with it...
Date published: 2016-09-26
Rated

5

out of

5
by
Charlo
from
The best to ride
I bought this 2 years ago I am skiing in the alps for 40 years and it's the best technicals years I hâve ever year
Date published: 2016-10-06
Rated

5

out of

5
by
Mike
from
Excellent Pants
Great product with great style. These pants are of the highest quality and look fantastic on the slopes
Date published: 2016-10-06
Rated

5

out of

5
by
Amaelur
from
Best skiing pants ever
Very comfortable, lightwear and ergonomic. The ultimate pant for ski-touring or freeride.
Date published: 2016-11-28
Rated

4

out of

5
by
IGOR
from
Good features
Great product. I really recommend it. High quality trousers.
Date published: 2016-09-26
Rated

4

out of

5
by
donken75
from
I'm loving them
Using this when i am skiing and they are great!!!!
Date published: 2016-10-06
Hi, I am looking for right size for lofoten Gore-Tex Pro Pants. My measurements: Waist : 84 cm Inside leg : 81 cm Weight: 90 kg The sizing chart suggests M but I would have always bought L so was wondering if your sizing is quite generous?
Sizing isn't generous unless you are on the slim size. And if you want to wear your fleece inside your ski pants i.e. Have the fleece within the bib then perhaps L size is the way to go, unless you are slim build physically i.e. No protruding stomach. Hopes this helps 
Date published: 2017-01-09
I purchased the Lofoten Pants and Jacket (both in medium).  However the snow-squirt doesn't line up with the pants regarding the two clips in the back.  When both clips are attached, I get a bubble that allows snow through
Hi, Thanks for asking the question regarding the snow skirt of the Lofoten ski set. The snow skirt should fit perfect without bubbles when you have the same size in jacket and pants, probably also if you go up/down a size in one of the products. It seems to me that you have missed a button, because this happens when one of the buttons in the front is skipped. But off course you have checked that. So I recommend you to contact our Service Department, and they will solve this. Best regards, Jens Norrøna Fan Support
Date published: 2017-01-05
Calling captain Jens! ;-) Just to clarify, the true inseam length is 87cm in mens medium? Or are they designed for a person with an 87cm inseam? Also why do Norrøna not use a diamond crotch gusset on their hard shells? Thanks in advance, Gareth
Hi Gareth, Captain Jens here! The inseam measures is the product measure, not the person measure. So the product in M is 87cm inseam. On your question regarding the diamond crotch gusset, I have to pass it over to our product technicians as I honestly does not now what that is. This is a bomber ski pant that will last for a long long time, using probably the most heavy duty Gore-Tex fabric in the market which Norrøna uses exclusively. So get that pant and hit the mountains! Aye aye Jens Captain
Date published: 2016-12-05