fjørå flex1 Shorts (M)
fjørå flex1 Shorts (M)
is rated out of
5
by
17
.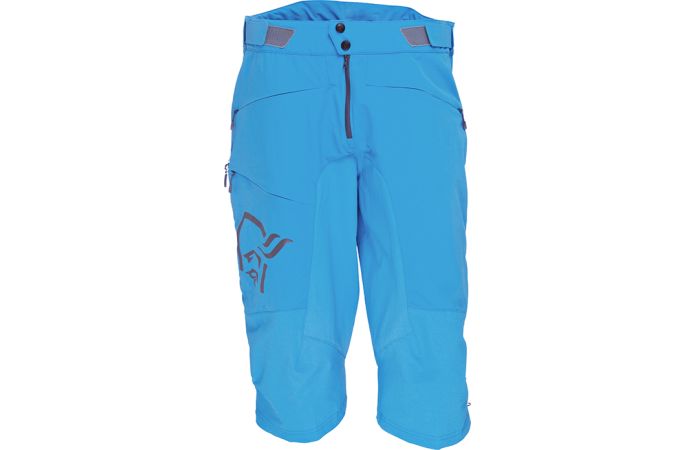 Durable and fully featured mountain bike shorts, made of durable flex™1 fabric. This technical product has a below-knee cut for protection as well as articulated knees, meshed side venting and stretch panels on rear and inseam. Accommodates padded Lycra shorts underneath. With all of its special features and good mobility we predict that this pair of shorts will become a favorite.
Windproofness

4

Waterproofness

1

Insulation

1

Breathability

5

Durability

6

Light weight

3
Areas of use
Singeltrack mountain bike, Mountain biking, Trekking, Trail running, Casual use, Backpacking
This fits perfectly with
USD 109

Comfortable low profile backpack for trail riding

Color: Caribbean blue

Size: Which size would you like?

USD 69
Rated

5

out of

5
by
catdeb
from
Really like these
These shorts are both stylish and practical. Very well made, and comfortable. Too warm to wear in the height of summer, but great for the rest of the year
Date published: 2016-09-26
Rated

5

out of

5
by
Razz
from
Great features!
I bought this a few months ago and they are the best mountainbiking shorts I ever had! The fitting is perfect and the features are just great!
Date published: 2016-09-28
Rated

5

out of

5
by
wingsuitflyer
from
Shorts for any place you can imagine
Spring-summer 2016 i've been skydiving a lot and I've been searching for durable flexible comfortable shorts for skydiving and wingsuit flying because. Once i've saw them in the store there with no doubt thats what i need. Yes i know that they designed for biking but they fitted ideally for skydiving. Durable breathable fabric with just right below-knee cut for protection as well as articulated knees for free movement in any position, and flexible enforcement in strategic places. It's critical for landing and movement in the plane. You don't have to worry that they will be damaged on deployment or on hard landing. Belt adjustment super working. When you are flying wingsuit you feel great and free to drive it in a right way. Ideal pockets configuration on right places you can keep all you need with you when you are flying and when you are on the ground at airfield. Sometime you have to land faraway from the drop zone and you need phone money and docs to be with you. If it's become to hot just open the zips and it's done! They are really have a great look o lot of people asked where did i get them. For now for me the best shorts for summer extreme activities.
Date published: 2016-12-28
Rated

5

out of

5
by
Cazmorrison
from
Great shorts.
Great shorts. Love them. Expensive but they will last the test of time like all Norrona products.
Date published: 2016-09-26
Rated

5

out of

5
by
Nicemanjack
from
Fantastic product
This is the second shorts i have bought and i just love them. Super fit and very good to wear
Date published: 2016-11-23
Rated

5

out of

5
by
Oliver
from
top bike short
top quality, top Feature, can recommend it; the only thing I would prefer are suspenders
Date published: 2016-09-26
Rated

5

out of

5
by
svenne
from
best shorts I have
perfect shorts for Daily use and for cycling.fast drying, strong, nice looking
Date published: 2016-09-26
Rated

5

out of

5
by
Anca25
from
Just Love them!
My second pair and probably not the last! Love the different pocket.
Date published: 2016-09-26
Rated

4

out of

5
by
Smiley
from
Good pair of mtb shorts, but a bit expensive
Me I ride a couple of times a week year -round and have been doing so for many many years now. I have owned shorts from a large range of manufacturers and consider the quality of these Norronas to share the top spot with only a few others. For reference I am 175cm and 65kgs and the small fits good. I have a long inseam at about 83cm and find these do run past my knees. Temperature These shorts are definitely not the best in hot weather. They do not breathe very well, but better then Windstopper. I wont wear these Fjora`s unless its below 20°c. Even with the side vents open they are just too hot. Also because they are so long they curl over the knee and keep air from flowing up the legs. That said, below 20°c or just pure lift assisted riding, these perform quite well. Just keep in mind they are only for dry weather...more on that later... Fit They are quite well form fitted, but I do not recommended if you ride pure XC (think pedalling all the time, small downhills etc, not lift assisted). I generally roll the shorts up a little bit for pedaling uphill as they get in the way. These are great shorts for those times when you want/need to wear knee pads as they fit over them perfectly. The material is quite high quality and stretches just right. They are not baggy, which is nice. The velcro waist adjustment works perfectly. Color I have the pure orange and its a great color, but beware: after one muddy ride the butt is quite stained. I let them soak in cold water with a mild detergent and couldnt get it out. Now they look like I crapped myself! If I would have known this I would have gone for a darker color. Is this covered under warranty? I think this should be mentioned as they really dont look good and I have only used them a couple of times. Summary These, much like bikes these days, have their place. > Lift assisted knee-pad days > Light colors stain easily. > Fit is great, not baggy, but not xc racer tight. > The price is a bit high. > I would buy these again if I could get them at a discount (and a darker color).
Date published: 2016-09-27