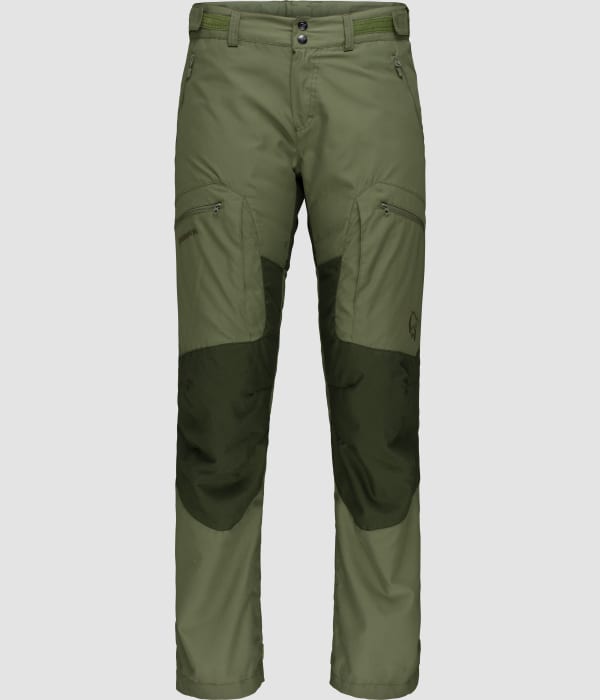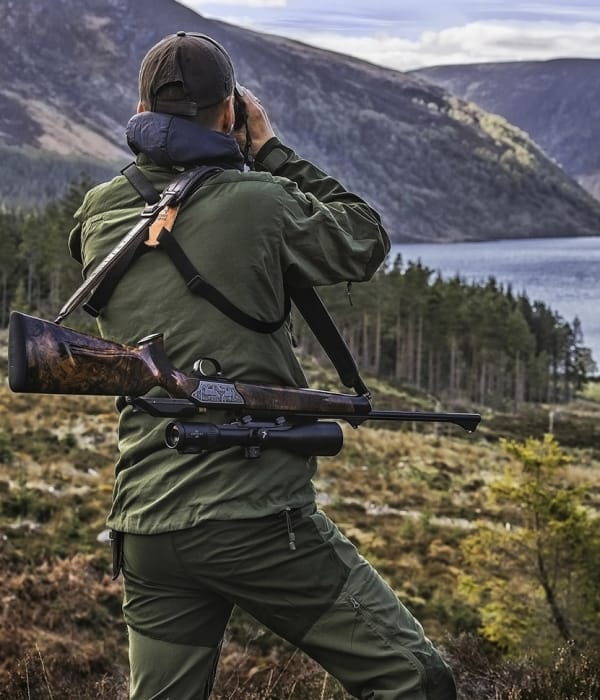 The finnskogen hybrid Pants are the number one choice for the hunter who demands silence, comfort and flexibility. They are super soft yet durable and made of long lasting brushed polyester fabric reinforced with waterproof dri fabric on the knees and seat.
They come with hand warmer pockets, practical thigh pockets, long side leg ventils and velcro tightening around the ankles.
The pants are perfect for all kinds of forest hunting in dry weather and dry quickly if nature decides to turn things around.
Also a good choice for those who are looking for an all-round outdoor pant and prefer the green color palette. Unisex model.
Inseam length in size L = 85 cm. Length differs 2 cm per size up and down. Women should choose one size smaller than normal for this product.
Other areas of use
Expedition
Mountain hunting
Climbing
Trekking
Performance
3

Windproofness

Windproofness

Scale from 1 to 6 where 1 is not windproof and 6 is totally windproof.

3

Waterproofness

Waterproofness

Scale from 1 to 6 where 1 is not waterproof and 6 is waterproof.

1

Insulation

Insulation

Scale from 1 to 6 where 1 has no insulating properties and 6 is our warmest insulation products.

5

Breathability

Breathability

Scale from 1 to 6 where 1 have very little or no breathability and 6 is our most breathable and moisture wicking products.

5

Durability

Durability

Scale from 1 to 6 where 1 is fragile products and 6 is the most durable products we have.

5

Lightweight

Lightweight

Scale from 1 to 6 where 1 is heavy and 6 is among the world's lightest of its kind.

1

Stretch

Stretch

Scale from 1 to 6 where 1 is not made with stretch materials and 6 is our most flexible products made in super elastic material.
Footprint
Oeko-Tex Certified Fabric

Oeko-Tex Certified Fabric

Oeko-Tex® is a worldwide consistent, independent testing and certification system which secures chemical use is in line or surpassing national and international regulations and standards.

Open Factory List

Open Factory List

This product is made in a factory openly listed on norrona.com.

Inspected factory

Inspected factory

This product is made in a factory inspected by an independent third party and followed up by Norrøna.
Fabrics
Brushed woven polyester

This fabric is a very strong, but light, and low noise brushed polyester. We have spent a lot of time finding a fabric with the right criteria needed for a hunting product; low noise, durability, breathability and softness.

Washing instructions 40 degrees

Machine wash gentle cycle (40°C /104℉). Tumble dry lightly at low temperature. Iron at maximum 110°C, but should not be necessary. Can be dry cleaned. Do not bleach. Do not use fabric softener.

Washing and product care
Technical details
Rated

5

out of

5
by
Ken68
from
My favourites!
I've had a pair of these for years now, worn professionally as a working nature photographer & they look like new. I've dragged them through peat bogs, snow & major storms in the Scottish highlands. They keep performing! My only gripe is that I'm going to have to replace them as I've recently lost a lot of weight & they're too big! I'll be buying the same again!
Date published: 2018-09-23
Rated

4

out of

5
by
klafton
from
I like these pants but...
Shipping was extremely fast. As they just arrived I tried them on. Based on the sizing I was going to order LARGE. But, thankfully I order the XL. Quite honestly, the sizing chart is just wrong. Unless you are a petite female or a male built like a petite female I would strongly recommend ordering one size LARGER. I wear 36 waist in Levi's jeans and 36 or 38 in KÜHL pants for some reference. The XL fits my waist perfectly and leaves a little extra room. I am 72" and about 225 lbs by no means is that all muscle and I admit I could drop some flab. I am a larger built guy all-around. If you are, order UP one size to avoid returns. The pants themselves are extremely comfortable. You get what you pay for here. I do a lot of shooting, hiking and other outdoor activities so durability we shall see.
Date published: 2018-09-21
Rated

5

out of

5
by
Torblom
from
nice pants
they bought her pants, it just fits perfectly and is nice to wear
Date published: 2018-09-19
Rated

5

out of

5
by
Dabu
from
Favorite all-around mountain pants
My intent purchasing these pants was to find a quick-drying mountain pant for hunting. I'm half Norwegian so I started looking at what hunters in Norway wear. I own similar pants from high end American companies but these are my favorite. The lightweight fabric dries incredibly fast, which is critical up here in Alaska. They have held up well to some serious bushwhacking. I like the pocket layout although the big and deep side cargo pockets are pushed forward by the venting zipper so objects can bounce off your thigh when walking. But the side zips are worth it because they are huge and dump a lot of heat. I've worn them almost continuously since they arrived, making me wonder what I used to wear. I have long legs and am 6' 1" tall with a 34" waist, the size large fits like it was tailored for me.
Date published: 2018-09-04
Rated

4

out of

5
by
Rune1
from
God og lett bukse
Veldig fornøyd med denne buksa! Lett og behagelig å ha på!
Date published: 2018-08-23
Rated

5

out of

5
by
Anonymous
from
Perfect for Summer
I bought these for deer stalking in the summer in the Scottish highlands and they are perfect - light and cool material with leg vents, good zipped pockets and waterproof at the knees and bum. I am usually a women's Medium (UK 12) so I ordered a Small in these as they are unisex that's what it advised on the website. They almost fit but didn't give me much room for movement so I got a Medium instead. These are a much better, comfortable fit, the waist is very adjustable and even though the legs are now a bit too long, I can tighten them around the ankles so they don't touch the floor when I'm not wearing boots. Highly recommended!
Date published: 2018-07-28
Rated

3

out of

5
by
BassO
from
Good but too classic
Solid pants of surprisingly light fabric with a tall fit and velcro waistband. The extra pseudo-goretex layer on the buttocks and knees are brilliant for people who are active outdoors. They also make these pants really noisy: The waterproof layers will chafe against the polycotton pretty much every step you take. I'm not a big fan of the map pockets. Halfway 2018 I'm more likely to have a GPS and/or phone near me than a map. However, if you store a device (or anything of some weight) in the leg pockets, you will have it banging against your kneecap pretty much all the time. Unfortunately, there are no rear pockets so with the holy trinity phone-wallet-keys you will either have to stuff two in one pocket or see how long you can stand carrying something in the leg pocket. I'm undecided on the zipped side vent. I see the need, since your knee gets sweaty from the waterproof lining, but it looks... unfinished. I would have expected either some sort of mesh behind it to keep the bugs out, or something. I know people tend to shy away from anything that doesn't have 5 stars, but that's silly. I'm giving this product 3 stars: It's definitely a quality product that I expect to last a long time, but that's something that comes with the price tag. The design decisions are otherwise uninspired and will lead to some frustration wearing it, which is unfortunate. 7/10 if the score were numerical.
Date published: 2018-07-23
Rated

5

out of

5
by
Relativt aktiv kvinne 20
from
Helt perfekt
Jeg kjøpte denne for 1-2 mnd siden og kunne ikke vært mer fornøyd.
Date published: 2017-12-26
Rated

5

out of

5
by
Katja
from
Big cargo pockets
This is the perfect pants for hunting and hiking in dry conditions. The cargo pockets have room for maps, compass and a mobile phone. The pants are highly breathable and have ventilation zippers along the upper leg. The only downside is that it is not available in women's sizes but the unisex works fine for me.
Date published: 2017-05-29
Rated

5

out of

5
by
The piper
from
Great trousers
Perfect for my needs (trekking and winter hiking).
Date published: 2017-02-18
Rated

5

out of

5
by
Eiska
from
Excellent throusers
These are my favourite pair of throusers for mountain sports and hiking. Very comfortable to wear, with surprisingly good water resistance (even though it is not a shell). The fabric is very soft, so not sure if they can stand the long-time wear from f.ex rock and alpine climbing.
Date published: 2016-11-28
Rated

5

out of

5
by
ts71
from
Top end!
Excellent choice for hunting! Sorry that I not discovered this brand before now!
Date published: 2016-10-16
Rated

5

out of

5
by
JPRD
from
Finnskogen hybrid Pants
So I'm one of those people who will deliberate over buying any product for far to long before I purchase. I am an outdoor professional and require pretty sturdy and hardwaring products to meet my daily needs which is a lot harder to find than it should be. The finnskogen hybrid pants are, hands down, the most comfortable, best fitting, versatile pair of trousers I have ever had the pleasure of wearing. For starters they have survived unscathed for this long which, for me, is relatively unknown. The velcro leg adjustment is brilliant for when I'm barefoot at home or wearing trainers. The overall fit provides an exceptional amount of movement whilst retaining a professional looking outline for use during work. This product has impressed me to the point that NORRONA is now my first choice for my outdoor gear. Thank you!
Date published: 2016-09-28
Rated

5

out of

5
by
Friluftsmann 69
from
Solid og god!
Jeg kjøpte denne buksa i våres og har siden brukt den mye. Dette er en meget solid og god bukse, men ikke for de varmeste dagene. Passformen er utmerket og benlengden er god for oss med litt lengre ben. Jeg har en slik bukse fra tidligere, dog i en annen farge. ar vært så fornøyd med denne, at jeg valgte å kjøpe e til. Skulle imidlertid ønske busa også kom i en mørkere grønn farge.
Date published: 2016-09-27
Rated

5

out of

5
by
Falk
from
Hjort på første runde.
Kjøpte denne buksa for å ha en "lydløs" og lett jaktbukse i bratte vestlandslier. 3 hjorter på 2 jaktdager står til bestått.
Date published: 2016-09-26
Rated

5

out of

5
by
lien79
from
Very comfortable and extremely lightweight hunting pants
The best pair for the active hunter if the it is not pouring down or if it is too cold. Highly breathable and dries very quickly
Date published: 2016-09-26
Hei, har hatt denne buksa snart ett års tid tenker jeg.. beste buksa jeg har hatt, men den har nå nylig revnet i skrittet uten noe videre grunn for dette..Dette bør vel ikke skje tenker jeg, i hvert fall ikke så fort? hører fra dere
Dette er normalt veldig holdbare bukser som tåler masse bruk . Den eldste jeg har er snart grå av bruk og vær .Men alle sømmer er hele. Så hvis buksa ikke er utsatt for skikkelig hard bruk må det være en feil med den
Date published: 2018-05-04
Hei! Lurer på om dere har andre bukser som denne? Stoffet er helt fantastisk, men selve buksen passer meg ikke. XS blir for trang i livet, men S er for lang. Passer S i f.eks. bitihorn herrebuksa perfekt. Men ønsker meg veldig en bukse i det stoffet her!!
Hei ophe, Vi har dessverre bare denne buksen i dette stoffet. Moro at du liker det så godt! Om du ønsker den lagt opp slik at den passer deg i lengden, er det noe vi gjør for 500,-. Så her er det mulighet til å skaffe seg denne buksen i en lengde som passer deg :) Hilsen Nina
Date published: 2017-06-27
I am curious to know about the sizing of these pants through the thigh. I would wear a size Large men's pant based on the sizing information provided, however can anyone let me know the circumference of the thigh area?
Hi cjurg, The measurement of the garment is: Size M, Size L Waist 88cm, 94cm Thigh 68,8cm, 72cm Inseam 83cm, 85cm I hope this helps. Mvh, Sara – Norrøna Fan Support
Date published: 2017-05-08
Good evening, my inseam hoovers around 98cm. According to the measurements already given this pair of pants will not fit. I have an athletic slim build so this combination is normally hard to find. I love this pants, any chance inseam future adjustments?