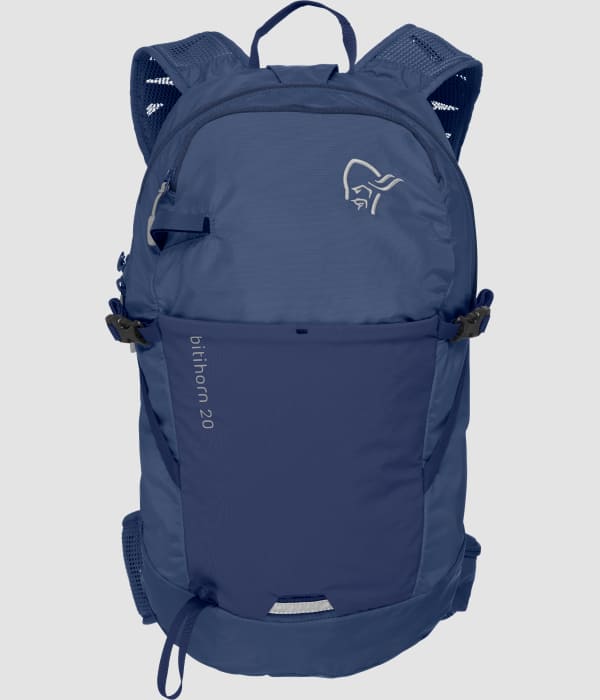 Our lightest day-tripper pack, made for those who prefer a comfortable and functional pack with ample venting in the carrying system.
It is hydration system compatible, with details like side compression straps and a big mesh pocket in front.
The inside fabric has been updated, along with small adjustments to secure an even better fit between pack and back.
Other areas of use
Mountaineering
General outdoor use
Trail running
Cross country skiing
Mountain biking
Performance
3

Waterproofness

Waterproofness

Scale from 1 to 6 where 1 is not waterproof and 6 is waterproof.

4

Durability

Durability

Scale from 1 to 6 where 1 is fragile products and 6 is the most durable products we have.

5

Lightweight

Lightweight

Scale from 1 to 6 where 1 is heavy and 6 is among the world's lightest of its kind.
Rated

5

von

5
von
Allie
aus
Great bag when you need to carry more stuff!
I have both this and the fjora 10L pack. I love them both as they have different uses. The fjora is good for downhill mountain bike rides when I have a 2L hydration pack, tubes, repair kit, first aid kit, snacks and maybe a light (Norrona bitihorn dri1) jacket stuffed inside. I don't like to carry more than I need to so the smaller Fjora is good for that or a half day hike. For a longer hike, or a cross country bike ride when I need a larger hydration pack, or going out in colder conditions when I want a heavier jacket packed, or sometimes bringing my 8lbs dog who needs to be carried in heavy snow when she gets cold, this pack is perfect! They both offer convenient and well thought out compartments, and are very well made. When they have gotten super dirty, or a bit smelly after getting soaked with sweat repeatedly, I've washed both and they came out like new. It actually breathes well and doesn't get unreasonably sweaty, but you know how it is exercising hard... My only suggestion is something similar to the Osprey packs - having a magnet or some other device on the strap that your hydration pack can stick to so it doesn't flop in your face as you ride fast down the mountain would be a huge improvement!
Veröffentlichungsdatum: 2017-02-19
Rated

5

von

5
von
Paulie
aus
The ultimate lightweight pack
I use this pack for everything, biking, hiking, trekking, and running. The low weight and fit of this pack is perfect for the weight cautious person that moves fast.
Veröffentlichungsdatum: 2018-04-24
Rated

5

von

5
von
Gwen
aus
Simply the best everyday bag i ever own.
I bought this bag 2 month ago, because i had back pain with my previous ones. This bag is very light and 20l is as perfect for every day as for a daily hike with a toddler. Simply love it.
Veröffentlichungsdatum: 2017-08-27
Rated

4

von

5
von
suse55
aus
Leichter Rucksack,super Farbe
Hoher Tragekomfort, passt sich gut an, gut einzustellen
Veröffentlichungsdatum: 2017-07-12
Rated

4

von

5
von
Dr_O
aus
Sehr leicht und geräumig
Bequemer Rucksack. Ein grosses Fach, in das viel rein passt. Wenn wenig drin ist und die kleine Toptasche gefühlt ist, dann fällt der Rucksack aufgrund seiner Leichtigigkeit zusammen.
Veröffentlichungsdatum: 2017-06-17
Rated

5

von

5
von
_Bri_
aus
Leicht, praktisch & bequem!
Habe den Rucksack seit ein paar Monaten. Der Rucksack ist praktisch und sehr bequem zu tragen. Leicht an den Rücken anzupassen. Kann den Rucksack auf jeden Fall weiterempfehlen.
Veröffentlichungsdatum: 2017-05-27
Rated

5

von

5
von
Ulla99
aus
Ist sein Geld wert!
vor dem Wanderurlaub gekauft und voll bewährt. Er ist sehr praktisch für kleinere Touren und sieht auch noch chic aus.
Veröffentlichungsdatum: 2017-04-19
Rated

5

von

5
von
Willv101
aus
Bitihorn pack
I have had this for about a month now the build quality is excellent and is great for long distance walking
Veröffentlichungsdatum: 2017-04-18