0
bitihorn Pack 20L
bitihorn Pack 20L
wurde bewertet mit von
5
von
8
.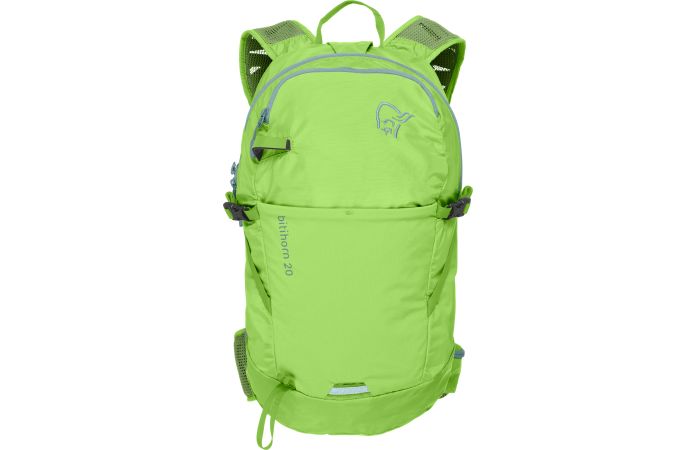 Our lightest day-tripper pack, made for those who prefer a comfortable and functional pack with ample venting in the carrying system. It is hydration system compatible, with details like side compression straps and a big mesh pocket in front. The inside fabric has been updated, along with small adjustments to secure an even better fit between pack and back.
Waterproofness

3

Durability

4

Light weight

5
Made for
Trekking
Other areas of use
Mountaineering, General outdoor use, Trail running, Cross country skiing, Mountain biking
Rated

5

von

5
von
Allie
aus
Great bag when you need to carry more stuff!
I have both this and the fjora 10L pack. I love them both as they have different uses. The fjora is good for downhill mountain bike rides when I have a 2L hydration pack, tubes, repair kit, first aid kit, snacks and maybe a light (Norrona bitihorn dri1) jacket stuffed inside. I don't like to carry more than I need to so the smaller Fjora is good for that or a half day hike. For a longer hike, or a cross country bike ride when I need a larger hydration pack, or going out in colder conditions when I want a heavier jacket packed, or sometimes bringing my 8lbs dog who needs to be carried in heavy snow when she gets cold, this pack is perfect! They both offer convenient and well thought out compartments, and are very well made. When they have gotten super dirty, or a bit smelly after getting soaked with sweat repeatedly, I've washed both and they came out like new. It actually breathes well and doesn't get unreasonably sweaty, but you know how it is exercising hard... My only suggestion is something similar to the Osprey packs - having a magnet or some other device on the strap that your hydration pack can stick to so it doesn't flop in your face as you ride fast down the mountain would be a huge improvement!
Veröffentlichungsdatum: 2017-02-19
Rated

5

von

5
von
Ulla99
aus
Ist sein Geld wert!
vor dem Wanderurlaub gekauft und voll bewährt. Er ist sehr praktisch für kleinere Touren und sieht auch noch chic aus.
Veröffentlichungsdatum: 2017-04-19
Rated

5

von

5
von
Willv101
aus
Bitihorn pack
I have had this for about a month now the build quality is excellent and is great for long distance walking
Veröffentlichungsdatum: 2017-04-18
Rated

5

von

5
von
Eirik the Swede
aus
Day Pack for Lofoten
I purchased this pack for my upcoming trip to Lofoten for the Arctic Triple Triathlon in August. This is the perfect size pack for the hikes I plan to do prior to the race.
Veröffentlichungsdatum: 2017-03-10
Rated

5

von

5
von
Canadanja
aus
Leicht, komportabel, immer dabei.
Ich suchte die eierlegende Wollmilchsau unter den Rücksäcken und habe sie gefunden. Das heißt ich suchte einen Wander-, Radfahrer-, Tagestouren- und Unirucksack, der möglichst leicht und angenehm zu tragen ist. Außerdem sollte mein Laptop hineinpassen. All das habe ich bekommen. Der bitihorn tut meinem Rücken gut und sieht auch gut aus. Bisher nix zu meckern!
Veröffentlichungsdatum: 2017-03-10
Rated

4

von

5
von
Anonym
aus
My daily bag
Light, ergonomic day-tripper bag, perfect for extensive bike rides but also for casual, daily use. Easy to adjust while riding the bike, and has enough space for all the daily needs
Veröffentlichungsdatum: 2016-10-09
Rated

5

von

5
von
Simseel
aus
Sehr leichter Tagesrucksack
Sehr guter Rucksack, ein halbes Jahr in Gebrauch. Top.
Veröffentlichungsdatum: 2016-09-26
Rated

5

von

5
von
stefanko
aus
Essential, minimalist day pack!
As a passionate alpinist and mountain rescuer I'm heading into the mountains everyday. Sometimes there's just a little time and there the 20l bitihorn pack is absolutely my #1 choice. It's light, has just as much pockets as needed and provides smart features. For a short day trip there's no other backpack for me.
Veröffentlichungsdatum: 2016-09-26