0
wool Round Neck (M)
wool Round Neck (M)
wurde bewertet mit von
5
von
10
.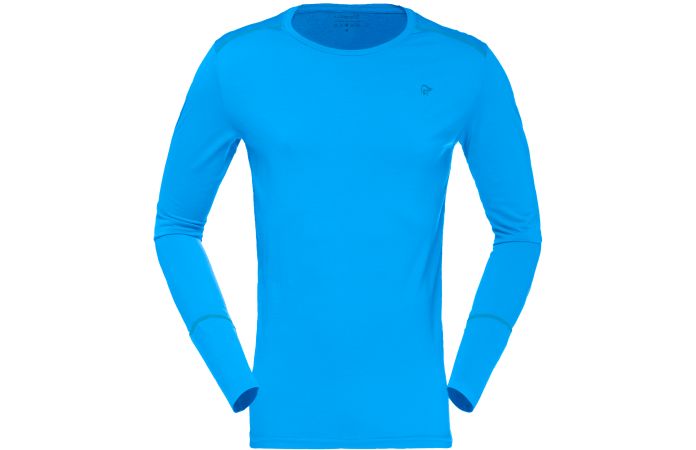 Merino wool first layer top for men. The Norrøna merino wool baselayer is developed to suit your outdoor activity perfectly, regardless of the weather conditions, season or intensity level. Our temperature regulating and highly breathable wool fabric consists of 89% fine merino wool, 17,5 microns thick, providing a soft and comfortable feel. 11% polyamide makes the fabric more durable and quick drying. The fabric weight is 170 gr/m2, and the thickness is in the sweet spot for regulating temperatures all seasons with different activity levels, keeping you warm even when wet. Natural resistance to microbial growth reduces smell. Our merino wool is all natural and comes from Australian bred sheep living on grass, water, sunshine and rain. It is of course mulesing free, and traceable.
Windproofness

2

Insulation

3

Breathability

4

Durability

6

Light weight

4

Stretch

4

Moisture managment

4
Areas of use
Big mountain skiing & snowboarding, Big wall climbing, Cross country skiing, Ski touring, Glacier walking, Ice climbing, Trail running, Trekking
Rated

5

von

5
von
Pottling
aus
Great shirt
I use this shirt for all sporty activities I do in a bit more chilli climate and it performs extremely well....I loved it so much that I ordered same style in kind of lime-green. I sued it now as well beyond sport as a casual shirt.....it is really fabulous and can really recommend it Great style, great fit, and a material composition that balances very well comfort and heat/sweat management
Veröffentlichungsdatum: 2017-01-04
Rated

5

von

5
von
Thomas G
aus
Best baselayer I have
I use this one for everything, from casual running to climbing to multipe day ski touring trips. It fits me perfectly and never smells. proportions are very well thought. I would not recommend to use it above ~20°C though as it is very warm and the fit is adjusted.
Veröffentlichungsdatum: 2017-07-06
Rated

5

von

5
von
Leopard61
aus
Sehr angenehm zu tragen
Ich habe dieses Teil gekauft weil ich es unter dem Falketind Warm 1 Jacket oder auch als T-Shirt sowie solo unter meiner Falketind Hybrid Windstopper Jacke tragen kann. Es trägt sich sehr angenehm auf der Haut, kein kratzen kein reiben. Ich habe es in grün erstanden (leider gibt es das Teil nicht in orange). Ich würde es wieder kaufen und kann es gutem Gewissens weiter empfehlen. Ich nutze es zum wandern und radfahren.
Veröffentlichungsdatum: 2017-03-02
Rated

5

von

5
von
srknymn
aus
comfortable
the product is really very comfortable. it was indispensable for me.
Veröffentlichungsdatum: 2017-02-18
Rated

5

von

5
von
Charlie448
aus
Looks and feels good.
Bought this a while back. Good for both outdoorsy type situations and casual situations, recieved several complements for how it looked. I'd highly recommend it!
Veröffentlichungsdatum: 2017-02-13
Rated

5

von

5
von
mkus
aus
One of my best wool shirts (if not the best)
Soft and confortable shirt perfect to do active sports
Veröffentlichungsdatum: 2017-01-17
Rated

4

von

5
von
Fotis
aus
Very comfortable woolie
It's a very comfortable top that doesn't itch at all, although I would like it a bit warmer
Veröffentlichungsdatum: 2017-01-09
Rated

5

von

5
von
Meme
aus
As it says on the tin!
Great fit. Couloirs as expected. Well made. Can't wait for snow to try out!!!!!
Veröffentlichungsdatum: 2016-12-07