1. It started in a completely different place. We were on our way home on a winter Sunday, with cars ahead and cars behind. It was evening on Norway's Highway 7 and everyone was headed for Oslo. We had spent the weekend between the areas of Hol and Aurland; one day of ice climbing west of the watershed; one day of fresh powder in the Sudndal valley. "Should get a cabin up here," I said to my friend Sjur, who was driving. I did a monolog on the topic. I'd really worked myself up and felt like I was on a roll so I didn't wait for an answer. "They close the road because of snowstorms. It's perfect. Just call work on Monday morning and say, 'Sorry. Can't make it. Road's closed. Not my fault. Storm. Have to stay here.' Imagine that? Snowed in. Never coming back!" "No," he said. That was not exactly the answer I was expecting. "No?" "We'll buy in Lofoten, instead." "Ok," I said, waited, and then said, "Where?" "Henningsvær." I couldn't say 'no.'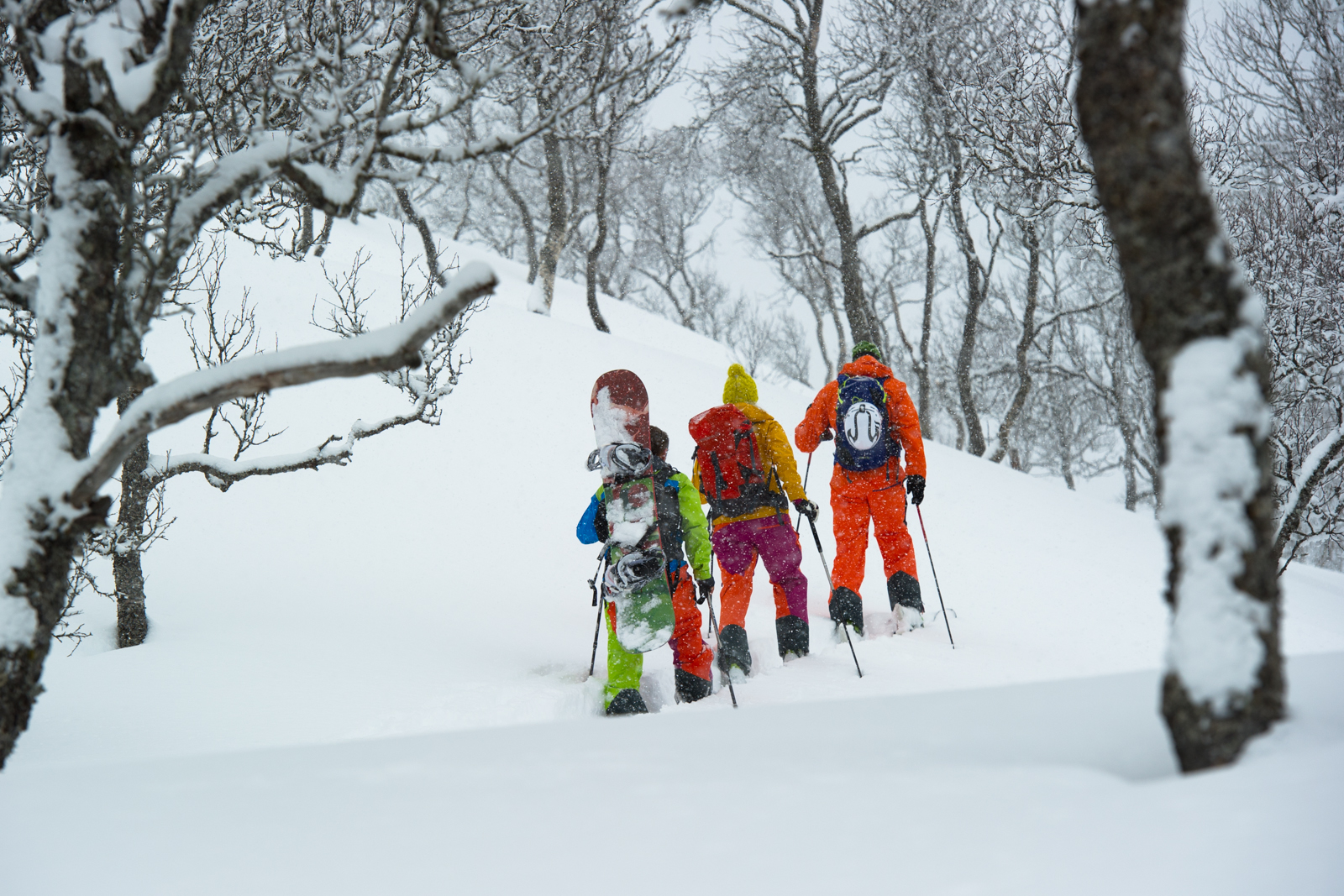 2. If Sjur had been like other friends, that would have been the end of it. But the next day, I got a long list of links to real estate advertisements. A week later, he went to Henningsvær just to look at a house. That is how we became homeowners in the Lofoten Islands.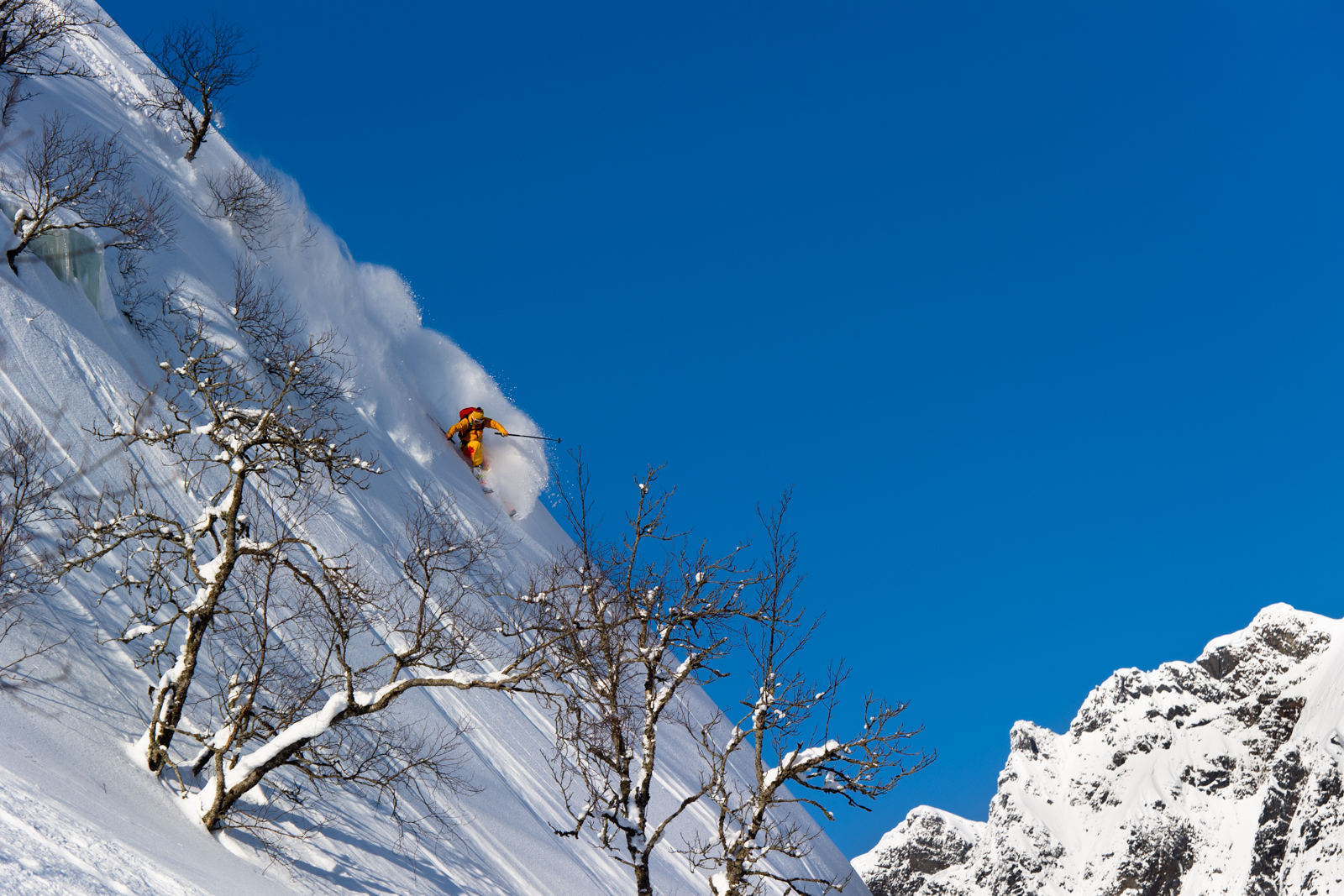 3. Can you spackle the one you love? If so, it would take many liters of spackle and many hours of spackling. Inside, we spackled. Outside, there was wind and rain. Inside too, for that matter.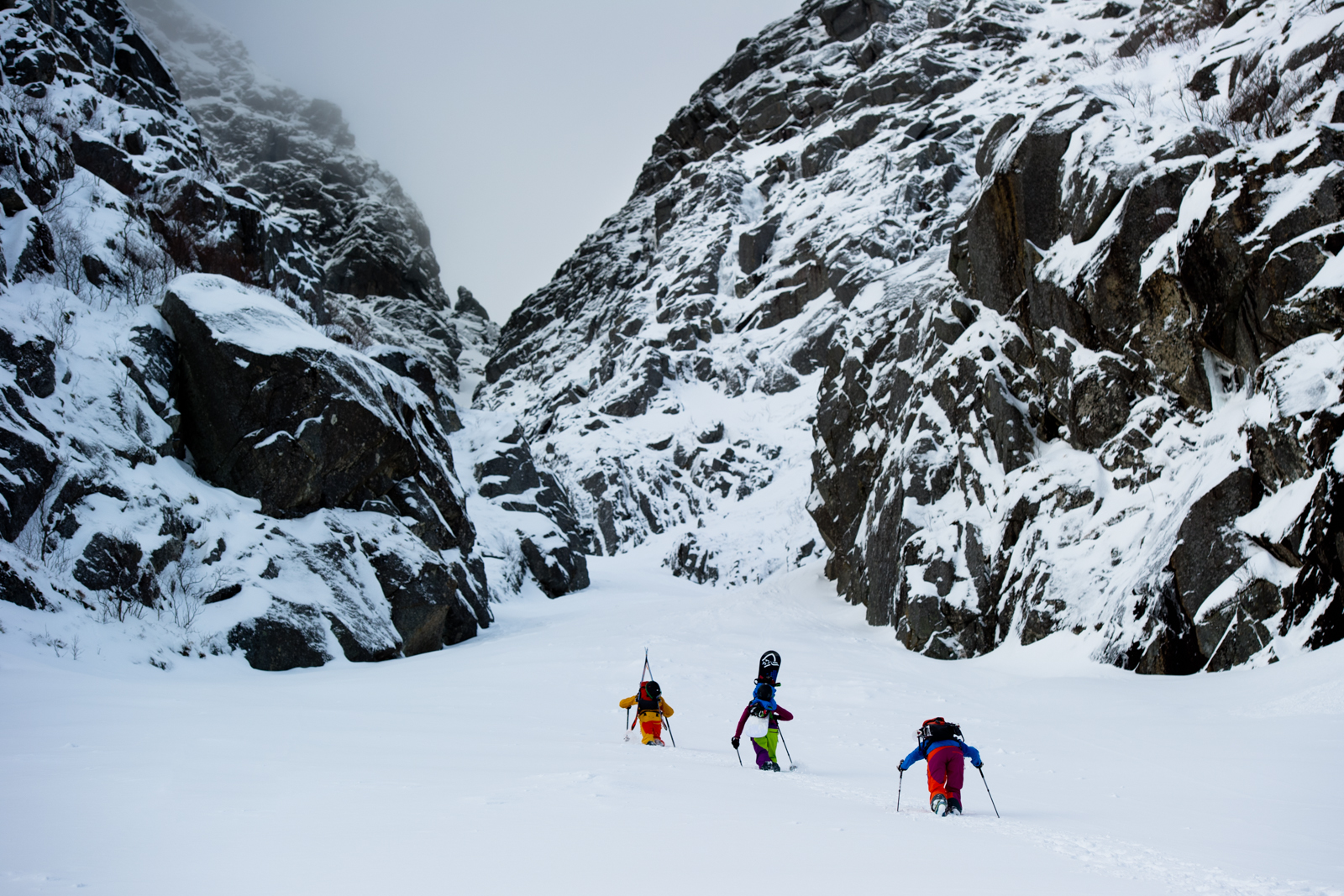 4. Should you already be in a relationship, the cinnamon rolls at the candle-makers and café in Lofoten's Henningsvær are reason enough to consider shaking up your life. And if you think your Gore-Tex clothing and hat are a bit flashy when you're sitting at that café, and feel you are being focused on a bit too much, let me put it in perspective. On a good weekend, Lofoten can draw a few hundred visiting free skiers. By comparison, in 1905, a typical year for the famous seasonal codfishing rush called "Lofotfiske," 20 000 fishermen came to this archipelago north of the Arctic Circle. They came at about the same time as skiers do now, between January and April, and brought a whole little industry with them. In addition to preachers, merchants, peddlers, cooks, food service workers, fish buyers from Bergen and the Møre district, buyers of liver and caviar, and police reinforcements, the official Statistical Yearbook says the influx included 13 watchmakers, 21 goldsmiths, 10 photographers, 13 artists and 101 "head buyers." The last group was buying the heads of fish, we presume. So there is room for many more free skiers in Lofoten. We should all go, until it gets as crowded as during the old Lofotfiske – when you could cross Henningsvær harbor by walking from boat to boat – and the snake oil sellers arrive.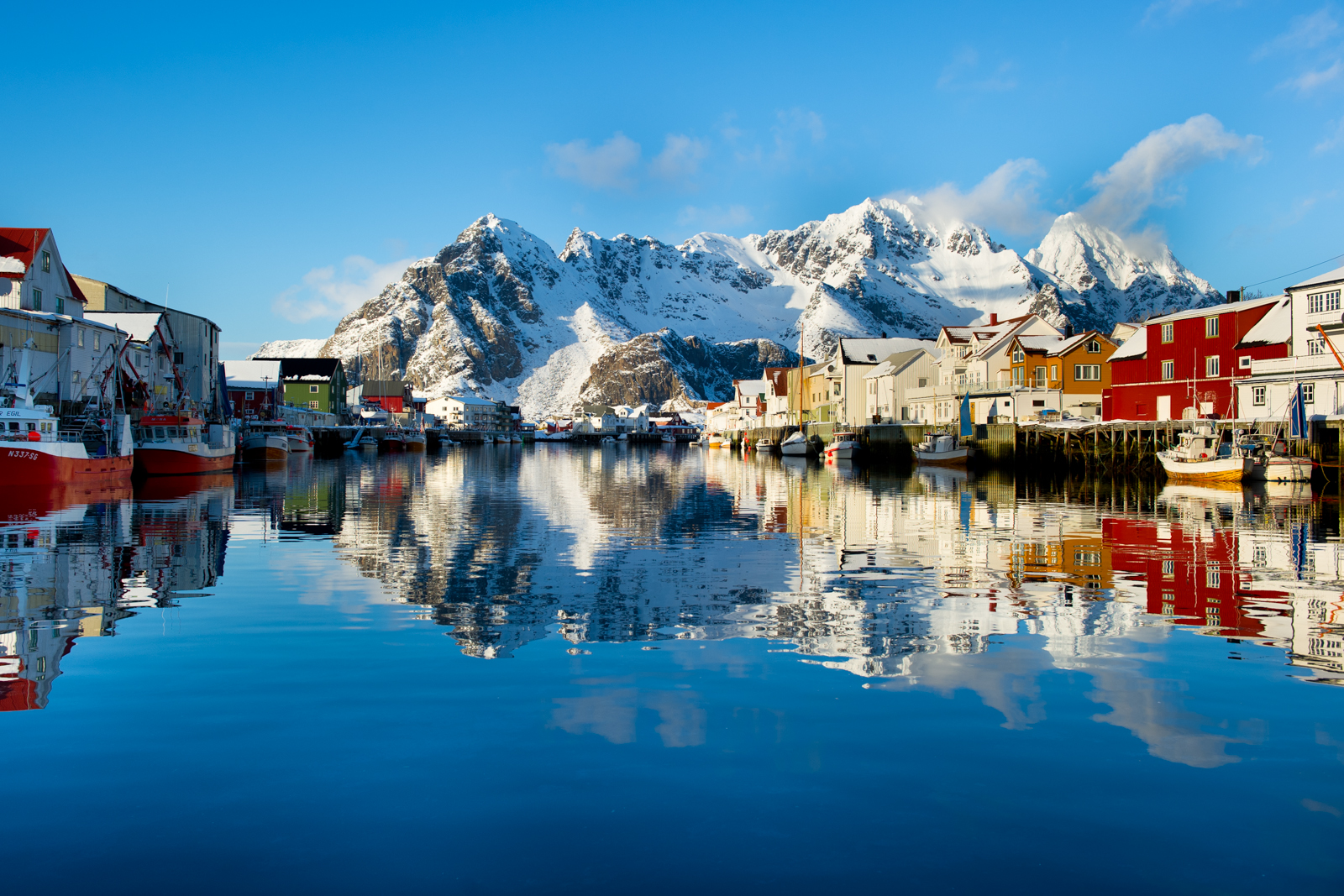 5. There are lots of ways of getting to Lofoten. The easiest is to already live there, or move there for good. Personally, I am in love from afar, and have made it to Lofoten in a variety of ways : by car, fast boat, Hurtigruten coastal ships, and plane; via the towns of Bodø, Evenes, Svolvær and Tromsø. Two means of travel remain :

a Public transport all the way from Oslo : Train to Bodø, boat to Svolvær, and then bus to Henningsvær just to see how long it would take.

b A road trip via all of the ski areas in Noway's Nordland County. (Even if I am going steady with Lofoten, I can't forget you Glomfjord.)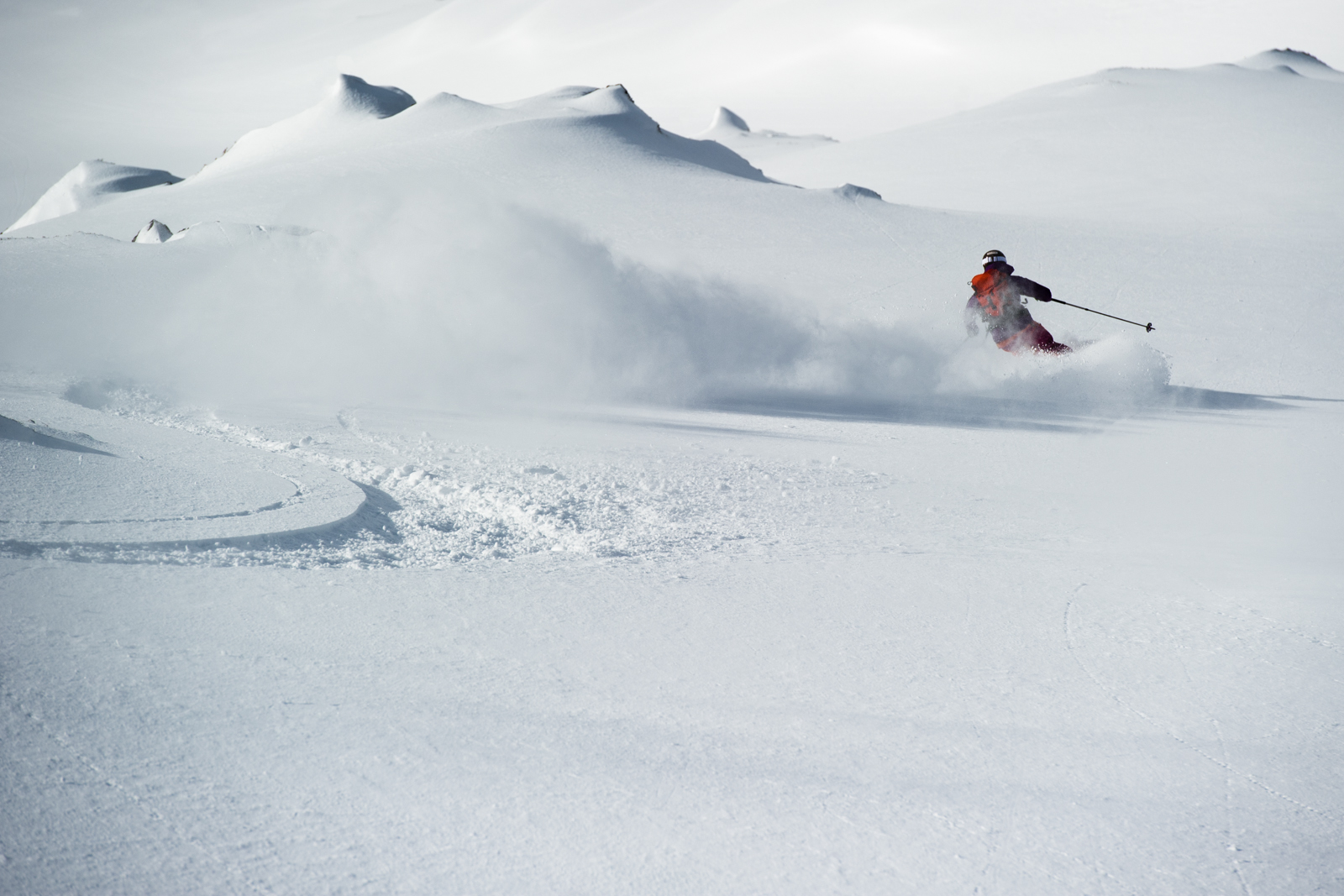 6. I don't have any documents about this relationship, and have to accept that Lofoten has others apart from me. There is rock, sea and snow enough for all.

7. If you are going to work out a relationship with Lofoten, you have to like weather. Every winter cars get blown into the sea, sometimes with people in them.

8. The mountain Geitgaljen. That alone is reason enough to love Lofoten. How about a sea eagle above the skier in front of you on the southern run of Geitgaljen? That must be like a movie romance, and in Lofoten, no less.

9. Are you also considering Lofoten and marriage? Just take the trip to the cliff Presten (The Preacher). In summer, driven people can be found on Lofoten's most classic climbing route in these mountains. In winter, skiers follow the 500-meter couloir down to the road.

10. I did the aforementioned run on a Sunday in April. The previous day we turned back from another trek because of zero visibility and bad snow. Two days earlier, we turned back because of a big and slightly too fast slush-slide that covered our tracks. That day, I'd left my crampons at home. The conditions were the pits. It was blowing like crazy. There was heavy rain. The visibility was poor. I loved it.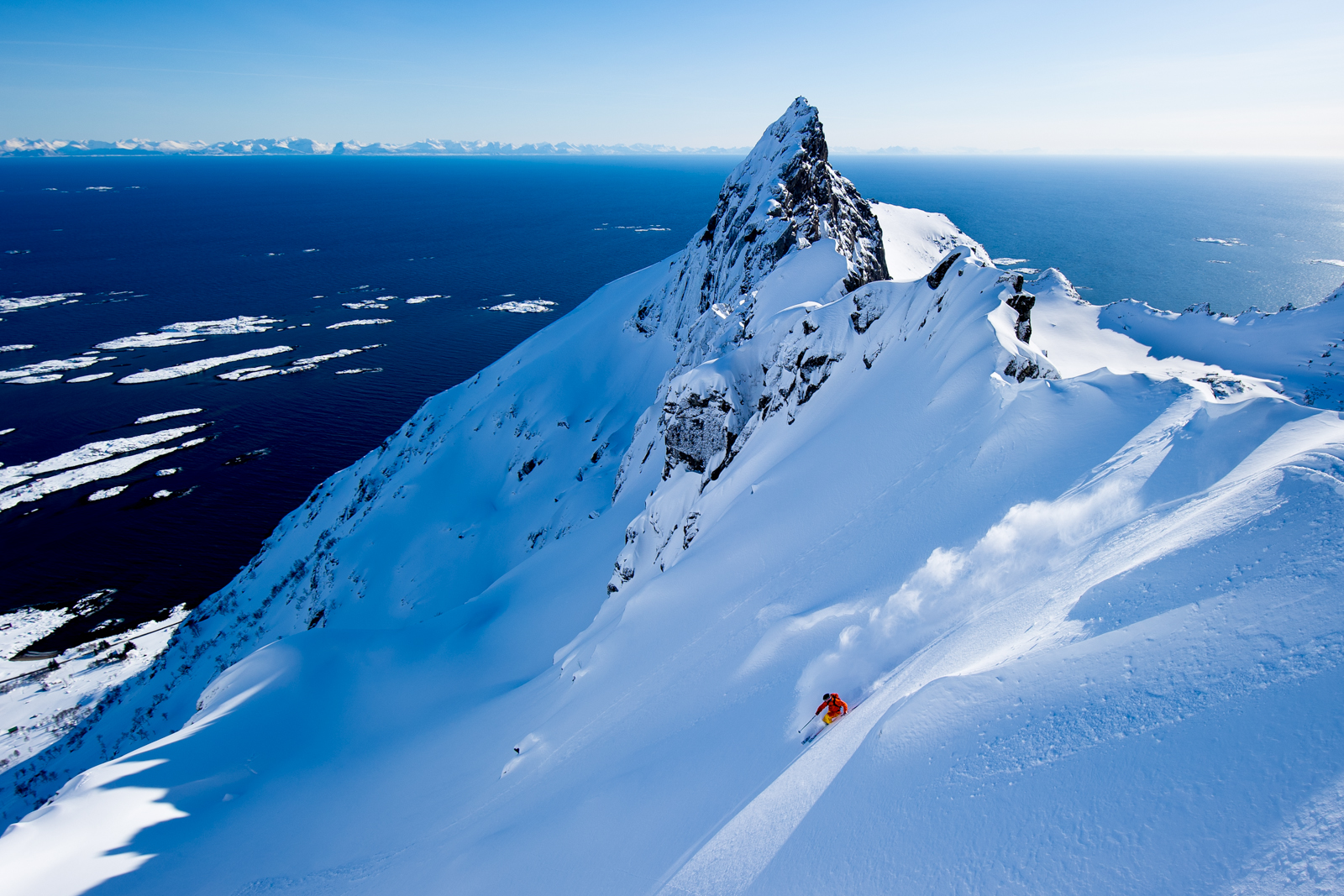 11. Can you grow old with Lofoten? I choose to think so. Last year, I took the Hurtigruten from Tromsø to Svolvær in the dead of winter. I sat on the panorama deck with retirees and Central Europeans with video cameras. Some solved crosswords, some crocheted, some took an unintentional nap. No one said anything. Together, we saw the world's most beautiful nature coming at us, drifting slowly, steadily. The voyage from the north through the Vesterålen Islands and then Lofoten, past the Trollfjord and Raftsund, is beyond comparison. So when I get old, and I mean really old, after I have put in a few years as a retiree ski bum, I'm going to buy a cabin on each of the Hurtigrute ships and take the same trip day after day, back and forth between Tromsø and Stamsund. There is room on the boat for you too.
Facts
Welcome to Lofoten
Travel
The easiest and most expensive way is to fly to Bodø with SAS or Norwegian and then fly to Svolvær or Leknes with the Widerøe airline. An alternative would be to fly cheap to Evenes with SAS or Norwegian, and then spend a few hours in a rent-a-car or bus west to Lofoten. In any case, a rental car would be highly useful for getting around.
Accomodation
Lofoten is a tourist magnet with accommodations in all categories. Some are
closed in the winter. Suggested starting points for trips would be Svolvær, Kabelvåg and Henningsvær. Use the website www.visitlofoten.com to get an overview, and then call around to check prices and availability at "rorbuer", fishing huts, hotels and cabins.
Guides
Northern Alpine Guides holder til i Lofoten og drives av Seth Hobby og kona Maren Eek Bistrup. Les mer om tilbudet på northernalpine.blogspot.com eller ta kontakt på e-postadressen seth@alpineguides.no.
Guidebøker

The Norwegian alpine ski touring book "Toppturer i Norge" from the Fri Flyt publishing house covers a few tours in Lofoten. You can also Google information about trips in the area. If you are a newcomer, it would pay – both in terms of the experience and safety – to hire a guide or hook up with local ski enthusiasts.

More info

www.visitlofoten.com
www.lofoten.info
www.visitlofoten.as
www.camplofoten.no