Some time after the start of the millennium we had become more and more interested in singletrack mountain biking as the summer equivalent to freeskiing and snowboarding. We had discovered that the same feeling of freedom, thrill of speed and challenge of terrain that we knew from winter sports could be encountered on the thousands of trails running through our forests, valleys and mountains. Naturally, we had to start making gear for it - our way.
Fjøra is an outpost, long a secret spot located far up the west coast of Norway, miles away from our headquarters in Oslo. But rumors of the long trails from peak to fjord reached us and we had to go check it out. Of course, the riding was spectacular, steep, thrilling, exhausting and tons of fun - just like freeskiing. The Norrøna fjørå mountain biking concept was born. And as the sport of mountainbiking continues to develop, so does our fjørå concept.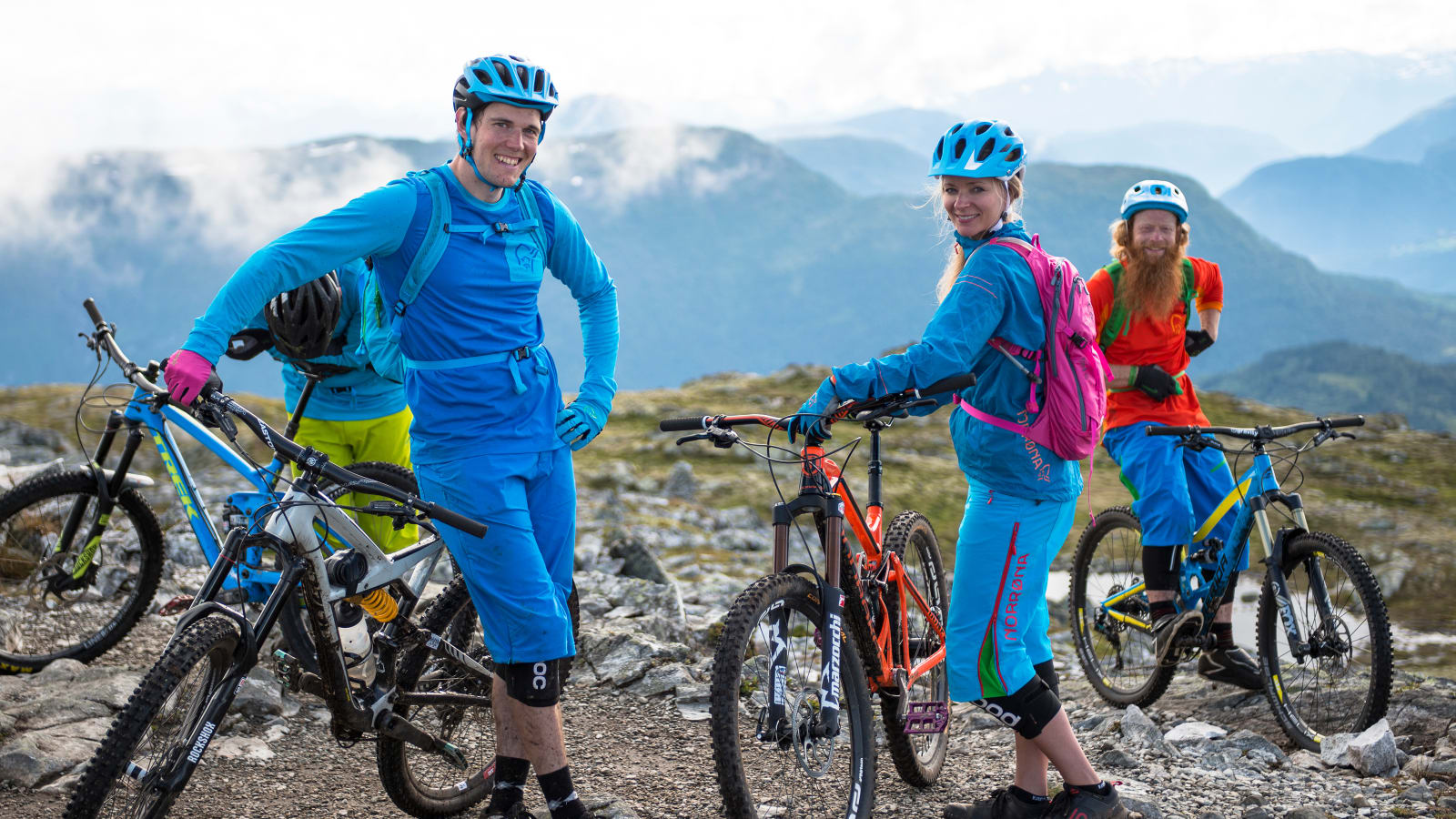 The all-mountain revolution
Something great has happened to mountain biking. The same great thing that happened to skiing. Fueled by people who push the limits, and made possible by the progression in equipment, mountain biking has been set free. Now anyone can go anywhere and ride anything in whatever way they choose.
The daredevils of the Red Bull Rampage and super technical riders like Danny Macaskill are showing us that there are almost no limits to what you can do and where you can go on a mountain bike. How ever you prefer to do it - doing laps in the bike park, pushbiking on your secret trail project, wearing a numbered bib, chasing KOMs on Strava or pedaling way off on your very own back country adventure - you're totally free to ride your own way.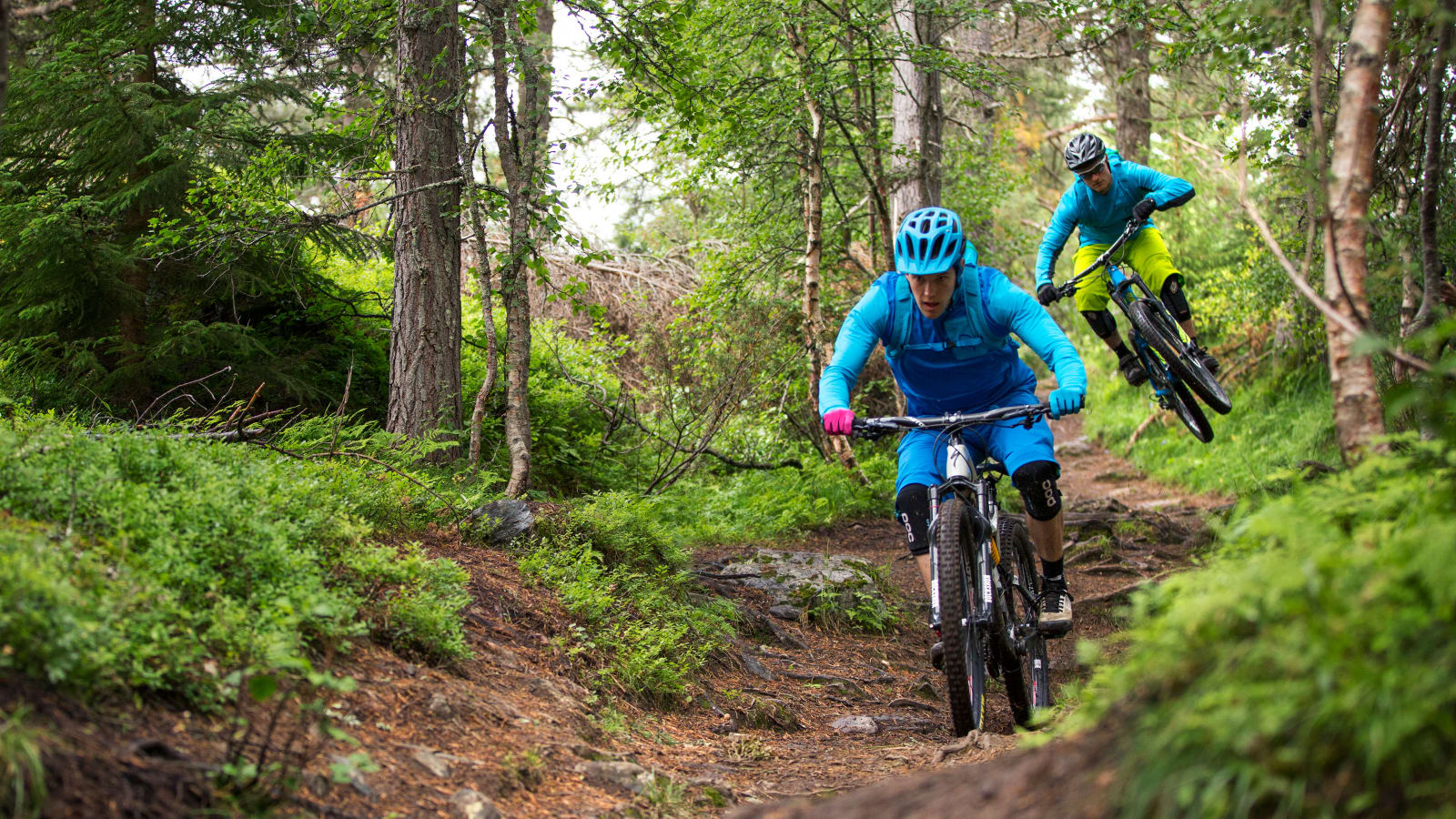 Today, you can walk into a bike shop and find a specially made bike for any kind of terrain and form of riding, in all price ranges. But also, just like we've seen with touring and freeride ski equipment, downhill bikes and trail bikes have merged into a new class of bikes that incorporate the best of both worlds. Your favorite mountain bike now climbs uphill like a cross country race bike yet still rides down hill like a full blood downhill bike. This is what's allowing mountain biking to really take off for example in places like Sogndal.
The endless season
Deep into the fjords of Norway's west coast lies the town of Sogndal, surrounded by mountains that provide epic skiing and snowboarding terrain to go with the big annual snowfall averages. In later years, this university town has been booming with students and young entrepreneurs flocking there for exactly that reason. Now, more and more come for the mountain biking too. And that is very understandable. The views are stunning and the trails spectacular.
With a bike and a pair of skis in Sogndal, the fun never ends. The mountain bike season starts in the lowland even before winter is over up high, and with over 2000 vertical meters between fjord and the highest peaks in the area, the first ski tours in autumn can be made long before the last bike ride. For winter there are a couple of small but not-to-be-underestimated ski resorts in the area, but the real highlight is the ski touring. In summer, mountainbiking is all about the same thing; working your way by own force uphill in order to get paid in scenic views and steep, challenging trails down hill.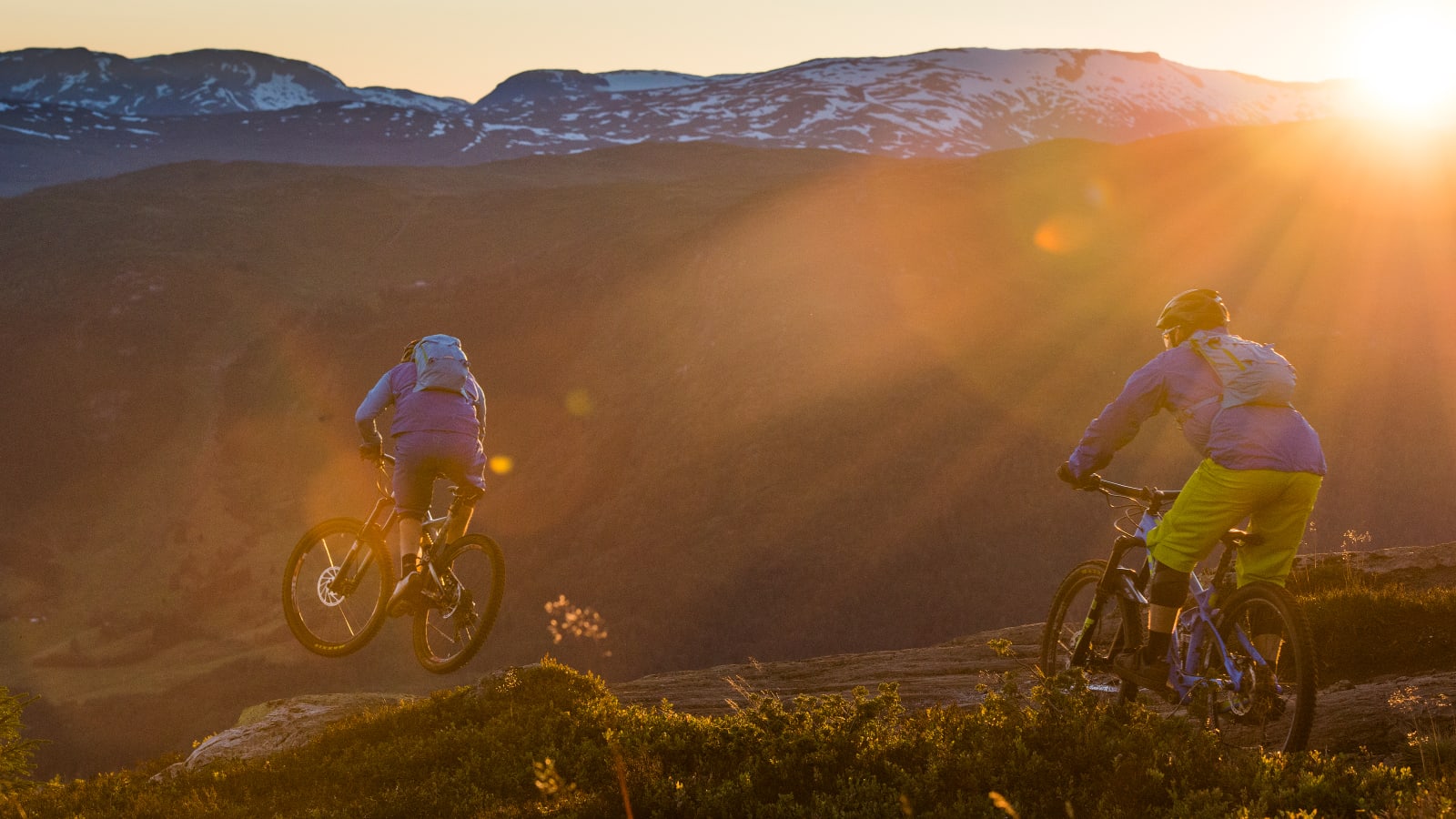 Encountering fellow mountainbikers on top of popular peaks, on established hiking routes and on newfound trails around Sogndal is nothing unusual. A bunch of the local riders are also putting effort into building all new trails as well as improving and expanding the existing network of singletracks. An at first almost invisible winding path formed by deer and other animals finding the natural way through the trees becomes the next favorite bike trail after clearing it for fallen trees, branches and piles of leaves. More bike-park-inspired projects involve weekly gatherings of locals with chainsaws and showels - used only where permission has been given by the owners of course.
Setting off from the top of a peak with more than one thousand vertical meters of riding down to the fjord is always a good feeling. The rough, rocky terrain above the treeline quickly takes your focus away from the views of mountains and fjords and into the riding. As the soil gets richer and little trees start popping up along the trail, the rinding gets smoother, reminding you of the powder turns you made between trees just like these in winter. Spraying pine cones in the turns, laying into the natural berms and catching air on any bumps in the terrain, that is what it's all about.
When you reach the fjord, all you want to do is dive into the cold water and cool down, right? Or go back up for another ride?