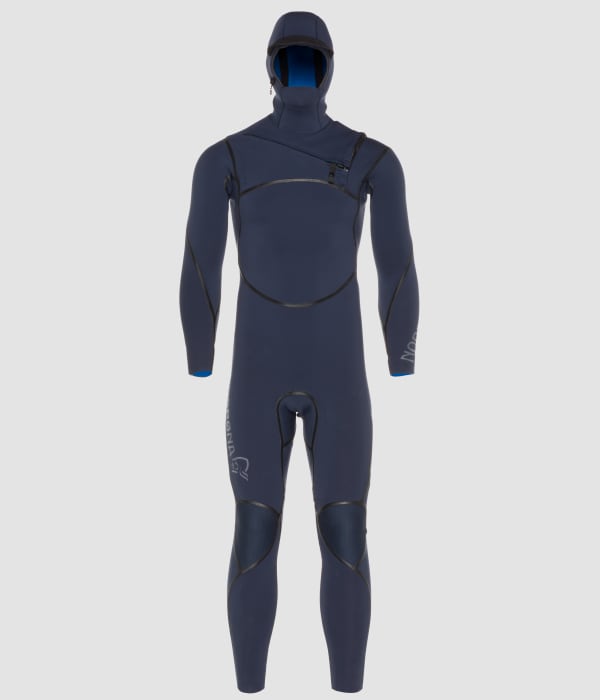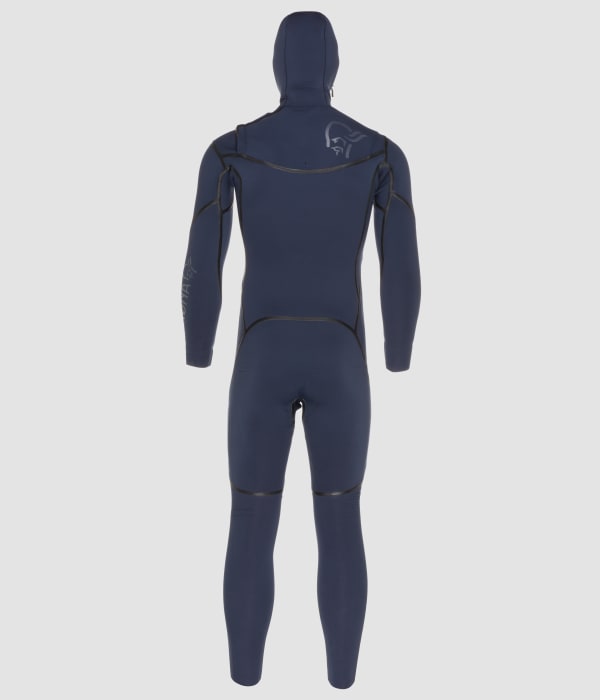 Der unstad 6/5-Neoprenanzug mit Kapuze wurde für das arktische Surfen unter den kältesten und rauesten Bedingungen konzipiert. Der Neoprenanzug bietet die ideale Kombination aus funktionalen Details, wärmender Passform, optimaler Bewegungsfreiheit und robusten High-Tech-Neoprenmaterialien. Der Anzug besteht aus verschiedenen Neoprenen, um die richtige Dicke an unterschiedlichen Stellen sowie Stretchfähigkeit und maximale Bewegungsfreiheit dort zu gewährleisten, wo diese am dringendsten benötigt werden. Der Anzug ist wie ein Schneefang konzipiert. So verfügt er über einen Extraschutz an den Schultern, damit das kalte Wasser nicht in die Augen des Trägers geraten kann. Fließende Nähte an der Außen- und Innenseite erhöhen den wasserabweisenden Effekt und machen den Anzug wärmer. Die Kapuze bietet sicheren Schutz und ist aus einem leichten, stretchbaren Material gefertigt. Sie kann bei Bedarf schnell über den Kopf gezogen werden, hängt aber auch nicht zu steif herab, wenn sie nicht benötigt wird. Der Reißverschluss an der Vorderseite stammt von der Marke AquaSeal aus Japan und ist vollkommen winddicht, wasserdicht und äußerst robust. Tatex-Aufdrucke an Handgelenk und Knöchel verringern das Eindringen von Wasser, Schlitze ermöglichen jedoch das Abfließen.
Material
Naturapren

Unsere Wasseranzüge bestehen aus dem umweltfreundlicheren Naturapren, einem Schaumgummi, der von Gummibäumen in Asien gewonnen wird, wo auch Neopren produziert wird. Naturapren wird auf der Vorderseite mit recyceltem Polyester und auf der Rückseite mit lösungsmittelfreiem Kleber auf Wasserbasis beschichtet. Davon ausgenommen sind verstärkte Bereiche, für die Neumaterialien erforderlich sind, um verbesserte Haltbarkeit zu bieten.
Technische Details
Rated

4

out of

5
by
olmo
from
very good Suit
Very warm,and pleasant in the water. Just a bit difficult to take off by yourself according to my experience.
Date published: 2018-10-28
What "sustainable neoprene" is it?
Hi Clif, The material for the unstad wetsuits is made of Naturaprene, which is a brand name like Yulex etc. The material is made out of natural rubber foam, harvested from rubber trees in Asia. The Naturaprene is laminated to recycled Polyester on the face and back with water based glue that is solvent free, except for the reinforcement areas that require virgin materials to provide enhanced durability. So these wetsuits are among the top sustainable wetsuits in the market today. Best regards, Jens, Norrøna Fan Support
Date published: 2018-01-17
Hi! I am about 180 cm heigh and what size wetsuit, sould i have? I have never had a wetsuit before, therefore the question.
Hi StigK Thank you for your question regarding this wetsuit. The fit for wetsuits are standard, meaning they are close fitting. If you check out the measurements under the unstad products it's probably easier to find out, since I don't know more about the rest of your body measurements. You can also contact us at service@norrona.no for further questions and we help you. Best regards, Anette/Norrøna Fan Support
Date published: 2017-12-01
Will you have a uk distributor for this wetsuit? I'd love to try it but as it's only a mans fit I really don't know what size is best without actually trying it on
Hi Lesley-Ann, Thanks for your question regarding Norrøna wetsuit in UK. Per now we have a very limited distribution on the Unstad collection with wetsuits, and it is sold through Norrøna web shop and Norrøna Flagship / Concept stores. This means it is only physically available for testing in Norway and UK, but possible to purchase worldwide through the web shop. The fit is following the standards for wetsuits, meaning they are close fitting. Best regards, Jens, Norrøna Fan Support
Date published: 2017-09-20
Will there come a womans model as well?
Hi Lyse, This is the first time we launch weatsuits, so to start with it will juist come in Male. Girls can use them as well - that should not be a problem :) BR Nina
Date published: 2017-06-30
I am 6'2 and about 170 lbs. I have long limbs and about a 32 waist. What size suit would be best for me?
What is the thickness of the neoprene in mm?
When you will stock women's wetsuits? I understand that women can use the men's wetsuits, but surely the point of a wetsuit is that it is a snug fit and most women are a markedly different shape than men, and in my case much smaller than your XS.
Kunden haben sich auch angesehen