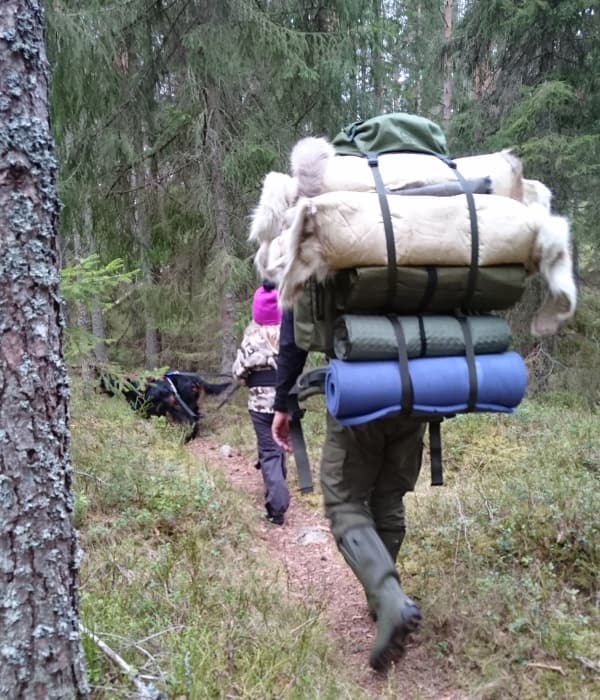 "Der König der Rucksäcke" entwickelt von Sondereinsatzkräften. Mega-Rucksack, getestet von der norwegischen, schwedischen und dänischen Armee. Ausgelegt für das Tragen schwerer Lasten ist dieser Rucksack um einen einzigartigen Vollrahmen aufgebaut, der Stabilität, Gleichgewicht und Komfort für den Träger bietet. Mit anatomisch geformtem Rücken, Alu-Rahmen, Schultergurten und Hüftgurt ist er so konzipiert, dass das Gewicht gleichmäßig, angepasst an die Körperbewegungen, verteilt wird. Ausgestattet mit einer Vielzahl von flexiblen Lösungen, darunter zwei abnehmbare Seitentaschen, die per Reißverschluss zu einem zusätzlichen 32-l-Rucksack verbunden werden können.
Material
synkroflex™

Norrønas Frame-Pack-Lösung für schwere Lasten. Entwickelt in Zusammenarbeit mit der norwegischen, schwedischen und dänischen Armee und vom Militär anerkannt. Durch den Rahmen werden Lasten gleichmäßig verteilt. 1) Äußerer Aluminiumrahmen. 2) Aluminiumstange auf dem Rucksackmitte hinten. Höhenverstellbare Schultergurte. 3) Hüftgurtrotation, mittig befestigt an der unteren Stange. 4) Stoßdämpfendes Synkroflex-System oben an der mittleren Stange. 5) Geformte Schultergurte mit Schaumpolsterung. 6) Hebegurte den Schultergurten. 7) Schultergurte mit Polster für zusätzlichen Schutz. 8) Anpassbarer Brustgurt vorne am Schultergurt 9) Größe: 170–190 cm. 10) Gewicht: 25 kg bis 35 ( )kg.
Technische Details
Rated

4

out of

5
by
averagemart
from
Great Overall
I only have one bad thing to say about this pack because overall, this pack is build tough with quality materials. Everything is really fonctional ans solid. On your back, it fits really well and it is highly comfortable. The problem is the way to tight the belt which is to my eyes unacceptable. With a bag that big and that heavy, you have to be able to tight the strap by pulling inside. Not outside. The result is, with a 45 pounds pack or more, I am struggling to tight the belt enough and the result is that the weight is not well balance between my shoulder and hips. It is a small thing but that detail make my hike way more difficult since the weight is pretty much all on my shoulder. I will custom it to be able to pull the straps. Other than that, great pack with high quality material. If they change the belt system, AWESOME product. Worth totally the price.
Date published: 2017-01-07
Rated

5

out of

5
by
Anonymous
from
Superb pack!
I bought this pack a month ago and have not regretted it since. It's big enough to hold all my bulky winter and bushcraft gear with ease. Simple, strong, dependable and fits most size body frames. Get one now!
Date published: 2016-11-14
Rated

4

out of

5
by
Joni
from
Heavy Duty gear for serious use
I bought the Norrona Recon pack a year ago and have used it couple of times in hiking trips. During the last trip with my girlfriend I carried quite big load, which included tent, most of the water and food we had and all the usual hiking kit. This pack has all the right features and nothing useless to add weight and making it too complicated. Only thing I would add to it would be a dedicated pouch for hydration system and other hole for the hose. Other thing worth thinking would be to replace the bungee cords on top of the lid with attachment points for gear. Other than these minor points,this pack is one of the best high capacity packs there are in the market today.
Date published: 2016-10-06
Rated

5

out of

5
by
ChristianD
from
King of the fells
This is the unbeatable combination of easy to carry and huge loading capacity. I've been hiking in the Finnish fells with three children using this backpack, carrying tent and food for four people on top of the usual one person kit. The flexing hip belt that keeps the weight central at all times is what does it. Even off track or on block terrain, or wading through streams you keep balance.
Date published: 2016-09-26
Kunden haben sich auch angesehen