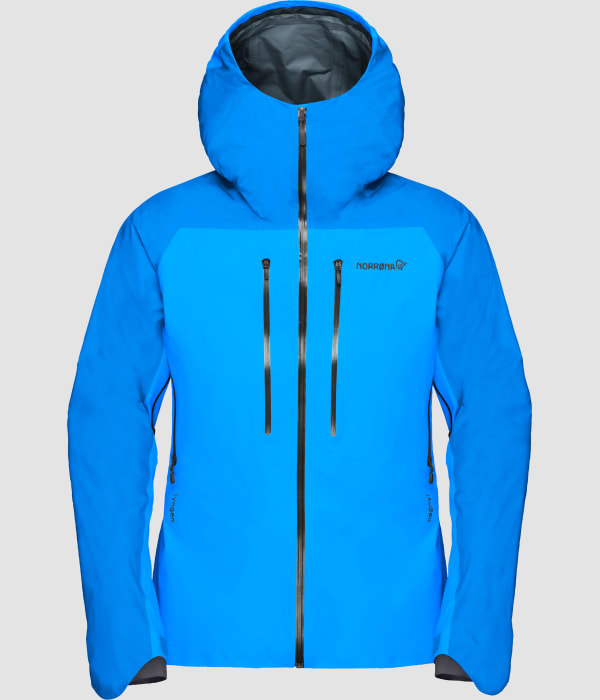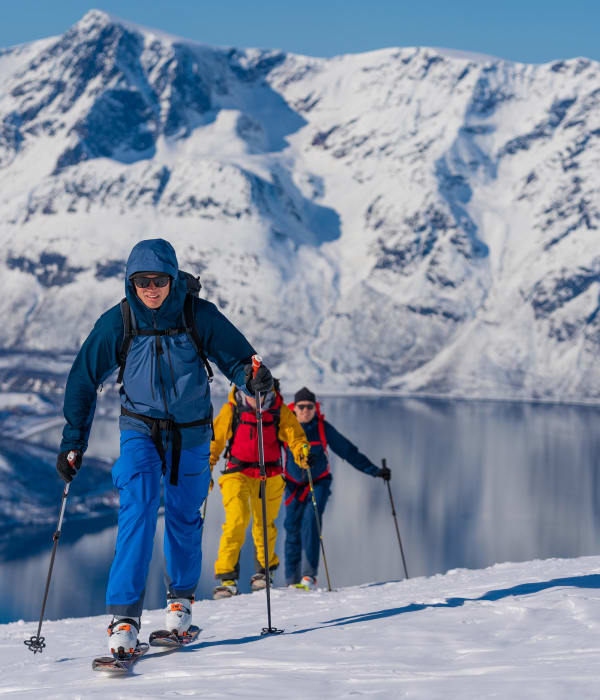 Die innovative lyngen Gore-Tex Jacke wurde speziell für das Skitourengehen entwickelt. Sie bietet die perfekte Kombination aus Wasserdichtigkeit, geringem Gewicht und Atmungsaktivität für einen komfortablen Schutz beim aeroben Klettern und Skifahren.
Die extrem leichte Jacke vereint zwei Technologien: Gore-Tex® C-knit™ an Schultern, Ärmeln und Kragen für mehr Bewegungsfreiheit und Strapazierfähigkeit ohne Kompromisse beim Schutz sowie der Rumpfbereich aus Gore-Tex® Active 2.0 für ein Maximum an Schutz und Atmungsaktivität bei intensiven Aktivitäten.
Für eine optimale Luftzirkulation bietet die Jacke zwei Optionen für das Schließen des Frontreißverschlusses: eine, bei der die Jacke vollständig geschlossen ist, und eine, bei der ein Belüftungsbereich über die gesamte Länge von der Brust abwärts bei geschlossener Jacke offen bleibt.
So ist eine optimale Belüftung gewährleistet, Hals und Gesicht sind aber trotzdem geschützt.
Zu den weiteren wichtigen funktionellen Elementen gehören zwei große Brusttaschen, eine kleine Brusttasche, leichte Handgamaschen, eine Sturmkapuze mit einhändiger Regulierung per Kordelzug, Belüftung unter den Armen und asymmetrische Armabschlüsse mit Klettverschluss.
Andere Einsatzbereiche
Tiefschneefahren / Snowboarden im Tiefschnee
Klettern
Langlauf - Skifahren
Freeride - Skifahren / Snowboarden
Gletscherwanderung
Leistung
6

Winddichtheit

Winddichtheit

Scale from 1 to 6 where 1 is not windproof and 6 is totally windproof.

5

Wasserdichtheit

Wasserdichtheit

Scale from 1 to 6 where 1 is not waterproof and 6 is waterproof.

1

Isolierung

Isolierung

Scale from 1 to 6 where 1 has no insulating properties and 6 is our warmest insulation products.

5

Atmungsaktivität

Atmungsaktivität

Scale from 1 to 6 where 1 have very little or no breathability and 6 is our most breathable and moisture wicking products.

3

Haltbarkeit

Haltbarkeit

Scale from 1 to 6 where 1 is fragile products and 6 is the most durable products we have.

5

Leicht

Leicht

Scale from 1 to 6 where 1 is heavy and 6 is among the world's lightest of its kind.

1

Elastisch

Elastisch

Scale from 1 to 6 where 1 is not made with stretch materials and 6 is our most flexible products made in super elastic material.
Fußabdruck
Bluesign-zertifizierter Stoff

Bluesign-zertifizierter Stoff

Bluesign® testet und bildet Textilfabriken aus, um schädliche Substanzen aus dem Herstellungsprozess zu entfernen und setzt Kontrollstandards für eine nachhaltige und sichere Produktion.

Offen gelistete Fabrik

Offen gelistete Fabrik

Dieses Produkt wird in einer Fabrik hergestellt, die auf norrona.com offen aufgeführt ist.

Werk geprüft

Werk geprüft

Dieses Produkt wird in einer Fabrik hergestellt, die von einem unabhängigen Dritten geprüft und von Norrøna begleitet wird.
Material
GORE-TEX® Active

GORE-TEX® Active ist wasserdicht, extrem atmungsaktiv und winddicht. Geringes Gewicht, geringer Geräuschpegel, weich und leicht zu verstauen: GORE-TEX® Active ist besonders gut für aerobe Aktivitäten geeignet, bei denen Sie Schutz vor Regen und Wind benötigen.

Lesen Sie mehr unter GORE-TEX®

Dreilagiges GORE-TEX® C-Knit™

Die GORE-TEX® C-KNIT™ Backer-Technologie wurde speziell für Wanderer, Trekking-Begeisterte und Freerider entwickelt und bietet die Strapazierfähigkeit eines dreilagigen Laminats sowie den Look und den Tragekomfort eines weichen Stoffs. Das Ergebnis: äußerst vielseitige, wasserdichte Kleidung für alle Outdoor-Fans, die sich erstklassigen Komfort wünschen, ohne dabei Kompromisse bei der Funktionalität und Widerstandsfähigkeit machen zu müssen. Die Strapazierfähigkeit eines Produkts hängt direkt mit Nachhaltigkeit und maximalem Spaß bei Outdoor-Aktivitäten zusammen. Weitere Informationen finden Sie auf www.goretex.com.

Weitere Informationen finden Sie auf www.goretex.com.
Technische Details
Rated

5

out of

5
by
SkiGlede
from
Behagelig og god
Jeg kjøpte denne jakka som en erstatning til min ødelagte Shake-dry jakke, og jeg er superfornøyd. Jakka har god lufting, er behagelig å ha på og lager lite lyd iforhold til en Goretex Pro jakke. Jeg bruker jakka hverdagslig, trening ute og på skiturer. Ville heller valgt denne enn Bitihorn og Falketind (har hatt begge) til hva som helst
Date published: 2018-12-12
Rated

5

out of

5
by
air71
from
Magiskt plagg för livet!
Haft denna produkt i en månad snart. Vill knappt ta av den, den är som ett "second skin". Vet att jag kommer ha jackan både till vardags och i samband med alla friluftsaktiviteter jag håller på med. Tillför magi i det underbara utelivet! / Christian
Date published: 2018-11-17
Rated

5

out of

5
by
Munz84
from
Perfekt til alt!
Funker utmerket til alle bruksområder med sin lette vekt og egenskaper mot vind og vann. Annbefales på det sterkeste!
Date published: 2018-10-26
Rated

5

out of

5
by
rohrski85
from
perfect for skitouring missions
this jacket is my first choice for ski tours, winter, spring and also for some mountaineering stuff too; light, breathable, good ventilation and water resistant;
Date published: 2018-10-21
Rated

5

out of

5
by
SkiGlede
from
Lett og luftig
Jeg har brukt jakka daglig siden jeg kjøpte den for en måned siden. Den holder vannet ute når det regner og slipper svetten ut når man lufter. Jeg bruker jakka til og fra jobb(sykkel/gå) og når jeg løper på kveldene. Kjempefornøyd! Jeg pleier å ha str L i jakke, men bruker M i denne fordi den er litt baggy samtidig som den er lang nok både armene og på hofta.
Date published: 2018-10-10
Rated

5

out of

5
by
GFon
from
Light, soft and breathable.
I work at Norrøna so i was fortunate enough to test the jacket last season. I used the jacket pimarily for ski touring , but have also done some hiking. The jacket has the necessary details including a very convenient ventilation system in the front. The hood has a snug and good fit. The jacket is typically a piece you can wear the whole day.
Date published: 2018-09-27
Rated

5

out of

5
by
@asbjorn_eggebo
from
Extreme good ventilation
I ve been spending half my winter in this jacket. We are testing but I also find my favorites. Fun to skin up with good phase and still wear outer- layer . The membrane together with pit zips and front vent gives a lot of air flow. Walking with a backpack gives also more heat on the back. In that case more vents like on this jacket defiantly makes it my first choice. Also with a thinner fabric it makes more sense to dress layer by layer and it is easier to find the right balance between temperature vs garments.
Date published: 2018-08-23
Rated

5

out of

5
by
Johan
from
Great ventilation!
I tested this jacket through the last ski touring season and it soon became a favorite. The ventilation in the front zipper really works awesome when you at the same time open the X openings in the arm pits. The combination of c-knit Gore and Active Gore membrane is a perfect match.
Date published: 2018-08-15
Hei! Er hetten kompatibel med bruk av hjelm? Mvh Thorbjørn 
Hei, Ja, den er kompatibel med hjelm.
Date published: 2018-12-10
Hello Norrøna. I was wondering why the waterproofing score on this jacket is a 5/6 instead of a 6/6 like all the other goretex jackets ?
Hi, The lyngen Gore-Tex Jacket has a lower durability rating due to the GORE-TEX® Active is membrane, The Active membrane is extremely breathable, and windproof. Low weight, low volume, soft and easy to pack but will not be as durable as the other Gore-Tex membranes.
Date published: 2018-10-16
Hva er vannsøyle på denne? :)
Hei, lyngen Gore-Tex jakken har en vannsøyle på 22,000 mm.
Date published: 2018-10-16
Hi, on the final product version will there be the buttons to bind it to the pants? Because there are the buttons on the pants but it seems that the jacket doesn't have them. Kind regards, Simone
Hi, The lyngen Gore-Tex Jacket doesn't come with a snow skirt but the lyngen Gore-Tex Pro Pants has a Custom-fit waist system™ compatible with the lyngen mountaineering Bib.
Date published: 2018-10-16
Kunden haben sich auch angesehen