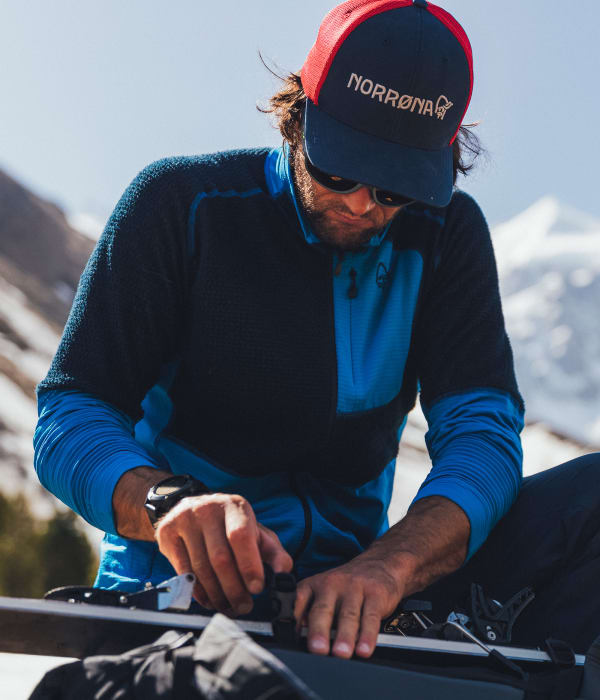 Die lyngen Alpha90 Raw Jacke für Herren ist unser leichtestes Midlayer-Modell und wurde speziell für intensive Aktivitäten wie Skitouren entwickelt.
Die Jacke bietet einen hervorragenden Feuchtigkeitstransport und trocknet schnell dank Polartec® Geweben mit erstklassigem Wärme-Gewichts-Verhältnis: Alpha90 direkt und das leichteste Polartec® PowerDry.
Dadurch ergibt sich ein extrem offenes und effizientes Design, und die Jacke kann als Baselayer getragen werden.
Die Ausstattung umfasst eine kleine Brusttasche, Armabschlüsse mit integrierten Handgamaschen und einen höheren Kragen für zusätzlichen Schutz.
Das Modell ist Größe L (Höhe 188 cm / 6'2 ")
Andere Einsatzbereiche
Tiefschneefahren / Snowboarden im Tiefschnee
Klettern
Langlauf - Skifahren
Freeride - Skifahren / Snowboarden
Gletscherwanderung
Leistung
1

Winddichtheit

Winddichtheit

Scale from 1 to 6 where 1 is not windproof and 6 is totally windproof.

3

Isolierung

Isolierung

Scale from 1 to 6 where 1 has no insulating properties and 6 is our warmest insulation products.

6

Atmungsaktivität

Atmungsaktivität

Scale from 1 to 6 where 1 have very little or no breathability and 6 is our most breathable and moisture wicking products.

3

Haltbarkeit

Haltbarkeit

Scale from 1 to 6 where 1 is fragile products and 6 is the most durable products we have.

6

Leicht

Leicht

Scale from 1 to 6 where 1 is heavy and 6 is among the world's lightest of its kind.

2

Elastisch

Elastisch

Scale from 1 to 6 where 1 is not made with stretch materials and 6 is our most flexible products made in super elastic material.
Fußabdruck
Recycelte Fasern

Recycelte Fasern

Die synthetischen Fasern dieses Produkts werden zu mehr als 50% recycelt.

Oeko-Tex-zertifiziertes Gewebe

Oeko-Tex-zertifiziertes Gewebe

Oeko-Tex® ist ein weltweit einheitliches, unabhängiges Prüf- und Zertifizierungssystem, mit dem sichergestellt wird, dass die Verwendung von Chemikalien den nationalen und internationalen Vorschriften und Normen entspricht oder diese übertrifft.

Bluesign-zertifizierter Stoff

Bluesign-zertifizierter Stoff

Bluesign® testet und bildet Textilfabriken aus, um schädliche Substanzen aus dem Herstellungsprozess zu entfernen und setzt Kontrollstandards für eine nachhaltige und sichere Produktion.

Offen gelistete Fabrik

Offen gelistete Fabrik

Dieses Produkt wird in einer Fabrik hergestellt, die auf norrona.com offen aufgeführt ist.

Werk geprüft

Werk geprüft

Dieses Produkt wird in einer Fabrik hergestellt, die von einem unabhängigen Dritten geprüft und von Norrøna begleitet wird.
Material
Polartec® Alpha®

Polartec® Alpha® ist die neueste Entwicklung von synthetischer Isolation, die eine seltene Kombination aus leichter Wärme und echter Atmungsaktivität in einem bauschigen Kleidungsstück bietet. Da die Polartec Alpha Isolation sehr strapazierfähig und stabiler als andere synthetische Isolationsprodukte ist, können mehr offen gewebte Oberflächen gewählt werden, um ein luftdurchlässiges Gesamtkonstrukt zu erstellen. Dieser geringe Luftstrom zieht schnell die Feuchtigkeit vom Körper weg und ermöglicht es, Polartec Alpha bei einem breiteren Spektrum von Aktivitäten im Vergleich zur klassischen "Dampfsperren"-Isolation zu tragen.

warm™1

Mit einem Gewicht von unter 200 g/m² sind das unsere leichtesten Fleece-Pullover. Perfekt als Mid layer, oder tragen Sie ihn anstelle einer Jacke, ohne auf Isolation und Atmungsaktivität verzichten zu müssen. Diese Fleece-Pullover gehören zu den besten auf dem Markt. Ihre einzigartige Beschaffenheit und Struktur eignen sich perfekt für verschiedene Arten von Aktivitäten, da sie warme Luft einschließen, ohne den Feuchtigkeitstransport zu stoppen. Allein getragen sind diese Stoffe durchlässig genug, um die Luft zirkulieren zu lassen, damit Sie sich bei milderen Temperaturen wohlfühlen. Unter einem Shell bieten sie eine ausgezeichnete Wärmedämmung.
Technische Details
Rated

5

out of

5
by
mamo12
from
PT Alpha: new experience of 1st Layer!
Bought Alpha90 Raw Jacket 6w ago. 1.80m, 79kg, (long arms) size M for Norrona seems to fit always great. 1st experience: Used it as base layer combined mit Lyngen Alpha100 Vest. Conditions: 0 degrees, uphillrunning 1000m, @ summit windy but not stormy. Since my sweating level is 4 from 5, arms and spine were always dripping and became cold (baselayer: odlo light + nylon windproof vest - more clothing was allways too warm for me). Not with the alpha combination. The sweat drops came out of the wind protective sheet of the vest. The feeling at spine and arms was fresh but very comfortable. I was curious what will happen at the summit. I Pulled the hood of the vest over the head had a 15 min rest in windy (no stormy) conditions and felt all the time warm and comfortable. At the spine the feeling was even dry (it was not but it felt so). I could have stayed there even longer without getting cold. Back at home there was no need driven by temperature or uncomfortableness to change the alpha combi. When I went to the shower (30 mins after finishing running) the lyngen Alpha90 Raw Jacket was already almost dry. Never experienced this before with all functional base layers I tried over the last 30 years. Since that first run I use it as base layer for all running activities, for the gym (sweating but it feels dry). Will test it soon during Ski touring. I will see if I have to change it @ the summit or not. If yes it will be much more comfortable to change compared to most other 1st layers because of the zip (never liked it to pull the wet 1st layer in stormy winter conditions over the head (need to remove cap and goggles and it sticks on the body)) Summary: Best 1st layer I ever had (30 years skitouring, trailrunning, marathon) One additional comment: I tried even the lofoten Alpha raw Zip Hoodie also as 1st layer but there is one issue what does not exist on the Alpha90 Raw Jacket: The embroidered Norrona label of lofoten Alpha raw Zip Hoodie on the back is scratching on the skin. :-( would have like to use it also as 1st layer because of the great feeling and behavior from PT alpha on the skin.
Date published: 2018-11-29
Rated

5

out of

5
by
Dylan's
from
Perfect extra for layering
Bought two months ago, warm but very light and great for climbing/mountaineering 5 stars
Date published: 2018-10-17
Rated

5

out of

5
by
Dylan's
from
Very simple but very effective
Bought it last month, wear it all the time on and off the mountain, work well close to the skin or as part of a layering system Love it...
Date published: 2018-10-03
Rated

5

out of

5
by
JonasRupp2
from
Best first layer product for touring activations!
Tested this product last March in Andermatt (CH). The combination of the two Polartec materials really works well and breaths better than any other layer I had before. It nearly did not take any sweat and if so dried super fast. Very comfortable on the skin and no rash from the front zip. Especially in combination with the lyngen Gore-Tex Active Jacket the perfect outfit for any touring activations!
Date published: 2018-08-17
Kunden haben sich auch angesehen