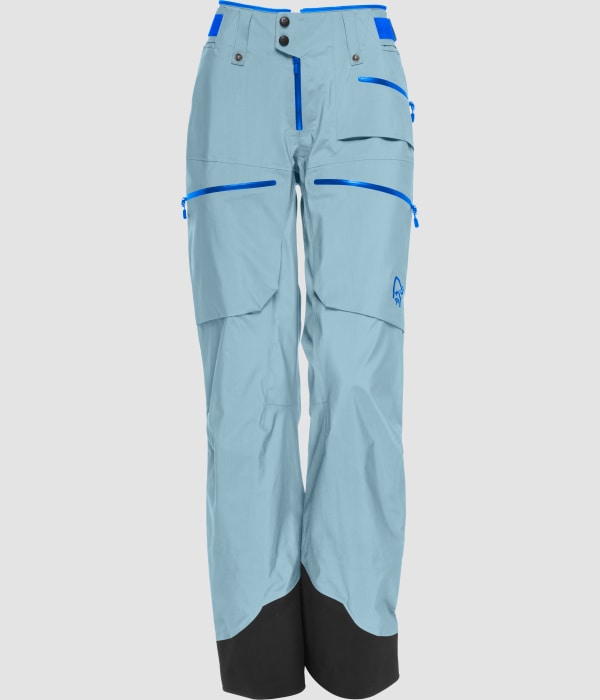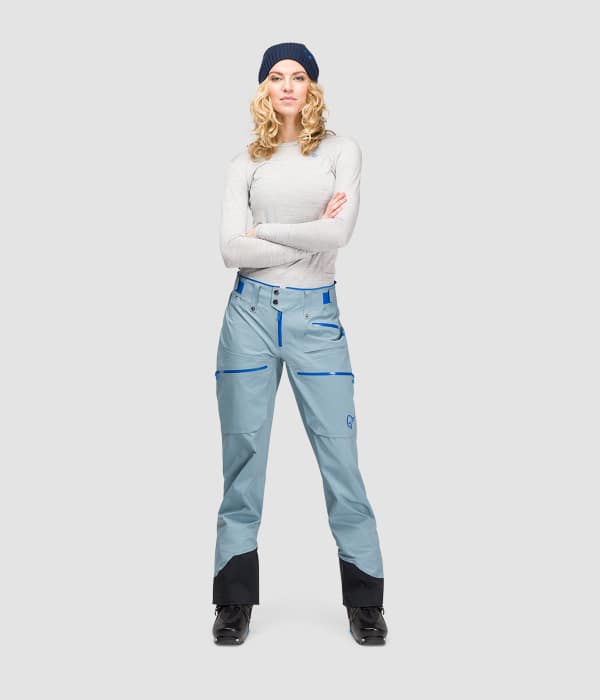 Die lofoten Gore-Tex Pro Light-Hose ist unsere leichteste Hose für actionliebende Freerider. Sie ähnelt in vielerlei Hinsicht dem lofoten Gore-Tex Pro-Modell, doch sie besteht aus einem leichteren, wind- und wasserdichten GORE-TEX® Pro-Gewebe, das besonders strapazierfähig ist.
Die Hose ist etwas enger geschnitten als die lofoten Gore-Tex Pro, was ihre Passform optimal für Freerider macht.
Zu ihren besonderen Merkmalen gehören ein individuelles Taillenregulierungssystem, Seitenbelüftungen mit Schnee-Mesh-Einlage und Taschen auf Höhe der Oberschenkel sowie Verstärkungen am Unterschenkel.
Damit ist sie die perfekte Hose für den actionliebenden Freerider, denn sie vereint optimalen Schutz mit vielen praktischen Merkmalen.
Produziert für
Tiefschneefahren / Snowboarden im Tiefschnee
Andere Einsatzbereiche
Freeride - Skifahren / Snowboarden
Skitouren
Skifahren / Snowboard
Leistung
6

Winddichtheit

Winddichtheit

Scale from 1 to 6 where 1 is not windproof and 6 is totally windproof.

6

Wasserdichtheit

Wasserdichtheit

Scale from 1 to 6 where 1 is not waterproof and 6 is waterproof.

1

Isolierung

Isolierung

Scale from 1 to 6 where 1 has no insulating properties and 6 is our warmest insulation products.

4

Atmungsaktivität

Atmungsaktivität

Scale from 1 to 6 where 1 have very little or no breathability and 6 is our most breathable and moisture wicking products.

4

Haltbarkeit

Haltbarkeit

Scale from 1 to 6 where 1 is fragile products and 6 is the most durable products we have.

5

Leicht

Leicht

Scale from 1 to 6 where 1 is heavy and 6 is among the world's lightest of its kind.
Fußabdruck
Recycelte Fasern

Recycelte Fasern

Die synthetischen Fasern dieses Produkts werden zu mehr als 50% recycelt.

Oeko-Tex-zertifiziertes Gewebe

Oeko-Tex-zertifiziertes Gewebe

Oeko-Tex® ist ein weltweit einheitliches, unabhängiges Prüf- und Zertifizierungssystem, mit dem sichergestellt wird, dass die Verwendung von Chemikalien den nationalen und internationalen Vorschriften und Normen entspricht oder diese übertrifft.

Bluesign-zertifizierter Stoff

Bluesign-zertifizierter Stoff

Bluesign® testet und bildet Textilfabriken aus, um schädliche Substanzen aus dem Herstellungsprozess zu entfernen und setzt Kontrollstandards für eine nachhaltige und sichere Produktion.

Offen gelistete Fabrik

Offen gelistete Fabrik

Dieses Produkt wird in einer Fabrik hergestellt, die auf norrona.com offen aufgeführt ist.

Werk geprüft

Werk geprüft

Dieses Produkt wird in einer Fabrik hergestellt, die von einem unabhängigen Dritten geprüft und von Norrøna begleitet wird.
Material
GORE-TEX® Pro

GORE-TEX® Pro - Die GORE-TEX®-Membran verwendet ein gewebtes Futter, um Gewicht und Volumen zu reduzieren, die Feuchtigkeit besser abzuleiten und den Abrieb zu minimieren - und ist dabei langanhaltend wasserdicht. Das ultimative Sturmschutz-Gewebe.

Lesen Sie mehr zu GORE-TEX®
Technische Details
Rated

4

out of

5
by
Rachela
from
Light and strong
For the last five years I have been using the Lofoten Gore Tex Pro pants. I give them the highest possible rating. The cut is brilliant. And I don't just mean they're comfortable - the whole look is great. They fit where they need to. And they're loose where they need to be. Perfect. But eventually they got worn out and the zipper came unstuck, so I bought a lighter version of the pants - Lofoten Gore-Tex Pro Light. I've already tried them out - I just returned from the season opening in Italy. What are they like? - surprisingly soft. Indeed, this model is slightly narrower, and if you were counting on them to be a replica of Lofoten Gore Tex Pro, you might be disappointed. In this form they lose a bit of their roguish style. I wish they still had the back pocket, but it's just a detail. What bothered me was the bottom width of the leg; the pants could barely fit on the ski boots. And the lack of zipper - quite surprisingly - doesn't make putting them on any easier. Generally speaking, I'm pleased with them, and I'm going to take them with me on my next freeride trip.
Date published: 2018-11-09
Rated

5

out of

5
by
Ep95
from
Perfekt skibukse!
Kjøpte denne buksa på tilbud for å bruke den i skisesongen. Størrelsen er som forventet, S satt som et skudd! Kjempefresh farge og passform som gud! Har kun fått prøvd den en gang, og gleder meg til flere turer med buksa!❤️
Date published: 2018-10-07
Rated

5

out of

5
by
Karina
from
Anbefales
Rask levering. Produktet var som forventet. Fin fasong og farge, feminint snitt. Behagelig på.
Date published: 2018-10-06
Rated

5

out of

5
by
Dinda
from
Super gode og behagelig bukser :)
Kjempe fornøyd, veldig fine bukser og passer utmerket bra !! :)
Date published: 2018-10-03
Rated

4

out of

5
by
Britt74
from
Gode funksjoner
Kjøpt med tanke på vintersesong, men har fått prøvd den på fjelltur i ulendt, vått og delvis snødekt terreng. God passform, kjempefin farge, smart lomme på låret til oppbevaring av telefon og diverse. Den er vannavstøtende og held regn og snø ute. Kanskje litt stiv i stoffet. Savner knappar eller borrelås nederst på buksebeina.
Date published: 2018-10-01
Rated

5

out of

5
by
Padler
from
Sitter behagelig
God i fasongen,ikke knitrende i stoffet. Ikke fått testet den ute enda,men regner med den holder mål som andre Norrøna produkter
Date published: 2018-09-29
Rated

5

out of

5
by
jankri69
from
God passform!
Dette er tredje buksen i denne modellen, og det betyr at jeg er storfornøyd med buksen. Spesielt passformen liker jeg.
Date published: 2018-09-19
Rated

5

out of

5
by
Johanna Stalnacke
from
Good breathability and a sweet weight
The Lofoten GT Pro light pants are both comfy for touring and comes with an even better breathability than the regular GT pant. A good choice for the spring or when touring to get in position for your line to ski. The garment feels good and soft, yet durable and strong. I appreciate the usable front pockets on the legs that have a small mesh inside to keep the phone in place so it doesnt bounce around when you are skiing. A good comfy fit, with an enjoyable weight.
Date published: 2018-08-21
Do any of the women's pants come in tall sizes?
Hi Melissa! Thank you for your question regarding our outdoor pants. After feedback from our customers, we have now started with long edition on some of our products.Currently we sell only one pant, the svalbard flex1 pants in long for women. You can find this under Womens/Collections/svalbard. Hope this information was helpful for you. Best regards, Anette/Norrøna Fan Suupport
Date published: 2018-11-19
Hi there - looking at getting a pair of lofoten pants for my wife but I'm unsure of the difference between the pro light and pro pants.  She wants them for skiing, mainly piste so would the cheaper option suffice?  Thanks. 
Hi JWD18, Thanks for looking at these great products for your wife, she is lucky if she get's one of these. The Pro Light should be more than sufficient for piste skiing and also works great off piste. Although it is not as heavy duty as the Pro Pants, they are sufficient for a long life and many ski days. Both pants also have 5 years warranty. Good luck with your purchase! Best regards, Jens, Norrøna Fan Support
Date published: 2017-10-10
When is the expected time to get more loften goretex pants in stock?
Hello madi, If you click a color and a size, you will see the availability. Right now we have all colors and sizes in stock, apart from the Caviar one, which is expected to be available from 2nd of October. Best regards, Alexander - Norrøna Fan Support
Date published: 2017-09-25
Hello, yes we need some tall sizes, the normal fit it's really too short for slim women over 175. Personally I had to buy men's pants but they're too large. Thanks to think of tall woman as well!
Kunden haben sich auch angesehen