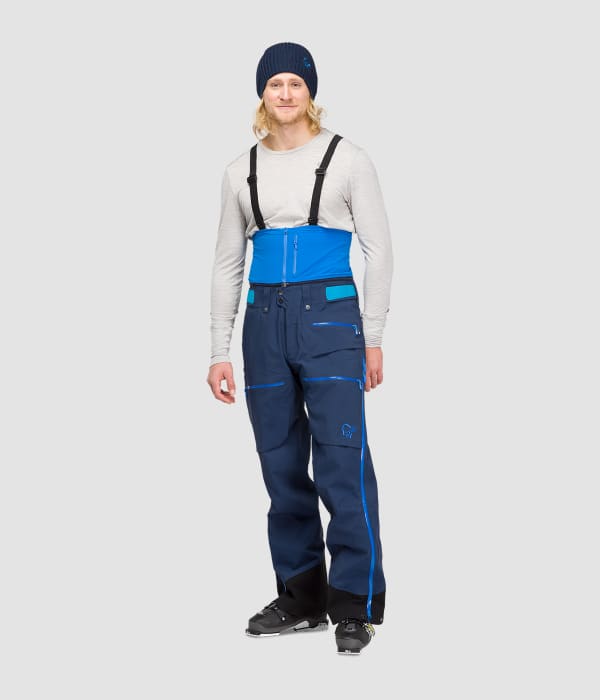 Mit dieser Hose werden die Spielregeln für die Skifahrer der neuen Generation neu definiert. Die lofoten Gore-Tex Pro Hose wurde konzipiert, um alle Ansprüche von Freeridern, die besonderen Schutz unter anspruchsvollsten Bedingungen im Tiefschnee benötigen, kompromisslos zu erfüllen.
Genauso wie das Original hat auch diese Hose eine lockere Passform und einzigartige Funktionen wie Oberschenkeltaschen zum leichten Verstauen, lange Reißverschlüsse für gute Belüftung und extrem langlebige Verstärkungen am Unterschenkel, um die Hose vor Stahlkanten zu schützen.
Die hellen Farben, die bei der ursprünglichen Produktlinie eingeführt wurden, sind modernisiert worden und mehr Ton in Ton gehalten, aber immer noch hell genug, um verlässliche Sichtbarkeit zu gewährleisten.
Die Hosen sind mit einem abnehmbaren Latz ausgestattet, der ein Eindringen des Schnees verhindert und Ihre Hose am Verrutschen hindert.
Das Modell ist Größe L (Höhe 188 cm / 6'2 ")
Produziert für
Tiefschneefahren / Snowboarden im Tiefschnee
Andere Einsatzbereiche
Freeride - Skifahren / Snowboarden
Skitouren
Skifahren / Snowboard
Leistung
6

Winddichtheit

Winddichtheit

Scale from 1 to 6 where 1 is not windproof and 6 is totally windproof.

6

Wasserdichtheit

Wasserdichtheit

Scale from 1 to 6 where 1 is not waterproof and 6 is waterproof.

1

Isolierung

Isolierung

Scale from 1 to 6 where 1 has no insulating properties and 6 is our warmest insulation products.

4

Atmungsaktivität

Atmungsaktivität

Scale from 1 to 6 where 1 have very little or no breathability and 6 is our most breathable and moisture wicking products.

6

Haltbarkeit

Haltbarkeit

Scale from 1 to 6 where 1 is fragile products and 6 is the most durable products we have.

3

Leicht

Leicht

Scale from 1 to 6 where 1 is heavy and 6 is among the world's lightest of its kind.
Fußabdruck
Bluesign-zertifizierter Stoff

Bluesign-zertifizierter Stoff

Bluesign® testet und bildet Textilfabriken aus, um schädliche Substanzen aus dem Herstellungsprozess zu entfernen und setzt Kontrollstandards für eine nachhaltige und sichere Produktion.

Offen gelistete Fabrik

Offen gelistete Fabrik

Dieses Produkt wird in einer Fabrik hergestellt, die auf norrona.com offen aufgeführt ist.

Werk geprüft

Werk geprüft

Dieses Produkt wird in einer Fabrik hergestellt, die von einem unabhängigen Dritten geprüft und von Norrøna begleitet wird.
Material
GORE-TEX® Pro

GORE-TEX® Pro - Die GORE-TEX®-Membran verwendet ein gewebtes Futter, um Gewicht und Volumen zu reduzieren, die Feuchtigkeit besser abzuleiten und den Abrieb zu minimieren - und ist dabei langanhaltend wasserdicht. Das ultimative Sturmschutz-Gewebe.

Lesen Sie mehr zu GORE-TEX®
Technische Details
Rated

5

out of

5
by
Dr_T
from
The ultimate ski pants
I bought these pants to replace my old Arcteryx pants especially because the roomy pockets and Norrona's great hip adjustment system. So far I've been very satisfied with them. The material appears to be durable enough for freerides, but they perform in ski resorts as well. They are surprisingly light considering how tough the material is. There pants came with two hip pieces, one for attaching the pants to the Lofoten jacket and anther one which turns the pants into a bibs. I'm 184/80kg with a normal body but this bib-converting piece is way too tight for me, I had to take it off after a while. I wonder would it be possible to use one size bigger piece (probably not as it is attached by a zipper). I also found it to be quite hot even though is has clearly been designed as breathable as possible. Too bad for me as this piece adds one carrying pocket to the pants. The connecting piece is, instead, comfortable and usable, at least for me. They perform well without either one when you are not skiing in deep snow. Overall the pants are a bit roomy, so I recommend to trying them on first. I mostly use size L in Norrona's pants, but I went for M with these. Hem opening in these pants is wide. This is nice with ski boots, but somewhat renders these pants to skiing purposes. So don't buy these for your only do-it-all Gore-Tex pants. As as ski pants, I think it is hard to find better ones.
Date published: 2019-05-04
Rated

5

out of

5
by
Jean-christ
from
Best pants ever!
Used for skiing with a baselayer or ski touring. The feel of the material is amzing, solid and resistant, much better feeling than the jacket goretex pro I have to say. I am 1m79, wearing size S. But no extra kg allowed! M was too big overall. (I have small legs though)
Date published: 2019-04-07
Rated

5

out of

5
by
Johan 77
from
the best skiing feeling
I bought my Lofoten trousers about 1 month ago and am very satisfied.I have used them in different weather conditions, such as slush and strong sunshine to biting cold with much ice and I am very pleased with the quality of the fabric and the strength of the clothing model in all weather conditions
Date published: 2019-04-07
Rated

5

out of

5
by
Frantz765
from
Best ski pants
Light and durable. Great for off piste and resort.
Date published: 2019-04-06
Rated

5

out of

5
by
Arvei
from
Fantastisk bukse
Meget god bukse til vintersesongen. Praktiske glidelåser, samt overdel med bukseseler. Har stort sett benyttet medium i Norrøna sine produkter, men måtte gå opp til large på denne buksen.
Date published: 2019-04-04
Rated

5

out of

5
by
Per Anders
from
Perfect pants
Perfect with the right details made in a high quality.
Date published: 2019-03-26
Rated

5

out of

5
by
Saint
from
Near Perfection in a pant shell
I've used these heavily over the last 30+ days in the Cascade, Wasatch, and Selkirk ranges in the Rockies. A near perfect pant shell for big mountain and touring. The fit is generous and allow ample layering underneath if needed without anything bunching up. The wallet-size hip pocket is just big enough for a thin wallet. The pockets are large enough to fit thin gloves and liners together along with other quick-grab items like chap stick, small containers of sunscreen, wrench/screwdriver tool, and a couple of small snacks all together without being overloaded. They would be perfect for a beacon IF there was a loop to attach a beacon tether to (similar issue as the dedicated touring, lyngen, line). The full-length leg zipper with the snap-and-velcro gaiter allow you to put-on and take-off without taking your boots off! And the fact that the gaiters come apart makes them perfect for my snowboard / splitboard boots. Lastly, the attachable bibs are snug, which is somewhat nice, but they do not allow for much layering underneath; this means most layers other than a base layer or so must go over the bibs if you want the bibs to zip up.
Date published: 2019-03-25
Rated

4

out of

5
by
Skiordie
from
Solid!
Har brukt buksa på flere toppturer nå. Fantastisk behagelig og solid bukse. En sikker vinner
Date published: 2019-03-20
I am 195cm, 33-34in waist and currently have a rodal jacket in large would large be the right size for me and does the lofoten pants connect with rodal jacket?
Hello, I'm 193cm and 33/34in waist and the Large is the right size. They are plenty long enough and will be for you too. I don't know about how they clip to any jacket. 
Date published: 2019-04-14
I'm 1,89 m tall, waist 32/33 inches, I have a Lofoten jacket size L and would like to buy pants but I'm undecided in size M or L, probably M would fit better but the risk is they could be too short
I am 188 cm tall, 80 kgs, own the Lofoten pants size M, which fits me very well. When wearing skiboots, the lengths does not matter that much, in my opinion, as long it is not too short.
Date published: 2019-03-29
I have the fjora mountain bike flex pant.  Do these fit similar to those?  I am size 34 waist and trying to pick between medium and large.  
I am a 34 and a 33 inseam and the M is the way to go. I don't find the bib very functional but the pants fit perfectly. I think you would be swimming in a L 
Date published: 2019-01-24
Hi, I own previous model of lofoten pro jacket (light blue). I wonder if these new pants are compatible with my jacket i.e. can I connect them vie metal press studs.
Yes, no problem with connecting the jacket and pants. New pants are more comfortable yet sturdier than previous ones. Enjoy!
Date published: 2019-01-23
Has the fit/cut of the 2018/19 pants changed from last year? What about the Goretex fabric? Are the only differences in color??
Hi Ludwigk, I'm not certain about the 2018/2019 changes but the changes between 2016/2017 and 2017/2018 were inexistant (got two pairs: only a colour change for the bib i.e. the bit you zip over the belt to keep the powder out). So, yes, only colour changes. Sorry for the late reply. L
Date published: 2019-01-06
Is there a video showing how to use the zip-seal system?  I can't figure out how to connect the snow skirt of the jacket to the pants as shown (briefly) in the product videos? Is there a separate skirt i'm missing?
Hi Mike, You will normally find a separate skirt with a zipper in each side in the front pocket of your pant.  If this item is missing, please contact the Norrona helpline. Enjoy the ride! 
Date published: 2018-09-15
Hi there, do the lofoten pants direct iconnect to the lofoten jacket if you remove the bib and snow skirt? My partner has the W lofoten jacket/pant from a couple of years ago and when you remove the snow skirt from the jacket you also remove the zipper
Hi NZMike,all the Lofoten jackets can interconnect with the lofoten pants via press studs between the jacket powder skirt and the top of the pants (see video).This creates a great seal for those big powder days as well as keeping the warmth in and cold out.I have used this system faultlessly for the last 6 years in Canada and it still allows great dynamic flexibility.
Date published: 2018-11-27
Hi! I would be very interested in this pants, but unfortunately the size M, which is perfect in fit, is very very short for my leg length. would it be possible to have a size M with length of size Xl? Thank's!
Hi, thanks for the request. I`m sorry, we don`t have this pants in any other models (longer or shorter legs). We do have one model with extra long legs, in the falketind flex1 pants. However, for some pants (svalbard flex1, bitihorn and falketind flex1) we can in addition customize the legs on request. Unfortunately we`re not able to do this customization with Lofoten Gore-Tex Pro pants due to the snow gaiters
Date published: 2018-12-23
Kunden haben sich auch angesehen