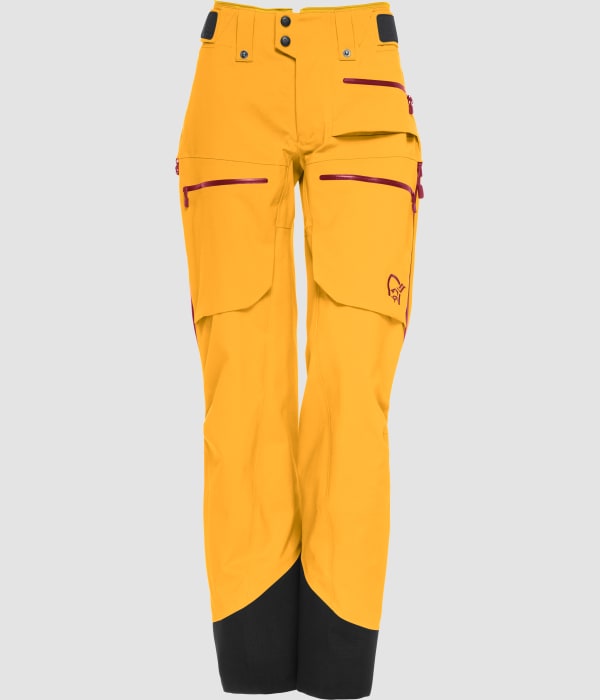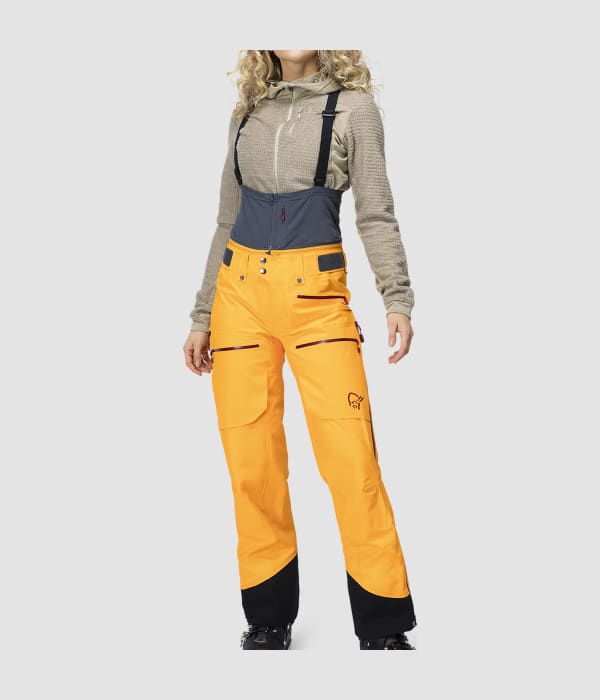 Mit dieser Hose werden die Spielregeln für die Skifahrer der neuen Generation neu definiert. Die lofoten Gore-Tex Pro Hose wurde konzipiert, um alle Ansprüche von Freeridern, die besonderen Schutz unter anspruchsvollsten Bedingungen im Tiefschnee benötigen, kompromisslos zu erfüllen.
Genauso wie das Original hat auch diese Hose eine lockere Passform und einzigartige Funktionen wie Oberschenkeltaschen zum leichten Verstauen, lange Reißverschlüsse für gute Belüftung und extrem langlebige Verstärkungen am Unterschenkel, um die Hose vor Stahlkanten zu schützen.
Die hellen Farben, die bei der ursprünglichen Produktlinie eingeführt wurden, sind modernisiert worden und mehr Ton in Ton gehalten, aber immer noch hell genug, um verlässliche Sichtbarkeit zu gewährleisten.
Die Hosen sind mit einem abnehmbaren Latz ausgestattet, der ein Eindringen des Schnees verhindert und Ihre Hose am Verrutschen hindert.
Das Model trägt Größe M (Höhe 179 cm / 5'10 ")
Produziert für
Tiefschneefahren / Snowboarden im Tiefschnee
Andere Einsatzbereiche
Freeride - Skifahren / Snowboarden
Skitouren
Skifahren / Snowboard
Outdoor - Verwendung jeder Art
Leistung
6

Winddichtheit

Winddichtheit

Scale from 1 to 6 where 1 is not windproof and 6 is totally windproof.

6

Wasserdichtheit

Wasserdichtheit

Scale from 1 to 6 where 1 is not waterproof and 6 is waterproof.

1

Isolierung

Isolierung

Scale from 1 to 6 where 1 has no insulating properties and 6 is our warmest insulation products.

4

Atmungsaktivität

Atmungsaktivität

Scale from 1 to 6 where 1 have very little or no breathability and 6 is our most breathable and moisture wicking products.

6

Haltbarkeit

Haltbarkeit

Scale from 1 to 6 where 1 is fragile products and 6 is the most durable products we have.

3

Leicht

Leicht

Scale from 1 to 6 where 1 is heavy and 6 is among the world's lightest of its kind.
Fußabdruck
Bluesign-zertifizierter Stoff

Bluesign-zertifizierter Stoff

Bluesign® testet und bildet Textilfabriken aus, um schädliche Substanzen aus dem Herstellungsprozess zu entfernen und setzt Kontrollstandards für eine nachhaltige und sichere Produktion.

Offen gelistete Fabrik

Offen gelistete Fabrik

Dieses Produkt wird in einer Fabrik hergestellt, die auf norrona.com offen aufgeführt ist.

Werk geprüft

Werk geprüft

Dieses Produkt wird in einer Fabrik hergestellt, die von einem unabhängigen Dritten geprüft und von Norrøna begleitet wird.
Material
GORE-TEX® Pro

GORE-TEX® Pro - Die GORE-TEX®-Membran verwendet ein gewebtes Futter, um Gewicht und Volumen zu reduzieren, die Feuchtigkeit besser abzuleiten und den Abrieb zu minimieren - und ist dabei langanhaltend wasserdicht. Das ultimative Sturmschutz-Gewebe.

Lesen Sie mehr zu GORE-TEX®
Technische Details
Rated

5

out of

5
by
Johanna Stalnacke
from
Strong and sweet
Riding with the Lofoten GT Pro is a treat. I love how the pants function in remarkably well in tough conditions, their features such as pockets on the right places, ventilation and that you can tighten around your ski boots when cramponing, makes this an awesome pant. The fit is great. I´m a XS with my 153 cm / 5 foot and love how these pants fit well both on the length and the width. When I need to perform I don´t think about the pants, and that´s good. They are just there, comfortable, well-functioning and simply aweseome. And they will last for wear and tear. Just how we like it.
Date published: 2017-08-11
Rated

5

out of

5
by
Jackie Paaso
from
For those that really tend to put their gear through the wringer
I've worn these pants throughout all 5 stops of the Freeride World Tour last winter. We hike to the top most of the time and that include making your way over snow, ice and rocks. These pants held up no problem and I'm confident they have MANY seasons in them even if you wear them as often as I do!
Date published: 2017-08-07
Rated

5

out of

5
by
Moomin
from
Perfect fit
I bought these for myself having borrowed my daughters Norrona pants for the last three seasons - no complaints!
Date published: 2019-02-25
Rated

5

out of

5
by
Anonymous
from
What it says on the tin
I have used a pair of these pants for about 10 weeks skiing over five years of holidays (high Alps and Canada) and they do the job as described; windproof, waterproof (I have reproofed them twice), super durable and comfortable. The front cargo pockets are great for storing items if you don't need an airbag/rucksack or want easy access to something. The side zips provide excellent ventilation if needed and the fit allows for an extra base layer for those very cold days. I use mine with the bib for extra protection and comfort.
Date published: 2019-02-19
Rated

5

out of

5
by
sm30
from
Great pants
I've been wearing these pants when skiing in different weather conditions. Simply put:great product!
Date published: 2019-02-17
Rated

4

out of

5
by
Closey 2
from
Great fit!
I bought these for skiing and ski touring. They fit great and are comfy and do what it says on the tin. Massive downside is - unless I've made a mistake - the braces that attach a piece of fabric to the waist band to keep your back warm DO NOT detach from the trousers so when you need to visit the bathroom you have to take your jacket off too. There are other brands where the braces unclip. So unless I'm missing some little trick.....i feel this is a design fault!
Date published: 2019-01-20
Rated

5

out of

5
by
annemie
from
Excellent quality ski trousers
Love all the pockets and zips. love the bib that comes with it and is detachable. It feels warmer than without. Excellent freedom of movement, which I'm after. Done with puffy trousers
Date published: 2018-11-29
Rated

5

out of

5
by
Yanav
from
Fantastic features
Excellent quality, comfy fit, accurate sizing, taped zippers!! good pockets, powder skirt with optional zipper. By far worth every penny. I highly recommend. I am an all mountain and backcountry hound... so quality and material are of upmost importance.
Date published: 2018-05-16
Kunden haben sich auch angesehen