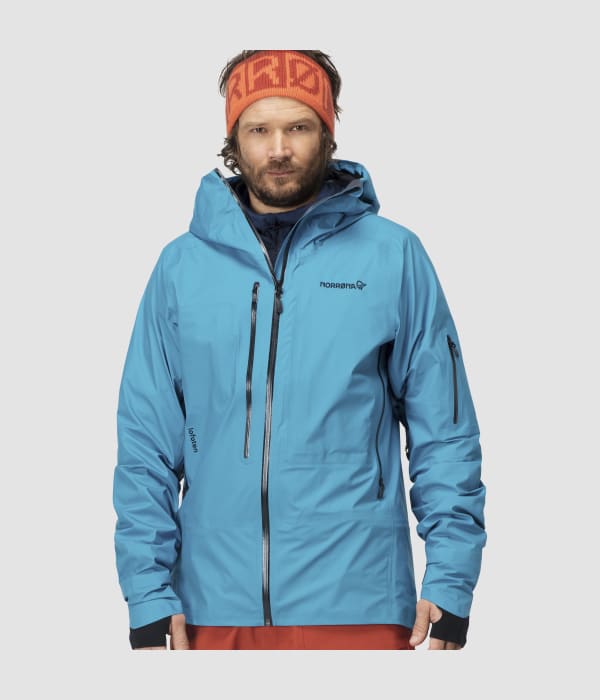 Die lofoten Gore-Tex Active Jacke ist unsere leichteste und atmungsaktivste Freeride-Shell-Jacke für Herren. Sie besteht aus GORE-TEX® Active-Gewebe, das effektiven Schutz vor Wind und Wetter bietet.
Ohne den abnehmbaren Schneefang wiegt sie weniger als 500 Gramm.
Abgerundet wird das Modell durch Belüftungen im Achselbereich, eine große Brusttasche, Funkgerät-/Schlüsselkartentasche, Innentasche, ultraleichte Handgamaschen, einen ultraleichten, abnehmbaren Schneefang sowie eine Sturmkapuze mit einhändiger Regulierung auf der Rückseite.
Das Gewebe hat eine Fadenstärke von 30 Denier.
Das Modell ist Größe L (Höhe 188 cm / 6'2 ")
Produziert für
Tiefschneefahren / Snowboarden im Tiefschnee
Andere Einsatzbereiche
Freeride - Skifahren / Snowboarden
Skitouren
Skifahren / Snowboard
Leistung
6

Winddichtheit

Winddichtheit

Scale from 1 to 6 where 1 is not windproof and 6 is totally windproof.

5

Wasserdichtheit

Wasserdichtheit

Scale from 1 to 6 where 1 is not waterproof and 6 is waterproof.

1

Isolierung

Isolierung

Scale from 1 to 6 where 1 has no insulating properties and 6 is our warmest insulation products.

4

Atmungsaktivität

Atmungsaktivität

Scale from 1 to 6 where 1 have very little or no breathability and 6 is our most breathable and moisture wicking products.

4

Haltbarkeit

Haltbarkeit

Scale from 1 to 6 where 1 is fragile products and 6 is the most durable products we have.

5

Leicht

Leicht

Scale from 1 to 6 where 1 is heavy and 6 is among the world's lightest of its kind.
Fußabdruck
Oeko-Tex-zertifiziertes Gewebe

Oeko-Tex-zertifiziertes Gewebe

Oeko-Tex® ist ein weltweit einheitliches, unabhängiges Prüf- und Zertifizierungssystem, mit dem sichergestellt wird, dass die Verwendung von Chemikalien den nationalen und internationalen Vorschriften und Normen entspricht oder diese übertrifft.

Bluesign-zertifizierter Stoff

Bluesign-zertifizierter Stoff

Bluesign® testet und bildet Textilfabriken aus, um schädliche Substanzen aus dem Herstellungsprozess zu entfernen und setzt Kontrollstandards für eine nachhaltige und sichere Produktion.

Offen gelistete Fabrik

Offen gelistete Fabrik

Dieses Produkt wird in einer Fabrik hergestellt, die auf norrona.com offen aufgeführt ist.

Werk geprüft

Werk geprüft

Dieses Produkt wird in einer Fabrik hergestellt, die von einem unabhängigen Dritten geprüft und von Norrøna begleitet wird.
Material
GORE-TEX® Active 2.0

Bekleidung mit GORE-TEX® Active Stoff sind dauerhaft wasserdicht, winddicht und extrem atmungsaktiv – das atmungsaktivste Gewebe aus der GORE-TEX®-Produktfamilie. Der alpine Sport stellt höchste Ansprüche an Atmungsaktivität. Diese Stoffe sind die ideale Lösung für stark aerobische eintägige Aktivitäten, sogar bei schlechtem Wetter. Bekleidung aus GORE-TEX® Active-Gewebe ist leicht und weich, mit exzellentem Tragekomfort direkt auf der Haut dank zuverlässiger Feuchtigkeitsregulierung. Der Aufbau des Gewebes hält den Körper trocken, indem es verhindert, dass sich Schweiß staut. So bleiben Sie bei Ihren Aktivitäten cool und frieren nicht beim Cool-Down. GORE-TEX® Active ermöglicht es Ihnen, das Kleidungsstück anzuziehen und anzulassen und sich auf die Erfahrung zu konzentrieren, statt auf Ihre Kleidung. Technische Details: Wasserdicht: min. 28.000 mm* Atmungsaktivität: Hoch, bis zu 3 RET** Winddichtheit: 100 % * ISO 811-Test ** ISO11092-Test
Technische Details
Rated

5

out of

5
by
Anastasios Gld
from
Quality jacket
I bought these jacket a month ago and I'm very pleased for my choice. The color, the zip, the ventilation, the size, the powder skirt, everything is amazingly. The only negative thing is the collar of hood is very hard, as a result, not to be comfortable in my neck(this is my aspect.) I'm 1.83m and 76kg, thin with 103cm chest and the Large is nice. I want a little bulky fit and Large is what I wanted. I use it for ski resort and some times for ski touring.
Date published: 2019-02-19
Rated

5

out of

5
by
spinnakeruk
from
It works
Replaced a decade old version of the same jacket shredded by board edges, trees rocks etc. Packs small & light for splitboard tours. Everything in the right place.
Date published: 2019-02-17
Rated

5

out of

5
by
TobiLobi
from
Great feeling and dry-keeping jacket!
Got this along with some Lofoten pants some months ago before hiking / climbing up Pico de Orizaba and snowboarding down last year in September. I was packed head to toe in Norrona gear and it kept me going all the way to the top and back down. Always kept me warm in the early hours of the night and just right those sloggy hours up the glacier. Figured I should leave my Lofoten one piece home this trip and try the two piece life again after many years of touring in overalls.
Date published: 2019-02-07
Rated

5

out of

5
by
LaurenfromCanada
from
So lightweight!
I purchased this jacket for my husband last month. He's quite impressed with its durability considering it's so lightweight. The length in the arm are perfect, without having to go up a size - finally! Great for cross country skiing and backcountry skiing as it has greatventilation options for when you heat up. I think it will be great for summer hikes considering it's so light and easily packable.
Date published: 2018-12-25
Rated

5

out of

5
by
JayB
from
Cool & Technical Ski Jacket
I bought this a month ago and simply love it! It is technical, light, practical and stylish. Everything you can dream of in a ski jacket!
Date published: 2018-11-19
Rated

3

out of

5
by
Skelly
from
Great, but not perfect.
I bought this jacket primarily for snowboarding and hiking/walking and bought the XL size for a relaxed fit. There are many great features with this jacket especially the Gore-Tex weather performance, styling and colour etc. The main disappointment for me which prevents a 5 star rating is that the neck of the hood is too small and too tight. I believe I have an average sized head/face however it is impossible to zip up the neck fully over the mouth/nose which is a problem in severe weather, and inner layering can then get wet. This is more problematic when wearing a helmet or even a beanie. The visor of the hood being quite stiff does not site well at the rear of a helmet given the tightness. The only time the neck zips up properly and fully is when the hood is pulled over the head, which I personally will rarely do. An additional pocket would be beneficial.
Date published: 2017-12-20
Rated

5

out of

5
by
Stottie
from
Love it
Every time I put on this jacket it feels like I am getting a big hug
Date published: 2017-11-17
Rated

5

out of

5
by
Jenski
from
Lightweight hard shell which breathes very well
This is a hard shell in Gore-Tex active fabric which is a great jacket for skiers and snowboarders that want to have a allround ski jacket which works well for both skiing powder, ski touring and skiing in the slopes in a ski resort. It is lighter, and a bit less durable than the Gore Tex Pro jacket. It has great ventilation possibilities, together with covering you up and keep you protected against what mother nature throws at you of wind, rain and snow. It takes so little space in your backpack. It also comes with a new very lightweight powderskirt which you attach to your Norrøna ski pants for preventing snow to enter, making it almost like a one-piece. I'm 172cm and 60kg and use size S in this. Quite regular size on this. The hood goes well over a ski helmet, and is easy to tighten with one hand on the backside of the hood.
Date published: 2017-06-26
How is the sleeve length? It looks like they are quite long, especially when not worn over the gloves.
They're quite long. But I believe the velcro strap allows you to sintch it up so it doesnt pass your wrist if you're worried they'll get in the way.
Date published: 2019-01-19
How is the sleeve length? It looks like they are quite long, especially when not worn over the gloves.
Yes they are quite long. This was the initial issue I had with the Medium, so I tried the small and the arms fit better but was too tight across the chest for layering. They are designed for big mountain skiing, ie. to keep the powder out. It works well when put over gloves for that purpose. The is the same for the neck which is tight when the hood is not pulled up and over. It is to keep the snow out not the lower face warm.
Date published: 2019-01-18
I'm 5'9" and 160Ibs. I've heard these jackets fit big so is a Small size or Medium best for me.
Hi, I cant give you any guarantees but M will most likely fit you the best. Most people between sizes prefer the outer shell to run a little bigger than smaller for airflow and mobility.
Date published: 2019-01-15
Hi, do you know if the problem to zip up the neck fully is solved on the new collection? Indeed being able to have my helmet under my hood with a fully zipped neck is very important to me. Thanks
My helmet size is 57-61cm and i have no problem.
Date published: 2019-01-15
Does the hood have two adjustment points? I can see previous versions had adjustment points at the back of the hood and at the collar. Does the hood have a stiffened peak? Does the collar have a soft material to prevent chaffing of the chin/cheek area?
Hi, The hood has only one adjustment point, but it was designed so when you pull, it tightens up from the front collar as well as around the top of the head with the use of an internal pulley system. There is a soft brushed woven polyester in the chin/cheek area to prevent chaffing, and there is a flexible brim stiffener that bounces back into place even when the jacket is packed tight. It also has a flat flexible strip inside the front brim so you can shape it.
Date published: 2017-11-21
Is this fabric 3-layer Gortex. Is it still durable in combination with backpack?
Hello Died, Yes, this fabric is a 3-layer Gore-Tex Active with 30 denier, and will be durable enough to use with a backpack. Best regards, Sara Norrøna Fan Support
Date published: 2017-09-07
Hi I will be buying one of these jackets soon will it be cheaper in France or online plus I'll be needing a large I've got a light jacket norrama to go under the jacket so hopefully it should be great 
Kunden haben sich auch angesehen