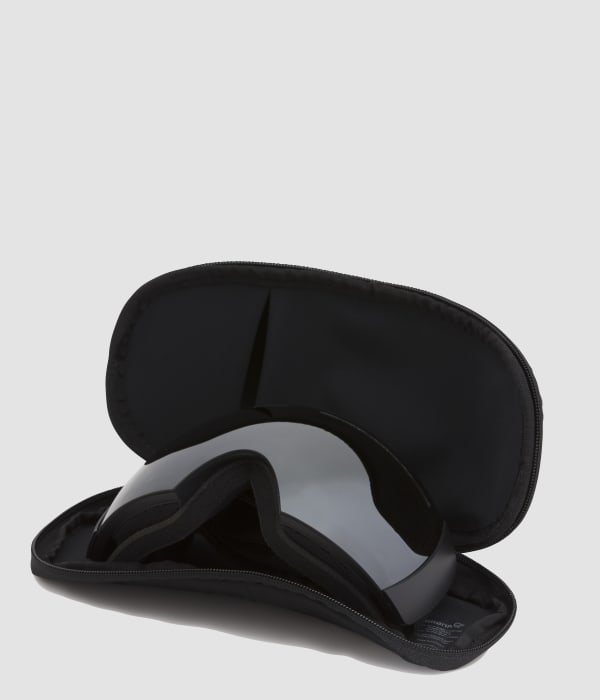 Dieses Produkt ist in Ihrem Land nicht verfügbar
Mit der neuen Lofoten-Brille haben wir unseren Loaded Minimalism™-Designansatz in einen neuen Anwendungsbereich eingebracht. Nach mehreren Jahren interner Entwicklungsanstrengungen und Außentests präsentieren wir nun eine neue Generation hochwertiger Brillen, die perfekt zu unseren Ski- und Snowboard-Kollektionen passen.
Die Brille verfügt über hochwertige Zeiss-Brillengläser mit ultimativem UV-Schutz und besonderer Antikratz- und Antibeschlagbehandlung. Die vorgeformte Weitwinkelkonstruktion bietet ein großes Sichtfeld und hervorragende Klarheit.
Die Zeiss Snow Detector-Technologie sorgt für scharfe Konturen und verbessert die Sicht bei unterschiedlichen Lichtverhältnissen. 
Ein breites, elastisches Stirnband mit einfacher Einstellung und Silikonfutter auf der Innenseite gewährleistet einen besseren Halt am Helm.  
Erhältlich in drei verschiedenen Ausführungen für unterschiedliche Bedingungen:
Gold Fusion; S0 – Sehr helle Tönung der Brillengläser für schwaches Sonnenlicht. Empfohlen für den Einsatz bei schlechten und schwierigen Lichtverhältnissen.
Phantom; S2 – Mittlere Tönung der Brillengläser für starkes Sonnenlicht. Empfohlen für den längeren Einsatz unter wechselnden Lichtverhältnissen.
High Rise; S3 – Dunkle Tönung der Brillengläser für lichtintensive Tage. Empfohlen für den längeren Einsatz an hellen Tagen.
Technische Details
Reiseetui für Schutzbrille im Lieferumfang enthalten

Gemeinsam mit der Brille erhalten Sie ein praktisches und robustes Brillenetui. Auf Reisen ist die Brille darin gut aufgehoben und geschützt, und zudem finden im Etui bis zu zwei Ersatzbrillengläser sowie ein Brillenwischer Platz.

Austauschbare Brillengläser

Die Gläser der Brille lassen sich leicht herausnehmen und durch andere Brillengläser ersetzen. Die Schutzbrille wird mit einem Brillenglas geliefert. Weitere Brillengläser sind separat erhältlich.
Rated

5

out of

5
by
Mainox
from
AWESOME Googles!!
Managed to try my new Norrøna Googles... the Best ever, also in changing weather conditions. Having two lens helps a lot, if conditions drastically change. Visibility is great, comfortable, real 180 degree viewing, they also look & feel amazing. GREAT JOB Norrøna!
Date published: 2019-01-16
Rated

5

out of

5
by
Euroboy
from
Truly badass!
Great fit and comfort! Make you look and feel like a badass Norwegian fighter pilot!
Date published: 2019-04-09
Rated

4

out of

5
by
Le Moff
from
Awesome goggles
but why didnt they come with the 2 extra visor types
Date published: 2019-04-08
Rated

5

out of

5
by
RasM4909
from
Great style!
I really like the new lofoten goggles, but in bright sunshine the glass should be a little bit darker. When it's cloudy but not foggy the goggles are perfect and even brighten up the day a little bit.
Date published: 2019-03-25
Rated

5

out of

5
by
Troytheboy44
from
Great product
Recently skied in Tignes, French Alps. Goggles perfect in all weathers, especially with the spares lens combo!
Date published: 2019-03-24
Rated

5

out of

5
by
Trigg77
from
Perfect Fit!
I bought these a month ago and love them, they're a perfect fit and provide excellent vision, i'm just waiting for the spare lenses to become available. Can't wait to go skiing again and use them :-)
Date published: 2019-03-11
Rated

5

out of

5
by
BenK
from
Best skiing googles ever!
I have just returned from my annual two week ski trip to Whistler, Canada and used my new Lofoten Goggles every day. They were very comfortable, no fogging and brilliant visibility in all types of conditions.
Date published: 2019-03-10
Rated

4

out of

5
by
Tulsa
from
Excellent Design - outstanding view
I bought the googles online at Norrona shop. Unfortunately the googles didn´t fit with my poc-helmet: there was a gap between helmet an google at the top The google runs very wide which gives you an excellent view but due to the this fact the helmet pushes the google down to the nose. So breathing wasn´t comfortable. Also tried it with an uvex helmet too but experienced the same problem. I was very sad about this because the google style and quality looks excellent...
Date published: 2019-03-08
Frame (outside) dimensions please..?
It fits the helmets from SweetProtection - exact dimensions I cannot give where I am know.
Date published: 2019-03-29
How many lenses included, just the one?
Hi, just the one. the lofoten Goggles comes with a travel case and one lens.
Date published: 2019-01-15
Does the goggles include all 3 glases? Or are they sold separately?
Hi lisamaria, Thanks for your question about lenses on the goggle. The goggles contains 1 lens, the one that is shown on the product picture when choosing color. The other lenses are sold separately. It is very easy to change lenses, as you can see on the video on the product. The strap are also easy to take on and off. Best regards, Jens, Norrøna Fan Support
Date published: 2019-01-14
Is it OTG? 
Yes it is, there are specific holes on the sides to accomodate the branches of the glasses. I have medium-sized glasses and it fits nicely. I am not sure how that would work for bigger glasses though.
Date published: 2019-01-13
Kunden haben sich auch angesehen