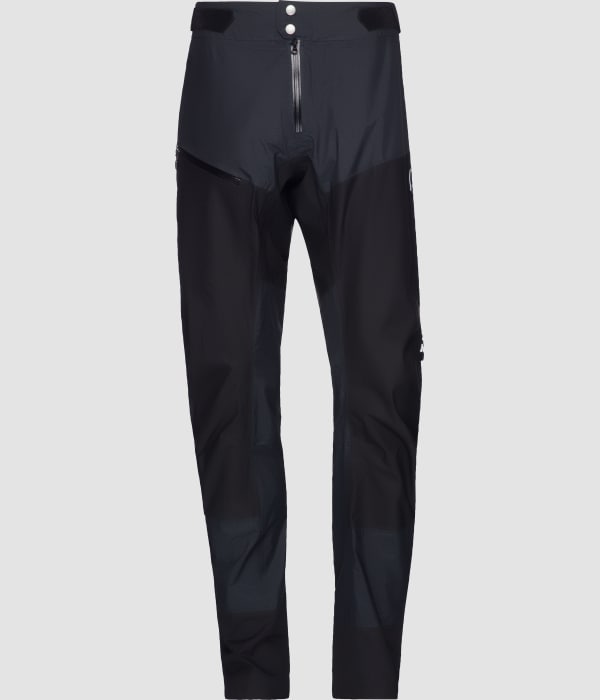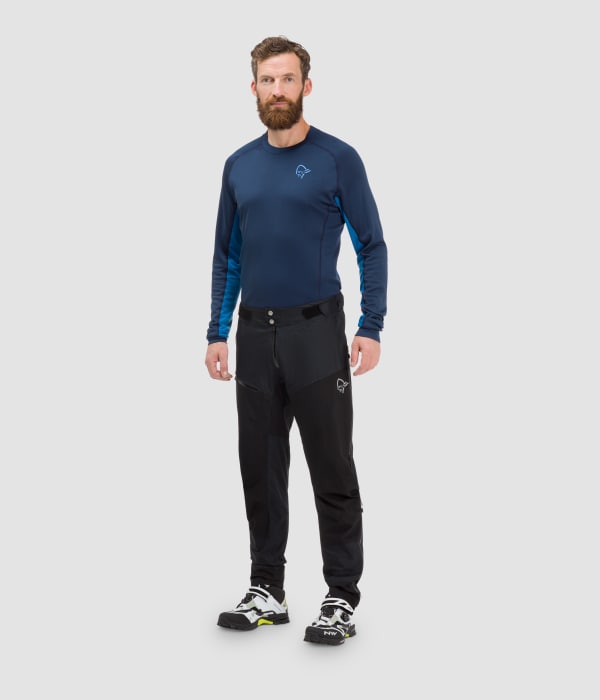 Die fjørå dri1 Hose ist speziell für den Radsport konzipiert und bietet hervorragenden Schutz bei jedem Wetter. Sie ist extrem leicht, atmungsaktiv und wasserdicht und jeder Herausforderung durch die Elemente gewachsen. Die Hose ist schmal geschnitten, kann aber an kalten Tagen trotzdem über Strumpfhosen oder Funktionsunterwäsche getragen werden. Das Custom-fit waist system™ und die Knie- und Gesäßbereiche aus Stretchmaterial sorgen für hohen Tragekomfort und eine gute Passform. Des Weiteren ist die Hose mit einer Oberschenkeltasche, einer Silikonhaltelasche im Bund, einer äußeren Oberschenkelbelüftung, verstellbaren Beinabschlüssen mit Reißverschluss und Klettverschluss ausgestattet. Die Hose ist an den Beinen eng geschnitten, um zu verhindern, dass sich der Stoff in Ihrem Rad verfängt. Schrittlänge bei Größe S = 81 cm, M = 83,5 cm, L = 86,5 cm, XL = 89,5 cm. Der Schnitt ist schmal.
Produziert für
Singletrail - Mountainbiken
Andere Einsatzbereiche
Mountainbiken
Trekking
Outdoor - Verwendung jeder Art
Traillauf
Skitouren
Leistung
6

Winddichtheit

Winddichtheit

Scale from 1 to 6 where 1 is not windproof and 6 is totally windproof.

6

Wasserdichtheit

Wasserdichtheit

Scale from 1 to 6 where 1 is not waterproof and 6 is waterproof.

1

Isolierung

Isolierung

Scale from 1 to 6 where 1 has no insulating properties and 6 is our warmest insulation products.

4

Atmungsaktivität

Atmungsaktivität

Scale from 1 to 6 where 1 have very little or no breathability and 6 is our most breathable and moisture wicking products.

2

Haltbarkeit

Haltbarkeit

Scale from 1 to 6 where 1 is fragile products and 6 is the most durable products we have.

5

Leicht

Leicht

Scale from 1 to 6 where 1 is heavy and 6 is among the world's lightest of its kind.

2

Elastisch

Elastisch

Scale from 1 to 6 where 1 is not made with stretch materials and 6 is our most flexible products made in super elastic material.
Fußabdruck
Recycelte Fasern

Recycelte Fasern

Die synthetischen Fasern dieses Produkts werden zu mehr als 50% recycelt.

Oeko-Tex-zertifiziertes Gewebe

Oeko-Tex-zertifiziertes Gewebe

Oeko-Tex® ist ein weltweit einheitliches, unabhängiges Prüf- und Zertifizierungssystem, mit dem sichergestellt wird, dass die Verwendung von Chemikalien den nationalen und internationalen Vorschriften und Normen entspricht oder diese übertrifft.

PFC-freier DWR

PFC-freier DWR

Die Imprägnierung dieses Produkts ist frei von Fluorkohlenwasserstoffen. (DWR = Durable Water Repellent).

Offen gelistete Fabrik

Offen gelistete Fabrik

Dieses Produkt wird in einer Fabrik hergestellt, die auf norrona.com offen aufgeführt ist.

Werk geprüft

Werk geprüft

Dieses Produkt wird in einer Fabrik hergestellt, die von einem unabhängigen Dritten geprüft und von Norrøna begleitet wird.
Material
dri™1

dri™1 ist ein technisches Gewebe mit 2,5 Schichten, dessen Obermaterial auf ein bedrucktes Membran auf der Rückseite laminiert wird. Da es kein Futter benötigt, ist dieses schützende Material weich, extrem leicht und klein. Für den Feuchtigkeitstransport verwendet es ein hydrophiles System anstatt von mikroskopischen Poren. Perfekt für Radfahren, Walking, Wandern und andere Outdoor-Sportarten, bei denen es wichtig ist, den Körper gegen Regen und Wind zu schützen. Technische Spezifikationen: Wasserdicht: min. 20.000 mm* Atmungsaktivität: Sehr gut min. 20.000 ** Winddichtheit: 100% * ISO811-Test ** JIS-L 1099 B2-inverted cup test
Technische Details
Rated

3

out of

5
by
SantaCr
from
Holdbarhet
Dette er tredje fjørø dri bukse jeg har. Det finnes ingen andre bukser i markedet som kan måle seg med Norrøna her. Men jeg er skuffet over holdbarheten. Siste bukse ble delaminert etter 1,5års bruk. Fikk tilbakemelding på at jeg ikke burde gå med jobbukse under da det slet på laminering. Siste versjon jeg har kjøpt er mye smalere i leggen. Dette er ikke etter min smak, men det fungerer.
Date published: 2019-04-09
Rated

5

out of

5
by
pendler
from
Bra passform
Som forventet, god passform, vanntett og fin å sykle med. Trang men plass til jeans eller turbukse under.
Date published: 2018-12-01
Rated

5

out of

5
by
Enebycyklisten
from
Fantastiska på cykeln
Fungerar lika bra på cykeln i regn som i sol, även när det är kallt med underställ
Date published: 2018-11-03
Rated

5

out of

5
by
Gustavo
from
Great fit, ventilation and water resistent!
I love the pants and the features ! You can tighten them down at the ankle so they get a slimmer fit which is great when biking. They have really good ventilation and light to have in a pocket or so when you need to store them.
Date published: 2018-10-04
Rated

4

out of

5
by
Lev.
from
Super light, lots of design features... and too hot.
I got these pants 2.5 years ago and used them for biking and hiking. They have a pretty nice fit, slim shins to prevent them to get into chain and flexible knee and saddle ares for better pedaling. The greatest advantage of them, is that they are super light and pack-able to be a "Plan B" if the weather turns rainy. However, after all these seasons I could not get used to them as they are simply too hot. I don't know, if it is due to membrane or due to the design of short ventilation exhausts (from hip to knee only, both sides, mesh protected), but as soon as I give the legs some challenge or activity push, an overheat comes. I tried them with different shell jackets or with T-shirt only, but adjusting temperature of the torso does not help to decrease the overheat of the legs. Thus, the only ways to use them now is to cruise in a wet forest with a high grass or to work peacefully in a rainy day. In general, I would recommend them only to those, who tend to feel cold or does not produce much heat when exercising.
Date published: 2018-08-20
Rated

3

out of

5
by
Morten73
from
Fikk den pga reklamasjon
Hadde 2 stk av forrige versjon som dessverre begge ble ødelagt av helt ordinær bruk. Her var kvaliteten ikke god nok. Norrøna ordnet opp, men jeg synes det er dumt at den nye versjonen bare kom i svart farge, noe jeg synes er en kjedelig farge. Likte design og farge på den gamle mye mye bedre.
Date published: 2018-06-15
Rated

3

out of

5
by
FourBC
from
Ikke så bra vi den tidligere modellen :-(
Jeg had hadde den tidligere modellen i grå, og den fikk en material skade derfor fikk jeg en refusjons mulighet. Normalt jeg er velde glade med den produkter fra Norrøna. Hilsen fourBC
Date published: 2018-06-07
Rated

5

out of

5
by
nalexpalex
from
Improved fit and durability
I have owned the previous fjørå dri1 pants for almost 4 years and abused them for my every day commuting in the rain and snow, as well as for very rainy days on the mountain bike. I must acknowledge that this new version is a real improvement. The fit is more adapted to biking with a nice gusset on the lower leg that keeps the pants away from getting destroyed in your chain. Versatility is also here as you get a regular fit on the leg when the gusset is open (wide enough to fit on top of big rubber boots). Zippers are more heavy duty, and the fabric has successfully withstood 3 heavy crashes in the woods without tearing. A good product made even greater!
Date published: 2018-01-24
Do knee pads fit under these pants?
Hello, You will most likely no be able to wear knee pads under the fjørå dri1 Pants. I would recommend wearing them on the outside to also protect the pant in case of a crash or fall.
Date published: 2018-06-22
Når blir den tilgjengelig for kjøp?
Hei Dagwenn, Takk for ditt spørsmål om når fjørå dri1 buksen blir tilgjengelig. Den blir tilgjengelig i starten av juni 2018. Med vennlig hilsen, Jens, Norrøna Fan Support
Date published: 2018-02-21
Kunden haben sich auch angesehen