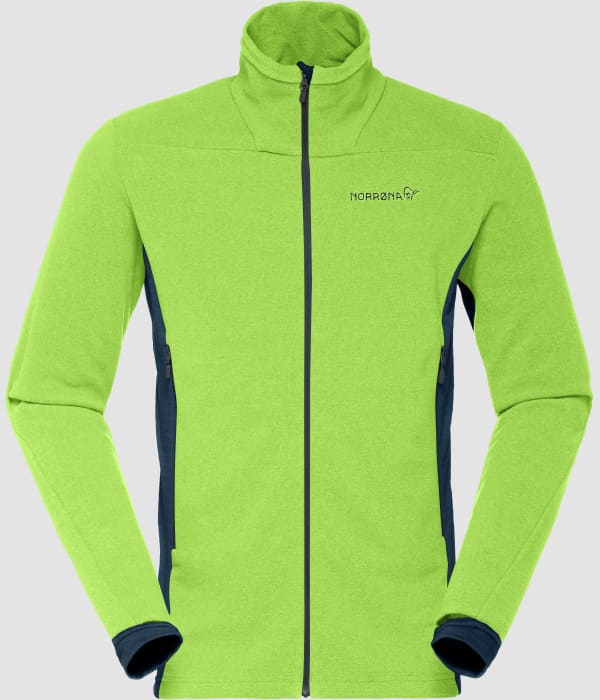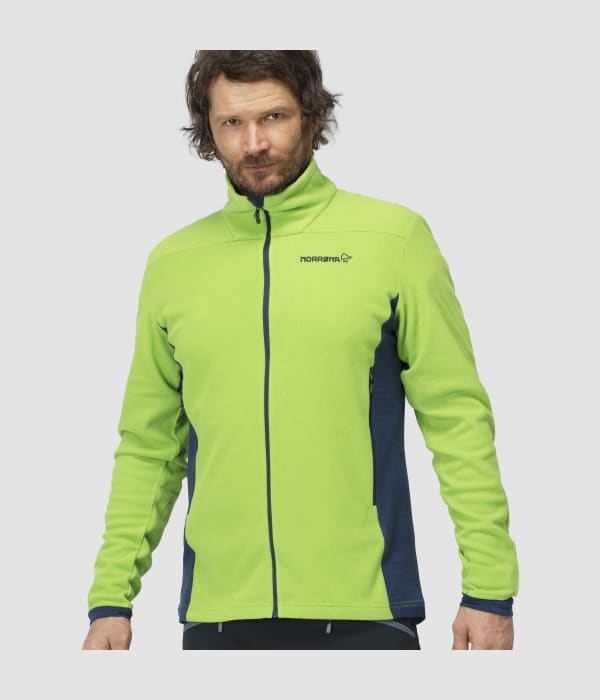 Unsere vielseitigste Mittelschichtisolation für Herren für ganzjährige Aktivitäten. Die Fleecejacke besteht aus strapazierfähigem recyceltem Polartec® Micro Series®-Gewebe, sodass sie auf der Innenseite schnell trocknet. Das Material besitzt außerdem ein ausgezeichnetes Wärme-Gewichts-Verhältnis. Sie verfügt über einen hohen wärmenden Kragen und integrierte Handgelenkgamaschen aus Power Stretch®.
Andere Einsatzbereiche
Bergsteigen
Tiefschneefahren / Snowboarden im Tiefschnee
Alpines Klettern
Langlauf - Skifahren
Outdoor - Verwendung jeder Art
Bergjagd
Skitouren
Traillauf
Leistung
3

Winddichtheit

Winddichtheit

Scale from 1 to 6 where 1 is not windproof and 6 is totally windproof.

3

Isolierung

Isolierung

Scale from 1 to 6 where 1 has no insulating properties and 6 is our warmest insulation products.

4

Atmungsaktivität

Atmungsaktivität

Scale from 1 to 6 where 1 have very little or no breathability and 6 is our most breathable and moisture wicking products.

4

Haltbarkeit

Haltbarkeit

Scale from 1 to 6 where 1 is fragile products and 6 is the most durable products we have.

5

Leicht

Leicht

Scale from 1 to 6 where 1 is heavy and 6 is among the world's lightest of its kind.

3

Elastisch

Elastisch

Scale from 1 to 6 where 1 is not made with stretch materials and 6 is our most flexible products made in super elastic material.

4

Feuchtigkeitsregulierung

Feuchtigkeitsregulierung

Scale from 1 to 6 where 1 has bad moisture transportation and 6 has great moisture transportation.

4

Wärme-Gewichts-Verhältnis

Wärme-Gewichts-Verhältnis

Scale from 1 to 6 where 1 is a poor warmth-to-weight ratio and 6 provides excellent warmth in relation to its weight.
Material
warm™1

Mit einem Gewicht von unter 200 g/m² sind das unsere leichtesten Fleece-Pullover. Perfekt als Mid layer, oder tragen Sie ihn anstelle einer Jacke, ohne auf Isolation und Atmungsaktivität verzichten zu müssen. Diese Fleece-Pullover gehören zu den besten auf dem Markt. Ihre einzigartige Beschaffenheit und Struktur eignen sich perfekt für verschiedene Arten von Aktivitäten, da sie warme Luft einschließen, ohne den Feuchtigkeitstransport zu stoppen. Allein getragen sind diese Stoffe durchlässig genug, um die Luft zirkulieren zu lassen, damit Sie sich bei milderen Temperaturen wohlfühlen. Unter einem Shell bieten sie eine ausgezeichnete Wärmedämmung.

Polartec® Power Stretch®

Polartec® Power Stretch® ist ein einseitiges, atmungsaktives, enganliegendes 4-Wege-Stretch Fleece, das entwickelt wurde, um Sie trocken zu halten, wenn Sie schwitzen, und um Sie ohne zusätzliches Gewicht zu wärmen. Die Außenseite ist glatt, um für eine bessere Bewegungsfreiheit unter anderen Shells zu sorgen.

Lesen Sie mehr unter Polartec
Technische Details
Rated

5

out of

5
by
MCVT
from
Shop Uniform : Perfect Fleece
Purchased as a "shop uniform" for a ski shop that carries Norrøna, which should immediately make this review suspect but if you've ever worked in a resort shop (or for those of you who haven't) when you are trying to dress a number of athletes in similar clothing... it just does not work. You have staff with different body shapes, different sports, and certainly different brand loyalties. The Norrøna Falkentind line was the first line in 30 years (3 decades!) the entire shop agreed on. This piece wears as a light sweater, slips into heavier layers without snagging, glides into even the "stickiest" softshell, and flatters all figures. Since we asked staff to cover the cost they had to love the piece to spend their money on it... and everyone has a falketind warm1 jacket. Whether they're nordic skiers, snowshoers, backcountry skiers, lift serviced skiers, fashion conscious snowboarders, or wear this in the shop, the falketind warm1 fleece jacket is adds just enough warmth without being bulky, breathes during aerobic activity, and looks trim and sharp. A deceptively simple looking piece the turtleneck fits close but not snugly, the highly technical fabric, which makes this such a great layering piece, is supported by the more durable smooth fleece on the front and back, and the logos are there, but discrete.
Date published: 2019-04-24
Rated

5

out of

5
by
Mtomter
from
Love it, perfect warmth
This was the perfect jacket for me it fit well and what's great in light weather. I wish they sold it again because I lost mine and I would buy it again.
Date published: 2019-08-08
Rated

4

out of

5
by
teeho
from
Comfy
Thicker than the Warm1 stretch sweater, but super comfy, long enough in the arms and body (I'm 6ft 1in and M was perfect).
Date published: 2019-08-05
Rated

5

out of

5
by
Tarek
from
Great comfort
Perfect by it self or under something that stops wind and rain. with this you have the necessary flexibility with changes in temperature and weather. Highly recommended . I actually have two of these. the latest i got just to change color.
Date published: 2019-05-18
Rated

5

out of

5
by
Fjeldvandrer
from
Great fleece jacket
Its my 3rd warm1 Jacket and i still use the other 2 I have had for more than 3 years. I use them when hiking in the Norwegian summer but also as a midlayer when being outside in Denmark during the socalled Danish winter or the outer layer when outside in chilly periods. In short I use them all the time and they dont wear out, except the piece around the neck. But thats cosmetic to me.
Date published: 2019-03-24
Rated

5

out of

5
by
Sonke
from
Great jacket for reasonable price
I bought this jacket a month ago and have worn it while skiing, hiking and on normal work days. Perfect fit for all activities, very practical and comfortable!
Date published: 2019-03-22
Rated

5

out of

5
by
freakindel
from
Great Polartec classic
A few years back I was looking for a true Polartec jacket; they are harder and harder to find. I bought a Norrona hoodie and never looked back. I wore it religiously, even after it got singed in a campfire. This year it was finally time to replace it and I decided on a Falketind Warm 1. I found again the features that I liked so much in the old one - the quality fabric, the really nifty, flattering tight cut, the cuff eyelets, the high collar. I don't particularly like what they did to the underarms - the fabric was replaced with more breathable sections. I get the breathability idea, but for such thin fabric it does not seem like a problem, really, but more of an economic choice. Because of this, it does not look like it's going to be as durable as the older, full Polartec version. Overall, a winner.
Date published: 2019-01-25
Rated

5

out of

5
by
PeterK
from
Great gear
Fits very well, quality material and very warm. Bright colour and size fits according size chart.
Date published: 2019-01-24
Does this jacket have zip pockets on it?
It has the 2 external zip pockets. Nothing internal and no chest pocket.
Date published: 2019-06-29
Kunden haben sich auch angesehen