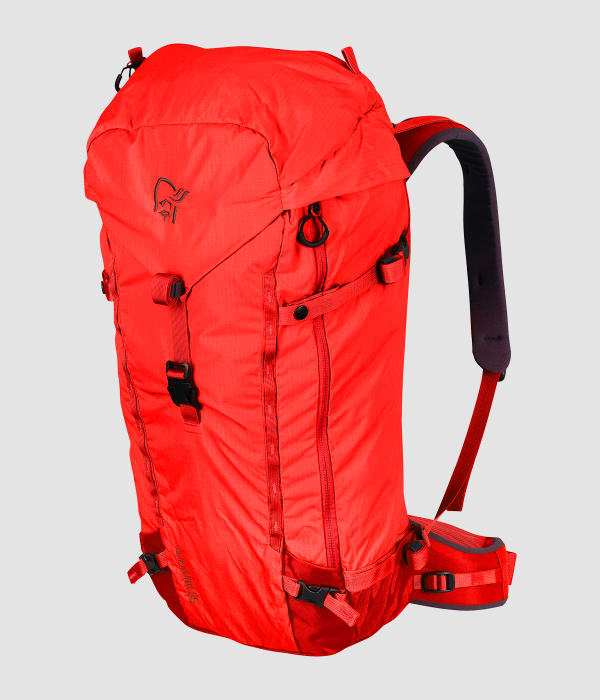 Dies ist unser flexibelster Tagesrucksack für Bergsteigeraktivitäten aller Art. Der Rucksack verfügt über einen klassischen Deckel mit einem einzelnen Frontverschluss, eine Tasche außen und an der Unterseite sowie einen Schlüsselhaken. Das Hauptfach lässt sich über den 8 mm breiten YKK-Reißverschluss an der Seite öffnen. Zu den weiteren Funktionen zählen zwei Kompressionsgurte an den Seiten, zwei Eisaxtbefestigungen, leichte Schlaufen auf der Vorderseite, ein innenliegendes Trinkfach sowie eine Innentasche vorne. Das Tragesystem umfasst eine leichte, abnehmbare Plastikfolie mit stabilem Aluminiumrahmen, einen leichten, gepolsterten Hüftgurt, der ebenfalls entfernt werden kann, sowie bequeme, flache Schultergurte. Trotz seines geringen Gewichts ist der Rucksack äußerst strapazierfähig. Grund dafür ist das besondere Material: Wir verwenden einen robusten Hauptstoff aus Polyamid mit einer Stärke von 140 g/m² und 140 den*140 den Polyamide sowie ein Oxford-Nylon mit 220 g/m² und einer 2.000 mm dicken Beschichtung als Verstärkung an der Unterseite des Rucksacks. Kurz gesagt, dieser Rucksack ist ein wahres Kraftpaket und wird Ihnen viele Jahre lang treue Dienste erweisen.
Andere Einsatzbereiche
Gletscherwanderung
Eisklettern
Outdoor - Verwendung jeder Art
Klettern
Alpines Klettern
Bergsteigen
Leistung
3

Wasserdichtheit

Wasserdichtheit

Scale from 1 to 6 where 1 is not waterproof and 6 is waterproof.

4

Haltbarkeit

Haltbarkeit

Scale from 1 to 6 where 1 is fragile products and 6 is the most durable products we have.

5

Leicht

Leicht

Scale from 1 to 6 where 1 is heavy and 6 is among the world's lightest of its kind.
Material
dynamic™

dynamic™ - Unser Tragesystem ohne Aluminiumstangen oder -Rahmen. Wir verwenden diese Systeme bei vielen unserer kleinen Rücksäcke, bei denen Flexibilität ein wichtiger Faktor ist.
Technische Details
Rated

5

out of

5
by
Andy
from
Falketind pack 35L
This pack is brilliantly designed; simple but with loads of cool features. It's very comfortable with a well padded back and waist support system, especially helpful when carrying heavier winter climbing gear. The climbing tool carry system is secure but also quick to deploy an axe without taking the bag off, really useful when guiding. The full length side zip is a work of genius! allowing access to the whole stash of gear inside, top to bottom without emptying all your kit out onto the ground. It's the best pack I've had for years, I reckon I'll also use it for ski touring on longer trips, as it works well carrying skis too, and I can access the main compartment for skins, ski crampons etc.
Date published: 2017-01-26
Rated

5

out of

5
by
Cristina
from
Great bag
Used it a few times and its really comfortable. It weighs very little, great to go hiking
Date published: 2019-08-11
Rated

5

out of

5
by
BayHiker
from
Excellent climbing pack
Great size for day trips and just large enough that a minimalist overnight isn't out of the question. Fits a standard rack and climbing kit in the main pack, with enough extra length in the straps to carry a rope between the main pack and the lid. Daisy chains on the outside make lashing overflow gear a breeze, and the ice axe carrying configuration is great: streamlined to operate even with the pack on provides protection for the axe's pick (and protection FROM the pick...). The pack carries well even when fully loaded! It's also surprisingly maneuverable in tight spaces thanks to the narrow width and absence of hip belt pockets. Overall a well-thought-out piece of gear.
Date published: 2019-05-26
Rated

4

out of

5
by
MKPK
from
Great all around backpack
I bought this a month ago and I've used it when backcountry skiing. All the things I needed went nicely into the bag (shovel, probe, extra layers of clothes, food etc). Very saggy when not stuffed. There is basically one big compartement, so it's no so easy to find the things you need, but fortunately you can access them from the side,too. There is no place for helmet, but I used carabiners to attach my helmet to the bag. Overall, nice daybag for trails and outdoors, a bit too pricy.
Date published: 2019-03-25
Rated

5

out of

5
by
Aka29
from
Super backpack
I bought this for my climbing stuff. Perfect size and functional features.
Date published: 2018-11-04
Rated

5

out of

5
by
Tarek
from
It just works well
Very good ballanced and easy to carrie. kind of minimalistic but does the job in a greate manner. is the favorite for the family not only mine.
Date published: 2018-10-12
Rated

3

out of

5
by
Jananton
from
Does the job
Good back pack but the inner pocket does not fit a 13inch PC. To bad as it would otherwise be a good bag to commute to work with on my nike
Date published: 2018-10-06
Rated

4

out of

5
by
Anonymous
from
Well designed!
I've been using this bag 2 months now and it is awesome. I'm 186cm tall and it fits to my back nicely. I also like the size of the bag! When you open the compression straps from the side u get enough space for A3 sketchbook! Can't wait to test it at the next ski trip
Date published: 2018-10-04
Can this bag carry/strap snowboard?  I assume it can carry ski as the picture shows. Thanks a lot!
Hi, You can fasten skis on the side but a snowboard will be to wide.
Date published: 2018-10-16
Kunden haben sich auch angesehen