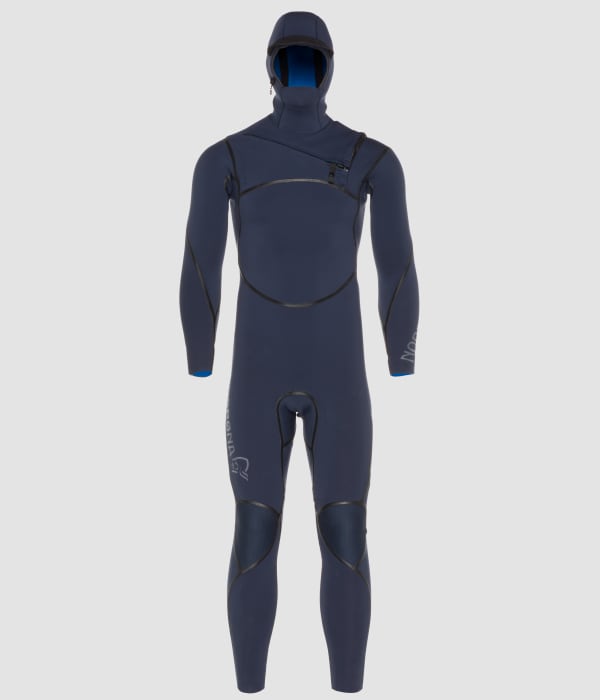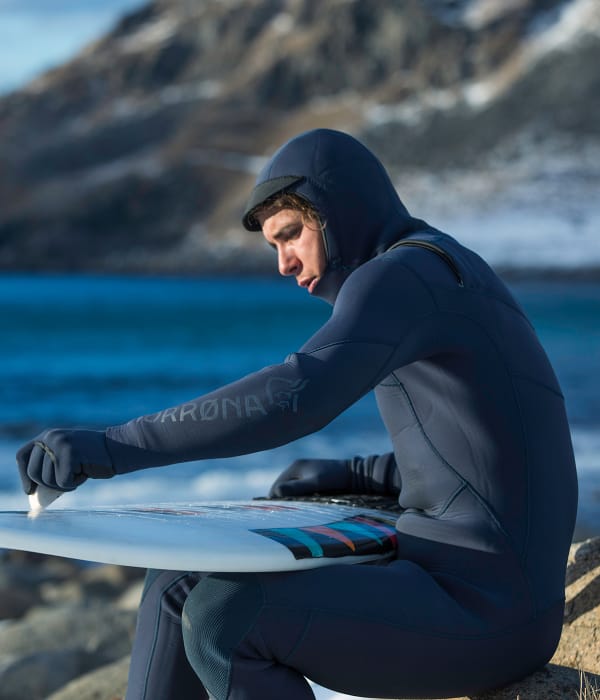 unstad 6/5 våtdräkt med huva är avsedd för arktisk surfning i kalla, krävande miljöer. Våtdräkten har den perfekta kombinationen av funktionella detaljer, värmande passform, optimal rörelsefrihet och avancerade, miljövänliga neoprenmaterial. Flera olika slags neopren har använts i dräkten för att ge rätt tjocklek på olika ställen, samt stretch och maximal rörelsefrihet där det behövs som bäst. Vi inspirerades av funktionen hos ett snölås och gav dräkten små skydd på axlarna som hindrar kallvattnet från att stänka upp i ansiktet. Sömmarna är limmade på utsidan och tejpade på insidan, vilket gör dräkten mer vattentålig och därmed också varmare. Huvan ger gott skydd och är tillverkad av ett lättare material med mer stretch. Den är mjuk nog att vara enkel att dra upp över huvudet när den behövs, och inte för stel när du tar av den. Blixtlåset fram är ett AquaSeal-blixtlås från Japan som är helt vindtätt, vattentätt och extremt slitstarkt. Tatex-tryck runt hand- och fotlederna minskar vatteninsläppet men gör att vatten ändå kan rinna ut.
Material
Naturapren

Våra våtdräkter är tillverkade i naturapren, naturligt skumgummi, som har mindre negativ inverkan på miljön och utvinns ur gummiträd i Asien där neopren också tillverkas. Naturaprenet är laminerat med återvunnen polyester runt ansiktet och på ryggen med ett vattenbaserat lim som är fritt från lösningsmedel. Det enda undantaget är de förstärkta områdena som kräver nyproducerat material för bästa hållbarhet.
Teknisk information
Rated

4

out of

5
by
olmo
from
very good Suit
Very warm,and pleasant in the water. Just a bit difficult to take off by yourself according to my experience.
Date published: 2018-10-28
Rated

5

out of

5
by
Vebster
from
Varm og god
Vi gjorde innkjøp av våtdrakter til små og store i familien og jeg satset på deres nye våtdrakt. Etter tidenes dårligste sommer i Lofoten så var det iskaldt i vannet... for alle andre enn meg. Strålende drakt som satser hardt på å være varm og god. Nær sagt ingen glidelåser gjør jo at av og på et vanskelig, men da er også isoleringsevnen i vann super. Skoene føles nesten for varme Superfornøyd. Så får vi se hvordan den funker når det blir virkelig kaldt utover mot vinteren
Date published: 2018-07-26
Rated

5

out of

5
by
J4rle
from
Beste drakten jeg har hatt.
Veldig fornøyd med drakten. Virker veldig slitesterk til nå. Har alltid brukt xcel sine drakter. Syns denne er bedre. Di strekker seg jo litt etter vert, har faktisk slitt litt med å ta drakten av alene. Etter en lang økt i vannet. Men virker å løsne litt med å ta den av nå etter å ha brukt den typ 10-15 ganger.
Date published: 2017-12-30
What "sustainable neoprene" is it?
Hi Clif, The material for the unstad wetsuits is made of Naturaprene, which is a brand name like Yulex etc. The material is made out of natural rubber foam, harvested from rubber trees in Asia. The Naturaprene is laminated to recycled Polyester on the face and back with water based glue that is solvent free, except for the reinforcement areas that require virgin materials to provide enhanced durability. So these wetsuits are among the top sustainable wetsuits in the market today. Best regards, Jens, Norrøna Fan Support
Date published: 2018-01-17
Hi! I am about 180 cm heigh and what size wetsuit, sould i have? I have never had a wetsuit before, therefore the question.
Hi StigK Thank you for your question regarding this wetsuit. The fit for wetsuits are standard, meaning they are close fitting. If you check out the measurements under the unstad products it's probably easier to find out, since I don't know more about the rest of your body measurements. You can also contact us at service@norrona.no for further questions and we help you. Best regards, Anette/Norrøna Fan Support
Date published: 2017-12-01
Will you have a uk distributor for this wetsuit? I'd love to try it but as it's only a mans fit I really don't know what size is best without actually trying it on
Hi Lesley-Ann, Thanks for your question regarding Norrøna wetsuit in UK. Per now we have a very limited distribution on the Unstad collection with wetsuits, and it is sold through Norrøna web shop and Norrøna Flagship / Concept stores. This means it is only physically available for testing in Norway and UK, but possible to purchase worldwide through the web shop. The fit is following the standards for wetsuits, meaning they are close fitting. Best regards, Jens, Norrøna Fan Support
Date published: 2017-09-20
Will there come a womans model as well?
Hi Lyse, This is the first time we launch weatsuits, so to start with it will juist come in Male. Girls can use them as well - that should not be a problem :) BR Nina
Date published: 2017-06-30
When will size S be back in store?
Hei. Lurte på om unstad 6/5 Hooded Wetsuit drakten også kan brukes til padling i kajakk?
I am 6'2 and about 170 lbs. I have long limbs and about a 32 waist. What size suit would be best for me?
What is the thickness of the neoprene in mm?