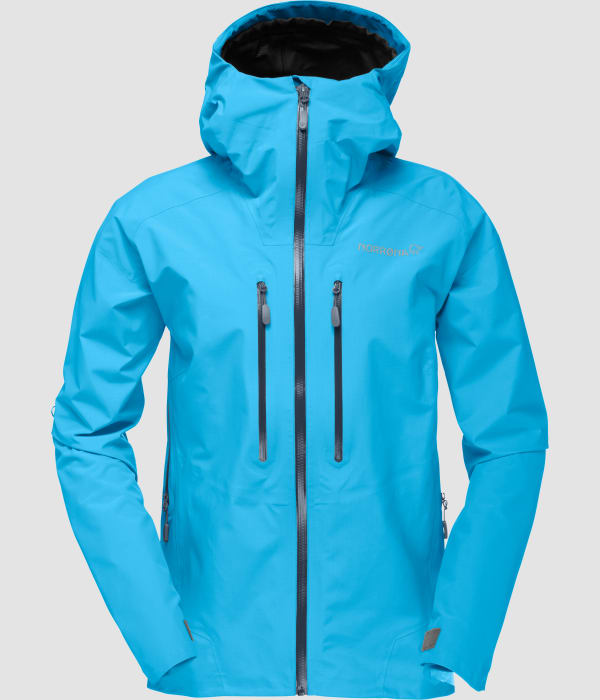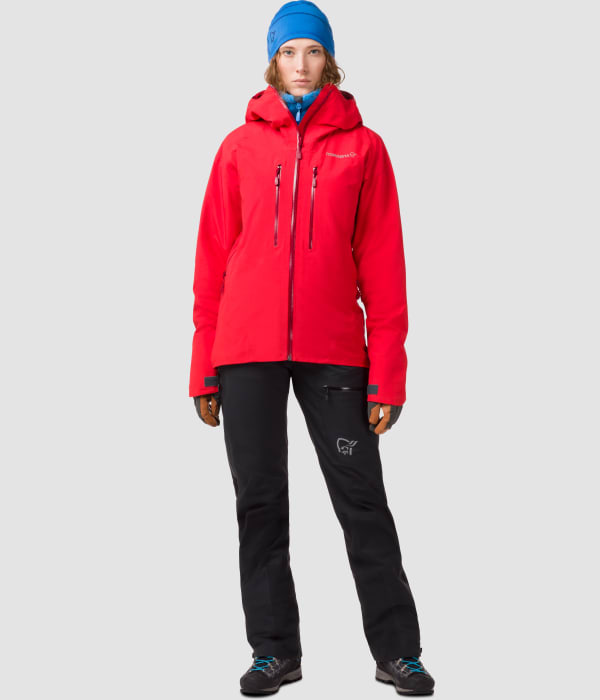 Slitstark, vindtät och vattentät jacka i dammodell, utvecklad för perfekt balans mellan vikt och slitstyrka. Tillverkad i GORE-TEX® Light Pro-material för maximal alpin mångsidighet och funktion, med en mjuk och bekväm insida.
Den här jackan är ett bra val för alpina aktiviteter i snö och regn.
Den har öppningar under armarna, två bröstfickor och en vindtät huva som är kompatibel med hjälmen.
Utvecklad för
Fjällsport / Alpinklättring
Andra användningsområden
Storväggsklättring
Klättring
Skidor & snowboard
Expedition
Allmänna friluftsaktiviteter
Glaciärvandring
Isklättring
Topptur / Randonnée
Vandring
Specifikationer
6

Vindtäthet

Vindtäthet

Scale from 1 to 6 where 1 is not windproof and 6 is totally windproof.

6

Vattentäthet

Vattentäthet

Scale from 1 to 6 where 1 is not waterproof and 6 is waterproof.

1

Isolering

Isolering

Scale from 1 to 6 where 1 has no insulating properties and 6 is our warmest insulation products.

4

Andningsförmåga

Andningsförmåga

Scale from 1 to 6 where 1 have very little or no breathability and 6 is our most breathable and moisture wicking products.

5

Slitstyrka

Slitstyrka

Scale from 1 to 6 where 1 is fragile products and 6 is the most durable products we have.

4

Lätt vikt

Lätt vikt

Scale from 1 to 6 where 1 is heavy and 6 is among the world's lightest of its kind.

1

Stretch

Stretch

Scale from 1 to 6 where 1 is not made with stretch materials and 6 is our most flexible products made in super elastic material.
Fotavtryck
Oeko-Tex Certifierad Fabric

Oeko-Tex Certifierad Fabric

Oeko-Tex® är ett världsomspännande, oberoende test- och certifieringssystem som säkerställer kemisk användning överensstämmer med eller överträffar nationella och internationella regler och standarder.

Bluesign-certifierat material

Bluesign-certifierat material

Bluesign® testar och utbildar textilfabriker för att eliminera skadliga ämnen från tillverkningsprocessen och sätter kontrollstandarder för en hållbar och säker produktion.

Öppen förteckning över fabriken

Öppen förteckning över fabriken

Denna produkt är tillverkad i en fabrik som är öppet listad på norrona.com.

Inspiserad fabrik

Inspiserad fabrik

Denna produkt är tillverkad på en fabrik som inspiserats av en oberoende tredje part och följdes upp av Norrøna.
Material
GORE-TEX® Pro

GORE-TEX® Pro – GORE-TEX®-membranet har ett foder i textil som minskar vikten och gör att materialet tar mindre plats. Det förbättrar dessutom fuktavledningen och minimerar slitaget, samtidigt som plagget blir slitstarkt och vattentätt. Det perfekta stormskyddsmaterialet.

Läs mer hos GORE-TEX®

Tvätt av Gore-Tex och dri produkter

GORE-TEX®-plagg skadas inte av tvätt. Det förlänger tvärtom plaggets livslängd. Det här är normala tvättråd för GORE-TEX®-plagg: Kom ihåg att först stänga alla dragkedjor och kardborrband. Plagget ska tvättas vid 40 grader Celsius, utan centrifugering och med ett milt tvättmedel. Använd inte mjuk- eller sköljmedel. Använd inte blekmedel. Mjukmedel, sköljmedel och blekmedel kan skada materialets vattenavvisande egenskaper (inte membranet eller tätheten) och färgen på plagget. Skölj om möjligt plagget två gånger. Använd vattenavvisande spray på utsidan av plagget för att göra plagget så vattenavvisande som möjligt. (Det här har inget att göra med de vattenavvisande egenskaperna i själva materialet, men det gör det enklare för vattnet att rulla av på ytterskiktet). Om du vill kan du torka plagget på låg effekt i torktumlaren, eller stryka det vid låg temperatur. Värmen hjälper till att återaktivera de vattenavvisande egenskaperna. Plagget måste vara torrt innan du tvättar det och innan du lägger undan det efter tvätt.

Produkvård för Gore-Tex
Teknisk information
Rated

4

out of

5
by
lainair
from
Mitt arbeidsantrekk
Da jeg jobber som guide i Jotunheimen befinner jeg meg utendørs i alle ulike typer vær, og får dermed benyttet jakken i mange forskjellige værforhold og aktiviteter. Med denne holder jeg meg tørr selv under ekstreme forhold, vannet preller lett av og trekker seg ikke inn selv med kombinasjon av nedbør og mye vind. Gode muligheter for å gjemme seg inne i hetten både med og uten klatrehjelm, og innstillinger som gjør at hetten ikke blir stor og i veien for ansiktet når klatrehjelm ikke benyttes. Jakken har en passform som egner seg godt til å kunne brukes uten at den blir til hindring under gåing, klatring og i smale/trange passasjer. Lang lufteglidelås under armene som er positivt for jakken og lommer som er lett tilgjengelige med klatresele. Det jeg savner ved denne jakken er at det godt kunne vært litt større hemper på glidelåsene slik at de hadde vært litt enklere å ta tak i med gode varme votter på hendene. I tillegg kunne det også vært en lomme vanlig plassert på jakken for bruk når en evt. går uten klatresele. Alt i alt er jeg veldig fornøyd med produktet, som har vært i daglig bruk siden det ble anskaffet, og det har holdt meg tørr og varm hver dag samtidig som jeg ikke får følelsen av at det blir klamt innenfor jakken.
Date published: 2017-07-27
Rated

5

out of

5
by
Button
from
Instantly my favourite jacket ever!
Great jacket, and very waterproof in the recent torrential rain. Love the length of the coat plus the long sleeves with scalloped wrists that I can hide my hands within. Very nifty details around the zips, for example the pocket zips close up and hide within a little protective shelter. Not to mention a great fit. Very happy with this gorgeous coat
Date published: 2016-11-23
Rated

5

out of

5
by
HildeKristin
from
Supre produkter
Kjempefornøyd med jakka jeg kjøpte til min mors 50 års dag. Kjempe fin passform.
Date published: 2019-06-11
Rated

5

out of

5
by
MCVT
from
Standout 3 Season Shell
Purchased this winter for all mountain and multi winter sport use this jacket hasn't disappointed. It has a streamlined feminine silhouette without sacrificing space for insulation, I can comfortably wear a baselayer, falketind warm1 Jacket, and the falketind PrimaLoft60 under this with plenty of fluid movement. Will also fit a lyngen down850 Hood Jacket (size medium to size medium) under with room for the insulation to loft, or fit under the lyngen down850 Hood Jacket as a warmer after an ascent, depending on the conditions you're facing. It seems a minor point, but I'm particularly pleased with the zipper, which is to say, it zips, unlike the competitor's piece it replaced where the zipper would catch one time in three. Deep front pockets with plenty of room that aren't obstructed by pack straps, hand pockets that ride at a comfortably at the waist, and a fabric that isn't stiff and heavy; this folds up and tucks neatly into the stretch pocket on the back of my pack when not in use. If you're looking for a true four season shell, with a lighter weight for summer packing, you're going to want to put this one side by side with the falketind Gore-Tex Jacket. I prefer this one for its longer length and asymmetrical cuffs which allow me to keep my hands protected without having to pull out the gloves, but the falketind Gore-Tex Jacket is 20 grams lighter, and if you're packing mile after mile, grams matter.
Date published: 2019-05-03
Rated

5

out of

5
by
E. Eriksen
from
Great color
I bought this product because my father was born in the lofoten islands and I have family there and I was pleasantly surprised at the fit, the colour, I love everything about it
Date published: 2019-04-05
Rated

5

out of

5
by
NorStar350
from
Den ultimate turjakken
Her på Vestlandet er vi noen dager velsignet med 4 årstider på en og samme dag, da er trollveggenjakken god å ha. Den holder meg tørr og varm og er i tillegg lett å behagelig å ha på. Norrønas fantastiske garanti gjør det helt greit å kjøpe en jakke til såpass høy pris. Garantien virker, jeg har prøvd. Jakken anbefales.
Date published: 2019-04-04
Rated

5

out of

5
by
Erica
from
Norrona convert
5'7.5" / 172 cm, 133 lbs / 60 kg, size small. I was introduced to Norrona through Outdoor Gear Lab's The Best Hardshell for Women. I chose this over the other highly rated jacket because the back length is two inches longer and the sleeves are longer (I have lanky arms), making it better for climbing and the alpine. I love the large hood that fits over other hoods and my helmet, adjustable cuffs that keep moisture out, pit zips with one zipper at each end, and the chest pockets that are accessible when wearing a harness. It's suitable for all types of activity from alpine and technical climbing, backpacking (it's lightweight), or just biking in the rain. It also retains some shape/ fit so it doesn't look like you're just wearing a bag. I'm a small in all Norrona gear, but this is made roomy for lots of layering, and I miight have gotten away with an xs (most of my weight is lower down). Regardless, I love this jacket.
Date published: 2019-04-03
Rated

5

out of

5
by
MCVT
from
Robust 4 Season Shell
This is a robust four season shell with all of the quality and features you'd expect from a Norrona piece. I particularly like the large pockets and the attention to detail at the cuffs.
Date published: 2019-03-20
Does the pink shell come in an insulated jacket? 
Hi, No. But we have plenty of midlayers in down and primaloft you could use. You also have the lofoten Gore-Tex insulated Jacket: https://www.norrona.com/en-GB/products/lofoten/lofoten-gore-tex-insulated-jacket-women/?color=5635 Contact us by chat or e-mail for tips: atourservice@norrona.no
Date published: 2018-11-05