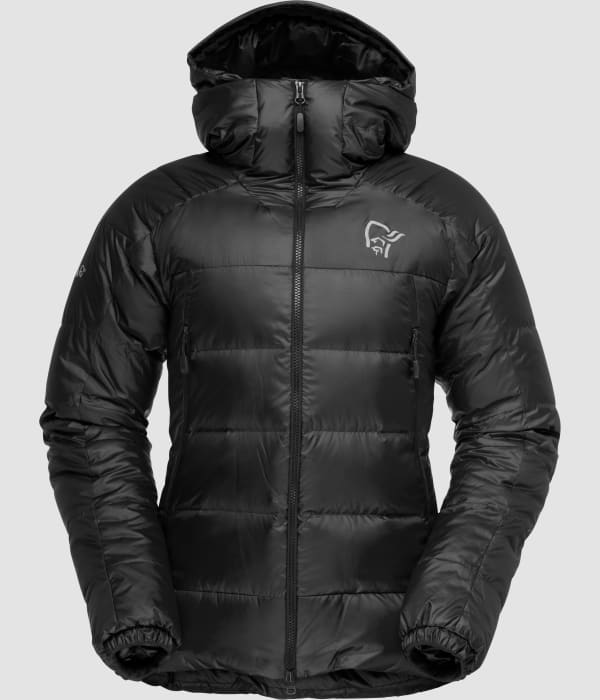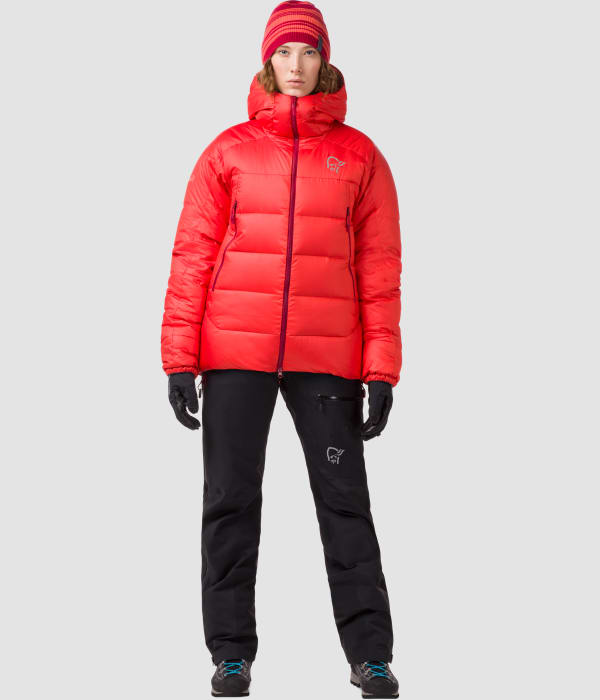 Meddela när produkten är tillgänglig
Jackan trollveggen down850 är den nya och mycket lättare modellen av vår varmaste och tåligaste dunjacka i damsortimentet. Jackan är avsedd för äventyrslystna och krävande bergsklättrare och erbjuder utmärkt värme och hållbarhet på både kalla och branta fjällsidor.
Den nya och förbättrade passformen ger både bättre rörlighet och större dunvolym.
Den har praktiska handvärmningsfickor, en isolerande huva med enhandsjustering och en liten innerficka.
Utvecklad för
Fjällsport / Alpinklättring
Andra användningsområden
Expedition
Storväggsklättring
Klättring
Allmänna friluftsaktiviteter
Vardagsbruk
Specifikationer
6

Vindtäthet

Vindtäthet

Scale from 1 to 6 where 1 is not windproof and 6 is totally windproof.

5

Vattentäthet

Vattentäthet

Scale from 1 to 6 where 1 is not waterproof and 6 is waterproof.

6

Isolering

Isolering

Scale from 1 to 6 where 1 has no insulating properties and 6 is our warmest insulation products.

2

Andningsförmåga

Andningsförmåga

Scale from 1 to 6 where 1 have very little or no breathability and 6 is our most breathable and moisture wicking products.

4

Slitstyrka

Slitstyrka

Scale from 1 to 6 where 1 is fragile products and 6 is the most durable products we have.

3

Lätt vikt

Lätt vikt

Scale from 1 to 6 where 1 is heavy and 6 is among the world's lightest of its kind.
Fotavtryck
Återvunna fibrer

Återvunna fibrer

Mer än 50% av syntetfibrerna i denna produkt återvinns.

Bluesign-certifierat material

Bluesign-certifierat material

Bluesign® testar och utbildar textilfabriker för att eliminera skadliga ämnen från tillverkningsprocessen och sätter kontrollstandarder för en hållbar och säker produktion.

Responsible Down Standard

Responsible Down Standard

Responsible Down Standard (RDS) skyddar gäss och ankorens välfärd.

Öppen förteckning över fabriken

Öppen förteckning över fabriken

Denna produkt är tillverkad i en fabrik som är öppet listad på norrona.com.

Inspiserad fabrik

Inspiserad fabrik

Denna produkt är tillverkad på en fabrik som inspiserats av en oberoende tredje part och följdes upp av Norrøna.
Material
down850™ RDS-certifierad

Vi använder det bästa dun vi kan hitta i våra dunprodukter. Det dun vi använder kommer från livsmedelsindustrin, till skillnad från fåglar som föds upp enbart i syfte att ge dun. Behandlingen av fåglarna uppfyller alla europeiska standarder, och den mycket specialiserade duntvätten uppfyller Oeko-Tex 100. down™850 har en dunfyllningsgrad på 850 till 900 kubiktum/uns, med en duntäthet på 93–96 procent.
Teknisk information
Rated

5

out of

5
by
AFJenn
from
Warm and lightweight!
I bought this for mountaineering and it's amazing! Bright, making me visible in rough conditions. Functional with a harness, the higher pockets make this product easy to wear and use while being roped up. It's also been amazing for photographic trip and Astro shooting. I would but another one in a heart beat.
Date published: 2019-03-31
Rated

5

out of

5
by
Mutinta123
from
Best Down Jacket
Norrona brand recommended by friend from Norway. Needed a down jacket for my Kilimanjaro climb. Used as part of a layering system. I did not feel cold at all. It was perfect for the climb. I would recommend it to anyone. Great product. No regrets! Temperature was -20 degrees at the summit.
Date published: 2019-02-06
Rated

5

out of

5
by
Hege K
from
Varmeste jakke ever!
Fikk denne til jul og den er fantastisk varm og god! Nå i -20 grader har jeg en tynn genser under på turer, ikke ull, varmeste jakke jeg har hatt noen gang Anbefales til alle som trenger en skikkelig varm jakke
Date published: 2019-01-18
Rated

5

out of

5
by
Gurotur
from
Holder på de kaldeste dagene!
Kjøpte jakken før jul, og har allerede rukket å forelske meg i den. Den holder virkelig godt på varmen! Jeg har hørt fra andre som har den at de "går med bare tskjorte under" og nå tror jeg på det, for guuuri den er god og varm. Anbefales sterkt!
Date published: 2019-01-15
Rated

5

out of

5
by
Marte98
from
God kvalitet
Veldig varm og god jakke! Elsker den. Fin i størrelsen også!
Date published: 2019-01-12
Rated

5

out of

5
by
Nerner
from
Warm!
Lightweight, super warm, cozy jacket with just the right number of pockets!! The hood polishes off the product with added warmth and versatility. Highly recommend this jacket for all winter conditions. It has kept me warm on the coldest days here in blustery upstate NY!
Date published: 2018-12-07
Rated

4

out of

5
by
Mingeming
from
Gode funksjoner
Kjøpte denne jakka hos dere for 1 mnd siden. Holder det den lover. Stikker noe dun ut sømene, et lite minus.
Date published: 2018-02-26
Rated

4

out of

5
by
Linemor
from
Behagelig passform, perfekt på tur!
Kjempefornøyd med denne jakka! Romslig passform, men funker bra med sekk. Varm, men ikke klam. Jeg er 1,67 m høy, str S er perfekt! Dekker litt nedover rumpa, veldig godt.
Date published: 2017-10-31
Hi! Does the jacket have A stitch-through baffle construction? Kind regards Marie
Marie-I'm sorry I don't know the technical details; but this is an exceptional jacket. Ive used for hiking in Tromsø and for the winters in Minnesota with -30 F/C and my core was warm. there is no bunching of the down so my guess is a baffle construct. The hood is great and easily adjusted. I will use this for many years.
Date published: 2019-02-27
How much does it weigh in ounces
Hi Lulu, Thanks for your question regarding the weight of trollveggen down850 jacket in ounces. It weighs 23.28 ounces. Si it is a thick, but lightweight jacket. Made for really cold conditions, and still quite packable. Best regards, Jens, Norrøna Fan Support
Date published: 2019-01-17
Is the lining Duck,or Goose down ?
Hi, The trollveggen down850 Jacket is made from 225 grams of down850™ RDS certified down. Our down products use the highest available down quality that we can find, which is a by-product of the food industry (in contrast to being killed just for insulation). All treatment of the birds complies with European standards, and the highly specialized washing of the down passes the Oeko-Tex 100 standards. Our down850™ means down fill power from 850 to 900 cu in/oz with the percentage of down cluster from 93–96%.
Date published: 2018-11-05
Hi May I ask what the weight of the down only excluding the jacket fabric is, please? Sandra 
Hi Sandra! Thank you for your question regarding this jacket. The exact weight of down in this jacket, size M is 225 grams. Hope this information was helpful for you. Best regards, Anette/Norrøna Fan Support
Date published: 2019-02-10