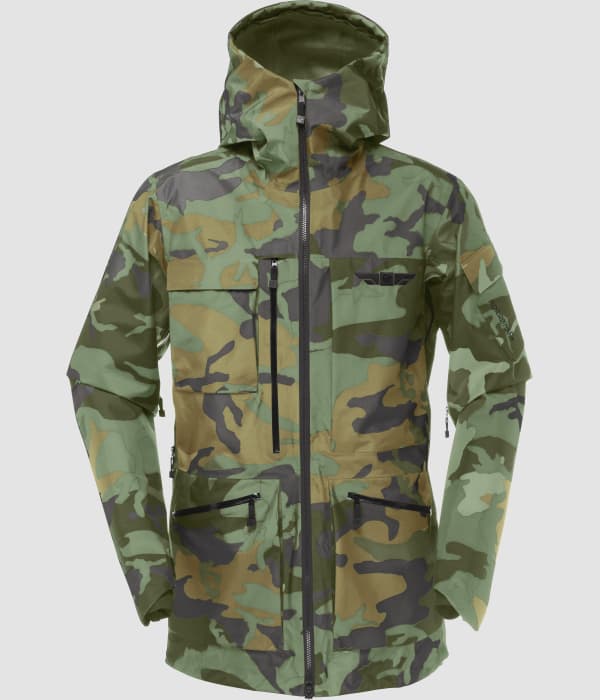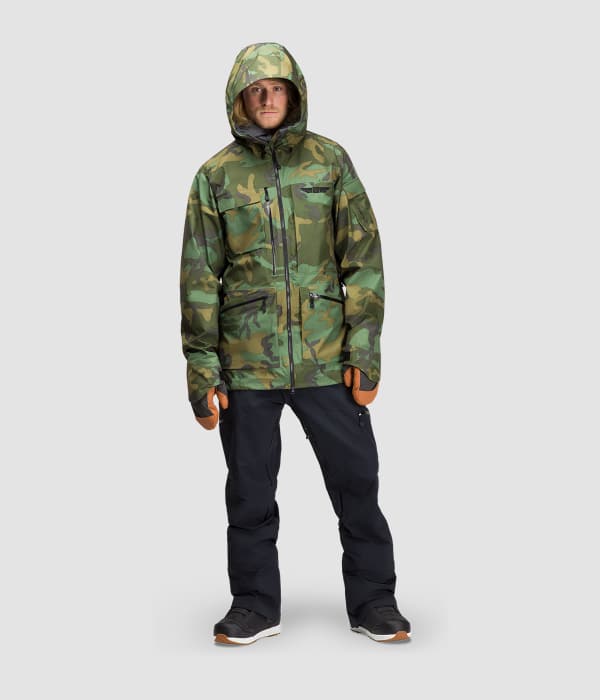 Enastående, slitstark, vattentät och militärinspirerad skaljacka i herrmodell med god andningsförmåga i mönster i begränsad upplaga, tillverkad för freeride- och freestyleåkning. Den här skid- och snowboardjackan med långt snitt ger suveränt skydd i hårt väder i bergen. Den har också fantastisk ventilation och andningsförmåga för toppturer och vandring. Den har handvärmningsfickor, bröstventilering med mesh, handledsvärmare, öppningar under armarna, snölåssystem med dragkedja och knappstängning, radio-/kortficka och en vindtät huva som är kompatibel med hjälmen. Tillverkad i vattentätt Gore-Tex®-material som andas.
Utvecklad för
Freeride skidor och snowboard
Andra användningsområden
Skidor & snowboard
Vardagsbruk
Specifikationer
6

Vindtäthet

Vindtäthet

Scale from 1 to 6 where 1 is not windproof and 6 is totally windproof.

6

Vattentäthet

Vattentäthet

Scale from 1 to 6 where 1 is not waterproof and 6 is waterproof.

1

Isolering

Isolering

Scale from 1 to 6 where 1 has no insulating properties and 6 is our warmest insulation products.

4

Andningsförmåga

Andningsförmåga

Scale from 1 to 6 where 1 have very little or no breathability and 6 is our most breathable and moisture wicking products.

5

Slitstyrka

Slitstyrka

Scale from 1 to 6 where 1 is fragile products and 6 is the most durable products we have.

3

Lätt vikt

Lätt vikt

Scale from 1 to 6 where 1 is heavy and 6 is among the world's lightest of its kind.

1

Stretch

Stretch

Scale from 1 to 6 where 1 is not made with stretch materials and 6 is our most flexible products made in super elastic material.
Fotavtryck
Oeko-Tex Certifierad Fabric

Oeko-Tex Certifierad Fabric

Oeko-Tex® är ett världsomspännande, oberoende test- och certifieringssystem som säkerställer kemisk användning överensstämmer med eller överträffar nationella och internationella regler och standarder.

Öppen förteckning över fabriken

Öppen förteckning över fabriken

Denna produkt är tillverkad i en fabrik som är öppet listad på norrona.com.

Inspiserad fabrik

Inspiserad fabrik

Denna produkt är tillverkad på en fabrik som inspiserats av en oberoende tredje part och följdes upp av Norrøna.
Material
3-lagers GORE-TEX® C-Knit™

GORE-TEX® C-KNIT™ Backer Technology är en foderteknik som är särskilt utvecklad för vandring och freerideåkning. Materialet består av ett robust laminat i tre lager samtidigt som det känns och ser ut som ett mjukt tyg. Resultatet är oerhört mångsidiga vattentäta plagg för alla friluftsälskare som vill ha funktionella och slitstarka plagg som samtidigt är riktigt bekväma. En produkts hållbarhet och livslängd är direkt kopplad till den miljömässiga hållbarheten, liksom möjligheten att få ut mesta möjliga av olika friluftsaktiviteter. Läs mer på www.goretex.com

Läs mer på www.goretex.com

Tvätt av Gore-Tex och dri produkter

GORE-TEX®-plagg skadas inte av tvätt. Det förlänger tvärtom plaggets livslängd. Det här är normala tvättråd för GORE-TEX®-plagg: Kom ihåg att först stänga alla dragkedjor och kardborrband. Plagget ska tvättas vid 40 grader Celsius, utan centrifugering och med ett milt tvättmedel. Använd inte mjuk- eller sköljmedel. Använd inte blekmedel. Mjukmedel, sköljmedel och blekmedel kan skada materialets vattenavvisande egenskaper (inte membranet eller tätheten) och färgen på plagget. Skölj om möjligt plagget två gånger. Använd vattenavvisande spray på utsidan av plagget för att göra plagget så vattenavvisande som möjligt. (Det här har inget att göra med de vattenavvisande egenskaperna i själva materialet, men det gör det enklare för vattnet att rulla av på ytterskiktet). Om du vill kan du torka plagget på låg effekt i torktumlaren, eller stryka det vid låg temperatur. Värmen hjälper till att återaktivera de vattenavvisande egenskaperna. Plagget måste vara torrt innan du tvättar det och innan du lägger undan det efter tvätt.

Produkvård för Gore-Tex
Teknisk information
Rated

5

out of

5
by
Raymondpatrickglobal
from
THE most incredible jacket on the planet!!
I bought this on a gut feeling after considering the usual suspects. I wanted something completely outside the box so I ordered this. It's just about everything I've ever wanted in a shell. Huge pockets and a lot of them, but the two chest pocket are asymmetrical which enhance the design/look of the jacket. I love the two hand pockets too, with horizontal zippers.. you never have to worry if you left them unzipped and something will fall out. I'll never buy another jacket without hand gaitor's ever for snowboarding. Genius. The jacket is long, the arms are long and the coverage is just great, you feel completely protected, like no other jacket. A few small suggestions on updating fit below: The hood is deep so you have to cinch down the drawstring to get it away from the sides of the goggles. Also once this is done turning you head side to side you don't have the most flexibility so I'd open it up the neck diameter a hair for better movement. Also it's a bit of a slim fit which most Norrona products seem to be, I'd open up the waist or middle section of the jacket a little bit, say an inch or so just to get a bit more loose feeling. As a snowboarder sitting down it can be a bit snug, I'm a solid 32 inch waist and got a medium, but the lower zip on the main zip definitely helps loosen things up. Overall I'm gonna buy another one in a different color, I got the camo and nothing compares. I hope next years colors rock, I do like the more toned down colors in this line, but still not completely into the blue and tan. I'd like to see some camo pants, but in the Lyngen design or Lofoten, I like the zips on top of the thigh which look cool under the bottom of the jacket. Well done Norrona. I'm going #allnorrona
Date published: 2017-02-11
Rated

5

out of

5
by
Anonymous
from
You Won't Regret It
Wow, perfect ski jacket. Full length coverage in bulletproof GoreTex, all the bells and whistles in a pretty light package. And it looks... amazing. I've had so many people comment on the slopes about it, and I've never seen anyone else wearing it. Be unique & go with the Tamok!
Date published: 2018-09-26
Rated

5

out of

5
by
winson
from
Good jacket
I bought this Jackie one a month ago. This waterproof performance is good, the cut is meticulous, the pocket is practical, very beautiful, I like this jacket very much, I will recommend it to friends.
Date published: 2018-09-14
Rated

5

out of

5
by
Knörz
from
Cool jacket
Waterproof and windproof, cool styling. My son will grab it
Date published: 2018-09-11
Rated

5

out of

5
by
Niko
from
Amazing jacket!
Bought this Norrona Tamok Camo LTD jacket and it's simply spectacular. Have waited something like this for my whole life.
Date published: 2018-05-12
Rated

5

out of

5
by
Swish
from
My go-to jacket
The jacket has a very nice tailored fit to it. The air vents are fantastic. I feel really protected and isolated in the jacket.im 180 and 70kg,size m was perfect , has just enough room for a insulated layer,and a tracker. 9/10
Date published: 2018-05-12
Rated

5

out of

5
by
Anonymous
from
Stylish and Built to Last!
I love this jacket - perfect fit for layering a puffy underneath when its very cold, or just my Lyngen Powerstretch when its warmer. Waterproof, roomy but not sloppy fit, and it looks amazing! I've paired this with the Roldal pants in Sapphire, and people ask me on the slope where I got my gear. I love my Norrona equipment!
Date published: 2017-04-07
Rated

5

out of

5
by
Daniel73
from
Exceptional thought through
Perfect fit, (as top layer a little in the larger side) Super breathable & water proof with all necessary features (adaptable hoody, arm pit zippers with mesh agains snow) Excellent workmanship
Date published: 2017-01-09
Hi, my size is between M and L. What size would you recommend me to buy? I planning to wear mid layer down jacket underneath Tamok 
Hi, I can't give you any guarantees but I think L might fit you the best. Especially if you are layering underneath. It most common to prefer the outer-shell to be a little bigger than than smaller, this is to allow good air-regulation and mobility.
Date published: 2019-01-14