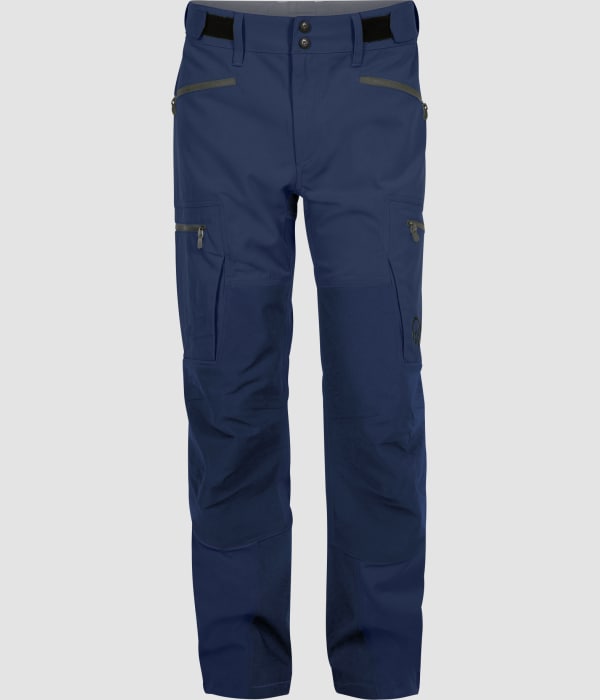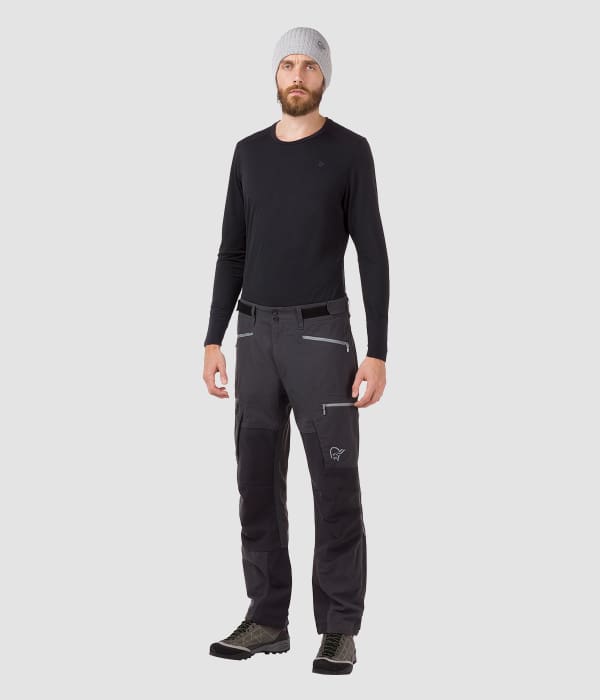 Slitstarka friluftsbyxor som klarar tuff terräng. Mycket bekväma byxor med slitstarkt nylonmaterial och utmärkt andningsförmåga.
Knä och stuss är förstärkta med vattentåligt material för extra väderskydd.
Byxorna har detaljer som hel ventilation på låren, justerbar passform i midjan, förstärkningar på nedre delen av benen och åtdragning med kardborrband runt vristerna.
Lite hårt arbete har aldrig skrämt de här klassikerna, som har blivit en favorit bland hantverkare såväl som friluftsentusiaster.
Utvecklad för
Allmänna friluftsaktiviteter
Andra användningsområden
Fjällsport / Alpinklättring
Expedition
Skogsjakt
Glaciärvandring
Bergsjakt
Vandring
Specifikationer
5

Vindtäthet

Vindtäthet

Scale from 1 to 6 where 1 is not windproof and 6 is totally windproof.

4

Vattentäthet

Vattentäthet

Scale from 1 to 6 where 1 is not waterproof and 6 is waterproof.

2

Isolering

Isolering

Scale from 1 to 6 where 1 has no insulating properties and 6 is our warmest insulation products.

4

Andningsförmåga

Andningsförmåga

Scale from 1 to 6 where 1 have very little or no breathability and 6 is our most breathable and moisture wicking products.

6

Slitstyrka

Slitstyrka

Scale from 1 to 6 where 1 is fragile products and 6 is the most durable products we have.

3

Lätt vikt

Lätt vikt

Scale from 1 to 6 where 1 is heavy and 6 is among the world's lightest of its kind.

3

Stretch

Stretch

Scale from 1 to 6 where 1 is not made with stretch materials and 6 is our most flexible products made in super elastic material.
Material
flex™3

Det här är ett stretchmaterial med 3-lagskonstruktion som ger utmärkt skydd mot vind, vatten och kyla. De tre lagren består av ett vävt yttertyg, ett PU-membran och en insida i mikrofleece. Det här speciellt framtagna materialet har alla de egenskaper vi vill se i ett softshellmaterial för kallare väder: stretch, vattenskydd och vindskydd.

Nylon weave 275

Det här är ett vindskyddande och slitstarkt polyamidtyg på 275 g/m². Det har god andningsförmåga och känns bekvämt mot huden. Utseendet och känslan i materialet liknar bomull, men det har polyamidens styrka och snabbtorkande egenskaper.
Teknisk information
Rated

5

out of

5
by
HuntervC
from
Top Quality, hard wearing, perfect
I needed a pair of general hard wearing outdoor trouser for hunting and forestry work and these appeared to look like the ideal combo. They have delivered in every way imaginable. They are much more hard wearing than i expected, a big positive, and yet don't feel too restrictive to wear. Put them through some brutal conditions and they haven't let me down. I haven't had them for summer but i suspect they will work well due to the venting ability. If you are therefore considering a perfect "outdoor" trouser for all types of activity then you would be very hard pressed to find better than these.
Date published: 2017-01-19
Rated

4

out of

5
by
Zanlamb
from
Excellent pair of comfortable hard wearing trousers
The trousers are much more robust than other I anticipated (and other brands I have tried) yet still remain comfortable and flexible. I have given them a through testing over the past 3 months and they have held up incredibly well. They do size slightly smaller in the waste than the Roldal pants I have so if your on the larger side of medium I would opt for the large instead. The only small issue I have had is the side vent zips have a tendency to slowly creep down. It's not a big problem but worth being wasted of. All in all these are an excellent pair of comfortable hard wearing trousers. I highly recommend them.
Date published: 2018-10-25
Rated

5

out of

5
by
BjørnH
from
Good fit and great comfort
Used it for hiking and mountaineering for a couple off months and its very comfortable and seems to be very durable
Date published: 2018-10-03
Rated

5

out of

5
by
Masins
from
Great pants
Pant looks very nice and technical, actually they are. The rugged covers helps a lot when dealing with rocks, love them. Many pockets placed in the right position with different size and the side opening makes these pants very comfortable even not cold condition. To be honest they could be heavy in full summer/warm conditions. Vestibility is perfect even if I found them a a bit tighter than other Norrona pants.
Date published: 2018-10-02
Rated

4

out of

5
by
Rast1k1
from
Practice model
Well in 2013 I found Norrona as quite expensive but nice look wear. I've bought pants and used it for 5 years. Now I have this heavy duty pants and can say that it's a very practice model. For summer now it's good because of side zippers and I think for winter will be ok as well. I wear it only for month and can't make full review but I like it much so far.
Date published: 2018-08-23
Rated

5

out of

5
by
Alessandro
from
meeting expectation
i bought this trouser a month ago, and so far they met all my expectation
Date published: 2018-08-13
Rated

5

out of

5
by
Beitme
from
Best hard working pants I have ever had!
These pants have become my go to Pants whenever I am going to be doing some serious work or play. Love them.
Date published: 2018-07-10
Rated

4

out of

5
by
stein123
from
Great shape
Used it several times, not in extreme conditions yet. So far, satisfied. Will test it more later.
Date published: 2018-05-16
Hello, What is the bottom leg width and the "knee width" in size M, please? Thank you
Hey John66: The maximum bottom leg width (at the hem, with the adjustable velcro cuff set at widest position) is 7 ¾". The knee width is 9 ¾". Hope this helps.   
Date published: 2016-11-16
Can you wear these pants with ski-touring-boots ? What I mean is: is the end of the leg wide enough to fit around a ski touring boot. When I mesure around my boot it comes to 50 cms (scarpa F1). Thank you in advance for this information.
Hi riccho, The Svalbard heavy duty pants are designed for general outdoor use and trekking. These Norrøna pants have a slimmer leg and will not be wide enough to fit around your ski touring boost. The bottom leg width in size L is 43cm. For ski touring I recommend the Lyngen hybrid pants with a bottom leg width in size L of 51cm. I hope this helps. Best regards, Sara
Date published: 2016-10-05
Hi: May I have the correct data for the size M. I have a former version, the size M is quite Ok for me. I am 178cm/ 78KG I have a 88cm waist. Last year I tried the updated one , but found it's too snug in the waist and have to return.