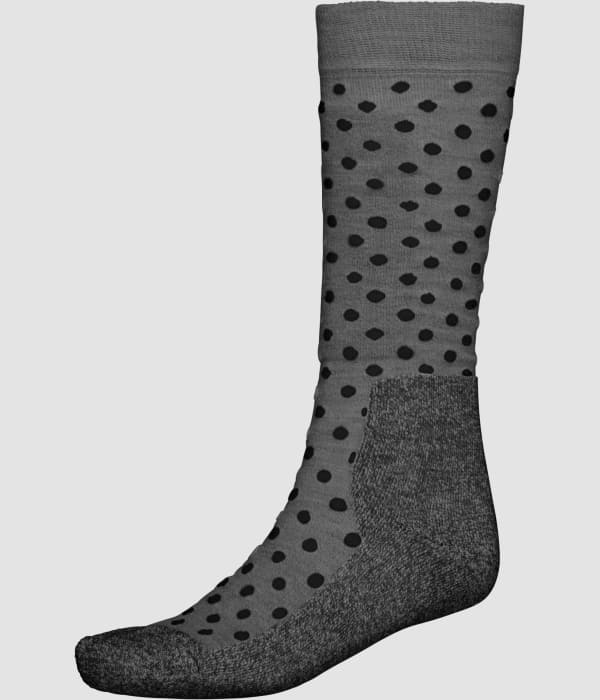 De mellantjocka røldal-strumporna i merinoull är utformade för långa dagar på jakt efter pudersnö offpist. Merinoull håller dig varm när det är kallt och svalkar när det är varmt. De sitter mjukt och bekvämt mot huden, torkar snabbt och har god andningsförmåga. Ull har ett naturligt skydd mot mikrobiell tillväxt vilket minskar dålig lukt, för att undvika jobbiga luktsituationer (men detta är inget vi kan garantera förstås). Strumporna är designade för att passa perfekt i pjäxor för skidor eller snowboard och kan lätt användas under kalla dagar i staden tack vare sin minimalistiska och snygga stil. Strumpan finns i två olika färger, båda med klassiska prickar som passar ihop med oslo- och røldal-kollektionernas tidlösa stil. Vi har använt spårbar ull från mulesingfria får.
Utvecklad för
Freeride skidor och snowboard
Andra användningsområden
Skidor & snowboard
Allmänna friluftsaktiviteter
Glaciärvandring
Fjällsport / Alpinklättring
Vandring
Material
100 % merinoull

För oss är det viktigt att våra mössor inte bara är snygga, utan att de även har de tekniska egenskaper vi vill se hos en bra mössa. Våra mössor är därför tillverkade av 100 % merinoull, och vi garanterar att fåren föds upp utan mulesing. Så du kan hålla dig varm och bekväm med gott samvete. Vi använder inte akryl i blandningen. Ibland fodrar vi med fleece mot huvudet, för att mössan ska bli ännu skönare.
Rated

5

out of

5
by
Vera
from
Comfy and cozy
I used these socks all winter for downhill skiing and ski touring. Love the pattern. The higher heel pocket gave added comfort while ski touring, less chance for blisters. No smell and quick drying.
Date published: 2019-06-11
Rated

3

out of

5
by
calebtop
from
Great style and comfort
Socks felt soft and very comfortable. Loved the design and they dry quick, I even wore them 5 or 6 times under my booties while rafting in early March when the water was in the upper 40's and help keep my feet warm. The one thing I didn't like was they kept slouching and sliding down my legs and I'd have to keep pulling them up. This may be an issue with how they fit my legs and if it wasn't for that I'd give them 5 stars.
Date published: 2019-06-05
Rated

5

out of

5
by
Zoebb
from
So many compliments
So versatile, you can wear almost anywhere. Great fit and super comfort. Really warm. Wish they came in more colours
Date published: 2019-06-04
Rated

4

out of

5
by
Heavyg
from
Superior comfort
Comfort and soft feel even through multiple days of high mileage skiing ( as a ski guide). As someone with larger than average feet I would love to see larger size options for an even better fit.
Date published: 2019-06-04
Rated

5

out of

5
by
Lucie
from
Softies:)
Nicely soft and comfy socks that keep you warm and look very well. I had grey ones with white dots and they look cute:) i used them for country ekying as well as in june in Tuscany for colder nights
Date published: 2019-06-04
Rated

5

out of

5
by
robert17
from
excellent Socks
I have tested these and have found then really good and will buy another pair very soon .
Date published: 2019-06-04
Rated

5

out of

5
by
Lovesbagels
from
Excellent all-around winter sock
I got these socks in the beginning of February, and have nothing but great things to say about them. They are incredibly temperate- my feet never sweat in them indoors, and they stayed very comfortable in moderate activities in wintry conditions. The cushioning was well placed and cozy underfoot. They might be a bit much for wearing with ski boots if your boots are tight, however, I believe they would be great for any activity so long as you have the wiggle room in your footwear. The compression was an unexpected bonus-could wear them all day and lower legs were very happy.
Date published: 2019-06-04
Rated

5

out of

5
by
Lena81
from
Lovely design and excellent fit
Fantastic product from Norrona, highly functionable socks which looks great also. Worn on average 10hrs per day, cca 3-4 days a week, very minimal odour. Excellent warmth properties.
Date published: 2019-06-04