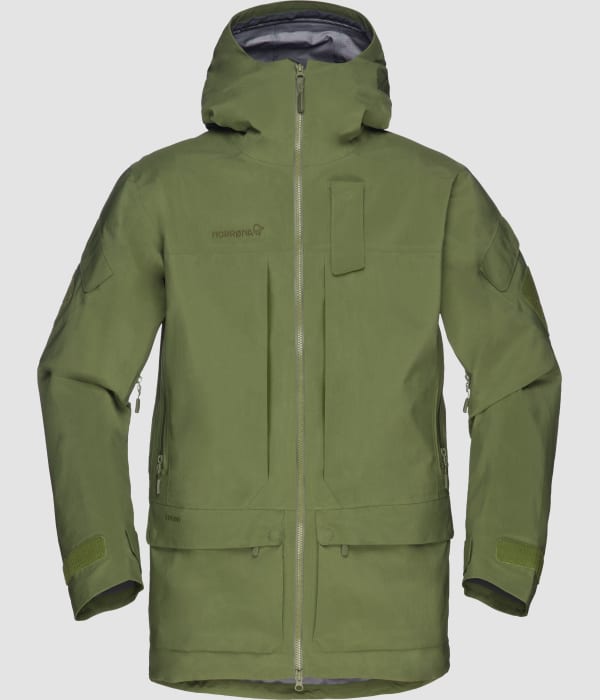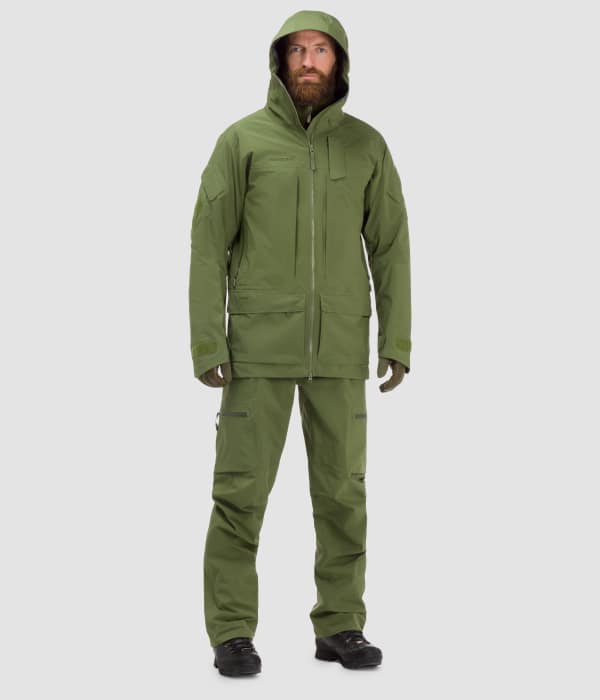 Jackan recon Gore-Tex Pro är utvecklad i samarbete med svenska, norska och danska specialstyrkor och den är vår mest slitstarka och vindtäta skaljacka hittills. Det här är den fjärde generationen av den legendariska jackan och den är verkligen ett av de mest vattentäta, vindtäta och ventilerande ytterskalen på marknaden. Den är utformad för att uppfylla alla militärens krav och den passar för alla typer av jakt, expeditioner, glaciärvandringar, vandringar och allmänna friluftsaktiviteter. Den har en luftig passform med flera utrustningsfickor, däribland YKK WR-dragkedjan på 6 mm. Jackan skyddar inte bara bra mot moder natur, utan vi har även lyckats hålla nere vikten på plagget till en mycket imponerande och bekväm nivå. En riktig favorit bland Norrønas egna anställda med en design som fungerar överallt – från jakt på bergsplatån till toppturer (med skidor) i bergen, eller bara som en riktigt grym jacka för regniga dagar i staden. Tillverkad av återvunnet Gore-Tex-material. Unisexmodell.
Andra användningsområden
Allmänna friluftsaktiviteter
Skid- och snowboardåkning
Fjällsport / Alpinklättring
Glaciärvandring
Skogsjakt
Vardagsbruk
Specifikationer
6

Vindtäthet

Vindtäthet

Scale from 1 to 6 where 1 is not windproof and 6 is totally windproof.

6

Vattentäthet

Vattentäthet

Scale from 1 to 6 where 1 is not waterproof and 6 is waterproof.

1

Isolering

Isolering

Scale from 1 to 6 where 1 has no insulating properties and 6 is our warmest insulation products.

4

Andningsförmåga

Andningsförmåga

Scale from 1 to 6 where 1 have very little or no breathability and 6 is our most breathable and moisture wicking products.

6

Slitstyrka

Slitstyrka

Scale from 1 to 6 where 1 is fragile products and 6 is the most durable products we have.

3

Lätt vikt

Lätt vikt

Scale from 1 to 6 where 1 is heavy and 6 is among the world's lightest of its kind.
Material
GORE-TEX® Pro

GORE-TEX® Pro – GORE-TEX®-membranet har ett foder i textil som minskar vikten och gör att materialet tar mindre plats. Det förbättrar dessutom fuktavledningen och minimerar slitaget, samtidigt som plagget blir slitstarkt och vattentätt. Det perfekta stormskyddsmaterialet.

Läs mer hos GORE-TEX®
Teknisk information
Rated

5

out of

5
by
Jaktogfriluft33
from
Perfekt til jakt og allsidig friluftsliv
Etter å ha testet litt forskjellige typer jakker til friluftsbruk, falt valget omsider på denne (bukse og jakke) ettersom jeg for 3 år siden tok jegerprøven. Da passet det bra med denne fargen. Jeg velger konsekvent skalljakker og denne jakken har god plass til tykk genser/boblejakke på innsiden når det er som kaldest. Store lommer foran med vertikale glidelåser gir god adkomst, selv med sekk og bryststropp. Hetten rommer store luer, og har gode stramme funksjoner og brem, slik at regnvann ikke renner inn foran. Stoffet er ikke av det mest lydløse for snikjakt, men det er jeg personlig villig til å ofre for alle de andre positive egenskapene. Buksen har også gode lommer, behagelige seler (ekstrautstyr) og behagelig med plass for fri bevegelse på ski, jakt og fjellbruk. Med Para Ranger på ryggen er utstyret komplett. Tommel Opp!
Date published: 2018-02-06
Rated

5

out of

5
by
Erikw
from
Den bästa i klassen
Haft settet i tre år nu och älskar det. Brukas primärt till fjellturer och jakt men har också haft den i skibakken. Sjukt bra lomme lösningar, sitter bra och är utmärkt i vind/regn. Dyr men värd varenda krona.
Date published: 2018-10-07
Rated

4

out of

5
by
RogerE
from
Knallgod jakke, men bare nesten vanntett
Jeg liker at jakken er enkel, men med gode funksjoner og lommer som er tette. Hetten og høy hals holder regn og vind ute på en god måte, og en kan kose seg selv i vestlandsk "høststorm". Jeg opplever ikke at jakken "støyer" like mye som første generasjon Recon, og vekten er komfortabelt lav. Jeg har brukt jakken i rimelig heftig drittvær, høljeregn i kuling på fjellturer, og ser at selv ikke Recon klarer å holde meg tørr på de mest utsatte områdene øverst på ryggen og skuldrene.
Date published: 2018-10-04
Rated

5

out of

5
by
Norstorm
from
Hands down den beste turjakka
Jeg har hatt mange skalldresser opp gjennom årene som ihuga friluftsmann, og recon dressen fra Norrøna er hands down den beste dressen jeg har testa til generelt friluftsliv. Dressen ble ett resultat av samarbeid med forsvarsstyrkene utti skog og mark, og dette vises i form av detaljer som lang torso på jakka, lommer overalt til gps og duppeditter, etc.. Samme med buksa dom hører til. Den dagen jeg river dressen går jeg tvert å kjøper en ny recon dress. Jeg er kritisk til prisnivået, men for meg som sover bedre utendørs enn hjemme i senga, så er denne dressen ett realistisk valg.
Date published: 2018-10-02
Rated

4

out of

5
by
Kjell Arne G.
from
Jaktdress for Norsk ruskevær
Kjøpte dressen for 6 år siden. Jeg hadde da hatt Norrøna Dovre siden 1999 tror jeg. Har brukt den til fjellrypejakt på Hardangervidda og i Finnskogen når det er dårlig vær. Har også brukt den på vinterjakt etter villsvin når være et dårlig. Dressen er litt stivere og videre enn den gamle Dovredressen, men den virker enda mer solid og begge har helt vindtette. Den bråker litt mye. Hetta er veldig bra når været krever den. Nettingen som danner lommene virker litt spinkle, men har holdt.
Date published: 2018-09-29
Rated

4

out of

5
by
Thorgal
from
My review
I'll just list the pro and cons about this jacket, as i have been searching ages for a sturdy hardshell to meet my demands and not a single is totally perfect but this jacket cames closest. positive about the jacket for me are: - good athletic fit, - great color, - i like the length of the jacket (half way on my upper leg) it doesnt climb up on my lower back when carrying a backpack, - even though there is only 1 adjustmentcord on the hood it works great and the hood moves with my head when truning my head, - i am really digging the gigantic armpit zips, its gives great options for ventilation, - i bought large, but maybe m would have been good as well. Still i didnt return cos i like the extra room to be able to wear this jacket all year round, with the velcro closed on my wrists it just gives some extra room on my elbows which is nice for movement. I am 1,84m. Some cons for me that could be improved upon are: - no storage bag along side the jacket, this doesnt need to be a waterproof bag, just a simple bag in which you can your jacket in as long as its not raining. It also helps with keeping your backpack better organized. - no stormflap on the outside - inside pocket is on the right side and not left, this doesnt make sense to me, the Norrona jacket my girlfriend got has the inside pocket on the correct side. - the pockets on the arms are kinda small and amkes it hard to grab anything from within. There is a elastic cord inside the pocket for easy acces i guess yet its attached to the bottum and not the top of the pocket which seems counterproductive. Pockets on the arms with a zip would have been easier for me at least i suppose. Still overal very happy with the jacket as like i said it outweights the negative points i had with other brands.
Date published: 2018-09-26
Rated

5

out of

5
by
Friluftsentusias93
from
Jaktkamerat!
Jeg har hatt denne jakken siden 2012, og den har vært mest brukt til elgjakt, da jeg foretrekker mer spenstige farger til andre aktiviteter. Ikke den mest lydløse jakken, men det får så være. Valgte endelig å gå for skall, da jeg fått nok av billige "jaktsett" som overhode ikke holder mål. Kan ikke huske at denne har tatt inn vann, selv etter opptil 12 timer på post med konstant regn. Passformen er bra, og jeg liker at det er god plass til tykkere plagg under for å holde på varmen. Liker også at den er lang, slik at jeg holder stumpen tørr de dagene jeg ikke har vanntett bukse på meg. Gode og store lommer. Skulle ønske den hadde en skikkelig radiolomme med gjennomføring for antenne og kabel til headset.
Date published: 2018-09-05
Rated

5

out of

5
by
Grensejeger
from
Meget bra
Har brukt denne flittig etter kjøp og den holder mål. Minner meg veldig om goretexen jeg hadde i Forsvaret bare mye bedre.. god glidelås, smarte lommer og bra luftesystem.
Date published: 2018-09-05
I'm thinking of buying a Recon set for hunting, but how noisy are the fabrics?
Noisy.  Well, not noisy enough to irritate in 'normal' existence, but enough to bug you & any prey if you're trying to be as noise-free as poss.  But the fabric is as ´bombproof' as any I've come across and you won't find any other Gore-tex that is rustle free.  You could work with it.  Otherwise & depending on anticipated weather conditions, maybe opt for Ventile clothing, old school, but quiet, favored in bushcraft circles.  Check out the company Sasta.  In particular their Peski & Taiga jackets.  Perfect for everything except total downpours, especially good in cold, drier climes.  You can find them in UK on Ray Mears' site in the Woodlore shop, along with a load of other options like offerings from Swazi.  But if you're after bombproof wet weather protection I'd stick with the Recon gear and get used to it.  Hope that helps?  
Date published: 2018-12-09
May I know which country for this jacket made in ?
It's made in china if it is what you want to know.
Date published: 2018-10-25
Kvifor har nokon av dei nye jakkane stoff over glidelåsen ved lommene framme, mens andre har ikkje? 
Hei, Siste utgave er som på bildet uten stoff over glidelåsen.
Date published: 2018-09-11
How packable is this jacket? Does it pack down small?
This jacket  can be folded down to a very small size and fitted in the front pocket of a rucksack without any problem,it came delivered in a really small package,great design,great jacket.
Date published: 2018-11-30
Does the hood still have velcro for a fur rim?
Hello Binker! For this season the svalbard cotton Anorak is the only jacket with a velcro rim around the hood.
Date published: 2018-09-24
What denier is the fabric used in this jacket?
Hi Luke21, Thanks for your question on the denier in the new Recon Gore-Tex Pro jacket with recycled material. The denier is 80, making it a really sturdy jacket. Best regards, Jens, Norrøna Fan Support
Date published: 2018-04-13
Har behov for en jakke til bruk i Forsvaret. Noe som er viktig for meg er at jakken har NIR behandling (Infrarød behandling, lavere signatur i nattoptikk). Jeg ser ikke bort ifra at denne jakken ble designet for bruk i Forsvaret, men ønsker å være sikker.