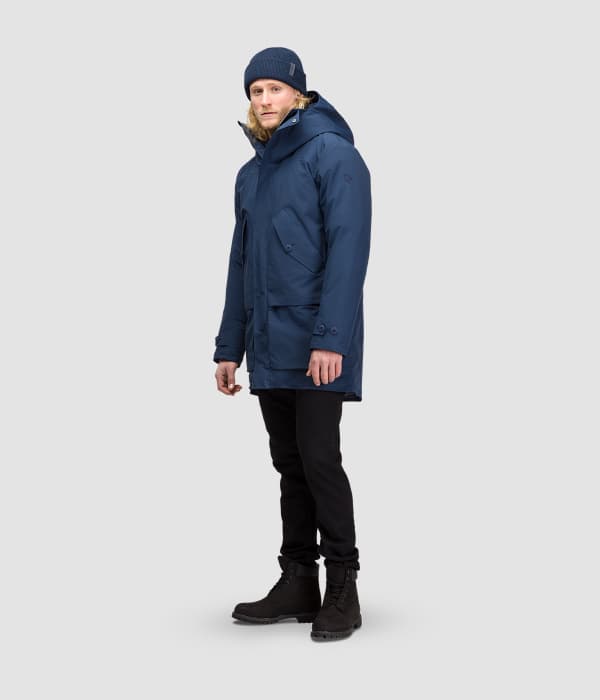 Håll dig varm och skyddad under vintern i vår vattentäta och isolerade parkas oslo Gore-Tex i herrmodell. Den här nya och lättare versionen av en av våra mest uppskattade vinterjackor ger en suverän kombination av skyddsteknik och avancerad design.
En klassisk parkas är perfekt för vardagsbruk när temperaturen sjunker och vind och snö hör till vardagen.
Den passar även utmärkt för mildare vinterdagar. Den här parkasen har ett vattentätt ytterlager i återvunnet GORE-TEX®-material och PrimaLoft®-isolering.
Det här är en lång modell som håller dig varm och har en skyddande huva med enhandsgrepp.
Den har även dubbla uppsättningar fleecefodrade framfickor – de nedre fickorna stängs med dragkedja och de övre med lock med stormflik, en stor innerficka i nät, främre flikar med fickor med dragkedja och flikar med knappar för att justera ärmarna.
Genomskinliga reflextryck på framsidan och nedre delen av ryggen ökar synligheten i mörkret.
Den passar utmärkt för dig som behöver en riktigt varm jacka, och även om det inte gör det roligare att stå och vänta på tåget eller ta bort is från bilen gör den det garanterat behagligare.
Andra användningsområden
Allmänna friluftsaktiviteter
Specifikationer
6

Vindtäthet

Vindtäthet

Scale from 1 to 6 where 1 is not windproof and 6 is totally windproof.

6

Vattentäthet

Vattentäthet

Scale from 1 to 6 where 1 is not waterproof and 6 is waterproof.

4

Isolering

Isolering

Scale from 1 to 6 where 1 has no insulating properties and 6 is our warmest insulation products.

3

Andningsförmåga

Andningsförmåga

Scale from 1 to 6 where 1 have very little or no breathability and 6 is our most breathable and moisture wicking products.

5

Slitstyrka

Slitstyrka

Scale from 1 to 6 where 1 is fragile products and 6 is the most durable products we have.

3

Lätt vikt

Lätt vikt

Scale from 1 to 6 where 1 is heavy and 6 is among the world's lightest of its kind.
Fotavtryck
Återvunna fibrer

Återvunna fibrer

Mer än 50% av syntetfibrerna i denna produkt återvinns.

Oeko-Tex Certifierad Fabric

Oeko-Tex Certifierad Fabric

Oeko-Tex® är ett världsomspännande, oberoende test- och certifieringssystem som säkerställer kemisk användning överensstämmer med eller överträffar nationella och internationella regler och standarder.

PFC-fri DWR

PFC-fri DWR

Impregneringen som används på denna produkt är fri från fluorokarboner. (DWR = Durable Water Repellent).

Bluesign-certifierat material

Bluesign-certifierat material

Bluesign® testar och utbildar textilfabriker för att eliminera skadliga ämnen från tillverkningsprocessen och sätter kontrollstandarder för en hållbar och säker produktion.

Öppen förteckning över fabriken

Öppen förteckning över fabriken

Denna produkt är tillverkad i en fabrik som är öppet listad på norrona.com.

Inspiserad fabrik

Inspiserad fabrik

Denna produkt är tillverkad på en fabrik som inspiserats av en oberoende tredje part och följdes upp av Norrøna.
Material
GORE-TEX® med 2-lagskonstruktion

Mjukt GORE-TEX®-material som passar för många olika aktiviteter. Ett GORE-TEX®-membran är laminerat på yttermaterialet och ger ett mycket smidigt och lätt väderskydd som har god andningsförmåga och är tystare än ett trelagerssystem. Membranet skyddas av det icke-laminerade fodret på plagget.

Läs mer hos GORE-TEX®
Teknisk information
Rated

5

out of

5
by
Frank M
from
Fantastisk jakke!
Jeg jobber som fotograf og trengte en jakke som var varm, men ikke for stor og tung. Primaloft er rett og slett helt genial isolasjon. Denne jakka har holdt meg tørr i snø og regn uten at jeg blir klam. Den er veldig varm og deilig. Dette er rett og slett den beste jakka jeg har hatt! Hvis jeg skulle endret noe så måtte det være å ha en glidelåslomme til mobil/lommebok på innsiden av jakka. Genial jakke! Løp og kjøp!
Date published: 2019-01-14
Rated

5

out of

5
by
kv92
from
Great Coat
Was gifted this for Christmas and absolutely love it. I'm 5'11, 150-160 pounds depending on the year, and was given a M. Fits perfectly, arms are proper length, coat is ideal length. Wouldn't change a thing. Zipper start point feels slightly awkward for me but that's a personal problem not a coat issue.
Date published: 2019-01-02
Rated

5

out of

5
by
friluftoghverdag
from
Supert vinterjakke
En god og varm vinterjakke. Fine lommer og passform. Med en litt varierende vinter er det godt at den også er vanntett, da det fort kan komme en nedbør når det ligger rundt null.
Date published: 2018-12-28
Rated

5

out of

5
by
solidsnake
from
Nice winter parka
You'll love this parka : perfect cut, keeps warm but remains light enough, gore-tex.. One "issue" however, the main zip is quite difficult to pull up, but maybe that's because it's new.
Date published: 2018-12-06
Rated

5

out of

5
by
Sport1
from
Kanon vinterjakke!
Meget varm, praktisk vanntett. Eneste aber er litt kinkig glidelås.
Date published: 2018-12-04
Rated

5

out of

5
by
Fatamorgana
from
Amazing combination of weather resistance and style
For my big surprise the jacket is astonishingly light. I like the neat little elements such as the magnetic zipper cover, reflectors on the back and front pockets. It looks great and does 100% what it's supposed to do - keeps you dry and warm.
Date published: 2018-11-26
Rated

4

out of

5
by
Daniel T
from
Snygg och sportig
Jag är nöjd och tror jag kommer använda jackan mycket
Date published: 2018-11-07
Rated

5

out of

5
by
Ketildtm59
from
Kul!
Jeg kjøre denne for en måned siden, og fått mye skryt av den.
Date published: 2018-10-20
I've been looking for a reliable parka jacket for urban/city winter cold weather, and I think I found one. Waterproof and windproof are on the top of my list but, I was just wondering about the insulation how cold can this jacket handle? 
I think it'll be fine for extended periods in ~ -10c but anything under that if you're outside for an longer time you'd want another layer. There aren't many coats that are comfortable at -15c that aren't expedition coats.
Date published: 2019-01-03
Does the parka have a waist drawstring to make it snugger to the body in chilly-wind conditions?
No, it does not.
Date published: 2019-01-03
Does the jacket have two way main zipper? Thanks
Yes it has. As someone stated above, because it is two ways it is a bit tricky for some to close it fast and easy
Date published: 2018-12-25
Hi! I wonder how many g/m2 and what kind of Primaloft it is in the Oslo insulated parka? And if you can answer, roughly how cold is the parka good for?
Hi, The oslo Gore-Tex insulated Parka has a 171,2 grams of PrimaLoft Silver ECO insulation in size L.
Date published: 2018-12-04
Hei! Hvor varmt er den i forhold til Norrøna Gore-Tex Primaloft parka fra i fjor?
Hello, could you please specify the weight of insulation in g/m2 of jacket Oslo Model nr. 4808-18. Thanks.