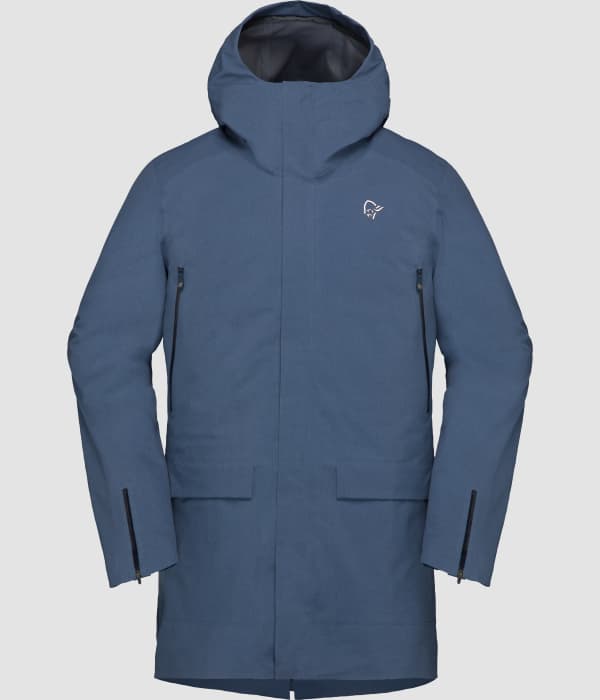 Den minimalistiska parkasen oslo Gore-Tex down850 i herrmodell är en vattentät tre-i-en-modell med löstagbar duninnerjacka. Det sportiga dunlagret ger extra värme under kalla vinterdagar.
Utan dunlagret passar jackan också bra på våren, hösten och svala sommardagar. Ytterlagret i GORE-TEX® skyddar mot regn och vind men ger ändå bra andningsförmåga.
Dundelen går att använda fristående som en lätt och snygg dunjacka. Parkasen i Gore-Tex® har rymliga fickor att värma händerna i, framfickor, en vindtät huva, dragkedjejustering nedtill på ärmen och en innerficka.
Andra användningsområden
Allmänna friluftsaktiviteter
Specifikationer
6

Vindtäthet

Vindtäthet

Scale from 1 to 6 where 1 is not windproof and 6 is totally windproof.

6

Vattentäthet

Vattentäthet

Scale from 1 to 6 where 1 is not waterproof and 6 is waterproof.

4

Isolering

Isolering

Scale from 1 to 6 where 1 has no insulating properties and 6 is our warmest insulation products.

2

Andningsförmåga

Andningsförmåga

Scale from 1 to 6 where 1 have very little or no breathability and 6 is our most breathable and moisture wicking products.

4

Slitstyrka

Slitstyrka

Scale from 1 to 6 where 1 is fragile products and 6 is the most durable products we have.

4

Lätt vikt

Lätt vikt

Scale from 1 to 6 where 1 is heavy and 6 is among the world's lightest of its kind.
Fotavtryck
Återvunna fibrer

Återvunna fibrer

Mer än 50% av syntetfibrerna i denna produkt återvinns.

Oeko-Tex Certifierad Fabric

Oeko-Tex Certifierad Fabric

Oeko-Tex® är ett världsomspännande, oberoende test- och certifieringssystem som säkerställer kemisk användning överensstämmer med eller överträffar nationella och internationella regler och standarder.

Bluesign-certifierat material

Bluesign-certifierat material

Bluesign® testar och utbildar textilfabriker för att eliminera skadliga ämnen från tillverkningsprocessen och sätter kontrollstandarder för en hållbar och säker produktion.

Responsible Down Standard

Responsible Down Standard

Responsible Down Standard (RDS) skyddar gäss och ankorens välfärd.

Öppen förteckning över fabriken

Öppen förteckning över fabriken

Denna produkt är tillverkad i en fabrik som är öppet listad på norrona.com.

Inspiserad fabrik

Inspiserad fabrik

Denna produkt är tillverkad på en fabrik som inspiserats av en oberoende tredje part och följdes upp av Norrøna.
Material
GORE-TEX® med 3-lagskonstruktion

Slitstarkt GORE-TEX®-material som passar för många olika aktiviteter. I 3-lagskonstruktionen är membranet laminerat till fodret på ena sidan och till yttermaterialet på andra sidan. Det här gör materialet mer slitstarkt. Det är lättare än GORE-TEX®-materialet i 2 lager, eftersom det inte behövs något ytterligare, frihängande foder. Tekniska specifikationer: Vattentät: minst 28 000 mm* Andningsförmåga: Hög, ned till 9 RET** Vindtäthet: 100 % * ISO 811-test ** ISO11092-test

Läs mer hos GORE-TEX®

down850™ RDS-certifierad

Vi använder det bästa dun vi kan hitta i våra dunprodukter. Det dun vi använder kommer från livsmedelsindustrin, till skillnad från fåglar som föds upp enbart i syfte att ge dun. Behandlingen av fåglarna uppfyller alla europeiska standarder, och den mycket specialiserade duntvätten uppfyller Oeko-Tex 100. down™850 har en dunfyllningsgrad på 850 till 900 kubiktum/uns, med en duntäthet på 93–96 procent.
Teknisk information
Rated

4

out of

5
by
madness
from
Almost the best
Parka is really good. There are few places where this product can be made better. Like the rain hood. It's simply too big for a normal persons head. And the cord that actually should help you to reduce the size of it, it simply isn't enough. You get it right at the back but not around your face. Then there is a really high collar and that would be fine if you could actually zip it till the end not suffocating yourself. It's not possible with the hood not on your head. It has to go under your chin. The problem with 2 in 1 parka is that you don't get the protection on the front, from top to the bottom, around the zipper, due to fact that outer layer and inner down layer don't zip close together. You have some 3-4 fingers space in between. Solution to that is that you first zip a down and then GoreTex. But sometimes that's annoying. And noticeable on the colder day. The zippers on the cuffs are sometimes scratching your skin on the hands. The good part is that it is durable. I am carrying a backpack with no problems so far. it is nice and long. Pockets may be not enough for some people but I found it quite good even that sometimes they can get bulky. Nice magnetic closing on them as well. Inner down layer, as a separate jacket is functional and it has enough pockets to get essentials with you to the town. There is no hood but that's not needed. Outside and inside pockets, possible to close them with a zip. Overall it could be better but it does satisfy my needs.
Date published: 2019-03-15
Rated

5

out of

5
by
Paul_1774170202
from
Amazing 3-1 jacket
I was looking for just this: a 3-1 jacket that can be worn casual, is rainproof and can be worn year through. Fits like a glove, very nice subtle features (magnets for closing the outer pockets). Nice look and feel, nicely woven fabric. Truly like it a lot!
Date published: 2019-02-16
Rated

3

out of

5
by
Anonymous
from
Good product.
I'm 179cm, 63kg, 36" chest. I bought size of S. I wear this coat for casual using. It's tight for me if I wear base layer and jumper. The inside down jacket is quite thin and it's not warm enough for me.
Date published: 2019-02-01
Rated

5

out of

5
by
Hunter68
from
great jacket with style! warm and super lite
i needed a stylish jacket with a multi purpose usage.
Date published: 2019-01-21
Rated

5

out of

5
by
drgabe
from
Warm, comfy and stylish Parka
I have long been looking for a Gore-Tex Jacket or Parka with a design that's urban rather than sporty to use in the city. Found the Oslo and decided to go for it two months ago. The pricetag is what you expect if you bought a down jacket and a gore tex jacket. And it is a true 3-in-1 Jacket, the stylish down inner can be removed and worn separately. I've used all three modes and am very happy. The length is great for rainy weather, the down jacket keeps you warm, the hood works great. Tested it in Finnland at -15C, noticed that in combined mode you have a small cold area along the front, as the down does not close but rather the gore-tex. But just zip up the down separately and you are very cosy and warm. Stylewise it's a beatiful Jacket, i have the gray version and it's beautiful. Craftmanship is what you expect from norrona. Can only recommend.
Date published: 2019-01-11
Rated

5

out of

5
by
JonasRupp2
from
3 Jackets in one product!
One of my all time favorite product pieces besides the slopes but in the city! The coat is a 3 in 1 product: 1x Gore-Tex jacket, 1x down jacket and zipped together it's a very stylish winter parka. The zip in process is very easy and runs smoothly, the down alone also looks very nice and I were it a lot on drz but cold days. Through the small knops at the end of the sleeves the is no problem with the arms of the down jacket benath the parka. Worth every penny, timeless look and perfect piece for all year conditions.
Date published: 2018-09-28
Whats the down fill weight of the down jacket
Hi, The down fill wight of the oslo Gore-Tex down850 Parka (M) (4820-18) is 110 g in size L.
Date published: 2019-06-21
It is listed as new. What are the differences from the model version listed a couple of months ago?
Hi, The reason why the oslo Gore-Tex down850 Parka (M) might have been listed as new is because of new colors introduced. There has not been made any differences from the model presented earlier.
Date published: 2019-04-25