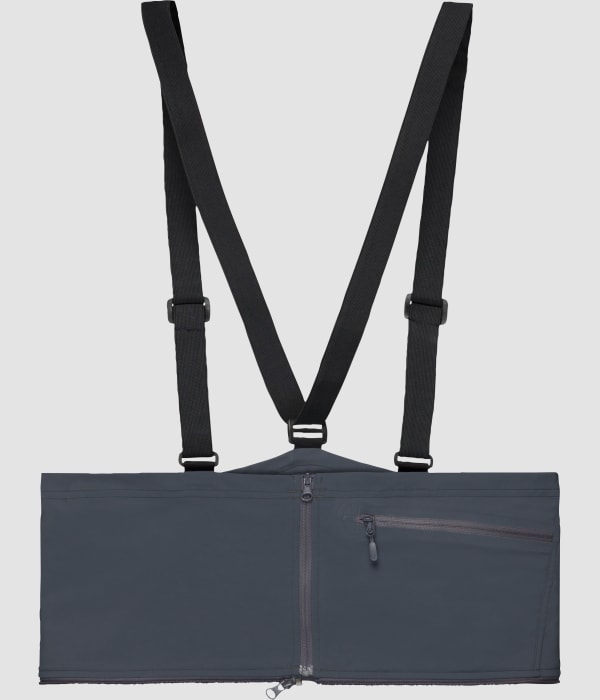 Våra hängslen för skid- och snowboardbyxor är utformade att passa perfekt med våra klätterbyxor. De är stretchiga och bekväma och håller byxorna på plats. De har en främre dragkedja i fullängd och en liten ficka på sidan.
Utvecklad för
Fjällsport / Alpinklättring
Andra användningsområden
Isklättring
Freeride skidor och snowboard
Topptur / Randonnée
Specifikationer
3

Vindtäthet

Vindtäthet

Scale from 1 to 6 where 1 is not windproof and 6 is totally windproof.

1

Isolering

Isolering

Scale from 1 to 6 where 1 has no insulating properties and 6 is our warmest insulation products.

4

Andningsförmåga

Andningsförmåga

Scale from 1 to 6 where 1 have very little or no breathability and 6 is our most breathable and moisture wicking products.

4

Slitstyrka

Slitstyrka

Scale from 1 to 6 where 1 is fragile products and 6 is the most durable products we have.

4

Lätt vikt

Lätt vikt

Scale from 1 to 6 where 1 is heavy and 6 is among the world's lightest of its kind.

3

Stretch

Stretch

Scale from 1 to 6 where 1 is not made with stretch materials and 6 is our most flexible products made in super elastic material.
Rated

4

out of

5
by
split
from
good
I have bought lyngen Gore-Tex Pro Pants size L (181/82) and being slightly in between sizes I opted for Bib size L which fits perfectly.
Date published: 2019-05-04
Rated

1

out of

5
by
EricFromCalifornia
from
Not compatible with my pants
Was told this bib is the one that fits my Lofoten Gore-tex pro light pants, Men's Small, but the Small is 3cm short, more than the 1 or 2cm noted in the description. Going up to Medium would make it 3cm too big. Also note that being off by even just 1 or 2 cm means that one strap will be shifted to the side compared to the other strap, since it connects via zipper, which I would also not find acceptable. So be careful before ordering this: measure the zipper on your pants, and make sure the zipper length matches exactly the zipper on the pants you plan to use it with.
Date published: 2019-03-15
Rated

4

out of

5
by
Damien
from
Bon produit
Bib received today, it fits perfectly to my pants Lyngen gore pro version 2018/2019. No worries of size, zip, it closes and fits perfectly to the pants for the same size trousers / Bib On the box it is marked ski / snowboard with zip and vertical pocket, but it is the bib mountaineering with horizontal zip pocket that is delivered. About the pants / Bib I have not tried it yet in real condition, the fabric is thin and lightweight, without fleece or scraped, the slider of the ventral closure could have been wider and bigger for more ease of grip and closing / opening.
Date published: 2019-01-14
Rated

5

out of

5
by
SNOWBOY
from
Very functional.
Very functional. I recommend this product to anyone. The M size fit well with L røldal ACE pants for man.
Date published: 2018-12-30
Rated

5

out of

5
by
rugah6
from
Works as it should
Unlike over comments here. I didn't have a problem fitting these to the lyngen Hybrid and zips worked fine.
Date published: 2018-11-22
Rated

1

out of

5
by
JAB1
from
Needs improvement
Yes, the description for this product is accurate. These do not fully zip with the lyngen pants. Bought a large for my size L Lyngen pants which were last year's version. Zip circumference is short by 2.5 cm. Why, Norrona, would you sell an imperfect product? (Why would I purchase an imperfect product?). Suggest you fix, then recall and replace.
Date published: 2018-09-27
Rated

1

out of

5
by
Eirik R
from
Does not fit..
As mentioned in other reviews, this product does not fit, making it useless if you buy the correct size. Norrøna claims the sizing problem does not affect the functionality of the item, and their claim is simply not true. The small sized bib I bought for my small sized pants is 2 cm short. This "shortage" causes the pants to be pulled in around the waist, making both the bib and pant to thight to use confortably. I've returned the product and await a medium sized bib. I assume I can live with an oversized bib.. Considering the price and corresponding quality expectations of Norrøna, this product is really dissapointing.
Date published: 2018-09-23
Rated

1

out of

5
by
danm
from
does not fit Lyngen pants
This bib in size L does not fit my Lyngen pants that are also in size L. I told Norrona and this is the answer I got: "Your product is fitting your pants, the mountaineering bib is made to fit lyngen and trollveggen. The issue you have is a know problem. But its due to YKK, right now they don't have the technology to make the zipper fit 100%." So, according to Norrona it fits, but it doesn't fit and since this is YKK's fault your money is still good and they are happy to get it. Since the zipper on the bib is shorter than on the pants, that leaves a gap of about 3 cm. Because of this gap the vertical zipper on the bib cannot be closed which makes it really uncomfortable in use. Strangely the Norrona representative suggested I could try a smaller or a larger size. I can't see how a smaller size would be larger unless Norrona has a serious problem in sizing their products. I am still willing to try a larger size as the pants are quite uncomfortable without a bib, having a very short inseam. honestly I can't recommend this product unless you are willing to accept some gross lack of fit because like me you already spent a lot of cash on the pants.
Date published: 2018-08-23
Has anyone tried a larger sized bib for their lyngen pants? Example, XL bibs for L pants.
Hi, The zipper length of the mountaineering Bib for men is: S: 80 cm M: 86 cm L: 92 cm XL: 98 cm XXL: 104 cm
Date published: 2019-04-17
Is it compatible with the old Lyngen Hybrid pants (https://www.norrona.com/fr-FR/o/lyngen-hybrid-pants-m-2015/?color=6725&outlet=true)
no, see my review
Date published: 2018-08-23