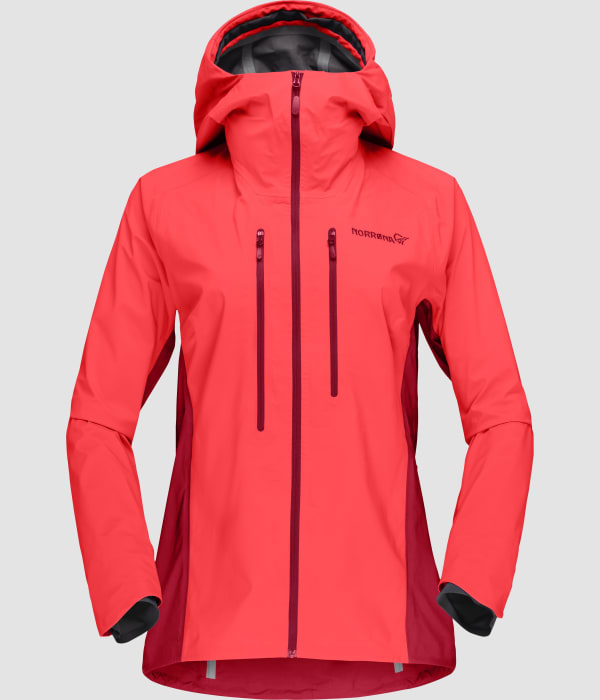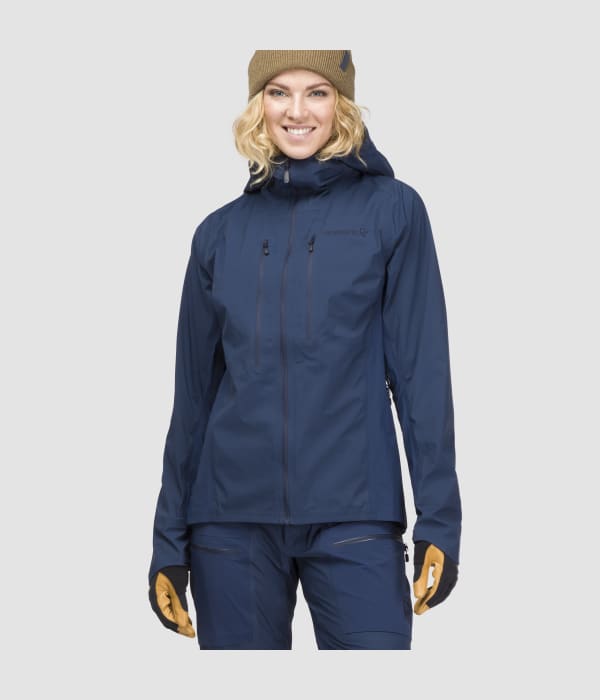 Hybridjackan lyngen Windstopper i dammodell har utmärkt vindtäthet och god andningsförmåga och passar därför utmärkt för intensiva toppturer när du inte behöver skydd mot snöfall och regn. Den minimalistiska jackan är superlätt och flexibel och har alla viktiga egenskaper för intensiv skidåkning. Överkropp och övre delen av ärmen är tillverkade i Gore Windstopper-material som är 100 % vindtätt, ventilerande och vattentåligt. Flexibilitet, maximal andningsförmåga och god hållbarhet uppnås tack vare det lättviktiga och vindtåliga flex1-materialet på baksidan och under ärmarna ned till armbågen. Jackan har två blixtlåsöppningar på framsidan. Med den ena stänger du jackan som vanligt och med den andra öppnar du ett ventileringsområde som löper från bröstet och ned även om jackan är stängd. Andra viktiga detaljer är två stora bröstfickor, en liten bröstficka, lätta handledsvärmare, stormhuva med enhandsgrepp, ventilering under armarna och asymmetriska muddar med åtdragning med kardborrband.
Andra användningsområden
Skidor & snowboard
Klättring
Längdskidåkning
Freeride skidor och snowboard
Glaciärvandring
Specifikationer
5

Vindtäthet

Vindtäthet

Scale from 1 to 6 where 1 is not windproof and 6 is totally windproof.

4

Vattentäthet

Vattentäthet

Scale from 1 to 6 where 1 is not waterproof and 6 is waterproof.

1

Isolering

Isolering

Scale from 1 to 6 where 1 has no insulating properties and 6 is our warmest insulation products.

5

Andningsförmåga

Andningsförmåga

Scale from 1 to 6 where 1 have very little or no breathability and 6 is our most breathable and moisture wicking products.

4

Slitstyrka

Slitstyrka

Scale from 1 to 6 where 1 is fragile products and 6 is the most durable products we have.

5

Lätt vikt

Lätt vikt

Scale from 1 to 6 where 1 is heavy and 6 is among the world's lightest of its kind.

2

Stretch

Stretch

Scale from 1 to 6 where 1 is not made with stretch materials and 6 is our most flexible products made in super elastic material.
Fotavtryck
Oeko-Tex Certifierad Fabric

Oeko-Tex Certifierad Fabric

Oeko-Tex® är ett världsomspännande, oberoende test- och certifieringssystem som säkerställer kemisk användning överensstämmer med eller överträffar nationella och internationella regler och standarder.

Bluesign-certifierat material

Bluesign-certifierat material

Bluesign® testar och utbildar textilfabriker för att eliminera skadliga ämnen från tillverkningsprocessen och sätter kontrollstandarder för en hållbar och säker produktion.

Öppen förteckning över fabriken

Öppen förteckning över fabriken

Denna produkt är tillverkad i en fabrik som är öppet listad på norrona.com.

Inspiserad fabrik

Inspiserad fabrik

Denna produkt är tillverkad på en fabrik som inspiserats av en oberoende tredje part och följdes upp av Norrøna.
Material
GORE-TEX® med 3-lagskonstruktion

Slitstarkt GORE-TEX®-material som passar för många olika aktiviteter. I 3-lagskonstruktionen är membranet laminerat till fodret på ena sidan och till yttermaterialet på andra sidan. Det här gör materialet mer slitstarkt. Det är lättare än GORE-TEX®-materialet i 2 lager, eftersom det inte behövs något ytterligare, frihängande foder. Tekniska specifikationer: Vattentät: minst 28 000 mm* Andningsförmåga: Hög, ned till 9 RET** Vindtäthet: 100 % * ISO 811-test ** ISO11092-test

Läs mer hos GORE-TEX®

flex™1

Det här är ett stretchmaterial i ett lager som avvisar vatten och vind, men som avleder fukt bättre än vattentäta produkter. De här specialutformade materialen har alla de egenskaper vi väntar oss av softshellmaterial: stretch, vattentålighet, vindtålighet och utmärkt fuktavledning.
Teknisk information
Rated

5

out of

5
by
Skijenta60
from
Lett fin jakke med god ventilasjon.
Kjøpt denne jakken for ca.1 mnd siden og den oppfyller alle de egenskapene jeg var ute etter. Har brukt den i områder alt ifra Dolomittene og Romsdalen. Lett fin , god hette , lange gode ermer , vindtett , ekstra solid stoff over skuldrene , den " bråker " ikke og det beste den utrolige gode luftingen i front. En innertier .
Date published: 2019-08-17
Rated

5

out of

5
by
Tur21
from
Perfekt til tur og andre aktiviteter
Brukt jakken til alpint, langrenn og tur. Veldig fornøyd. Hatt den i 6 måneder
Date published: 2019-06-30
Rated

5

out of

5
by
Frk Storm
from
Super jakke
Jeg kjøpte denne for en måned siden og har allerede brukt den mye. Perfekt fasong og god lengde på armer så den er fin å sykle med. Lett og fin, gode funksjoner og jeg er 175 høy og har lang overkropp og armer, str M er perfekt. Flott vår, sommer, høst jakke.
Date published: 2019-05-08
Rated

5

out of

5
by
Bellsie
from
Light yet tough
Took this out for a 3 week trip- it is super light- yet still very efficient in minus 25 windchill. A top jacket.
Date published: 2019-04-22
Rated

5

out of

5
by
Bente22
from
Gjennomtenkt!
Vært på bortoverski og topptur vinter med denne jakken, i minus 10 grader. Justerer temp med det jeg har under, og blir overhodet ikke kald eller svett/klam. Jakken puster usedvanlig godt. Anbefales! Har ikke prøvd den i sterk vind.
Date published: 2019-03-10
Rated

3

out of

5
by
smylins
from
Brilliantly made but Little Large
Bought this on for running in cold and rainy weather. The placement of the flex and gore-tex materials is brilliant! I would've kept this product but the "breast" crease really bothered me. I'm a small person at 5 ft 6 in and 110 lbs, and the XS size seemed like I needed "more fill" to account for the extra material around the chest area. Also, the arm length is about an inch longer so the hand gaiters hang off my thumb. Sadly, I have to return.
Date published: 2018-12-27
Rated

5

out of

5
by
Johanna Stalnacke
from
A must-have for ski touring
When ski touring you need a lighter layer that breaths well for higher intensity, yet that protects from chilly winds. Most of my days touring, I wear a windstopper layer and this one gives perfect protection from the cold breeze and helps to keep me warm and let the sweat air out. Just open up the arm pit ventilation to allow more air in if needed, or keep it closed when colder and let the garment do what it is made for. I appreciate the 2 zips on the front for keeping a bar and my phone handy. It comes with a nice fit and a weight to make it a no-brainer to bring along. A must have for everyone who's passionate about ski touring.
Date published: 2018-08-21
Rated

5

out of

5
by
Elisa
from
Lightweight jacket!
I used my Lyngen Windstopper Hybrid jacket when I went peak bagging in Romsdalen. I am normally a size S and like to buy my wind stoppers in a larger size. But a Size M was too big- so stick to your normal size! What I appreciate most about this jacket is the lightweight material and functionality. It is wind and water resistant with great zippers for ventilation. I also like the big chest pockets where I keep my GoPro, snacks and gloves. Thumbs up! The material is fragile, due to the lightweight- so I would not take this jacket for climbing where rocks easily can damage the jacket.
Date published: 2018-08-15