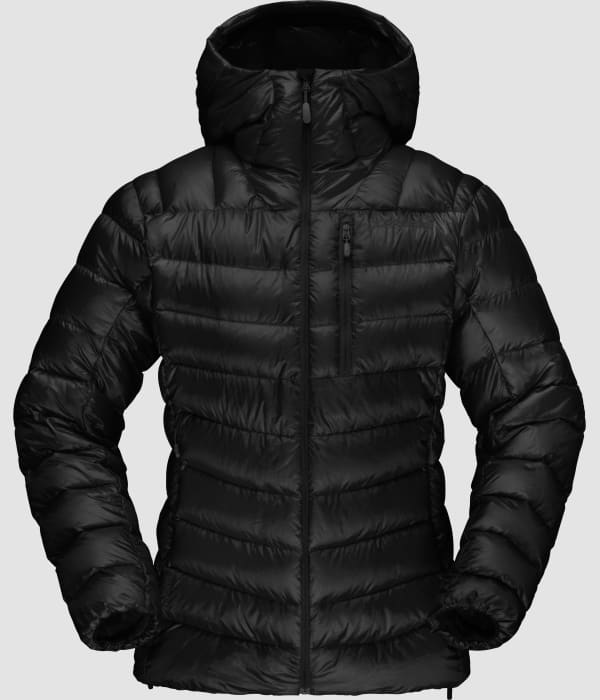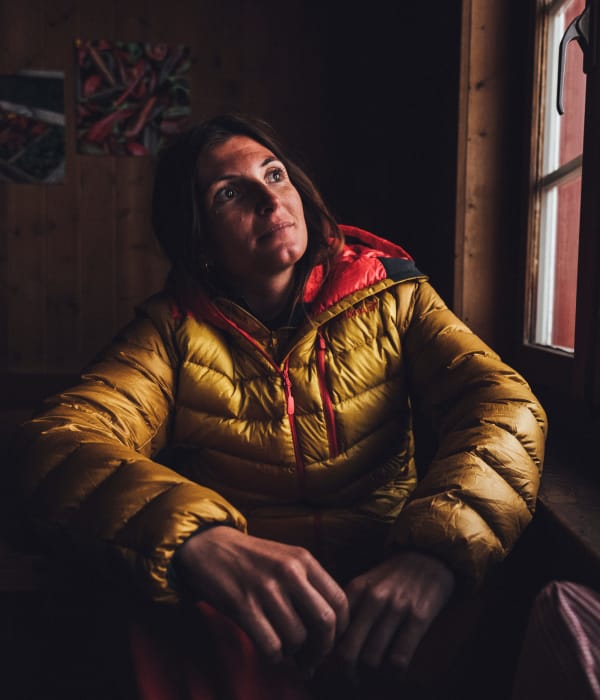 Håll dig varm när du bestiger nya höjder i jackan lyngen down850 i dammodell – det ultimata isoleringsplagget för toppturer. Det här är vår lättaste dunjacka med huva som ger mycket värme i förhållande till vikt (150 gram dun fördelade på totalt 340 gram för storleken L).
Den håller packningens vikt nere och kan enkelt stuvas ned i en packficka. Jackan är tillverkad i lätt, dunsäker och återvunnen polyester 29 g/m2 och har dunfyllning som uppfyller RDS 2.0 med en fyllningsgrad på 850.
Jackan har en huva med enhandsgrepp och plats för hjälm, en yttre bröstficka, dragsko och powerstretch-muddar.
Modellen har storlek M (Höjd 179 cm / 5'10 ")
Andra användningsområden
Skidor & snowboard
Klättring
Längdskidåkning
Freeride skidor och snowboard
Glaciärvandring
Specifikationer
6

Vindtäthet

Vindtäthet

Scale from 1 to 6 where 1 is not windproof and 6 is totally windproof.

4

Vattentäthet

Vattentäthet

Scale from 1 to 6 where 1 is not waterproof and 6 is waterproof.

4

Isolering

Isolering

Scale from 1 to 6 where 1 has no insulating properties and 6 is our warmest insulation products.

2

Andningsförmåga

Andningsförmåga

Scale from 1 to 6 where 1 have very little or no breathability and 6 is our most breathable and moisture wicking products.

3

Slitstyrka

Slitstyrka

Scale from 1 to 6 where 1 is fragile products and 6 is the most durable products we have.

5

Lätt vikt

Lätt vikt

Scale from 1 to 6 where 1 is heavy and 6 is among the world's lightest of its kind.
Fotavtryck
Återvunna fibrer

Återvunna fibrer

Mer än 50% av syntetfibrerna i denna produkt återvinns.

PFC-fri DWR

PFC-fri DWR

Impregneringen som används på denna produkt är fri från fluorokarboner. (DWR = Durable Water Repellent).

Bluesign-certifierat material

Bluesign-certifierat material

Bluesign® testar och utbildar textilfabriker för att eliminera skadliga ämnen från tillverkningsprocessen och sätter kontrollstandarder för en hållbar och säker produktion.

Responsible Down Standard

Responsible Down Standard

Responsible Down Standard (RDS) skyddar gäss och ankorens välfärd.

Öppen förteckning över fabriken

Öppen förteckning över fabriken

Denna produkt är tillverkad i en fabrik som är öppet listad på norrona.com.

Inspiserad fabrik

Inspiserad fabrik

Denna produkt är tillverkad på en fabrik som inspiserats av en oberoende tredje part och följdes upp av Norrøna.
Material
down850™ RDS-certifierad

Vi använder det bästa dun vi kan hitta i våra dunprodukter. Det dun vi använder kommer från livsmedelsindustrin, till skillnad från fåglar som föds upp enbart i syfte att ge dun. Behandlingen av fåglarna uppfyller alla europeiska standarder, och den mycket specialiserade duntvätten uppfyller Oeko-Tex 100. down™850 har en dunfyllningsgrad på 850 till 900 kubiktum/uns, med en duntäthet på 93–96 procent.
Teknisk information
Rated

5

out of

5
by
Adèle
from
great jacket!
just spend ten days sking the Japanese legendary powder: with this jacket under my one piece I had the perfect warmth to face a -36°c chill. it could be a little puffier...
Date published: 2019-02-09
Rated

5

out of

5
by
MCVT
from
So warm! So cozy! And so compactable!
I love this jacket so much I feel guilty about it. There are at least three jackets in my closet that I wouldn't have purchased had I known about this one, and now they hang, neglected, because this is such a perfect piece for New England's changeable weather. Alone, layered under a shell, squashed into a pack, it puffs out into a snuggle of warmth with a generous hood that can be pulled in, or left to puff loosely around the face. Packed down this is about 2" x 3" larger than a featherweight under compression, but fluffed out it is twice as warm (and then some) and much more flexible, since it is comfortable as a stand alone piece well down into the single digits if the air is still, and down below zero, even in wind, when paired with a shell. This single piece has changed how I dress and experience winter and I could not be more impressed.
Date published: 2019-01-17
Rated

5

out of

5
by
Rux16
from
Great jacket
I love it! It's light, it keeps my body warm and it has a modern look.
Date published: 2018-11-25
Rated

5

out of

5
by
aljkski
from
Great jacket
Warm, and very lightweight. Comfortable and has the right amount of pockets. This jacket easily stashes in my backcountry ski pack and provides much needed warmth when in use.
Date published: 2018-11-04
Rated

5

out of

5
by
Johanna Stalnacke
from
Johanna Stålnacke
The Lyngen Down850 is a great jacket with the sweet warmth-to-weight ratio that I look for on most of my winter days out skiing. It is warm and light enough to bring along and it doesn´t bulk too much in the back pack. When every gram is counted, this is a good choice to keep warm on the days when needed. I brought it to Svalbard last year on a 9 day unsupported ski tour. On such missions you value everything you bring twice. I love the hood to pull on top of my beanie and it is easy to simply get cozy with this nice jacket.
Date published: 2018-08-21
Rated

5

out of

5
by
Jackie Paaso
from
Great cold weather jacket
I use this jacket either on it's on when cruising around town or as an extra warm layer when out on the mountain. It's so comfortable and soft and not bulky at all. It's great for those very cold days in Sweden!
Date published: 2018-08-19
Looking for size guidance - chest 97, hip 97, seat 105 - Lyngen down850
I am 5'3" 115# chest 32" waist 24" and have this jacket in a size small. The XS fit perfectly with a bit of room for 2 thin layers underneath but I wanted to be able to also put another lighter puffer underneather so I sized up to a small. The small fits pretty perfectly as well without the extra puffer and I don't feel like I'm wearing a jacket that is too big.  Separately though, I've only had this since Christmas, have  worn for a couple races in the polar vortex (myself and kids) and have Already had to repair an area by the hand pocket zipper as the fabric was beginning to pull away from the seam. Bit of a bummer for less than 4 weeks with a $400+ jacket. 
Date published: 2019-02-05
Are the sleeves a different color yellow than the body in the Eldorado color?
Yes, sleeves are gold, body is yellow. I love the color but the small was too big -this jacket runs large. I just ordered the blue in XS
Date published: 2019-01-25