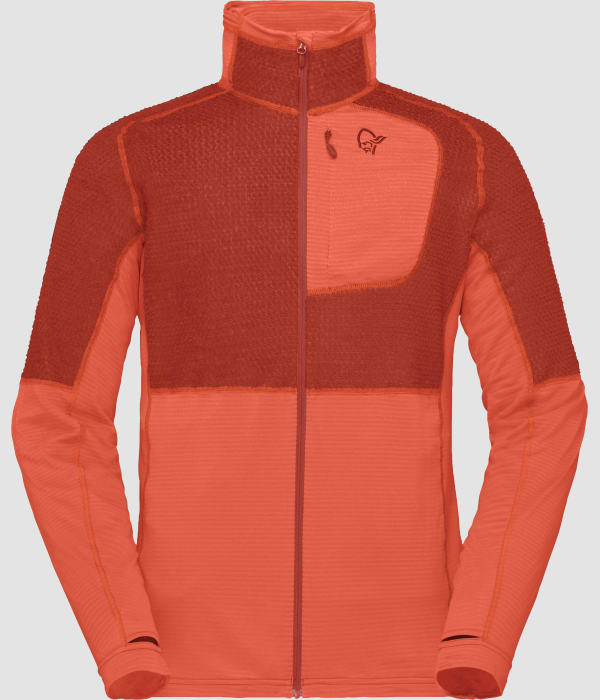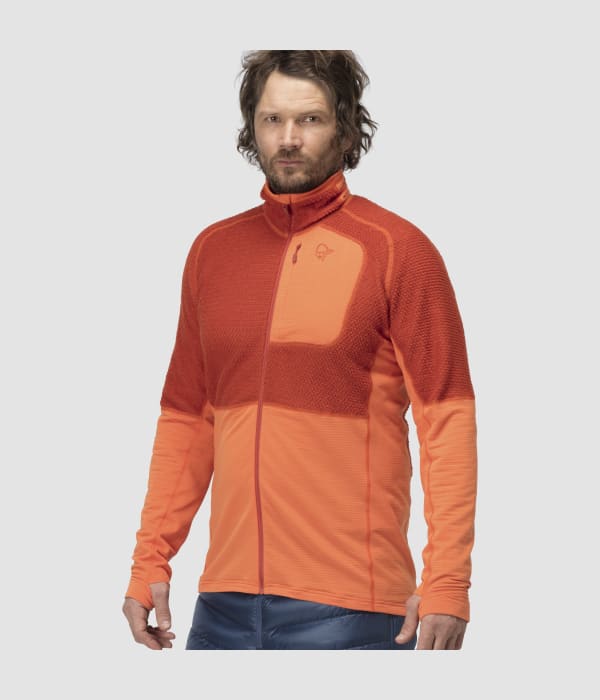 Meddela när produkten är tillgänglig
Jackan lyngen Alpha90 Raw i herrmodell är vårt lättaste mellanlager och är specifikt utformad för högintensiva aktiviteter som toppturåkning.
Jackan har bra fuktavledning och torkar snabbt tack vare kombinationen av två lätta Polartec®-tyger som ger riktigt god värme per gram: Alpha90 direct och lättaste Polartec® PowerDry.
Det ger en mycket öppen och effektiv konstruktion och gör att jackan kan användas som underställ. Den har också en liten bröstficka, integrerade handledsvärmare och högre krage för extra skydd.
Andra användningsområden
Skidor & snowboard
Klättring
Längdskidåkning
Freeride skidor och snowboard
Glaciärvandring
Specifikationer
1

Vindtäthet

Vindtäthet

Scale from 1 to 6 where 1 is not windproof and 6 is totally windproof.

3

Isolering

Isolering

Scale from 1 to 6 where 1 has no insulating properties and 6 is our warmest insulation products.

6

Andningsförmåga

Andningsförmåga

Scale from 1 to 6 where 1 have very little or no breathability and 6 is our most breathable and moisture wicking products.

3

Slitstyrka

Slitstyrka

Scale from 1 to 6 where 1 is fragile products and 6 is the most durable products we have.

6

Lätt vikt

Lätt vikt

Scale from 1 to 6 where 1 is heavy and 6 is among the world's lightest of its kind.

2

Stretch

Stretch

Scale from 1 to 6 where 1 is not made with stretch materials and 6 is our most flexible products made in super elastic material.
Fotavtryck
Återvunna fibrer

Återvunna fibrer

Mer än 50% av syntetfibrerna i denna produkt återvinns.

Oeko-Tex Certifierad Fabric

Oeko-Tex Certifierad Fabric

Oeko-Tex® är ett världsomspännande, oberoende test- och certifieringssystem som säkerställer kemisk användning överensstämmer med eller överträffar nationella och internationella regler och standarder.

Bluesign-certifierat material

Bluesign-certifierat material

Bluesign® testar och utbildar textilfabriker för att eliminera skadliga ämnen från tillverkningsprocessen och sätter kontrollstandarder för en hållbar och säker produktion.

Öppen förteckning över fabriken

Öppen förteckning över fabriken

Denna produkt är tillverkad i en fabrik som är öppet listad på norrona.com.

Inspiserad fabrik

Inspiserad fabrik

Denna produkt är tillverkad på en fabrik som inspiserats av en oberoende tredje part och följdes upp av Norrøna.
Material
Polartec® Alpha®

Polartec® Alpha® är det senaste inom syntetisk isolering och används för en kombination av lätta och varma produkter med god andningsförmåga i plagg med "pösig" stil. Eftersom Polartec Alpha-isoleringen är mycket slitstark och mer stabil än andra syntetiska isoleringsprodukter, kan mer luftigt vävda inner- och yttertyger väljas för att skapa en helhetsprodukt med hög andningsförmåga. Det lilla luftflödet tar snabbt bort fukt från kroppen och gör det möjligt att använda Polartec Alpha vid fler aktiviteter jämfört med klassisk isolering som fungerar som en "ångbarriär".

warm™1

Det här är vår lättaste fleece. Den väger under 200 g/m². Den passar perfekt som mellanlager. Du kan också bära den istället för jacka, utan att kompromissa med isolering och andningsförmåga. De här fleeceplaggen är bland de bästa på marknaden. Den unika utformningen och strukturen passar perfekt för olika typer av aktiviteter, eftersom de håller kvar varm luft utan att stoppa fuktgenomsläppligheten. När det används på egen hand är materialet tillräckligt öppet för att luften ska kunna cirkulera, så att du förblir bekväm även i mildare förhållanden. Under ett tunt skal ger de utmärkta isoleringsvärden.
Teknisk information
Rated

5

out of

5
by
mamo12
from
PT Alpha: new experience of 1st Layer!
Bought Alpha90 Raw Jacket 6w ago. 1.80m, 79kg, (long arms) size M for Norrona seems to fit always great. 1st experience: Used it as base layer combined mit Lyngen Alpha100 Vest. Conditions: 0 degrees, uphillrunning 1000m, @ summit windy but not stormy. Since my sweating level is 4 from 5, arms and spine were always dripping and became cold (baselayer: odlo light + nylon windproof vest - more clothing was allways too warm for me). Not with the alpha combination. The sweat drops came out of the wind protective sheet of the vest. The feeling at spine and arms was fresh but very comfortable. I was curious what will happen at the summit. I Pulled the hood of the vest over the head had a 15 min rest in windy (no stormy) conditions and felt all the time warm and comfortable. At the spine the feeling was even dry (it was not but it felt so). I could have stayed there even longer without getting cold. Back at home there was no need driven by temperature or uncomfortableness to change the alpha combi. When I went to the shower (30 mins after finishing running) the lyngen Alpha90 Raw Jacket was already almost dry. Never experienced this before with all functional base layers I tried over the last 30 years. Since that first run I use it as base layer for all running activities, for the gym (sweating but it feels dry). Will test it soon during Ski touring. I will see if I have to change it @ the summit or not. If yes it will be much more comfortable to change compared to most other 1st layers because of the zip (never liked it to pull the wet 1st layer in stormy winter conditions over the head (need to remove cap and goggles and it sticks on the body)) Summary: Best 1st layer I ever had (30 years skitouring, trailrunning, marathon) One additional comment: I tried even the lofoten Alpha raw Zip Hoodie also as 1st layer but there is one issue what does not exist on the Alpha90 Raw Jacket: The embroidered Norrona label of lofoten Alpha raw Zip Hoodie on the back is scratching on the skin. :-( would have like to use it also as 1st layer because of the great feeling and behavior from PT alpha on the skin.
Date published: 2018-11-29
Rated

5

out of

5
by
Pomelo
from
good product
Very comfy, warm and still lightweight. Nice color and stretchy.
Date published: 2019-05-18
Rated

5

out of

5
by
SchnePet
from
GREAT GEAR
It's perfect for Ski touring - light weight and very warm
Date published: 2019-04-15
Rated

5

out of

5
by
Hary
from
big surprise
I bought it and when I get it, it was so surprising, so light, so air, altogether with warm needed for aktivity, surpring touch of material
Date published: 2019-04-03
Rated

5

out of

5
by
DrIan
from
My go to layer
Been using this throughout my ski season in the French alps. It's my go to because it is light and warm in the right places. I run hot when touring and skiing and the breathability and light weight of this jacket is perfect for me.
Date published: 2019-03-06
Rated

5

out of

5
by
Pawel
from
Great!
It is great jacket, it is very light and comfortable. I highly recommend it! The look is very clean, and the fleece fabric is very soft and comfortable
Date published: 2019-02-24
Rated

5

out of

5
by
Tiboo
from
Super light, breathable and comfy
This jacket is amazingly light and breathable. I needed a light outfit to avoid overheating while going uphill when ski touring and it is doing a perfect job so far. Very good warmth/breathability ratio. I have also used it for running and it was perfect. Only issue I have had so far is the fact that the light garment is a bit fragile : while ski touring it got stuck (just once) in my backpack plastic buckle and it was enough to tear the garment. There is a small hole in it. Maybe I'll send it later for a repair..?
Date published: 2019-02-01
Rated

5

out of

5
by
Pawel
from
Great product
Great quality and color. It fits very well.For summer and winter.
Date published: 2019-01-27