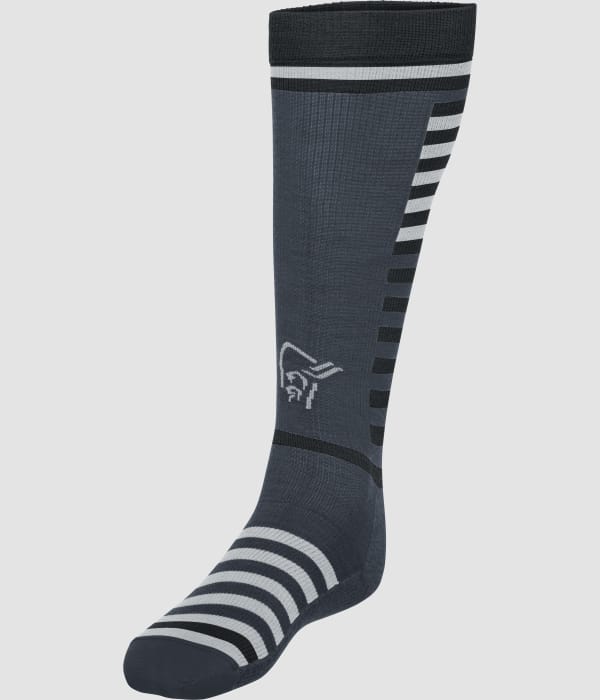 De långa, tunna lyngen-strumporna i merinoull är det självklara valet för topptursentusiasten. Merinoull håller dig varm när det är kallt och svalkar när det är varmt. Strumporna sitter mjukt och bekvämt mot huden, torkar snabbt, andas och är hållbara. Ull har ett naturligt skydd mot mikrobiell tillväxt och minskar dålig lukt för att undvika jobbiga luktsituationer (men är inget vi kan garantera). Vi har använt spårbar ull från mulesingfria får.
Andra användningsområden
Skid- och snowboardåkning
Freeride skidor och snowboard
Allmänna friluftsaktiviteter
Fjällsport / Alpinklättring
Specifikationer
2

Isolering

Isolering

Scale from 1 to 6 where 1 has no insulating properties and 6 is our warmest insulation products.

5

Andningsförmåga

Andningsförmåga

Scale from 1 to 6 where 1 have very little or no breathability and 6 is our most breathable and moisture wicking products.

4

Slitstyrka

Slitstyrka

Scale from 1 to 6 where 1 is fragile products and 6 is the most durable products we have.

5

Lätt vikt

Lätt vikt

Scale from 1 to 6 where 1 is heavy and 6 is among the world's lightest of its kind.

3

Stretch

Stretch

Scale from 1 to 6 where 1 is not made with stretch materials and 6 is our most flexible products made in super elastic material.

5

Fukttransport

Fukttransport

Scale from 1 to 6 where 1 has bad moisture transportation and 6 has great moisture transportation.

3

Värme i förhållande till vikt

Värme i förhållande till vikt

Scale from 1 to 6 where 1 is a poor warmth-to-weight ratio and 6 provides excellent warmth in relation to its weight.
Rated

5

out of

5
by
Lev.
from
Thin, light, tight - Great!
This socks has been with me for two winter-spring seasons for split-board top-touring adventures. Used over a range from -10 to +12 degC outside temperatures, and they feel the best at -5 and above. Wool is extremely nice in transporting the moisture, so feet does not feel wet even during the hottest tours, so blister probability is reduced. The fit is rather tight to the feet in my case (29cm boot-size), which is very comfortable. If the temperature goes below -5 degC (like during early morning ascends before a long sunny touring day), toes and fingers might start to feel a bit chilly, depending on intensity level. However, all people are different and it might feel different for various skiing boots as well. After two years, the socks perform as brand new, got a minor wear&tear on logo and connection between stripes and front piece, which does not affect functionality at all. Overall, I'm happy with a product & would recommend it to a friend, if not presented already ;)
Date published: 2019-05-07
Rated

5

out of

5
by
Sorgenfri
from
Perfect socks
These socks are great. Keeps me warm on the feet all day
Date published: 2019-04-06
Rated

5

out of

5
by
Anonymous
from
Great touring and skiing socks
I put these to the test during an 8-day trip to Chamonix, with a couple of days touring thrown in. They performed very well, and were still going strong at the end of the week. Hurrah for merino wool!
Date published: 2019-03-23
Rated

5

out of

5
by
RasM4909
from
super thin
I bought these socks for late-season-snowboarding because it happens that the days between February and May are quite warm. It's the perfect sock for those days. They are not as warm as a normal skiing sock but with all the features you expect them to have.
Date published: 2019-03-17
Rated

5

out of

5
by
veglia19
from
Great for all activities
I used it for hiking and skiing and it works great
Date published: 2019-02-14
Rated

4

out of

5
by
tmps
from
Very comfortable pair of socks
Super comfy and light. Not for the coldest days, very nice for warmer days. Fits perfectly to my feet. The best skiing socks I've had.
Date published: 2019-01-24
Rated

5

out of

5
by
veglia19
from
Great socks
I bought this almost a month ago and im very happy
Date published: 2019-01-22
Rated

5

out of

5
by
eirikr
from
great product
purchased for ski touring, they are perfect, not very hot, just enough and especially fine, adjusted, they do not interfere
Date published: 2018-12-12