0
lofoten Gore-Tex Pro Pants (M)
lofoten Gore-Tex Pro Pants (M)
wurde bewertet mit von
5
von
42
.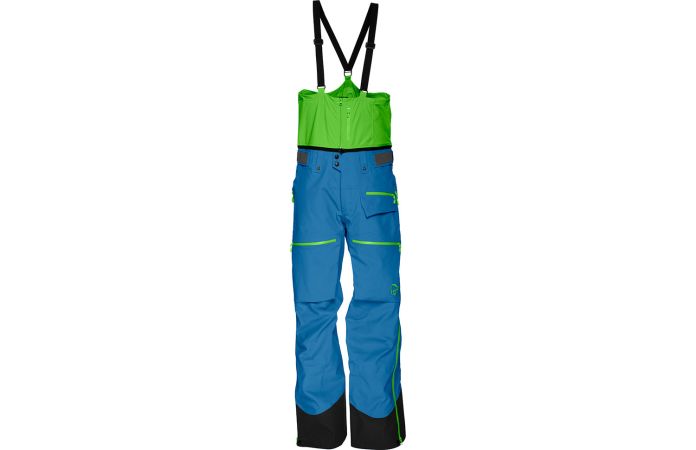 Våra mest slitstarka och funktionella freeridebyxor till herr. Alla viktiga detaljer som behövs när du freerideåker finns i de här slitstarka byxorna med god andningsförmåga. Säsongens version har ny design med en förbättrad ficklösning och ännu bättre flexibel passform. Den är dessutom väldigt bekväm, tack vare den överlägsna ventileringen och de vind- och vattentäta egenskaperna. Tillverkad i nästa generations GORE-TEX® Pro-material för förbättrad slittålighet. Helt klart en av Norrønas mest populära produkter.
Vindtäthet

6

Vattentäthet

6

Isolering

2

Andningsförmåga

4

Hållbarhet

6

Lätt

2
Utvecklad för
Alpinåkning, skidor och snowboard
Andra användningsområden
Freerideåkning med skidor och snowboard, Topptur/Randonné, Glaciärvandring, Skid- och snowboardåkning
Rated

5

von

5
von
Marc92
aus
Beste Hardshellhose
Wer eine robuste & funktionelle Hardshell- Skihose sucht, diese ist perekt! Super Qualität, praktische Taschen, gute Reißverschlüsse, sehr robust und bequem.
Veröffentlichungsdatum: 2017-03-20
Rated

5

von

5
von
Richf66
aus
Awesome ski pant, great features to go along with jacket
I've used this for a year and love it. Very durable and long lasting. I like how it interfaces with the jacket (snaps) and has multiple ways to attach, depending on your preference. Lots of pockets and zips. The velcro waist adjustment is great and allows for a wide size range. My only suggestion is to replace the small zipper on the bib attachment (the one that zips it up, not to the pants) with something that is a bit beefier and change the placement slightly. There's not a lot of space where you have to start the zipper in relation to the zipper that connects it to the pants. The zipper itself will also pop if put under pressure. I had a tailor replace this with the same sized one that's used to attach it to the pants and it works great.
Veröffentlichungsdatum: 2017-01-20
Rated

5

von

5
von
matz71
aus
Absolut hochwertig und sehr belastbar
Die Hose ist zuverlässig dicht, auch wenn sie mal längerem Niederschlag ausgesetzt ist. Atmungsaktiv und ein zuverlässiger Begleiter für fast alle Situationen. Das Material ist sehr hochwertig, etwas steif, aber äusserst robust. Bei mir wird die Horste an 120 Skitagen pro Saison genutzt, da lohnt sich auch die Investition. Wer sehr viel Ski fährt hat mit dieser Hose also am meisten Freude - und nur dann macht es Sinn 600 € für eine Skihose auszugeben. Dennoch bin ich der Meinung, dass der Preis für diese Hose, wie auch die preise anderer Hersteller im Top Segment zu hoch angesetzt sind, im Vergleich zu dem was man bekommt. Aber kein Zweifel, die Hose ist gut. Die Druckknöpfe sind nicht so stabil und gehen kaputt, das ist aber der einzige Kritikpunkt. Ich habe mir dieses Jahr die zweite Lofoten gekauft, nach einem kurzen aber nicht zufrieden stellenden Ausflug zu einem anderen der wenigen Top Hersteller im gleichen Preissegment. Eine Anregung an Norrona - es wäre nicht eine Idee, die Farben der Reissverschlüsse besser mit den anderen Teilen der Kollektion abzustimmen. Z.B. Farbkombinationen konzipieren. Birch green Hose mit Crash orange Reissverschlüssen und ebenso bei der Jacke Crash orange Jacke mit brich green Reissverschüssen? Dann wäre es stimmig. Natürlich is das nebensächlich, aber es wäre die viel beschworene letzte Meile ;-)
Veröffentlichungsdatum: 2016-11-07
Rated

5

von

5
von
as1976
aus
Funktion und Design sind Top
nicht nur zum Freeriden gut geeignet, sondern auch als Skitourenhose sehr bequem. Das Kartenmaterial ist in den Taschen auf den Oberschenkeln stets griffbereit. Insgesamt etwas groß geschnitten. Trage normalerweise S, bei dieser Hose XS.
Veröffentlichungsdatum: 2016-09-28
Rated

5

von

5
von
Snowen
aus
Very comfortable and rugged pants
I bought these pants about a month ago. Tons of room for stuff in the front pockets and very durable and waterproof zippers. The full leg zip vents are great for spring touring when you need to lose some heat. Another nice feature is the gaiters that fit perfectly over your boots. I went with blue and I'm liking the color because it's like a bluebird pow day.
Veröffentlichungsdatum: 2017-04-11
Rated

5

von

5
von
Sunrise Skier
aus
The Best Ski Pants on The Planet
I have owned this pant for years and just bought a new pair as I loved the new colors. Bullet Proof! This integrates nicely with my Norrona Jacket. Love the power bibs. Great Pants!!
Veröffentlichungsdatum: 2017-04-10
Rated

5

von

5
von
Sunrise Skier
aus
Bullet Proof Ski Pant!
These are the best pants that I have ever owned. Gore-Tex and bullet proof! Love the great colors as well. These pants have pockets in the right locations and full length zippers on the legs. These integrate with my Norrona jacket. Can't say enough about these. Would buy again.
Veröffentlichungsdatum: 2017-03-20
Rated

5

von

5
von
Bayfs5
aus
Perfect Pants
I bought these pants to go with the Lofoten jacket; it seemed the right thing to do. I opted for the green trouser/blue jacket combo (after many hours agonising over the possible options). I am long of limb and these are spot on. Comfortable, roomy but not baggy, and (so far) tough as you like. My fave features are the thigh pockets. Sitting on top of the leg they can be stuffed with all manner of nonsense and still not hinder free movement. The little waist pocket a nice touch too. The snow bib is useful and acts as a handy corset after a few too many bowls of pasta; which is nice. The connectability between the jacket and trousers is great in the deep stuff but mildly embarrassing when you forget it exists and you strip off in the mountain restaurant and drag you jacket behind you like a kid going to school. All in all, fab pants. Usual Norrona caveat; expensive. But still pretty awesome.
Veröffentlichungsdatum: 2017-03-06
Hello I'm looking for the right size for Lofoten Pro Pant (for skiing). I'm 1,64cm and pretty slim (but not meager ~ 60 kg). Would the XS size be OK or still too long/large for me ? Or should I rather purchase a "Junior" model. Thanks a lot !
Hi Etienne, Thanks for asking about size of the Lofoten Gore-Tex pro pants. I think that you should go with the XS size, and I think it will fit you well. The legs might be a bit long but with ski boots / snowboard boots it will not be a problem at all. Our XS size is fitted for women with height of 1.64 cm. The inner leg length of these pants in XS is 78 cm. Best regards, Jens, Norrøna Fan Support
Veröffentlichungsdatum: 2017-03-06
Hi, I am looking for right size for lofoten Gore-Tex Pro Pants. My measurements: Waist : 84 cm Inside leg : 81 cm Weight: 90 kg The sizing chart suggests M but I would have always bought L so was wondering if your sizing is quite generous?
Sizing isn't generous unless you are on the slim size. And if you want to wear your fleece inside your ski pants i.e. Have the fleece within the bib then perhaps L size is the way to go, unless you are slim build physically i.e. No protruding stomach. Hopes this helps 
Veröffentlichungsdatum: 2017-01-09
I purchased the Lofoten Pants and Jacket (both in medium).  However the snow-squirt doesn't line up with the pants regarding the two clips in the back.  When both clips are attached, I get a bubble that allows snow through
Hi, Thanks for asking the question regarding the snow skirt of the Lofoten ski set. The snow skirt should fit perfect without bubbles when you have the same size in jacket and pants, probably also if you go up/down a size in one of the products. It seems to me that you have missed a button, because this happens when one of the buttons in the front is skipped. But off course you have checked that. So I recommend you to contact our Service Department, and they will solve this. Best regards, Jens Norrøna Fan Support
Veröffentlichungsdatum: 2017-01-05
Calling captain Jens! ;-) Just to clarify, the true inseam length is 87cm in mens medium? Or are they designed for a person with an 87cm inseam? Also why do Norrøna not use a diamond crotch gusset on their hard shells? Thanks in advance, Gareth
Hi Gareth, Captain Jens here! The inseam measures is the product measure, not the person measure. So the product in M is 87cm inseam. On your question regarding the diamond crotch gusset, I have to pass it over to our product technicians as I honestly does not now what that is. This is a bomber ski pant that will last for a long long time, using probably the most heavy duty Gore-Tex fabric in the market which Norrøna uses exclusively. So get that pant and hit the mountains! Aye aye Jens Captain
Veröffentlichungsdatum: 2016-12-05