lofoten Gore-Tex Pro Pants (M)
lofoten Gore-Tex Pro Pants (M)
is rated out of
5
by
35
.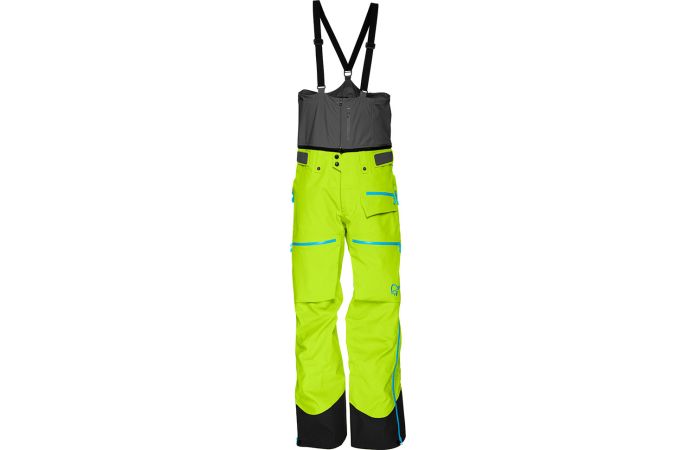 Våra mest slitstarka och funktionella freeridebyxor till herr. Alla viktiga detaljer som behövs när du freerideåker finns i de här slitstarka byxorna med god andningsförmåga. Säsongens version har ny design med en förbättrad ficklösning och ännu bättre flexibel passform. Den är dessutom väldigt bekväm, tack vare den överlägsna ventileringen och de vind- och vattentäta egenskaperna. Tillverkad i nästa generations GORE-TEX® Pro-material för förbättrad slittålighet. Helt klart en av Norrønas mest populära produkter.
Vindtäthet

6

Vattentäthet

6

Isolering

1

Andningsförmåga

4

Hållbarhet

6

Lätt

3
Användningsområden
Alpinåkning, skidor och snowboard, Freerideåkning med skidor och snowboard, Freestyleåkning med skidor och snowboard, Randonné/topptur, Skid- och snowboardåkning
Rated

5

out of

5
by
nalexpalex
from
The best freeride pants on the market!
I have skied both off piste and ski touring for 2 seasons / 80 days with those pants in all kinds of weather. Fantastic fit for freeride, fabulous look, extremely durable fabrics. The weight is not too heavy so it works very well as an outer shell for ski touring for windy/snowy days. Love the side zips that provide great ventilation when needed.
Date published: 2016-09-19
Rated

5

out of

5
by
julien
from
The best snow pant I ever used
I purchased my first Lofoten pant 6 years ago and only decided to change it now (for obviously a new Lofoten pant). I use it around 80 days per year. It is an incredibly heavy duty pant: I am actually using it mostly for snowkiting and I wear a climbing harness below the pant which scrubs the internal material. After 6 years, there is no big damage and the pant is still fully waterproof. These are the only damages after such a usage: - colors are "burning" a bit and are not as shiny as the first day - legs reinforcement are lacerated by skis and a bit of snow can go between the internal layer and the reinforcement - internal material at the ankle is ripped because of the ski boot - the zipper of the bib starts to be ripped (because of my climbing harness) The size is quite big, I use size M for 1m78. I really like the 2 big front pockets in which you can put a lot of stuff (very nice for a camera for example).
Date published: 2016-11-07
Rated

5

out of

5
by
Jenski
from
Slitesterk og fleksibel skibukse
Kjøpte denne skibuksen for halvannet år siden og har vært utrolig fornøyd med den. Har tidligere hatt flere forskjellige skibukser fra blant annet Marmot og Lowe Alpine, men har nå funnet det jeg mener er den ultimate allround skibuksen for alt fra skikjøring og topptur, til aking og lek med barna. Jeg er ganske sikker på at dette er den mest slitesterke skibuksen på markedet. Det er praktiske lommer og en bib som holder snø ute. Praktisk liten lomme i bib'en som jeg bruker til å ha heiskort i. Synes også det er praktisk med justeringsmuligheten i livet. Området nederst på bena er i et ekstra sterkt stoff. I tillegg er det veldig gode luftemuligheter med glidelås på sidene som er spesielt praktisk for topptur. Skal du ha en ren toppturbukse ville jeg nok heller valgt noe fra lyngen-kolleksjonen, men som en allroundbukse kunne jeg ikke vært mer fornøyd.
Date published: 2016-09-20
Rated

5

out of

5
by
Guus
from
Simply great
Amazing pants. Very durable, wind/water proof. Used them in various weather coditions, from rain to very cold temperatures. Simply adapt your underwear accordingly. The front pockets can fit a lot of stuff without limiting your freedom of motion. The bib is very comfortable, keeps the pants up such that you don't have to tighten the wast too much.
Date published: 2017-02-17
Rated

3

out of

5
by
StigMat
from
Strong and durable
Have used the Lofoten pants now for over a year. Great pants and they are really rugged :-) I am a regular L user and ended up with M size. Its a little to tight around the waist for me but fit ok for the rest. I feel that the L size of these pants are to big, wide and long. A more XL size would fit better instead of L. The same size regime goes for Tamok and Røldal, so there are no other rugged pants to choose from with regular size and shape :-( My Narvik pants from 2011 is the best pants I ever had, but they are now weared out :-)
Date published: 2017-02-06
Rated

5

out of

5
by
Richf66
from
Awesome ski pant, great features to go along with jacket
I've used this for a year and love it. Very durable and long lasting. I like how it interfaces with the jacket (snaps) and has multiple ways to attach, depending on your preference. Lots of pockets and zips. The velcro waist adjustment is great and allows for a wide size range. My only suggestion is to replace the small zipper on the bib attachment (the one that zips it up, not to the pants) with something that is a bit beefier and change the placement slightly. There's not a lot of space where you have to start the zipper in relation to the zipper that connects it to the pants. The zipper itself will also pop if put under pressure. I had a tailor replace this with the same sized one that's used to attach it to the pants and it works great.
Date published: 2017-01-20
Rated

5

out of

5
by
Thogund
from
En komplett skibukse
Har brukt denne gjennom ett år nå, og kan med hånden på hjertet si at jeg aldri har hatt en bedre skibukse! Den tåler juling, har gode løsninger, er vid nok til alpinstøvler og er knalltøff.
Date published: 2016-10-06
Rated

5

out of

5
by
Willy
from
Slitesterk og komfortabel
Hatt denne buksen i to sesonger og er utrolig fornøyd. Urolig komfortabel, slitesterk og vanntett. Et av mine beste kjøp.
Date published: 2016-09-26
Hi, I am looking for right size for lofoten Gore-Tex Pro Pants. My measurements: Waist : 84 cm Inside leg : 81 cm Weight: 90 kg The sizing chart suggests M but I would have always bought L so was wondering if your sizing is quite generous?
Sizing isn't generous unless you are on the slim size. And if you want to wear your fleece inside your ski pants i.e. Have the fleece within the bib then perhaps L size is the way to go, unless you are slim build physically i.e. No protruding stomach. Hopes this helps 
Date published: 2017-01-09
I purchased the Lofoten Pants and Jacket (both in medium).  However the snow-squirt doesn't line up with the pants regarding the two clips in the back.  When both clips are attached, I get a bubble that allows snow through
Hi, Thanks for asking the question regarding the snow skirt of the Lofoten ski set. The snow skirt should fit perfect without bubbles when you have the same size in jacket and pants, probably also if you go up/down a size in one of the products. It seems to me that you have missed a button, because this happens when one of the buttons in the front is skipped. But off course you have checked that. So I recommend you to contact our Service Department, and they will solve this. Best regards, Jens Norrøna Fan Support
Date published: 2017-01-05
Calling captain Jens! ;-) Just to clarify, the true inseam length is 87cm in mens medium? Or are they designed for a person with an 87cm inseam? Also why do Norrøna not use a diamond crotch gusset on their hard shells? Thanks in advance, Gareth
Hi Gareth, Captain Jens here! The inseam measures is the product measure, not the person measure. So the product in M is 87cm inseam. On your question regarding the diamond crotch gusset, I have to pass it over to our product technicians as I honestly does not now what that is. This is a bomber ski pant that will last for a long long time, using probably the most heavy duty Gore-Tex fabric in the market which Norrøna uses exclusively. So get that pant and hit the mountains! Aye aye Jens Captain
Date published: 2016-12-05