0
lofoten Gore-Tex Pro One-Piece Suit (M/W)
lofoten Gore-Tex Pro One-Piece Suit (M/W)
wurde bewertet mit von
5
von
6
.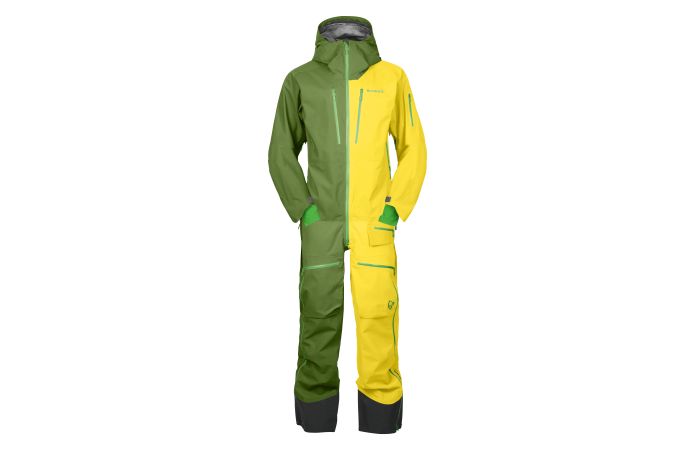 En slitstark overall med minimalistisk design och alla de viktiga detaljer du behöver för dina freeride-vildmarksäventyr. Den är tillverkad i två typer av GORE-TEX® Pro-skal, som är mycket vindtäta och vattentäta och har god andningsförmåga. Ovandelen är tillverkad i det nya GORE-TEX Pro-materialet för ökad slittålighet och flexibilitet, medan underdelens ben är förstärkta med Aramid. Den här säsongens nya förbättringar består av limmade dragkedjor, bättre passform och andningsförmåga samt förbättringar på muddarna och huvan med enhandsryggjustering.
Vindtäthet

6

Vattentäthet

6

Isolering

1

Andningsförmåga

4

Hållbarhet

5

Lätt

3

Stretch

1
Utvecklad för
Alpinåkning, skidor och snowboard
Andra användningsområden
Freerideåkning med skidor och snowboard, Skid- och snowboardåkning
Rated

4

von

5
von
Christof
aus
Free, Flash and super tech !
This is my fisrt ever norrona product, I m very happy about the end legs renforcement. There are many pockets from different size. The hood is very protective against the wind.
Veröffentlichungsdatum: 2016-10-14
Rated

4

von

5
von
Gareth
aus
Surprisingly surprising!
First impressions Ok, so firstly a confession having only had 'ok' experiences with Norrøna's gear, I wasn't expecting to be quite so impressed and will admit to being quite taken back when I first put this thing on. The Fit This is for me the single best feature of the Lofoten one-piece. I was very apprehensive about the sizing, as I tend to prefer a longer leg and arms than is typically available in gear that comes at set sizes. For reference, I went with a size large for my 181 cm (5'9") and 88 kg (194 lb) frame. The leg length is perfect as I simply won't wear anything shorter than 34" (which is difficult as the standard for outerwear tends to be around 32" in size large, generalized). The sleeve length was also perfect. Fit around the chest, waist and seat was loose as expected but not overly baggy or horrendous. I was expecting the crotch to ride low but actually its quite amenable and not too 'gangsta'. The neck is a little tighter than I am used to and when fully zipped, it is difficult to use the hood, requiring unzipping, hood up, zip up. The hood is however roomy and accommodates relatively streamlined ski and climbing helmets well. Those using ski rental lids may have a problem. Features From the top down; good, roomy, fully-adjustable hood that takes low-profile helmets well. The hood was not 'wired' as I was lead to believe from the descriptions, unless a newer feature. Instead it is stiffened so to speak giving the peak some shape, but can't be molded. Two way front zipper, great for venting and rapid heat dumps as well as trips to the toilet. Nb there is no rainbow-zip so laying pipe may be challenging (yet to experience), especially if out in the sticks and you're going for a squat. Special care needed to avoid filling your hood with you know what. Two chest pockets very nicely placed, great height and are well out of the way of pack waist straps. Even come with a goggles/ sunglasses cloth. Upper sleeve pocket, I find these are largely redundant but do come in useful for stashing ski passes. Two way pit zips, with zips that open into each other. I haven't decided if this is something I like or not, as normally they open away from each other and this allows for better control on ventilation. The Norrøna cuff design is a thing of beauty and is very good. The stretch wrist gaiter is surprisingly comfortable by largely unused on my part. The lower key/ card pocket is a nice touch, but as I only stash a spare set of batteries in it for me it largely goes unused. There is a laminated internal pocked, with 'media port' if you are into that. A rear pocket is also present, nicely sized but I feel this is largely for show as I always forget it's there. ¾ length 2-way leg zips are generic and help heat control and booting up. Nice touch is that the zip rotates forward instead of going directly down the side of the leg. Thigh pockets great feature, could be slightly improved but you can use them to quickly dump gear, gloves etc to keep it out of the snow. Actually a down side with a one piece is that if (like me) when using your hands, you like to dump gloves inside your jacket to keep them warm, this doesn't work so well, unless you have a pack with a waist strap done up or are wearing a harness. The aramid reinforcement around the lower hem is substantial and really great, the cuff is a little wide for my taste but takes all types of ski boot and isn't too horrendous with mountain boots. A good, tight internal gaiter with rubberized elastic is present and works really well, even on mountain boots with narrow uppers. Patterning and build quality In terms of articulation, I was pleasantly surprised. The most interesting being the gusseted crotch (at least on my sz. Large version), which improves the ability to move comfortably without creating stress points or fabric binding massively, this isn't something advertised in the product description and is a feature I feel is really missing from a lot of Norrøna products. The presence of a gusseted crotch is often a deal-breaker for me with outerwear, as it shows clear attention to detail in the patterning of a garment. This is also unusual as there isn't one on the Lofoten pants that I have tried. The sleeves also feature a seamless underarm panel/ gusset too, but in reality this is too small and narrow to be of any advantage. The knees don't immediately appear to be articulated and this could be improved to create a more 3D pattern in this area. Banana arms, with nicely shaped elbows are featured on the one piece. Other uses One of the main motivations for investing in a one piece suit at all, was for mechanized ski touring in Svalbard. Normal snow-scooter attire consists of a giant one piece, fleece lined, and frumpy suit. Not so practical for driving and then skiing. Enter the Lofoten one piece. So yes, layering has to be considered but in reality it works very well. The knee articulation comes into play when sitting for long periods, as the fabric is stretched tight over the knee this area quickly becomes cold. Compatibility with a harness is also surprisingly good. I was expecting the crotch to be just a little too low for it to work comfortably, but I can report it works very well. This means for more technical ski touring and even winter climbing the Lofoten one piece is an ideal bit of kit. As for the built quality, this is still a major sticking point with me an investing in Norrøna gear. It's still not the best and certainly doesn't match their vision, especially when there are far better built products out there. Improvements? Ok, so despite being very impressive there are a couple of small details I would love to see changed. In no particular order: (1) Wider underarm panels with either a laminated pit-zip central to this or offset to the front seam for ease of use. It is nice the panel is there, but adds little to the articulation and needs to extend further backwards to take advantage of this. (2) Heavy weight upper. Yes I get it people want lightweight and breathable, but personally I demand durability over both of these facets. A 200 dernier upper would for me be the ultimate improvement. The lighter dernier face fabric could be retained for the hood and underarms. (3) Aggressive knee articulation. The sizing does allow for plenty of lower leg movement but for high steps, sitting and deep bends the legs do begin to bind over the knees and the leg cuff rides up. (4) Thigh pocket expansion. This was the first thing I noticed, the expansion pleats to the thigh pockets are inwards towards the inner thigh, as opposed to being on the outside of the leg, as I would consider normal. Unique, perhaps… Inventive no, personally the pocket would be far better configured with the expansion pleats on the outside of the leg, giving a cleaner and neater appearance. (5) Build quality, whilst it probably won't fail, the build quality could be significantly improved, especially for a 10.000kr garment. Actually this goes for all Norrøna products; the attention to detail on the seams can only be described as poor and generally keeps Norrøna firmly off my radar as a 'quality' brand and firmly among all other the generic outdoor sporting goods companies. I would very much like to see far greater attention to detail paid to the seam construction and stitches per inch. At the moment its teetering on 'industry standard' which is neither groundbreaking, innovative nor impressive. Final thoughts and Conclusions Well what a surprisingly and refreshingly well thought out piece of kit, one of the few one-piece suits out there and it does deserve its recognition. It is not so limited in application as you may think, despite not being as adaptable as a jacket and trousers. It does get hot and layering with top and bottoms underneath can be a pain as mid-layers can ride up and move around, but with a one piece base-layer it's brilliant.
Veröffentlichungsdatum: 2017-03-30
Rated

5

von

5
von
Bigboy
aus
A M A Z E B A L L Z
Best money I ever spent. So much more successful slashing pow than ever before. And ladies love it too!
Veröffentlichungsdatum: 2017-02-25
Rated

5

von

5
von
Chen
aus
Nice
it's very nice ,color,size,is good also.my girl friend 165cm 60 Kg.size XS ,is ok.
Veröffentlichungsdatum: 2017-01-25
Rated

3

von

5
von
kings
aus
great style and colour but too long
loved the style and design, however was very disappointed that the leg length was way too long so a friend brought it off me. if they had options of shorter leg length i woudl have given it 5 star
Veröffentlichungsdatum: 2017-01-19
Rated

5

von

5
von
foggy
aus
bulletproof in the coldest conditions
I was concerned about skiing in the coldest months but with the help of my lofoten Gore-Tex Pro One-Piece Suit I was never cold. I also love the fit and comfort of a one-piece suit. I wouldn't use anything else now.
Veröffentlichungsdatum: 2016-09-27
Also I was wondering if it is good for warm/hot rainy weather hiking, as all the reviews have been for cold snowy weathers. Thank you!
Hi Maria91, The one-piece is designed for skiing/snowboarding. We recommend a lighter jacket and pants for hiking. Especially the pant of the one-piece will feel too bulky and hot in rainy summer weather. Best Regards, Sara /Norrøna
Veröffentlichungsdatum: 2017-05-23
Hi, I am 170cm and 54kg woman, I wonder if an S would fit me or if a XS would be better.
Hi Maria91, The one-piece is a unisex model and do run a little big. If you like the one-piece to be loose and a bit baggy I recommend size XS for you. For a little more slim fit you will be ok with the XXS as well. Hope this helps. Best regards, Sara /Norrøna
Veröffentlichungsdatum: 2017-05-23
Hi I want to buy a Lofoten Gore-Tex Pro One-Piece Suit, but I'm in doubt about which size a L or XL. I'm 1.93 and weight 80KG.
Hi I am 1.78 and weigh 73 kg and I have a size M.  I would suggest an L for you, I hope this helps
Veröffentlichungsdatum: 2017-01-24
Hi - I'm 5'11'' height, chest 40R, and am interested in the NORRONA LOFOTEN GORE-TEX PRO OVERALL 2017 MAGMA would you suggest i buy a (M) or (L) size for this particular item?  I might like to put a down jacked underneath for coldest temps.
Hi hubo, The One-Piece is a great choice! The Norrøna One-Piece is a bit big and long for it's size so M would be the best choice. Have talked to a colleague that have it and is about your height/size. Good luck in getting one of our greatest and most special products. Best regards, Jens Norrøna Fan Support
Veröffentlichungsdatum: 2016-10-21